Man or woman, old or young, eyelashes often add a lot of glamour and innocence to your face. In fact, according to international studies, they draw a beautiful contrast between the eyelid and the eye. This pulls all the attention towards your eyes and lets people see the uniqueness in them. That's the beauty of it! They add a lot of definition to your cheekbones and accentuate your other features as well. There are various methods that you can adopt to enhance lash length. The most popular options are mascaras, false lashes, serums, and cosmetic lash extension procedures. Today, we'll be discussing honest Bare Minerals Mascara reviews to see if it tops the list or not.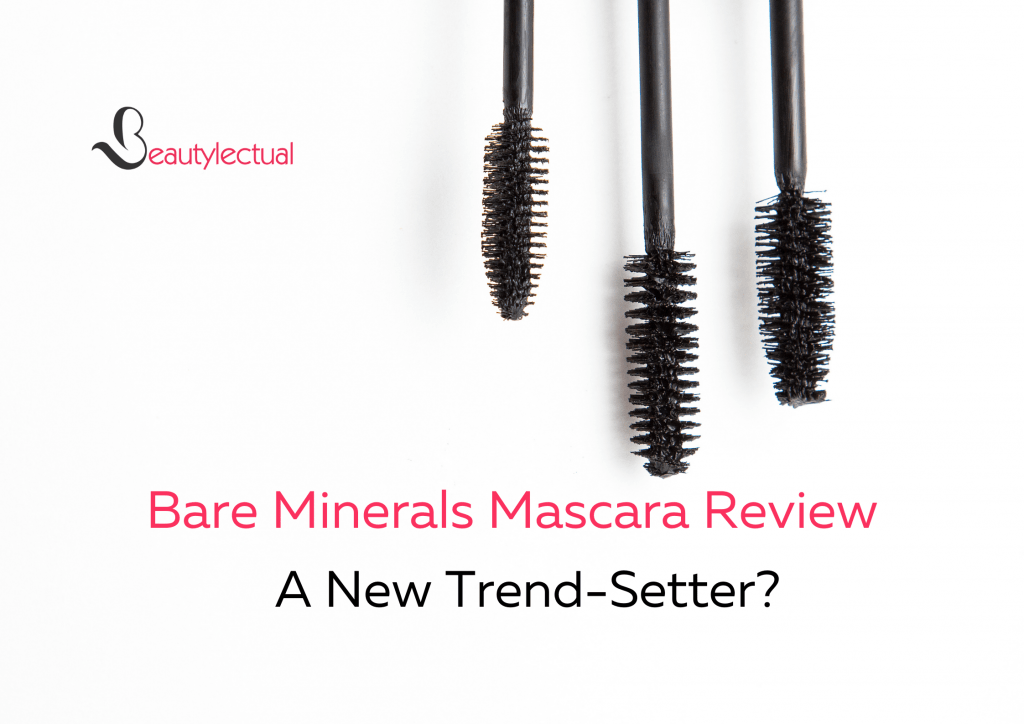 The Mascara market is expected to rise by at least 5.70% in terms of CAGR by 2023. Bare Minerals is known for its extensive range of eyeliners, and we're here to uncover the truth behind the popularity scale. If you're someone who is super into details, worry not. We've got you covered. We'll be discussing each product, its pros, and cons, style of brushes, FAQs, before and after results and more – So, stay tuned!
You Might Also Like: Rodan And Fields Reverse VS Obagi (Unbiased Comparison)
Bare Minerals Mascara Reviews | A New Trend-Setter?
Mascaras were initially designed to darken and curl the lashes only. They were available in only the black color back in the day. With the latest development in the inventory sector of the cosmetic industry, more progressive changes have been made. We now have brown and clear shades of mascara as well. Moreover, the wand's designs have evolved too. Now, there's a way to get more voluminous, curled, and perfect eyelashes than those in the older days. You might ask, is Bare Minerals any good? Let's find out.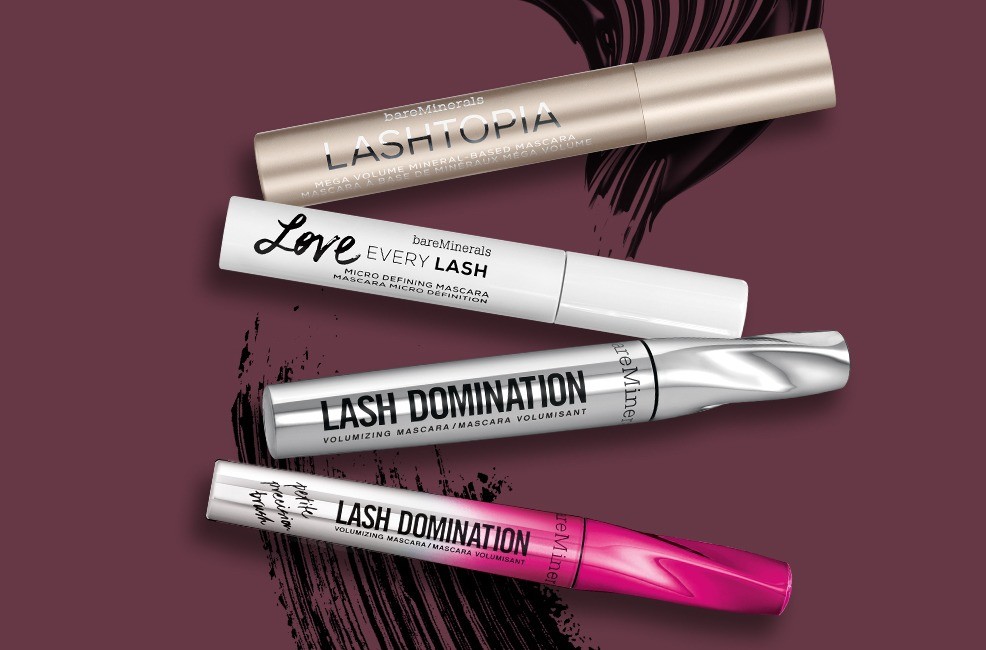 BareMinerals

STRENGTH & LENGTH SERUM-INFUSED MASCARA

This mascara is essentially a combination of iron pigments and lash-enhancing serum. The clean and vegan formula has been tested on volunteers to see any side effects noticed. One stroke of this product can change the look on a considerable scale. It adds a lot of charisma to your overall aura. We must consider that it provides a temporary fix and works for the future in the background. The serum component of it can help elongate the lashes and provide them some agility and strength. The waterline holds a lot more rooted follicles as a result of this. Many Bare Minerals Mascara Serum reviews show the evident hype about this product.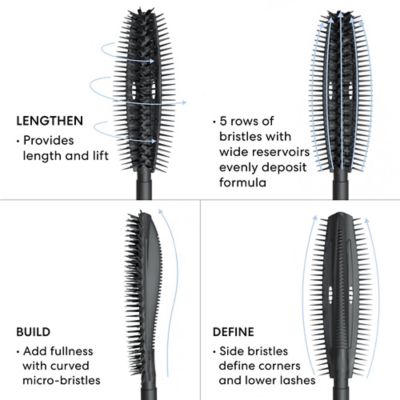 According to clinical studies, the volunteers notice an aggregate of 65% fuller-looking lashes after the 8 weeks of testing. Red Clover Flower Extract, a key ingredient in the base formula, conditions the lashes. Also, it provides strength for fighting against inflammation and sore eyes. The natural fatty acids found in Lauric acid add to the properties of conditioning. The ergonomic shape of the wand has been inspired by a culmination of the best trends in the field. It has been designed to lengthen and lift the lashes with just a clean swipe. It also helps in adding a lot more definitions than usual.
Pros of using Bare Minerals Strength & Length Serum Mascara
Suitable for people wearing contact lenses

Cruelty-free 

Long-lasting and smudge-free

Clump-proof; as confirmed by an ophthalmologist

You can remove it with a regular makeup remover
Cons of using the above-mentioned product
It contains Iron Oxides to which some people may have allergies. A plausible alternative could be

Vegan Mascara for Sensitive Eyes by Gaya Cosmetics

.
Bare Minerals Escentuals Lashtopia Mega Volume Mineral-based Mascara
Length does not always mean volume. You may have extremely long lashes but still not have volume added to them. As they say, the better the curl, the better the look. The Bare Minerals Lashtopia mascara reviews show that it adds ten times more volume and separates the individual lashes. It has a mousse-base formula. The whipped texture feels light and builds enough strength in the lash line to carry on for the day. The makers infuse it with some top-tier ingredients that provide incredible moisture and support the waterline and lashes. The black pigments used are some of the darkest to date. The product also contains specific chemical complexes that stop the lashes from getting too brittle.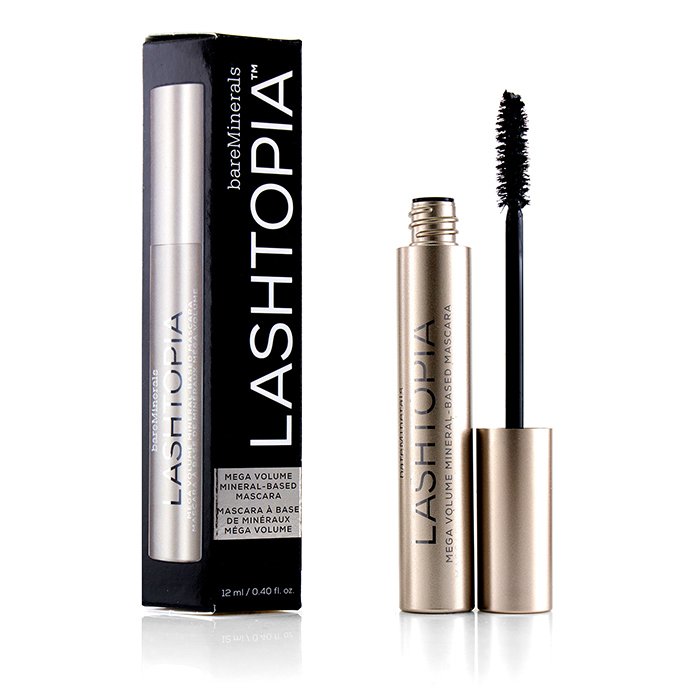 The Carnauba wax is used to provide viscosity to the solution. This, in turn, thickens the lashes over a while. Lecithin has fatty acids in its cell structure, which can add moisture to the lashes. The product has a combination of several other compounds which work towards increasing the time limit of the growing phase. This is a significant part of the lash growth cycle. Compounds like Tocopherol (Vitamin E) increase the longevity of the product and also provide extra hydration. These are all non-irritating complexes that do not cause any side effects as such.
Why may Bare Minerals Lashtopia Mascara be the best decision you'd make?
Parabens, PEGs-free

No Sodium Lauryl Sulfate

Adds ten times more volume to the eyelashes

Deep conditions the lashes

Lengthens and curls the lashes temporarily

Brush with flared-out bristles and a dynamic shape
Why must you avoid this product?
Contains Cetearyl Alcohol
Bare Minerals Mascara Before and After | Side Effects
Isla Vernon says, "Who doesn't like a perfect pair of natural eyelashes? I do, and I know you do too. My eyes are pretty hooded, so there's not much I can do. However, it's a whole different scene when I'm wearing my Bare Mineral Lashtopia Mascara. My lashes look so much more voluminous and black. They make my eyes look so strikingly beautiful. It not only helps me feel temporary glamour but also has serum infused which works in the background. My lashes have seen some significant growth in the past three to four months. I would definitely check this brand out if I were you."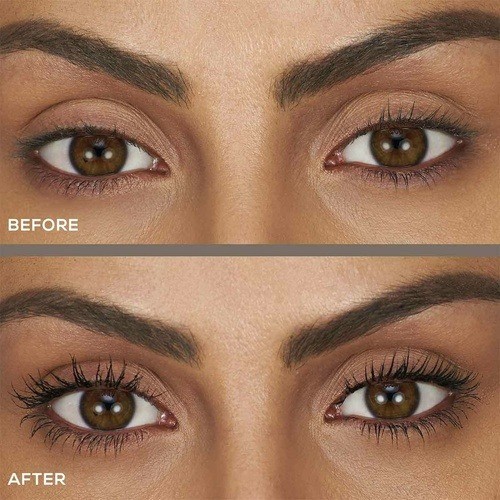 Tonya Pecan notes, "I can't stress enough how much of a wonder Bare Mineral's Mascaras are. I've tried three of them, and each one blows me away. It's always a pleasure to see this brand in the beauty aisle of marts. They offer so many products of the same category. This means that they plan on solving issues of all kinds if one product alone can't solve it yet. My lashes define my face in such a subtle manner now. They also have other makeup products listed on the website that I'm eager to try out. If you're looking for any other confirmation, I'd like to tell you not to worry. Go ahead and try them out before they sell out."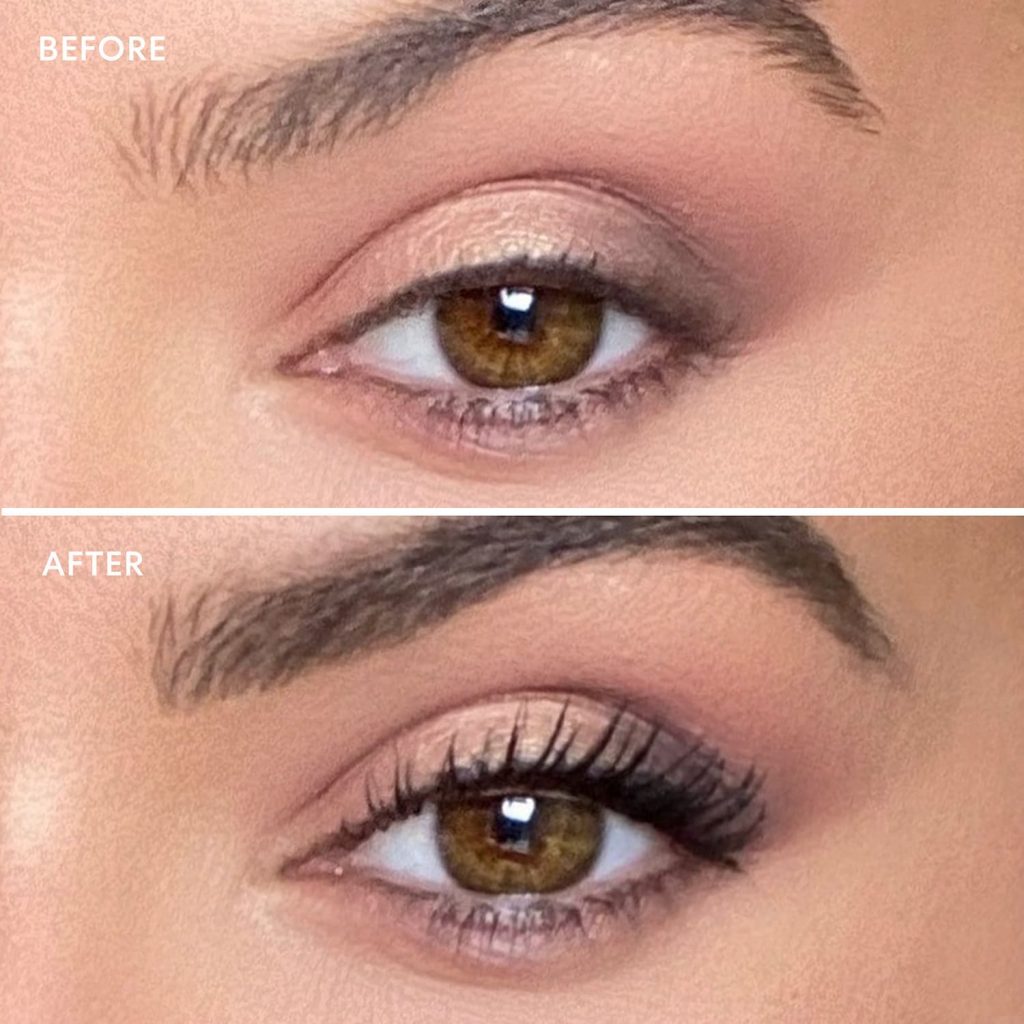 Side Effects
Ashley Malcolm, a business entrepreneur from New Hampshire, told us, "Bare Minerals calls itself "the mineral revolution," but that's not really true. I did not have a major side effect, but I still think I need to mention these things. I had red-eye for days after applying one of their mascaras, and I suppose it's the alcohol used in it that did the job. Please be careful about what you put near your eyes."
Regardless of what the reviews state, we think you must try out the products for yourself. You'll never know the truth until you've seen it for yourself.
See Also: Boom Makeup Reviews | Ageless Beauty?
FAQs |

Bare Minerals Mascara Reviews
Is Bare Minerals Mascara Good?
Bare Minerals Mascaras have received numerous awards for the excellence of the product. They also garner a lot more positive reviews than negative ones. Therefore, it is safe to say that the brand is a trusted one.
Is Bare Minerals Mascara Natural?
The Bare Minerals Mascara products are mostly free of any parabens and PEGs. They may not be all-natural but still have a lot of organic ingredients incorporated in the formula.
Do Bare Minerals Have A Waterproof Mascara?
Yes, they do. Bare Minerals Flawless Definition Waterproof Mascara is one of their top products in the eye makeup category.
Closure | Bare Minerals Mascara Reviews
Collating crucial information from the best Bare Minerals Mascara reviews, we can conclude that the brand has definitely scored a 9 in every category of evaluation. A wide range of products under each category of skincare and makeup is what excited us the most. There was no limit to the number of options. However, there were a few red flags that we have already mentioned in the article. Our recommendation is to consult an ophthalmologist if you have any eye issues and get their opinion on these products.
A majority of Bare Minerals Mascara reviewers have experienced some positive results. Directed research helps you make the right choice, and we hope to help you in the same. Moreover, if you have any queries or suggestions, do not hesitate to write to us in the comment section. We ecstatically await your responses!