There are a lot of indecisive women out there for whom choosing between foundation and moisturizer is like choosing between heaven and hell.
For such women, an effortless way out is always suitable.
Regardless of how natural we try to be, a moisturizer is something we all swear by; without it, we'll cease to exist.
And what if the moisturizer is a tinted one, providing the benefits of foundation?
Doesn't this sound like a steal deal?
We have compiled all the information on an immensely popular moisturizer and some unbiased Bareminerals Complexion Rescue Reviews for your effortless beauty routine.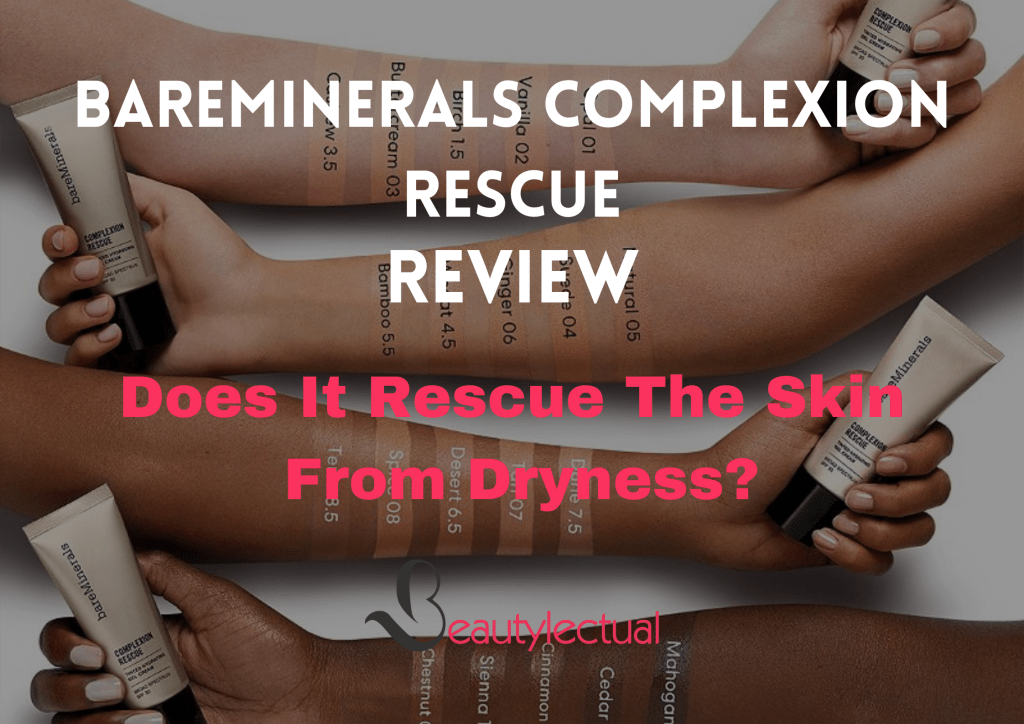 Foundation might be that perfect piece of cake, but it has some limitations; few foundations feel heavy, and you can't wear them every day as they weigh down the skin.
That's where tinted moisturizer comes into play.
Tinted moisturizers provide medium coverage, but they don't make the face look dolled-up.
Furthermore, this winter is the best time to try a tinted moisturizer.
And, now let's see if you should try Bareminerals Complexion Rescue.
Also Read: Flawless Brows Reviews
Bareminerals Complexion Rescue Reviews | Does It Rescue The Skin From Dryness?
BareMinerals is a San-Francisco-based beauty line founded by Diane Richardson in 1976.
Initially started as a small beauty line, the brand soon flogged everything in its way and proved to be one of the best beauty brands in the States.
BareMinerals is the original mineral makeup brand that boasts clean power.
The beauty products of bareMinerals are so pure that you can even sleep in them without any worry.
The goodness of bareMinerals goes beyond makeup, and it serves the environment too; the packaging of the beauty products is done in a recyclable way.
Also, bareMinerals donate some percentage of its sale to the Hopewell Fund.
The bareMinerals Complexion Rescue, a magical multitasker, is a tinted moisturizer that includes SPF.
Infused with minerals and nature-derived extracts, bareMinerals Complexion Rescue improves the look of the skin.
The oil-free formula of this hydrating cream gives the right amount of sheer coverage and is an excellent addition to your makeup bag.
It has a natural coverage that creates a dewy, healthy-looking glow.
The formula truly feels like a hydrating moisturizer and evening out the skin tone.
Just one pump of the moisturizer gives you a dewy and fresh look.
Plus, it has over twenty different shades that can perfectly blend with every skin tone.
bareMinerals Complexion Rescue Tinted Hydrating Gel Cream
Ingredients
Hyaluronic Acid
Hyaluronic Acid is a very famous and potent anti-aging ingredient.
For ages, Hyaluronic Acid has been used to boost the skin's moisture level.
It hydrates the skin and keeps it soft and smooth.
It is the most potent humectant, and Hyaluronic Acid can hold a thousand times more than its weight.
The exceptional, extended-lasting water-binding properties increase the skin's hydration and lock moisture in the skin.
Hyaluronic Acid ceases the look of wrinkles, fine lines and makes the skin look plump.
Squalane
Generally, Squalane is a colorless ingredient that's either plant or animal-derived.
In bareMinerals Complexion Rescue, Squalane is plant-based and derived from the olive.
The work of Squalane is to mimic the skin's natural lipids.
The fatty acids present in Squalane nourish the skin without clogging the pores.
It protects the skin against moisture loss.
It does not clog the pores and protects the skin from oxidative damages.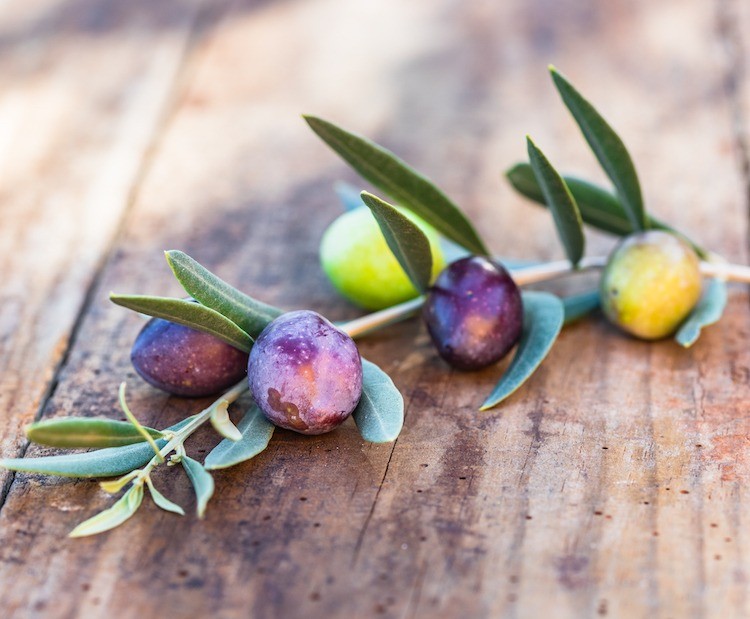 Olive Oil
Olive is a natural antioxidant that prevents oxidation when applied to the skin.
Alongside preventing oxidation, Olive also prevents premature aging.
Olive oil reduces the sign of aging and makes the skin tone even.
It nourishes and moisturizes the skin at the same time.
Also, Olive Oil helps to fade pigmentation, eye bags, and dark circles.
Olive is loaded with essential vitamins, and in bareMinerals Complexion Rescue, it has such a high power that it provides complete coverage in one swipe.
Skin Loving Minerals
Derived from the earth's goodness, some minerals are essential and result in healthy-looking skin.
Potassium, Magnesium, and Titanium Dioxide are present in bareMinerals Complexion Rescue as they provide SPF protection.
Along with nourishing and soothing the skin, the SPF creates a tint and protects the skin from harmful sun rays.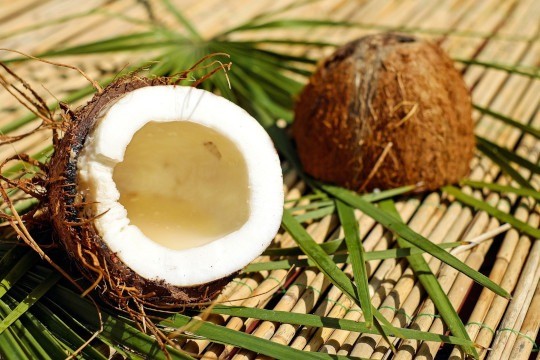 All the ingredients used in bareMinerals Complexion Rescue are completely clean, vegan, and cruelty-free.
In addition to these, Water, Coconut Alkanes, Propanediol, Glycerin, Butylene Glycol, Lauroyl Lysine, Succinoglycan, Polysorbate 60, Phenoxyethanol, Titanium Dioxide, Iron Oxides, etc. are also used in the tinted moisturizer, which provides glowing skin effects.
Why Should You Use Bareminerals Complexion Rescue?
It Is Available In Wide Shades: bareMinerals Complexion Rescue is one of only a few tinted moisturizers available globally with many shades.
It has twenty plus shades, and the shades are Opal 01, Birch 1.5, Vanilla 02, Buttercream 03, Cashew 3.5, Suede 04, Wheat 4.5. Also, Natural 05, Bamboo 5.5, ginger 06, Deser 6.5, Tan 07, Dune 7.5, Spice 08, Terra 8.5, Chestnut 09, Sienna 10, Cinnamon 10.5, Cheddar 11, and Mahogany 11.5.
It Moisturizes The Skin: bareMinerals Complexion Rescue has long-lasting hydration that lasts up to 24 hours. The ingredients present in the tinted moisturizer are humectants, which attract air moisture.
It reduces inflammation and prevents the skin from getting flaky and rough. The moisturizing effect of the gel-cream locks the moisture in the skin and does not let it fade. Also, it gently nourishes the skin.
It Has A Light Tint: Most of the time, we are confused between applying foundation and moisture. While foundation results in a radiant complexion, it is often drying.
Also, while moisturizer hydrates the skin, it does not make our complexion radiant.
Therefore, bareMinerals Complexion Rescue is a perfect choice for those who don't want to compromise. The gel-cream has a light tint, and it subtly moisturizes the skin.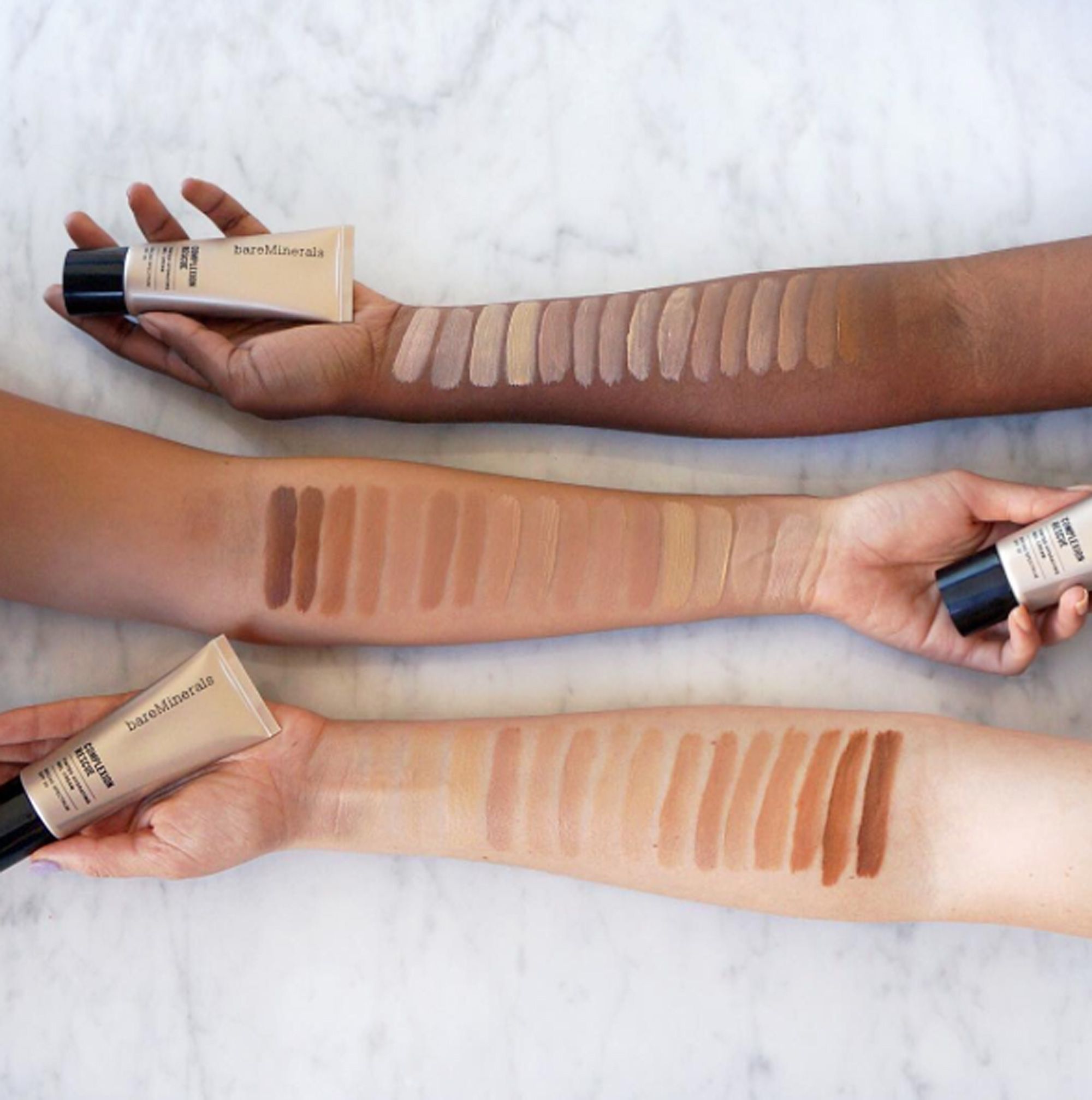 It Reduces The Appearance Of Wrinkles: bareMinerals Complexion Rescue has anti-aging benefits that help reduce the signs of aging, such as smoothing the appearance of wrinkles and fine lines.
Also, the cream moisturizes the dry skin and prevents the skin from getting inflamed. It eliminates dryness and evens out the skin tone.
Perks Of This Tinted Moisturizer
Blurs away every line of imperfections

Adds a dewy- healthy glow to the face

Dermatologist tested

It is paraben-free, oil-free, cruelty-free, and vegan

It is hypoallergenic

Protects from sun radiations

It boosts skin's hydration

Provides full coverage

It does not have a cakey texture

Improves skin texture

The SPF included in the cream helps protect the skin from the harmful radiants of the skin and prevents tanning or sunburn. 
Drawbacks Of This Tinted Moisturizer
Bareminerals Complexion Rescue Before and After | Customer Reviews
Bailey says, "Bareminerals Complexion Rescue is the go-to go foundation that I use every day. I have been using it for a year now, and I never had any breakouts. Even if I don't have sensitive skin, I feel the foundation is gentle for every skin type. It provides nice, buildable coverage within one swipe and radiates my face. The moisturizing power of the foundation is good, and it stays for a long duration. I am thrilled with my purchase."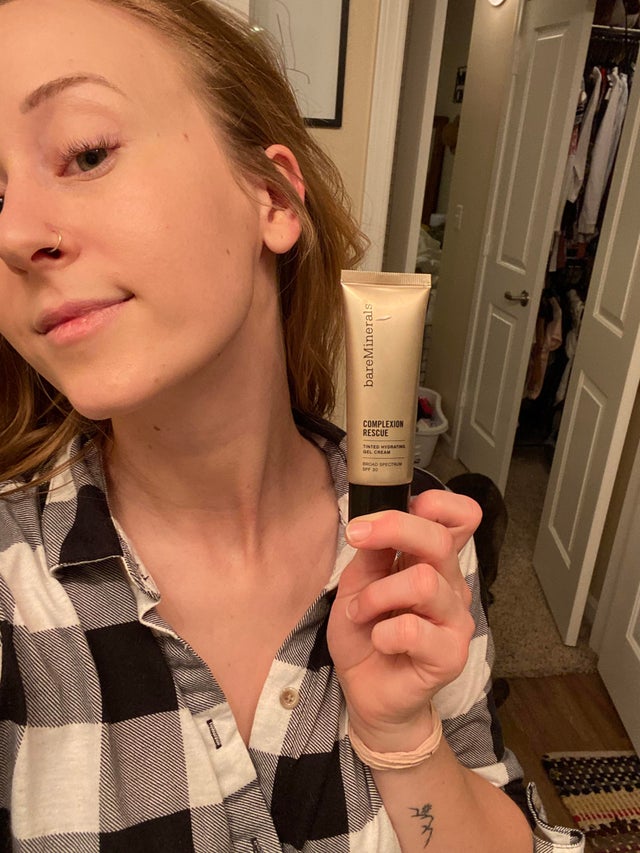 Sandra says, "Once I saw a friend of mine using the bareMinerals Complexion Rescue. Her face looked great; therefore, I also decided to purchase it. However, I ended up buying the wrong shade, and now although the cream is moisturizing, it does not match my skin tone and looks cakey. For my skin tone, the foundation does not have a natural coverage. I intend to buy another cream and this time of my shade."
Alice says, "I have heard a lot about bareMinerals Complexion Rescue Tinted Moisturizer, and to my luck, I received it as a Christmas gift from a colleague. The cream is so nice that instantly I was impressed by it and decided to buy another. When I looked it up on the internet to buy it, I changed my mind due to its high price. I hope the gel cream was a bit cheaper."
See Also: Bare Minerals Mascara Reviews | Key To Beautiful Lashes?
FAQs | Bareminerals Complexion Rescue Reviews
Is bareMinerals Complexion Rescue safe?
BareMinerals Complexion Rescue is a moisturizing gel cream that has a light tint. The cream provides SPF protection, and it is dermatologist tested.
The cream is formulated without parabens, oils, synthetic fragrance, harmful chemicals, and it is hypoallergenic. Also, the moisturizing cream is vegan.
Therefore, bareMinerals Complexion Rescue can be classified as safe to use.
How do you use bareMinerals Complexion Rescue?
Dot the cream all over your face and blend well onto your face. Blend in the outwards position using your fingertips.
You can also use a sponge if you are not comfortable using your fingertips.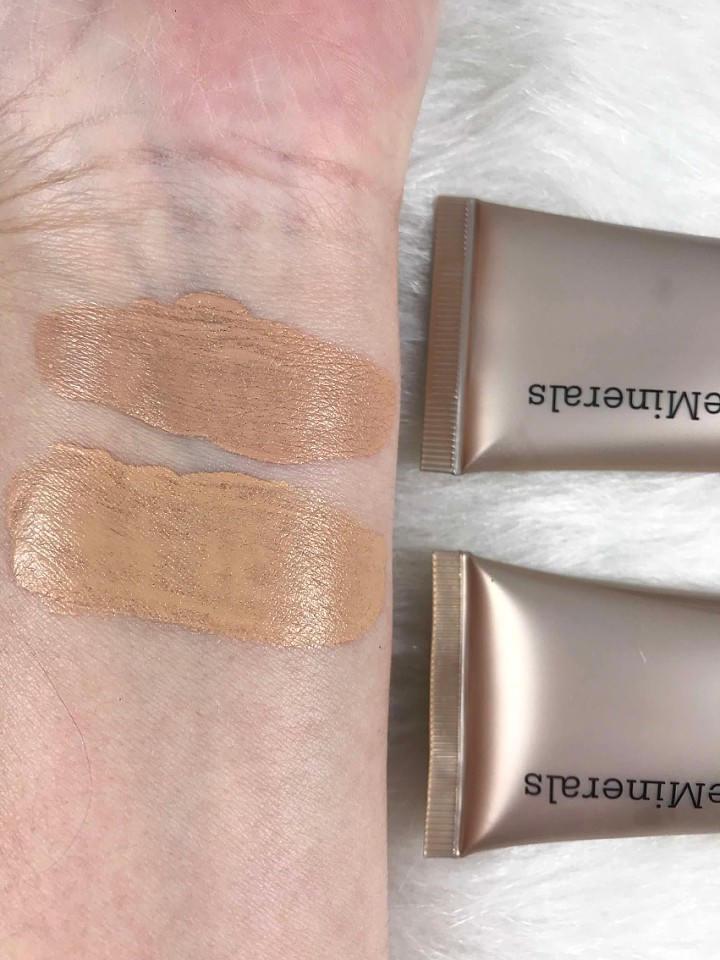 Does bareMinerals Complexion Rescue have Hyaluronic Acid?
Yes, bareMinerals Complexion Rescue has Hyaluronic Acid in Sodium Hyaluronate.
Where can I buy bareMinerals Complexion Rescue?
You can easily buy bareMinerals Complexion Rescue Tinted Moisturizing Gel Cream from any online store like Amazon.
Alternatively, another place to purchase bareMinerals Complexion Rescue is the company's official website.
Cessation 
Finally, we have reached the concluding point of Bareminerals Complexion Rescue Reviews.
bareMinerals is a brand based on honest principles. The moisturizing cream by bareMinerals has a light tint, and it provides buildable sheer coverage.
The cream looks as natural as possible while adding a healthy glow to the face. The cream is dermatologist tested and hypoallergenic.
As the cream doesn't have any parabens, it is safe for every skin type. It does not cause any breakouts on acne-prone skin.
Even regular use of the bareMinerals Complexion Rescue can help decrease the signs of aging. It reduces hyperpigmentation and evens out the skin.
While there is much positive feedback about the brand, some people say that the tinted cream does not blend well into the skin.
But the truth is that the key to having a good blend-ability is to choose the right shade of the foundation. Remember to choose the shade according to your skin tone, and nothing will go wrong.
Although the cream is safe for use, we recommend a patch test before using it to avoid any adverse side effects.
We hope this review was helpful and eased all your doubts. Please do not hesitate to contact us if you have any further doubts.