When light hits the higher points of your face, the highlighter makes your face look younger and fresher. You can apply a highlighter to your cupid's bow before applying lipstick to get cleaner-looking lips and make your pout look bigger and fuller. Highlighters are products that reflect light and come in liquid, cream, and powder forms. They brighten your skin and give it a dewy glow, as well as making your cheekbones appear more prominent. You must have heard or read about the much-hyped Becca Glow On The Go Kit highlighter if you are a makeup lover. But how do you know if it is really worth the hype? The answer is simple- with the best Becca Glow On The Go Kit review.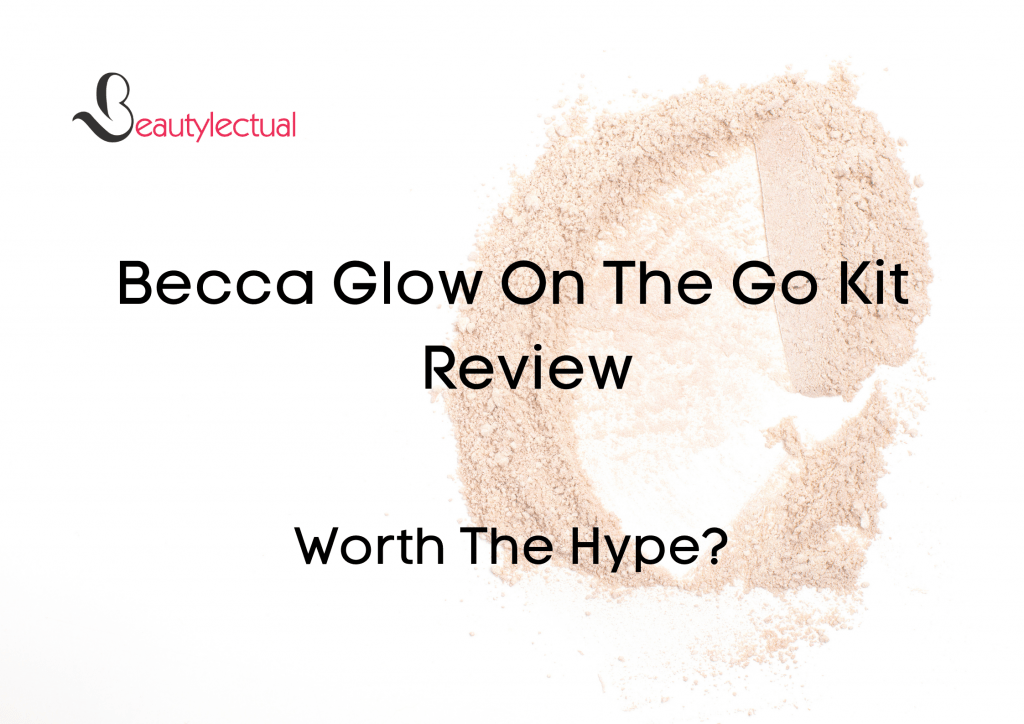 As a makeup lover, you must know that Becca is a much talked about, famous brand known for its ultra-pigmented and beautiful highlighters. The Becca Glow on The Go Kit highlighter was launched recently and instantly became the best seller on their website. People have been raving about it ever since it was released. But what is so special about it? Is it unique or the same as other great highlighters? We shall quench all such queries in this entirely unbiased Becca Glow On The Go Kit review.
You Might Also Like: Neulash VS Revitalash | What Should You Go For?
Becca Glow On The Go Kit Review | Worth the Hype? 
Becca Cosmetics aids in enabling people to own their own light on their own terms, which is highlighting their genuine selves. Becca has earned various awards for its formulas that claim to create radiance in all shapes and forms by utilizing novel light applications. All of Becca's products have the same objective in mind, which is to assist in producing the same glow on the exterior as it does on the inside. One of Becca's most popular products is the Glow On the Go Kit.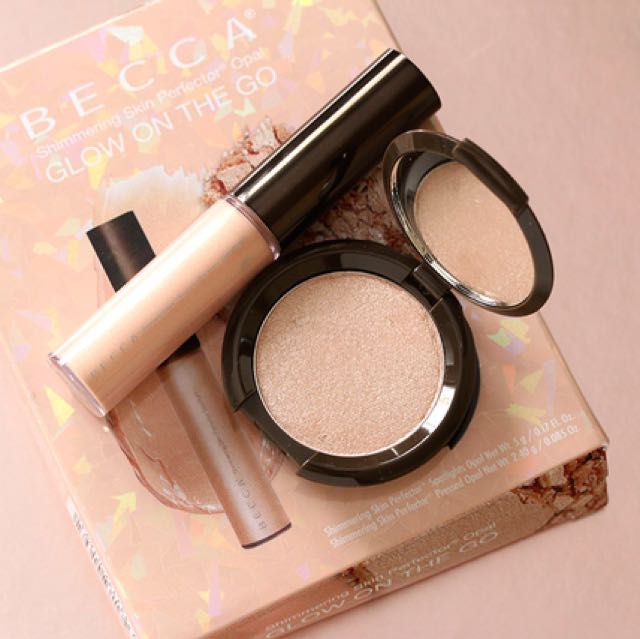 Becca's Highlighters claim to accentuate your features with their unrivaled shine. The Glow On The Go Kit comes with two premium minis of the Becca's pressed and liquid highlighter in various gorgeous shades, with Opal and Champagne Pop being their best sellers. You can either apply them as they are or layer them to create a personalized glow everywhere you go.
Sale
The solution in the liquid highlighter contains ultrafine light bouncing pearls or ultra-fine rose gold particles that blend into your skin to give you a flawless, natural-looking brightness. Being very light and sheer, the Opal shade adjusts to every light to keep you glowing for a longer time. At the same time, the pressed highlighter is a rich glowy powder with a lustrous velvet finish that envelops skin in a gentle pearlized or rosy glow.
Becca Glow On The Go Kit Ingredients
Tocopherol- Tocopherol is a form of Vitamin E. It is an antioxidant with the ability to reduce irritation, which may promote anti-cancer, anti-aging, and other advantages. In addition to that, it prevents any UV damage fights from free radicals. 
Magnesium Stearate- Magnesium Stearate is exceptionally effective in pressed powders since it can cling to the skin and reduce your product's glide, slip, and skin texture. It is used as a non-gelling thickening, pacifier, film-forming agent, and anti-caking agent.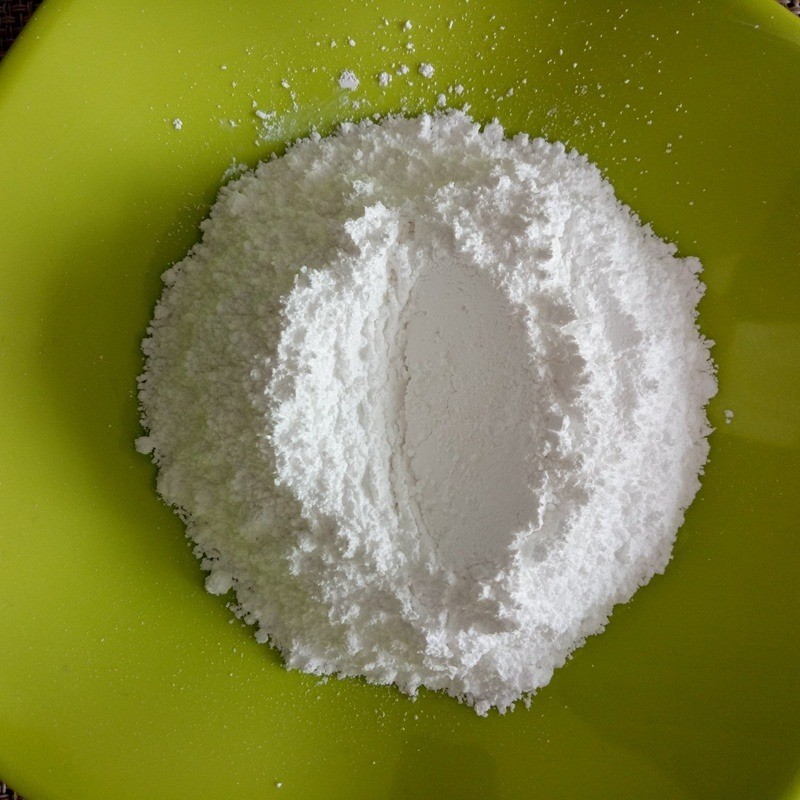 Cyclopentasiloxane- Cyclopentasiloxane is used chiefly as a conditioner, lubricant, and solvent because it makes the product feel smooth and silky to touch when applied. It makes the product spread evenly. In addition to that, it works as a skin protective layer, shielding the skin from moisture loss, allergies, and bacteria. 
Dimethicone- Dimethicone builds a barrier on the skin, reducing water loss. Dimethicone also improves skin suppleness and elasticity by bridging gaps between cells in the skin's topmost layer.
We should also note that Becca's Glow On The Go Kit is paraben, sulfates, and phthalates-free. 
Why Prefer Becca's Glow On The Go Kit?
Free of parabens, sulfates, and phthalates

Natural shimmery finish

Reduces skin texture

Adjusts according to the light 

Travel friendly 

Does not cake

Spreads evenly

Does not have a chalky finish
Drawbacks of Becca's Glow On The Go Kit
Expensive

Might not be ideal for every skin tone
Glow On The Go Kit Review | Customer Insights
Susan says, "Becca has outdone itself with its Glow On The Go Kit. I love how there are two different kinds of highlighters in travel-friendly sizes. I can carry them everywhere in my bag." 
Laura says, "Becca's Glow On The Go Kit in the shade Rose Gold is my favorite and most used highlighter of all times. It gives me that natural-looking glow I need. It does not crack at all and feels so great to apply."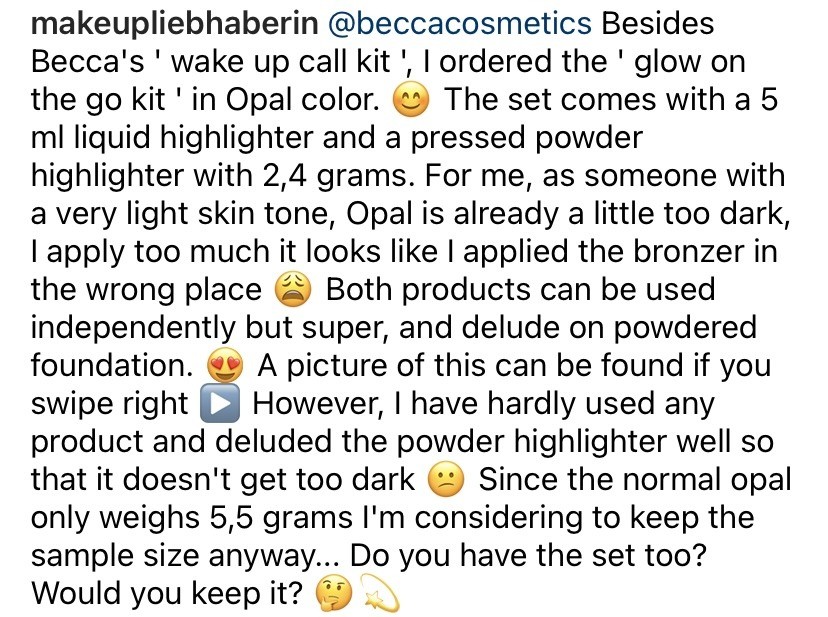 Mona says, "I love how Becca's Glow On The Go kit in Opal adjusts itself to the light around without looking unnatural. It makes me feel like a goddess wherever I go."
While a section of the users seems to be in love with this kit, the other section doesn't find it that good. Let's hop on to a few negative reviews to form an unbiased opinion.
Maze says, "It is very difficult to choose the perfect shade in the Glow on The Go Kit. not every shade suits every skin tone."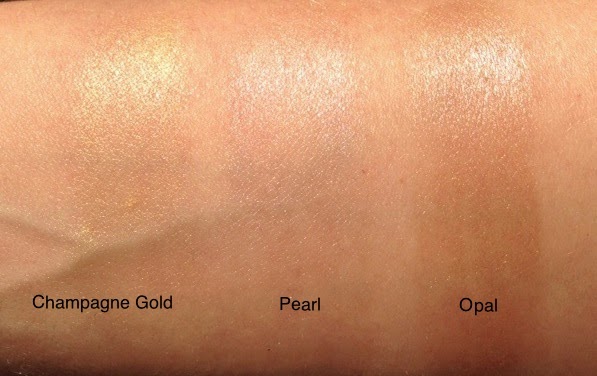 Casey says, "Because Becca's Glow On The Go Kit is in small sizes, it gets over too quickly, and the price it comes for is a heavy one. Not all of us can afford to buy it every two months." 
Apparently, Glow On The Go Kit might work differently with different skin tones. However, it has not caused any side effects or allergic reactions to the users. So, it might be considered a safe product to try at least once.
See Also: Glow In The Dark Nail Polish | List Of 8 Fascinating Products | DIY (2021)
FAQs | Becca Glow On The Go Kit Review
Where can I buy Becca's Glow On Go The Kit?
Unfortunately, Becca has been closed permanently; therefore, you cannot visit the brand's official site to buy any of its products. However, Glow On The Go Kit is still available on various e-commerce platforms, including Amazon. 
How to apply Becca's Glow On The Go Kit?
You can sweep glow On The Go Kit Highlighter across the face, or you can apply it to a few targeted areas such as the cupid's bow, cheekbones, bridge of your nose, and brow bones.
Alternatives for Becca Glow On The Go Kit
Benefit Watt's Up! 
Benefit Watt's Up highlighter is sold in the same price range as Becca Glow On The Go Kit. However, unlike Becca Glow On The Go Kit, it is only available in one shade – Rose Gold. According to the customer reviews, this shade suits all complexions. This product has a cream-to-powder finish. Compared to Becca Glow On The Go, it does not last as long but gives the same natural finish. It is an excellent alternative for Becca Glow On The Go Kit because the product has a long life in the same price range. 
Sale
M.A.C Strobe Cream
M.A.C Strobe Cream is the answer if you're looking for something more natural, moisturizing, and bright. It uses all-natural ingredients in its formula and is available in several different shades. However, in comparison to Becca Glow On The Go Kit, it does not stay for a long time. Also, unlike Becca Glow On The Go Kit, it might even feel sticky and uncomfortable on the skin. Becca Glow On The Go Kit seems like a good option if you want something to make your face glow on special occasions because it might feel too much daily, whereas M.A.C Strobe Cream is a good option for daily use.
Nyx Born to Glow Liquid Illuminator 
Nyx Born to Glow Liquid Illuminator can be a good and cheap alternative for Becca Glow On The Go Kit. It is a luxurious lightweight hydrating multifunctional formula. It can be used either as a highlighter over your makeup or beneath your makeup like an illuminating foundation base. Unlike Becca Glow On The Go Kit, it is not too expensive. Whereas it could be categorized under professional makeup. Nyx Born to Glow is available in three different shades, and this product is also vegan.
NYX PROFESSIONAL MAKEUP Born To Glow Liquid Illuminator - Gleam
Liquid Illuminator: Enjoy a luminous, lit from within glow year round with the luxuriously lightweight NYX Professional Makeup Born to Glow Liquid Illuminator; Blend it with your foundation for an extra glow
Versatile Glow: This multifunctional moisturizing formula can be used as a foundation base or as a highlighter over cheekbones, décolletage, and cupid's bow for a natural looking radiance
Face From Foundation To Finish: Complete your makeup look with our full line of face products to aid in color correction and coverage from concealer, blush, bronzer, foundations and contouring to palettes and powders
Final Verdict | Becca Glow On The Go Kit Review
Coming to the end of the Becca Glow on The Go Kit review, we can conclude that this product gets 4.5 stars. Becca Glow On The Go Kit comes in various shades, making it easy for you to select one for your skin tone. These highlighters can be used just as they are by sweeping it all over the face or after makeup by applying gently it on your high points – cheekbones, bridge of the nose, cupid's bow, and brow bones. This product consists of two mini highlighters – pressed and liquid, making it significantly travel-friendly. These highlighters adjust themselves according to the surrounding lights, which gives you a natural glowy finish. It does not look or feel chalky on the skin. We could say that it glides like butter on the skin. However, it could take a heavy toll on the pocket.
We love a good highlighter that makes us look and feel like a living goddess, and Becca Glow On The Go Kit is definitely going to make you feel like one. Therefore it can be concluded that this product is definitely a must-try and one should have it in their vanity once in their lifetime. If you do try it out, then let us know your experience. We hope you found this review helpful, and we hope it made you clear about how you feel about the product. Suggestions are always welcome in the comments below.