In today's fast-paced world, we often find it challenging to cope with many responsibilities coming our way. While stress is an unavoidable part of life, it leaves a lasting mark on our physical appearance, especially on our skin. Skincare is not only becoming crucial but also a good skincare routine can make a difference. With a wide range of skincare brands available in the market, we often wonder what the perfect fit for us is? Bliss Skincare is one such brand that brings a spa-like experience at home. But is it worth it? To help you get a better perspective, we hope your search for Bliss Skincare reviews ends here with everything you need to know. Let's get started.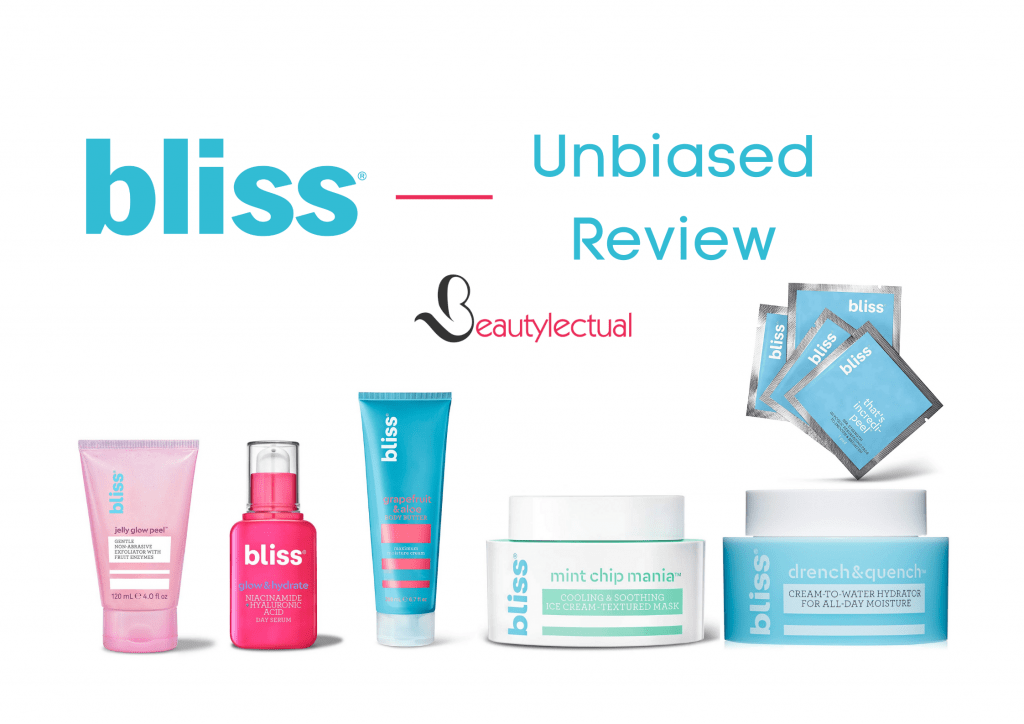 Skincare is a lifetime investment; while it is essential to keep your skin healthy and nourished, it is vital to consider your skin needs. The challenge, however, is to choose a skincare brand that is best suited to your skin. With everyone's skin being unique, skin products are produced, keeping these differences in mind. In this blog post, we'll focus on helping you figure out if Bliss Skincare lives up to the promise of meeting the needs of all types of skins.
See Also: Rodan And Fields Reviews | Dermatologists" Choice?
Bliss Skincare Reviews | Perfect Skincare Regimen?
Established in 1996, Marcia Kilgore introduced Bliss skincare as a small chain of New York City spas. Being a brand committed to sustainability and providing customers with well-formulated skin products, they have come a long way. The brand, over the years, has expanded to include a range of products that are not only affordable but bring a spa-like experience to home for their customers.
Bliss Skincare is a preferred brand by many customers. The clinically proven products bring a tremendous change in giving the skin a healthy look. All the products are formulated thoughtfully to provide the best skincare results. Over the years, the brand has stuck to its promise of using responsible ingredients to make the products and use safe ways to produce them.
Some Popular Bliss Products
Bliss Skincare Ingredients
Bliss Skincare offers products that are PETA-certified cruelty-free. It believes in creating user-friendly products from over 1300 substances that are considered harmful. Being plastic microbeads, paraben, and SLS/SLES free brands, there is an emphasis on following the strict European Union Standards to bring to its customers' products made with responsible ingredients. Considering this, let's look at some of the main ingredients used to make these skincare products.
We observed that most of the Bliss Skincare products consist of unique ingredients that set them apart. However, there are a few ingredients that have been found common in many of the products. We have highlighted them in detail. 
Glycolic Acid: Glycolic acid is mainly present in various Bliss skincare products. Glycolic acid is an alpha hydroxy acid (AHAs). AHAs, bring multiple benefits for the skin, including protecting it from dryness, reducing acne, and anti-aging properties. Like AHA, glycolic can be applied on almost all skin types that helps to reduce fine lines and wrinkles, brightens the skin, and leaves it feeling smooth and fresh.
Vitamin C: Instead of pure vitamin C, the brand uses 3-O-Ethyl Ascorbic Acid as it works as a better stabilizer. This derivative has various benefits for the skin, including being an anti-aging agent. It also provides a whitening effect and protects the skin from any form of DNA damage. Bliss products with this ingredient help to improve the overall skin structure and reduce dark spots that appear.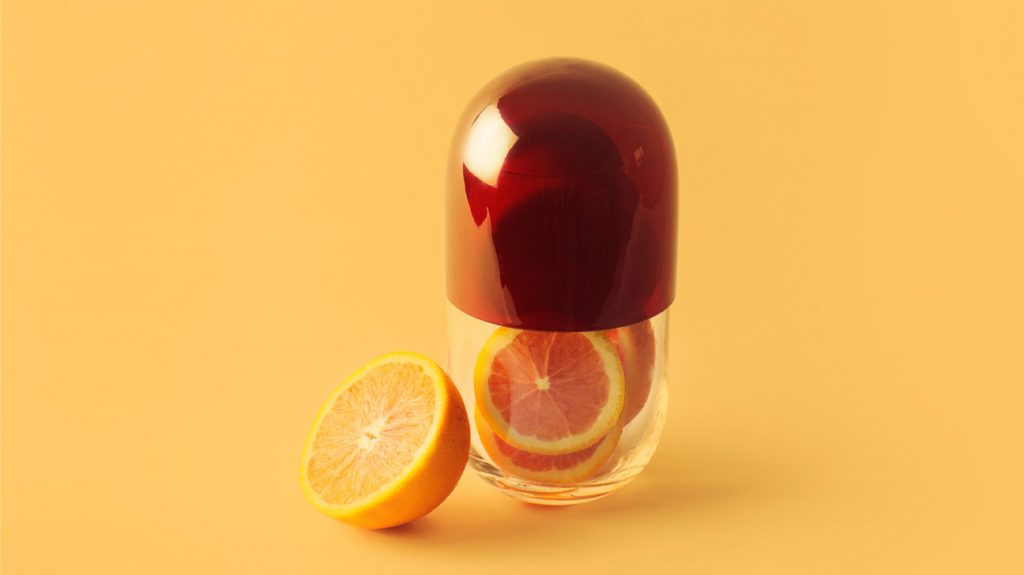 Sodium Hyaluronate: This ingredient is there in many of the products in the salt form of hydrophilic. Sodium hyaluronate mixes well with water which helps to moisturize the skin cells. While providing a tremendous hydrating effect on the skin, it also helps replenish the skin, making it easy to reduce skin inflammation.
Synthetic fragrance: Almost all Bliss Skincare products have a synthetic fragrance. However, it can be troublesome as brands do not have to disclose the chemicals on the label used to make the fragrance.
Due to this reason, it is entirely unclear what has been used by the brand to make the fragrance. It can be a concern, especially for users with sensitive skin, as it can irritate.
8 Best Bliss Skincare Products
Bliss's wide range of products includes moisturizers, toners, serums, eye care, masks, cleaners, and so much more. We have listed some of the best-selling products by Bliss Skincare for you to get better clarity about them. Let's have a look at the top 8 products curated just for you!
Bliss Glow and Hydrate Day Serum
This hydrating day serum works well for the overall skin. The key ingredients of the serum are niacinamide and sodium hyaluronate. Sodium hyaluronate helps to support skin plumping and provides a soothing sensation to the skin. 
Niacinamide is found in high quantities and offers antioxidant benefits, brightening the skin and strengthening the skin's surface. Other ingredients that play a role include shea butter, sunflower, and aloe that help to keep the skin hydrated. The serum can be applied during the day or night and is relatively easy to carry around. However, many users are not fond of the fragrance as it can give way to skin irritation.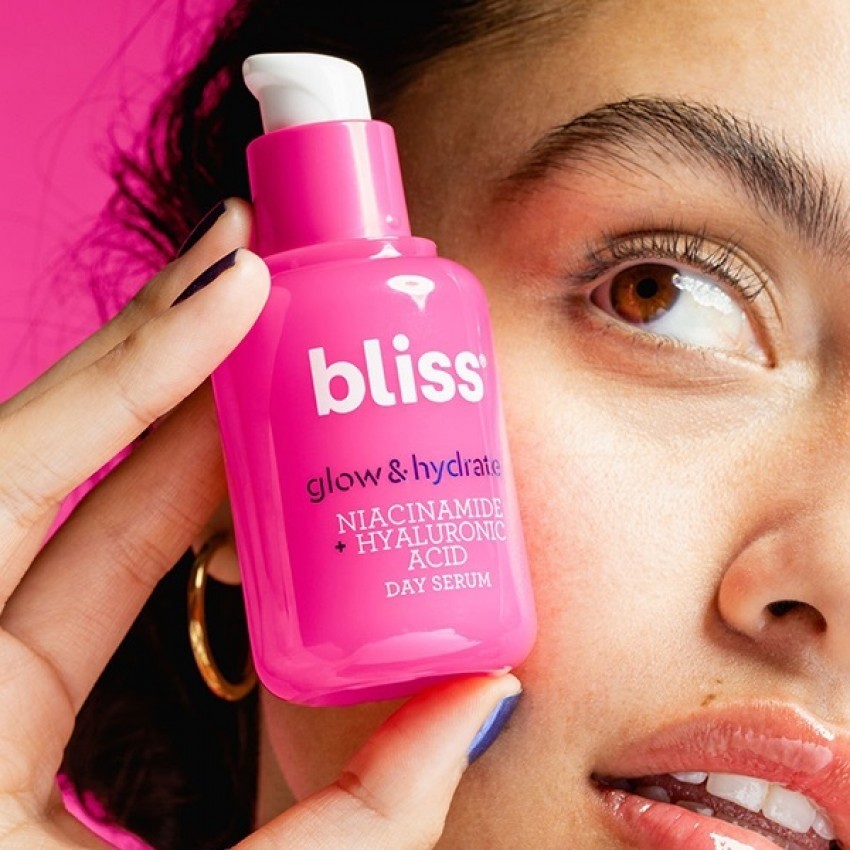 Why should you buy it?
Bliss Glow And Hydrate Day Serum is lightweight and doesn't feel sticky. 

It contains hydrating ingredients.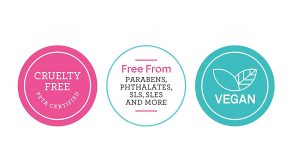 Niacinamide is quite beneficial for the skin and is present in high amounts in this serum.
Drawbacks
The fragrance can irritate you a bit. 

It doesn't contain sunscreen.

Expensive.
Bliss Drench and Quench
The Drench and Quench product by Bliss transforms into a water-like solution once applied to the skin. It provides an instant moisturized feeling leaving the skin hydrated and well-balanced. 
The ingredients used help to keep the skin hydrated as antioxidants, skin replenishers, and emollients. The elements work well to lock hydration in the skin and provide a radiant appearance. 
There is an improvement noticed within four weeks of applying it, which helps to give a refreshing look. The cream-to-water hydrator is an all-day cream that has an aquatic fragrance.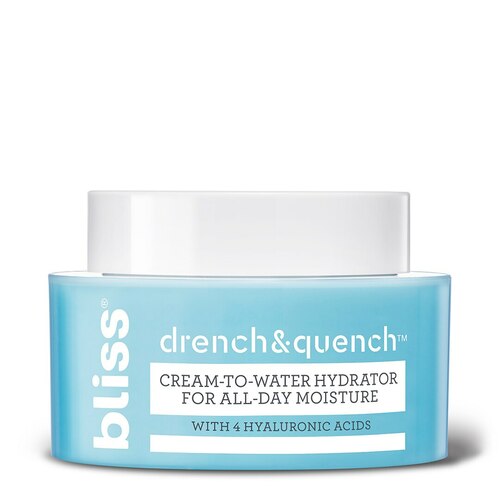 Why is it worth your money?
Suitable for all skin types and ideal for sensitive skin.

It's lightweight and non-sticky. 

The cream-like jelly turns into a water-like solution once applied.
Pitfalls
It's a bit expensive.

Since it comes in a jar- beneficial ingredients can lose their essence over time.

The aquatic fragrance can be unpleasant to some.
That's Incredi-peel Glycolic Resurfacing Pads
Incredi-peel Glycolic Resurfacing Pads by Bliss Skincare has soft-cloth-like material pads packed in a way the ingredients are protected. These refreshing pads come in a pack of 5 or 15-depending on what customers are looking for. Glycolic acid is the main ingredient in this product that helps bring forward soothing effects on the skin. 
Vitamin E is another ingredient used that helps to protect the skin from any form of damage. However, other elements like orange flower water and witch hazel water do not work well for the skin, leaving an irritation feeling behind. This product is also fragrant-free and helps to clear up the face immediately.
Pros
It gives a smooth and luminous texture to the skin.

It contains 10% glycolic acid that brings forward soothing effects.

Well-packaging retains ingredients.

Reduces fine lines and wrinkles
Cons
Witch hazel water and orange flower water can sometimes result in skin irritation.
Bliss Jelly Glow Peel 
Bliss Jelly Glow Peel Gentle Non-Abrasive Exfoliant with Fruit Enzymes is a scrub that works well for all skin types. The glow peel consists of pineapple and papaya enzymes, cellulose; niacinamide; coconut fruit extracts; and much more. 
Sale
With these elements, it becomes easy to loosen the dead cells in the skin to remove them and revitalize the skin surface. Along with hydrating the skin, it helps to keep it soft and smooth. On the other hand, the product includes fragrances from plant oils such as geranium and lavender that can cause an intense irritation on the skin.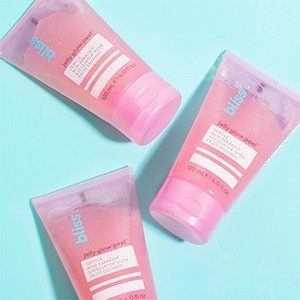 Why is it worth a try?
It softens the skin's texture.

Bliss Jelly Glow Peel removes dirt and pollutants thoroughly.

It brightens the skin.

Affordable.
Drawbacks
Fragrance can cause irritation
Bliss Grapefruit & Aloe Body Butter
The grapefruit and aloe body butter are the perfect cream for dry skin. It can be applied to the whole body and helps to make it smooth. This bestselling body butter gets absorbed quickly in the skin. The product contains shea butter rich in vitamin E that helps keep the skin nourished.
Other ingredients include candelilla wax, soybean oil, coconut oil, and so on. They work well to moisturize the skin and protect it from water loss. The Bliss Body Butter comes in different fragrances influenced by their spa treatments, such as blood orange & white pepper, grapefruit & aloe, and lemon & sage.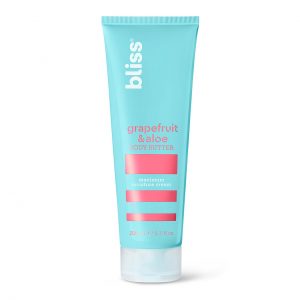 Perks
Affordable.

It leaves the skin smooth and soft.

Suitable for all skin types.

Free from harsh chemicals.
Drawbacks
Strong fragrance can be unwelcoming. 
Bliss Makeup Melt Rose Makeup Cleanser
This dry/wet jelly makeup cleanser has been formulated to suit all skin types. It is not only soothing to use but is also an effective makeup cleanser. It has ingredients that have a soothing effect, such as rose flower extract, pro-vitamin B5, shea betaine, oat amino acids, and apple amino acids. 
Sale
Bliss Makeup Melt Jelly Cleanser - 6.4 Fl Oz - Super-Gentle - Makeup Remover - Soothing Rose Flower - Vegan & Cruelty Free
MAKEUP MELT: Use Bliss' lavender-scented gel cleanser wet or dry to effectively remove makeup and dirt for a clean, healthy finish.
UNIVERSAL MILKY CLEANSER: Universally designed to remove both foundation, sunscreen and eye makeup (yes, even waterproof!) with ease, this gentle milky facial cleanser works on even sensitive skin to leave your complexion feeling fresh.
POWERED BY AMINO ACIDS: Infused with calming rose flower extract and powerful plant-based hydrators, this gel facial wash is also enriched with amino acids that moisturize and protect skin.
These ingredients help to calm the skin and moisturize the skin to limit the loss of water. Shea butter primarily works well to remove impurities from the skin and reduce any form of irritation. However, both lavender oil and rose flower extract can irritate the skin.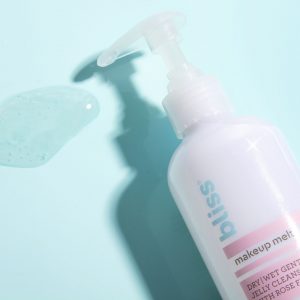 Why should you invest in it?
Easily removes dirt and makeup.

Suitable for every skin type. 

It feels lightweight.
Why should you be careful of the product?
Rose flower extract and lavender oil can lead to skin irritation.
Bliss Mint Chip Mania Soothing Facial Mask
This face mask with aloe vera, shea butter, and peppermint leaf extract works well to nourish and hydrate the skin. The leaf extract facilitates a cooling effect, and the mint chip pieces cause a calming outcome on the skin. While the mask does an excellent job to fight dryness, it is the ultimate refreshing product for the skin. Bliss Mint Chip Mania enhances the skin by removing oil and dirt. 
The mint chip mania soothing facial mask works well before a day outdoors as it helps to reduce redness and inflammation. For best results, you have to apply it at least 2-3 times a day. The facial mask is, however, not recommended for sensitive skin as it creates a flaky effect.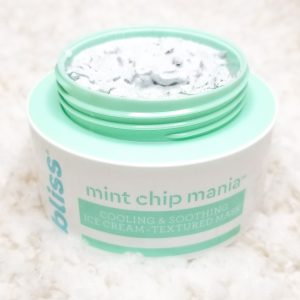 Why should you buy it?
Skin feels fresh and smooth after application. 

Quite affordable.

It provides an extra cooling effect on refrigerating it for a few hours. 
Drawbacks
Not recommended for sensitive skin.
Fab Foaming 2-In-1 Cleanser & Exfoliator
Bliss' Fab foaming 2-in-1 cleanser and exfoliator with bamboo buffers is an oil-free cleanser that works even on sensitive skin. It helps to remove dirt from the skin and gives it a soothing effect. The bamboo buffers help to clean the skin easily. Along with bamboo buffers, the product has ingredients such as organic chamomile flower extract, passion fruit and English marigold extract, and even glycerin. 
Sale
These ingredients work well to soothe the skin and help retain hydration. Despite this, the product contains sodium c14-16 olefin sulfonate, which works as a cleansing agent but ends up leaving the skin extremely dry.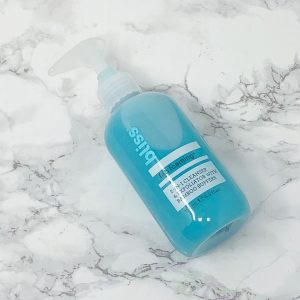 Perks
Affordable. 

Best Makeup Remover. 

It brightens up the skin. 
Cons
The plumeria scent can irritate.

It includes a dry cleansing ingredient. 
You Might Like: Perricone MD Reviews | Wellness Inside and Outside?
Customer Insights | Bliss Skincare Products
Many users recommend Bliss Skincare because of the high quality of the products. With a commitment to making all facial products vegan by 2021, Bliss has gained much appreciation. A few Bliss Skincare reviews by customers are below to help you get a better understanding. However, there has also been a fair share of a disappointment for a few customers.
Lizzie says, "I have been using Bliss products for quite a few years now, and I have been really impressed with the results over the years. The skincare range provided by the brand leaves you with so many options. My skin is extremely dry, but after I started using Bliss Skincare products, my skin remains hydrated and gives it a natural look."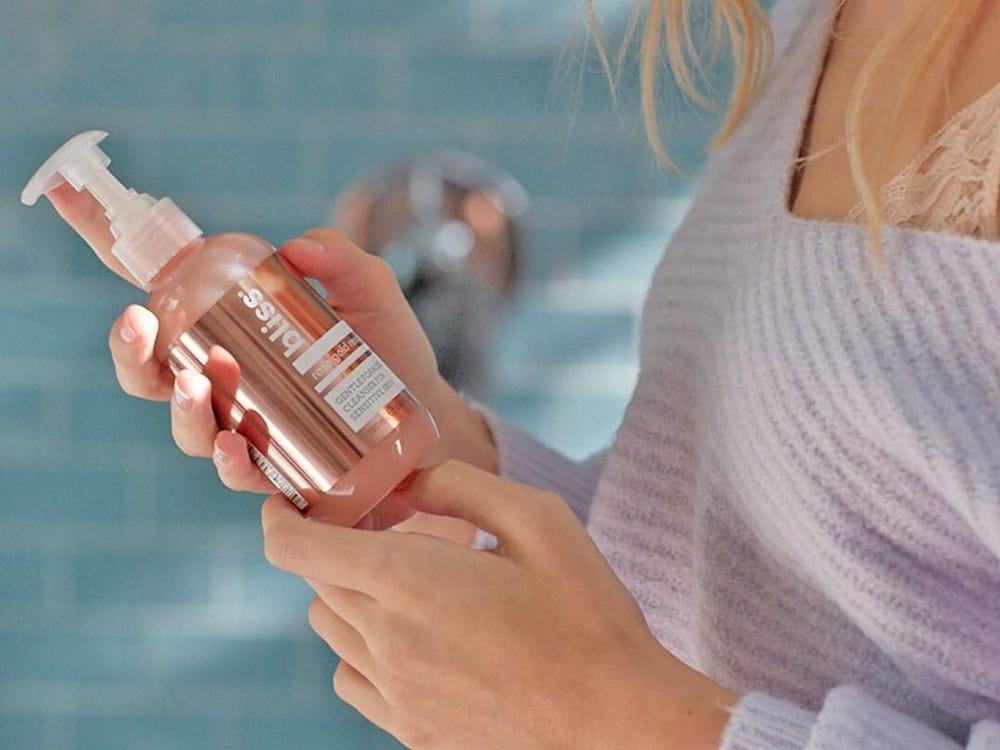 Frank says, "Only recently have I started understanding the importance of skincare, so I decided to give it a try. A close friend recommended Bliss Skincare to me, but I am unsure how much it worked for me. After using their moisturizer, I noticed it just made my skin more oily. I found the fragrance unpleasant, too, and I don't see myself using products from their brand ever again. Guess it is just not meant for me."
Susan says, "I am in love with the Bliss Skincare toners. I have tried quite a few brands before this, and none of them worked the way the ones from Bliss did. It has helped to keep my skin clear, smooth, and moisturized. I will definitely try the other skincare products available by Bliss. Another thing that makes me love Bliss so much is its effort towards sustainability. Knowing that Bliss is working towards providing zero waste products has surely inspired me."
FAQs| Bliss Skincare Reviews
Is Bliss Skincare Good for Your Skin?
Bliss Skincare has been in the market for over two decades now. The fan-favorite brand makes some of the finest products for skincare. The effective formulas used to make the products live up to the brand name. While everyone's skin type is different, this cruelty-free brand, free from all harsh chemicals, is recommended by many customers. It indeed is a must-try that will bring noticeable differences.
Why Does My Skin Burn after Using Bliss Products?
Everyone has unique skin that is quite sensitive. Even though Bliss Skincare has a solution for every type of skincare problem, there is a possibility that the products do not suit you because of some particular ingredients used in the making. Experimenting with a new skincare brand can cause a burning sensation or irritation on the skin. If there is a burning sensation, you must immediately switch to a different and better skincare brand that suits your skin.
When Should You Start Using Bliss Skincare?
Bliss Skincare provides a wide range of products depending on what you are looking for. There is no such thing as a particular age where you should start with a skincare regime. Coming especially to Bliss, you can start using it once you find a product you want to use. However, it is best to start early to prevent skin problems.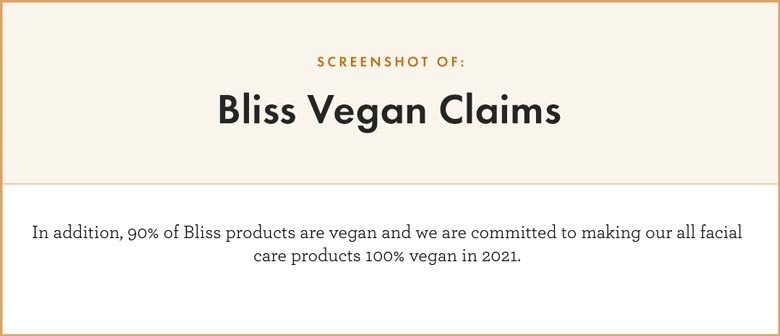 Cessation | Bliss Skincare Reviews 
Bliss not only brings a unique spa experience home for you but also provides a solution for all kinds of skin. For perfect glowing skin, this is an excellent choice for you. While they may do wonders in giving a fresh look to the skin, they might not be the best choice if you have sensitive skin. We hope you take into consideration the pros and cons of the products before purchasing any. 
We hope this review helped you to know more about the features, best-selling products, key ingredients, and Bliss Skincare reviews from customers.  If you are still doubtful about this brand and have questions, we would be happy to help you further. Do drop a message in the comment below, and we will get back as soon as we can.