Body pain and skin infections are inevitable and pretty tricky to deal with. Different factors play a role, including bad posture, dislocation, injuries, chronic diseases, accidents, and many more. With various factors playing a role, it is of utmost importance not to ignore any sign of pain that gives way to wear and tear because, in the long run, it can cause more harm than we ever imagined. We often look for solutions to any form of pain caused as it is discomforting and also tends to decrease productivity over time. To our advantage, there are many companies today that care for the wellness of individuals and have come up with products that treat these painful conditions to bring relief. Today, we will focus on the debate upon Blue Emu VS Emuaid to help you understand which one would be a better choice if you were to choose between these two.
While the cause of pain could be various underlying factors, being aware of the condition you are experiencing can help you get a step closer to the product you should go for. Understanding the accurate picture of a brand and its product before going for it gives one an upper hand concerning expectations. We will provide you with an unbiased review of these brands and what they bring to the market to help you get closer to your final pick. 
You Might Also Like: Camille Rose Growth Serum Review | The Absolute Best?
Blue Emu VS Emuaid | Better Option To Ease The Pain?
Founded in 1988, Blue Emu has come a long way in designing products that aim to comfort the pain experienced in the muscles and joints. The President and CEO of the brand, Susan Gregory, has helped Blue Emu achieve commendable heights. Nutrition & Fitness Inc. manufactures and distributes the products formulated by this company. The brand is known primarily for Original Blue Emu cream, which was developed almost 20 years ago and is still one of the brand's best sellers.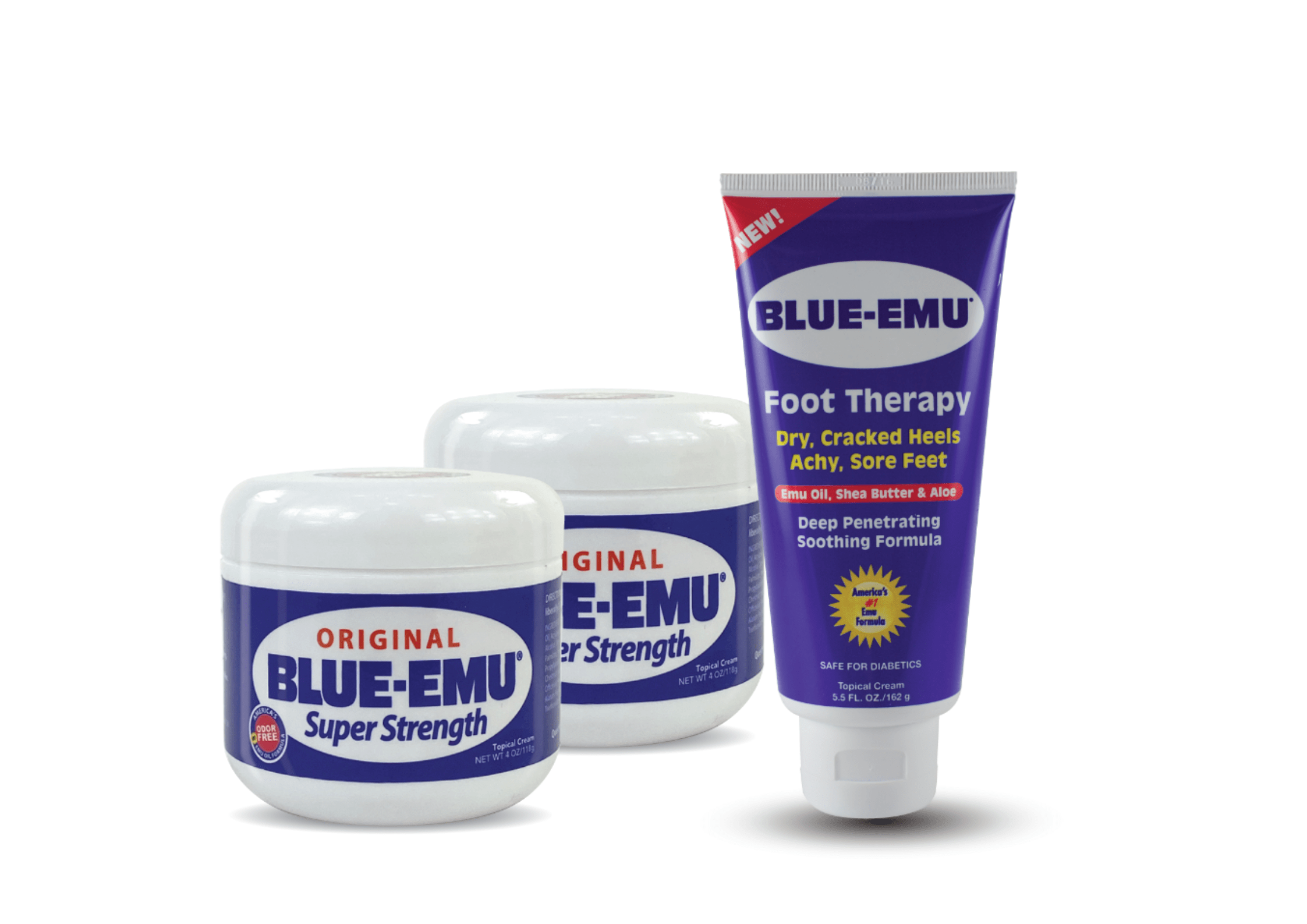 On the other hand, Emuaid was established in 1901 and is a homeopathic remedy for different skin infections and fungi. The founder of this brand, Richard Nicolo, has researched other skin conditions for many years and developed groundbreaking technology to create homeopathic remedies for the skin. The products by this brand do not require a prescription and help treat different skin and body problems because of their medicinal properties. 
Therefore, Emuaid focuses on reducing pain and discomfort with its antibacterial and antifungal properties. It helps to treat different and complex skin conditions that appear. Blue Emu is helpful to treat joint and muscle pain, rashes, bites, and burns. While both the brands focus on treating and bringing relief to body pain and problems, which of the two is a better choice? Through this review, we will help you understand more about both the brands and what they offer. 
Product Range
Blue Emu: Blue Emu primarily focuses on bringing products that help relieve joint and muscle pain. The company understands the vital need to have products that soothe the pain we often experience due to body pain. Some of the best-sellers of this brand include Original Blue Emu cream, Maximum Pain Relief Cream, Recovery Bath Pods, and Lidocaine Dry Patch. All the products are safe to use daily. Overall the products are high-quality and durable. 
Popular Blue Emu Products
However, it is still possible for a few side-effects to develop after using products by Blue Emu. These include allergic reactions, skin itchiness, or redness. The good part is that nothing too serious can occur after using any of the products. 
Emuaid: Like Blue Emu, Emuaid offers a variety of products. Some of the products like the Maximum Strength Cream, Overnight Acne Treatment, Therapeutic Moisture Bar, and First Defense Probiotic are popular products by the brand. Unlike Blue Emu, Emuaid has a mild fragrance in most of its products. Different clinical studies have proven the effectiveness of the products that have helped establish their efficacy over time. The ointments should be applied regularly at least 3-4 times a day. 
Popular Emuaid Products
On the whole, even those there is a possibility of side-effects after using one of the products by Emuaid. But there is no need to worry, as they are adverse reactions and can go away with time. However, if they do develop, it is essential to discontinue the product. 
Ingredients Used
What makes brands unique from one another is the ingredients chosen to formulate the different products. Before selecting a particular product from a specific brand, it is crucial to go through the ingredients used to know what makes the product. If you are allergic to any ingredients, you can take steps to avoid buying that product and look for other alternatives.
Blue Emu: As the name suggests, Blue Emu products primarily consist of blue emu oil. As a topical element, this oil, with its anti-inflammatory benefits and moisturizing ability, has rich fatty acids that make it easy to penetrate through the skin. A few other elements commonly found in some of the products by this brand include aloe vera extract, flower extracts, and seed oil. The company chooses ingredients while keeping in mind the need to relieve pain experienced in the body.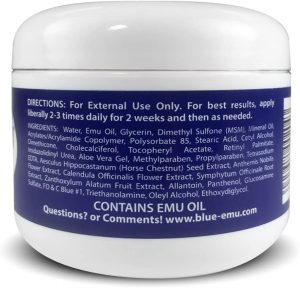 It is not an FDA-approved brand, but it contains a few elements that the Health Department has approved. 
Emuaid: Emuaid products are also formulated with ingredients that are natural and of high quality. It is free of harmful chemicals and preservatives. The elements that primarily play a role in all the products include emu oil, tea tree oil, and colloidal silver. Colloidal silver is the active ingredient of Emuaid products. The natural healing ingredients used by this brand are all formulated in a homeopathic center which guarantees its safety. Since this company focuses on therapeutic properties that the elements bring out, they help soothe the skin and protect it, giving way to wounding the heel.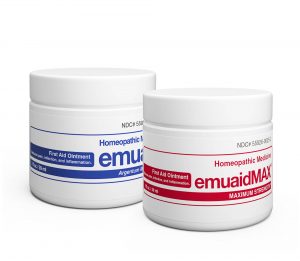 Unlike Blue Emu, the ingredients and products of Emuaid are regulated and manufactured by the FDA. This helps to guarantee the quality and safety of the ingredients used.
Customer Insights | Blue Emu VS Emuaid
The customer reviews provided below are a summary of what users feel about these brands. Blue Emu and Emuaid have received mixed reviews from their users, which helps us understand where they truly stand. Let us have a look at what customers have to say about their experience so far. 
Blue Emu: The general customer reviews about Blue Emu are good. Consumers from far and wide have been satisfied with their overall results with using the products by this brand. The ingredients used to formulate the products have received much appreciation since it has excellent healing properties. Blue Emu's positive reviews also suggest that the products by this company are beneficial for chronic pain and arthritis. 
Despite all the praise, there is a lot of dispute about how this is not an animal-friendly brand. Many users prefer cruelty-free brands; therefore, individuals like choosing alternatives over this brand. Considering the price, some of the products are of high range, and many feel they cannot afford them. Lastly, a few negative reviews about how Blue Emu products do not change users' looking forward to. Sometimes, it's close to no relief in pain or only temporary discomfort.
Emuaid: Emuaid reviews on Amazon show that the brand has received an average of 4.2 stars out of 5. Testimonials from consumers indicate that the company has received a lot of praise but has also disappointed a few individuals. Since the brand uses only natural elements, customers can trust the products and feel it is an excellent choice to opt for. The easy-to-apply products have been significantly helpful for users in helping to reduce and get rid of infections on the body. 
However, on the other hand of the spectrum, customers are not very happy with the products being priced at a high range. Some customers have also complained about allergic reactions to a few ingredients in the products, especially tea tree oil. For many, it did not help to cure the skin infection and fungus completely. 
Also read: Hydra Riche Skin Serum Reviews | As Effective As Claimed?
Cessation | Blue Emu VS Emuaid
The difference between these solutions is primarily the ingredients used to develop the products and the purpose and function of both. Blue Emu, for instance, is a pain reliever especially for joint and muscle pain; Emuaid is a topical remedy to treat infections and skin fungus. Therefore, we would like to end the debate on Blue Emu VS Emuaid by concluding that Emuaid is a better pick for its quality and consistency, especially for infections.
Emu oil is found in both brands, making both of them not free from animal cruelty. Unlike Blue Emu, Emuaid has been registered under the FDA who also manufactures the products of this brand. Choosing between these two brands will depend on what you are looking for, as both serve to fulfill a different purpose. We hope you make a wise choice and find the ideal solution to relieve you of pain. If you would like to ask us anything or clarify something, drop a message in the comment section. We will get back to you soon.