Are you bored of those old-school nail paints? Well, recent research shows how Color Changing Nail Polish is the trend of the hour. Where on one hand, some prefer soft and subtle colors, some others prefer bolder shades. Just like your hair and makeup, your nails need to be occasion-perfect too. Imagine switching over to a different shade right in a go. Yes, you read that right. That's precisely the role of a color changing polish. Isn't that great?

With different formulas available in the market, it becomes a challenging task to pick one that rightly suits your nails. In the last few decades, the changes in the nail paint industry have been drastic. The color changing variant is one of its outcomes that you just can't turn your head away from. This blog post aims to help our readers adjudge the right type of nail paint to fit their requirements best.
See Also: Glow In The Dark Nail Polish
10 Best Color Changing Nail Polish | Buying Guide 2022
It is a general human instinct to be looking out for something new and innovative. We all tend to get tired of anything once it starts showing repetitive patterns. The same goes out for your regular nail-paints, the simple single color strokes and nothing seems fascinating about the same, anymore. In this scenario, Color Changing Nail Polish comes as a rescue. Such nail paints change hues with changing environmental conditions such as the viewing angle, heat, and water. The very thought in itself seems fascinating and surely makes you curious.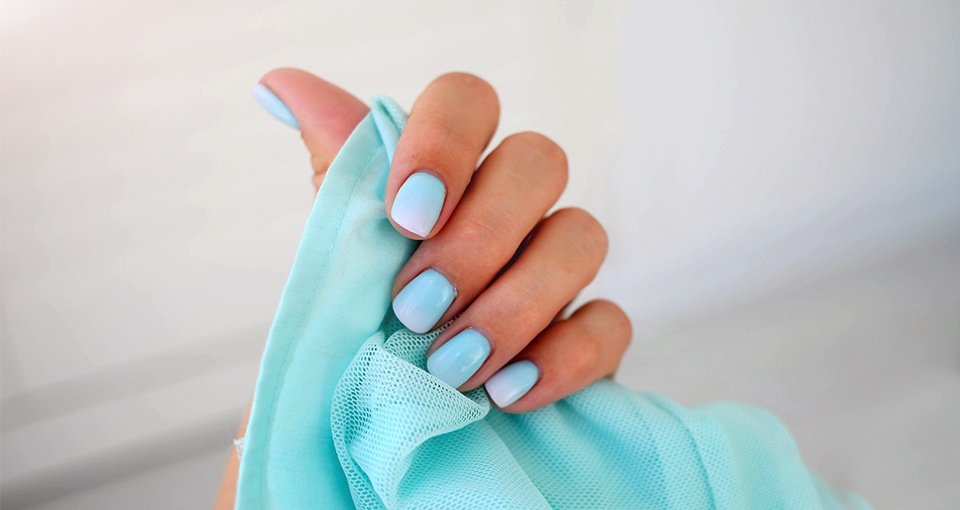 The different types of color changing polish react to changing temperature, mood, and even UV radiation. The average temperature of the body is slightly different from that of the nails. It is the thermochromic reaction that is taken into consideration in analyzing results for temperature and mood-changing variants. However, in the case of the UV variant, such nail paints react to sun exposure. It tends to get darker when outdoors. With that, let's delve deeper into each aspect, quench your curiosity and help you make your pick.
Parameters For Purchase 
Now that we've known how the product functions, we are learning its different variants next up. Yes! 'variants' is the keyword here. Color-changing polishes offers variants that you can't even think of. Varieties in formulation, texture, color, hue, intensity and many more are in store for you. When buying a product like nail polish, certain key considerations ought to be guiding your purchase decision. Hence, here we are to present before you a list of the same:
Longevity & Durability: The first considerable aspect is the longevity factor. The color changing feature might interfere with the longevity of the product formula. Thus, a color changing polish that promises to hold on for quite some time would be a steal deal. 
Color Itself: The variants in the field are huge in terms of texture, color, and many more factors. It will be a sheer waste if you pick something the outcome of which is not favorable for you. Hence, it is suggestive to look up the product description and reviews if possible. 
Ease Factor: We all love a formula that offers at-home ease of application and removal. If the procedure ends up being challenging, no one would prefer that. Therefore, it is a wise decision to settle for an easily accessible formula. 
Drying Time: A quick-dry formula is always a go-to. If you happen to be low on patience, it ought to be your ultimate consideration. Convenience is all we aim to seek, and hence, a quick-dry formula is convenient in itself. 
Quality: Efficiency and effectiveness are the keys to customer satisfaction. Efficiency would be attained when you pick the product within your budget, given its true value for money (effectiveness). That's how both these concepts can help you determine your choice.
With these few considerations in hand, you are all good to go and hit the cart. Picking the right product for your nails is a matter of choice. We would slowly unveil other aspects throughout the journey to help you with your purchase decision. 
Different Types Of Color Changing Nail Polishes
Color transformation effects can be an outcome of several overriding chemical factors. Each variant has its unique method of functioning, though the aim happens to be the same. Let us highlight the different secretive reactional formulas without further ado.
Temperature Color Changing Nail Polish 
The temperature color changing polish contains a component named Leuco Dye. Leuco dye is a solvent and an organic acid with color-changing properties based on mood and temperature. When the nails witness a cooler temperature, it tends to show pigmentation. On the contrary, when the fingernails are on the warmer end, the outer layer turns transparent. Such a solution is usually in the form of a gel that brings about nail pigmentation in the solid state. 
UV Color Changing Nail Polish 
The UV color changing polish is solar reactive. It has the potentiality to change its color when exposed to sunlight. The formula encompasses certain tiny crystal particles that react to the sunlight. Hence, those particles show up when exposed to the sun, keeping the original nail color undercover. Besides, the particles, on settling down under normal conditions, show up the actual nail color. That's how the solar reactive mechanism works in the case of nail paints.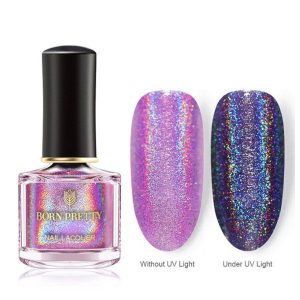 Multi-chrome Effect Nail Polish 
The Multi-chrome effect is accountable for different colors under different viewing angles or changing lights. These are the most trending and have nothing to do with temperature change. This formula hits the human eye with its reflective color, thus protruding a change in color. The different layers of the polish get reflected, and therefore the whole appearance of the nail polish is meant to appear different. Its reflecting effect is similar to that of a mirror. 
Holographic Effect Nail Polish 
Though it falls in the category of multi-chrome effect, there lie specific points of distinction between the two. The most crucial distinction being the reflecting type. While you can compare the multi-chrome reflection to that of a mirror, the Holographic effect reflection is more crystal-like. The changing colors with the changing viewing angles is an ultimate treat to the eyes. It adds an element of elegance to the overall effect that the nails come up with. 
Best Picks |
Color Changing Nail Polish 2022
Picking one out of the lot is never as easy as it may seem. However, we have the list based on extensive research and customer reviews.  
AIMEILI Temperature Color Changing Gel Nail Polish
As the name in itself suggests, Aimeili reacts to changing temperature. The brand does not lack color variants, and you get to pick one of your choices. Its application is simple, and drying requires to be done under UV or LED lamps. When your fingertips experience a cooler temperature, the color changes as per your chosen shade from the range of colors. It is in the formula of a gel but applies like a polish. The user is not likely to witness nicks, chips, or smudges. The manufacturer claims it to last for about 14 days, and hence it deserves to be on the list of the best. Also, most customers are a fan of its results.
Why Should You Buy It?
Wide variety of colors to pick from

Claims to last for about 14 days 

It offers a mirror shine finish 

Both layers are easy to use 

It comes in the formula of a gel and does not require reapplication
Drawbacks 
The drying formula requires UV or LED lamps and thus requires an extra expense 

The formula is slightly thick on the nails 
ILNP Heat Wave Holographic Shimmer Nail Poli
sh
It is an entirely hassle-free and easy-to-use formula. Its color changing effect creates a crystal-like reflection. For example, the 'soft purple' shade color transitions occur from sunset orange to green depending on the viewing angle. The product is infused with high-quality ingredients to make it best suitable for its customers.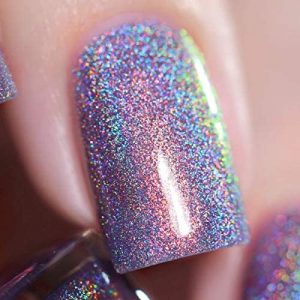 The added feature that the variant offers is that you need not use a base coat similar to other products. With just 2-3 coats, you are all good to go with all the shimmers at your fingertips. There are significant recommendations on using nail polish by its existing users. 
Why Should You Buy It?
Offers ultra-luminous finish

Looks pristine on the nails 

Color changing based on viewing angles 

Easy to use and instant dry formula 

Has a good number of positive reviews from its existing customers
ILNP Heat Wave - Soft Purple Holographic Shimmer Nail Polish
SOFT PURPLE HOLOGRAPHIC - Soft purple holographic with sunset orange to green color shift
CHIP RESISTANT, EASY TO REMOVE - Our nail polishes wear like iron! Enjoy long-lasting coverage with chip-resistant durability. Removal is a breeze - nothing like glitter!
100% SATISFACTION GUARANTEE - Not happy with Heat Wave? Return or exchange it for something else totally free of charge. We'll never leave you stuck with something you don't love!
Drawbacks 
Some users complaining of its coverage capabilities 
KBShimmer Best Buds Tri-Thermal Nail Polish 
It is best suited for summertime use as its transformational colors are bright and full of life. The name in itself suggests a tri-thermal polish that keeps changing when exposed to potential heat. Its transition is from a deep slate blue shade to a dark orchid followed by bright minty lime. The transiting shades are covered in aurora shimmers.
For optimum results, it is suggestive of being used alongside a topcoat that would prevent the shimmer particles from feeling harsh. In just 2-3 coats, the ideal color pops out for you to flaunt. The reviews speak all positively about the polish in terms of its color changing capabilities. 
Sale
Why Should You Buy It?
Best results in just 2-3 coats 

Easy application and drying formula 

Offers tri-color hue when exposed to heat 

The formula is 100% vegan and cruelty-free 

Users happen to be obsessed with its usage 
Drawbacks 
Mandates using top coat otherwise, the formula would feel harsh

It did not prove to be effective for some of the users 
Modelones Mood Changing Nail Polish Gel
set
A set of six majestic color changing set makes it suit all occasions just the right way. Each bottle of color changing liqueur contains 10 ml of product. With no nicks, chicks, or smudges, you are all good to enjoy a two-week ideal manicure. With changing body temperature, the transition shades show up in no time. In the formula of a gel, the product offers a mirror-like finish on the nails.
The longer the nails, the better the result. It is suggestive of being used alongside base and top coat for ideal results. There is a probability  for allergic reaction, so do not forget to undergo skin tests. It has been accredited with 4.3 out of 5-star reviews on Amazon.com, with most users recommending a purchase. 
Why Should You Buy It?
It lasts for up to 2 weeks 

It offers a mirror-like finish 

No nicks, chips, or smudges to be observed 

The set comes with both shimmer shades as well as regular transition shades 

Best results when nail are long 
Sale
modelones Color Changing Gel Nail Polish Set 6 Colors, Spring Sheer Pink Glitter Temperature Mood Changing Blue Ombre Changed Soak Off Nail Art Design Kit Manicure at Home DIY Gifts for Women Girls
🎁【Special Temperature Changing Gel Nail Polish Set】Item Included 3*Normal Color Changing Gel & 3*Glitter Color Changing Gel: Dark Pink-Sheer Pink; Barbie Pink-Sakura Pink; Brown-Orange; Glitter Light Red-Glitter Sheer White; Glitter Blue-Glitter Sheer Green; Glitter Dark Brown-Glitter Blue.
💖【Enjoy Color Changing Fun】 Feel the quadruple temperature change magic on your fingertips. The gel polish color mood changed is based on the temperature of your nails! You can know how it changes from the description.
✨【Shimmery Pigmented Works of Art 】Before curing in the lamp, take the magnet and place it to your liking to achieve the desired effect, it only takes a few seconds you will see! Then cure in lamp 60 seconds. Remember that the closer the magnet to the nails, the better the result, this does not mean that you have to keep it directly in contact with the polish. It allows you to create real works of art of great, great effect!
Drawbacks 
Is prone to causing allergic reactions for some 

Ideal results only when used with base and top coat

 
Del Sol Color-Changing Nail Polish 
The Del Sol nail polish reacts to UV radiation. When outdoors, the color changes in no time, even when top coated. The formula contains spectra chrome crystals that are not usually visible to the human eye. However, the particles appear to the forefront on exposure to sunlight, thus changing the original color.
Likewise, when the color does not come in contact with UV rays, it reflects the original shade. It comes in various shades and textures, such as shimmer, matte, and glitter. With its easy-to-apply formula and lovely colors, it has won the hearts of several customers.
Del Sol Color-Changing Nail Polish - I Lily Like You - Changes Color from White to French Rose Pink in the Sun - Quick dry, 5-Free Nail Lacquer - .34 fl oz/ 10mL
Del Sol's "I Lily Like You" is a White polish with a classic finish that changes to a French Rose Pink with a touch of the sun's rays
Colors adjust back and forth in seconds, even with a Top Coat! Even on a cloudy day, 80% of the sun's UV rays still pass through the clouds, making your Del Sol Nail Polish change
Del Sol Nail Polishes are 5-Free which means no harmful toxins such as, Toluene, Dibutyl Phthalate (DBP), Formaldehyde, Formaldehyde Resin, or Camphor are added, and we never test on animals
Why Should You Buy It?
Easy to use formula

Changes color in no time when exposed to the sun

Multiple variations in texture

Works even on cloudy days 

Has good reviews from its existing users 
Drawbacks 
Some users have claimed it to chip easily 

Requires multiple coats to show up ideal results

 
BORN PRETTY Color Changing Thermal Nail Polish
Set
If you happen to be a fan of dazzling colors, Born Pretty nail polish is likely to please you. The packaging contains four bottles of glittery nail paints. The variant is sensitive to temperature and sunlight. The most attractive part of it is the multiple effects that it offers. It is not just restricted to a dual or triple transition. It is free from any toxic substances and is completely safe for nails and skin.
With its easy-to-use formula, it is highly convenient to use. A minimum of four shades is visible out of a particular bottle of the product. Its nitrocellulose-enriched formula makes it last for about two weeks. The reviews might not be that great, but they might tend to work for you.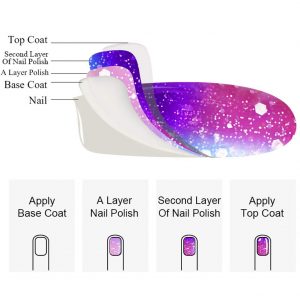 Why Should You Buy It?
It lasts up to as long as two weeks 

It is sensitive to both temperature and sunlight

Offers multiple effects 

Safe to be used on the nails 

Easy to use formula 
Drawbacks 
Users claim it to be false in its claims 

Not the perfect formula for some

 
Cirque Colors Thermal Temperature Color Changing Mood Nail Polish
With its vegan formula, it is a dual-tone transition polish that changes with the temperature change. For example, the 'sol' shade transforms from purple to baby pink from cold to warm atmosphere, respectively.
Cirque Colors Thermal Temperature Color Changing Mood Nail Polish - Magic Turquoise - Speckled - 0.37 fl. oz. (11 ml) - Vegan, Cruelty-Free, Non-Toxic Formula
Magic Turquoise is a turquoise thermal nail polish that changes to jade green when cold and light blue when warm, and has metallic flakes which will give it a unique, speckled finish
Cirque Colors high-quality thermal nail polishes matte finish will change colors based on temperature, is opaque in 2 coats, saturated in color, easy to apply, and has a long-lasting wear
Our polish is vegan, animal cruelty free, non-toxic formula and 10-free.
Also, the presence of a slight shimmer makes the polish appear sparkling on application. It is suggestive to use the product alongside the base coat and top coat for ideal results. In just two coats, the color develops to the fullest, and you are all good to go. There is a wide range of variants for you to satisfy your search. Users claim the product to stand firm with its claims without any dissatisfaction.

Why Should You Buy It?
Long-lasting formula 

With the top and base coat, it brings about ideal results 

Complete vegan and cruelty-free formula 

Huge variety to choose from 

In just two coats, the outcome is achievable
Drawbacks 
Some users claim it to be an inferior quality product

 
Allenbelle Color Changing Nail Polish Set 
Are you looking for an extra guarantee factor? Well, Allenbelle as a brand is quite confident with its claims. The color changing polish set comes in a pack of six different shades, including shimmers, creme formula, etc,.
The manufacturer claims it is of high quality and assures its results. Most interestingly, it comes with a 30-day money-back guarantee. Its drying method involves using UV lamps. With an overall glossy effect on the nails, it is a perfect fit for longer nails. On a single-use, it can last you about three weeks as per the manufacturer's claims. Also, it has quite a good number of reviews on the net from its existing customers. 
Why Should You Buy It?
It comes with 30-day money-back guarantee

Single pack with six different variants 

It lasts up to three weeks 

High-quality product and is safe for use on the nails 

It comes in a gel formula with a mirror finish
Drawbacks 
Needs UV and LED lamps for drying 

A skin test is necessitated before use for allergic reactions

 
BEROMT Thermal Mood Changing Glossy Nail Enamel
Beromt offers six different color variations in its color changing range. It is a five-free formula that changes color with thermal effects. The ingredients used in the formula are environment friendly and free from hazards to nails and skin. The best part about the product is its drying technique; unlike others, it doesn't require UV or LED lamps.
The manufacturer claims it will last for about 3-5 days which is good enough. The product changes its hue with temperature though the primary color remains the same. It is just the intensity that reacts to temperature change. As and when the fingertips get cooler, the shade gets darker with each step. The majority of its existing users have claimed it to be effective. While some others say, it never changes color as per its claims.
Why Should You Buy It?
It offers a glossy/shiny outcome 

Claims to last for about 3-5 days 

Does not cause a hazard for the nails and skin

Changing intensity with changing temperature

It does not require UV or LED lamps for drying 
Drawbacks 
Some reviews with falsifying claims 

Color variants are limited to si

 
Bow Thermal Solar Color Changing Mood Nail Polish
Though the brand is not much talked about, it has quite some relevance in the field. Bow color changing polishes are built on holographic mechanisms. It reacts to both sunlight and temperature changes. With changing temperature or sunlight, you see a different color or a different shade of a particular color. They claim to be completely free from any cruelty and are a vegan formula.
The shade 'miracle' develops into purple raspberry when outdoors and deep teal when indoors. With its fast-drying and streak-free formula, it deserves to be on the list of the best. Almost 94% of its existing users have been satisfied with their purchase and are willing to buy more of it.

Why Should You Buy It?
Easy drying and streak-free formula 

Reacts to both temperature and sunlight 

 Has a vast customer satisfaction from its existing users 

In just 2-3 coats, the product turns opaque on the nails 

Claims to last for about seven days on a single-use 
Drawbacks
Not as well known as the others on the list 
Closure
With that, we have all likely influential brands of Color Changing Nail Polish. When bored of the stereotypical single colors of nails, these are your go-to. But, we are mostly confused about choosing the best for us, and thus, we have you here. This comprehensive blog post is more than just a piece of information. All aspects of guiding your purchase decision have been enumerated to the best of our knowledge and expertise. 
We hope that you are all geared up to click and buy your desired pick. For any further relevant questions, do not forget to write to us in the comment section below. We would be more than happy to help our readers with their queries.