Who doesn't like adding a pop of color to their life? We've managed to fit everything under the umbrella, from outfits to makeup to shoes to tattoos to hair color! That extra added color makes you look bold and confident while also making you look dainty and childlike. That's the taste of it. There are endless possibilities when it comes to experimenting with hair colors. However, it would be best not to explore all these options because they might do more harm than good. It is crucial to get your facts right and then use hair colors on your scalp. But there might also come possibilities when you have to remove those vibrant colors added to your hair. Many hair color removers are floating on the market, but today, we'd be going through the best Color Oops reviews to find out if it's actually worth the hype.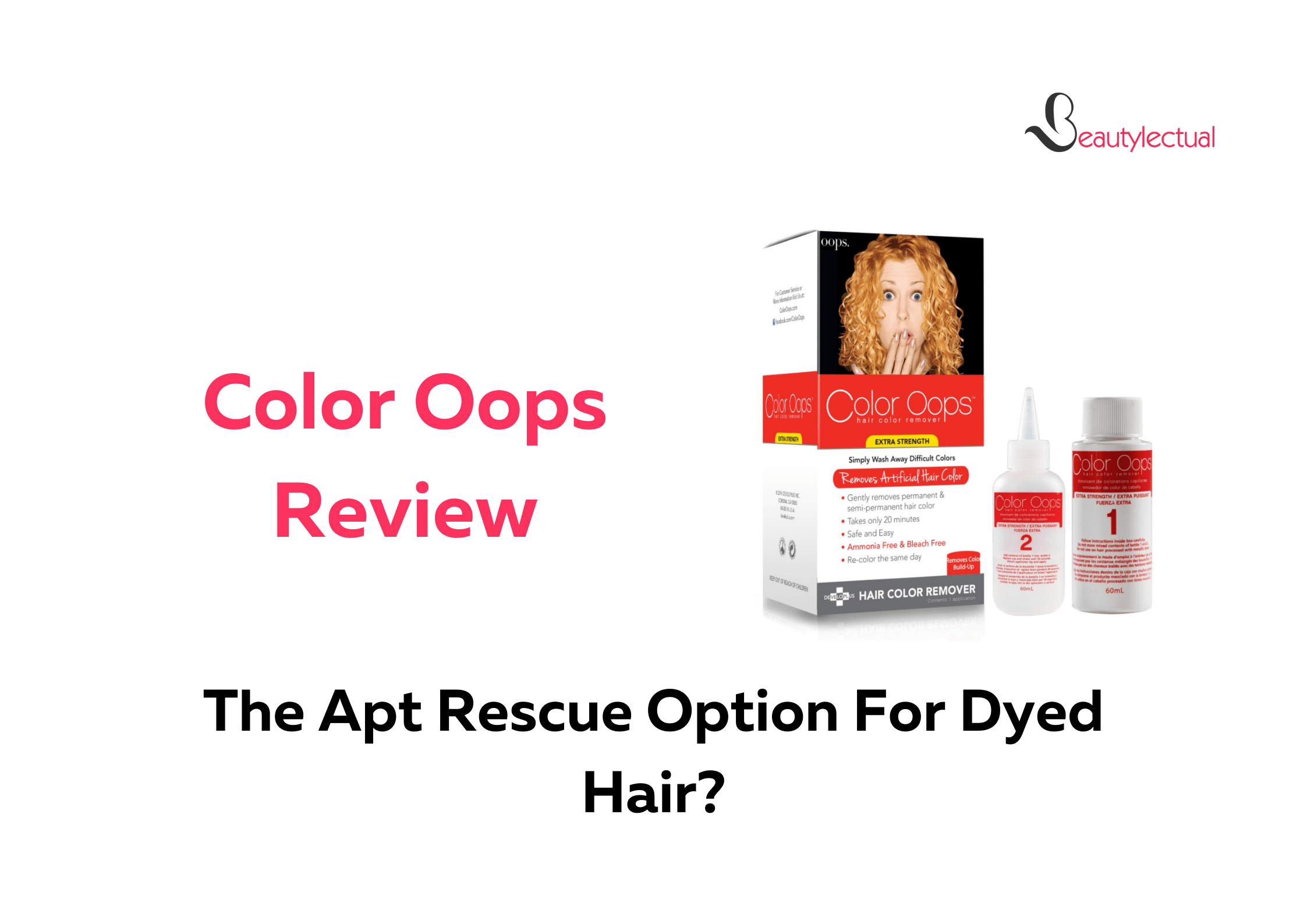 Color Oops started its journey back in 1991 and has not gotten off the throne ever since. A celebrity hairstylist favorite and a massive contributor to the hair care market, it is said to be the moon among the stars. Adding a tinge of protection against artificial hair colors has gained a massive flow of admirers all over social media. However, the validity of this popularity streak needs more solid shreds of evidence. Hence, we'll look into today's products, prices, ingredients, pros, cons, and results. So, hop on and join the ride!
You Might Also Like: Color Oops VS Color Fix | Best Hair Dye Remover?
Color Oops Reviews | Truly A Savior Or Just A Hoax?
Being well-revered leaders in the beauty and formula development sector, everyone at Color Oops strives to ensure the highest quality and recreation. They are constantly in search of unique, healthy, and off-the-chart product ideas, and that's what gives them the edge. However, these green ticks come with a few red flags that we shall discuss soon. To summarize, Color Oops promises to solve the issues during or after the hair coloring process. Be it the riddance of a color, protection of processed hair, balancing of off-tones, or bleach damage reversal – Color oops claims to have your back.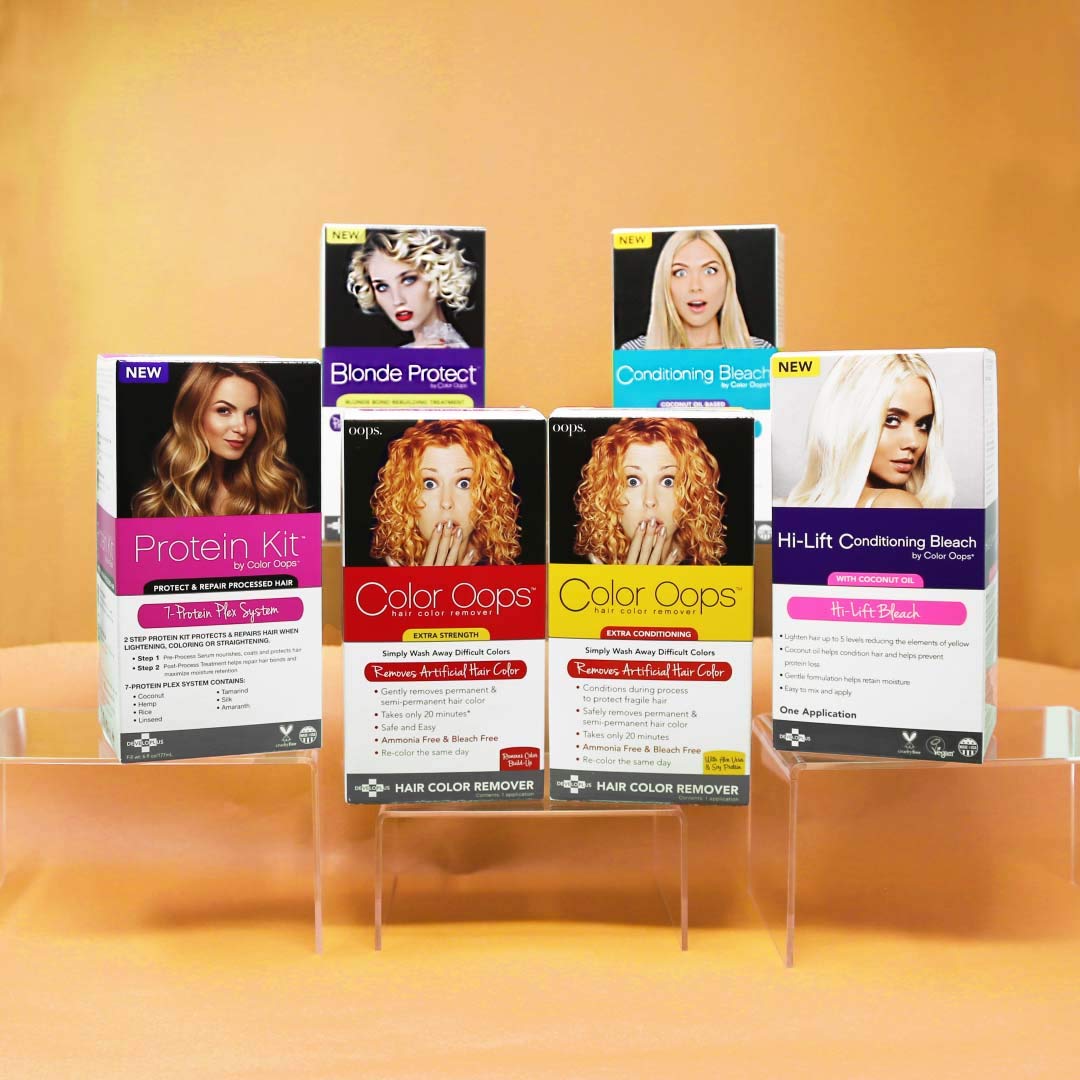 Your hair needs extreme protection when it undergoes color transplants or any heat abuse. Excessive amounts of ammonia and electrical heat can make the protein bonds break and cause gradual hair loss. Using a protective hair care regime can do wonders but may not provide complete. This is where products from Color Oops come into the picture.
Color Oops | The Gamut Of Products
Color Oops offers a plethora of products under general hair care and aftercare. They have products for color prep, undertone correction, and protection. In addition, they have these in different formats like wipes, creams, and conditioners. You could contact their experts through the mail address provided on their website to know more about what might suit you best. In the section below, we will discuss their best-rated top sellers.
Best Of Color Oops
COLOR OOPS EXTRA STRENGTH HAIR COLOR REMOVER
Artificial color needs a lot of stripping if you're trying to get rid of it. One wash wouldn't satisfy the threshold. The Color Oops color remover encircles the hair shaft and destroys the hair color molecular links. That way, the color gets removed, and only the lightened base gets revealed. The color at the end usually depends on the natural color of the hair. For example, if you have naturally black hair and dyed it blonde, initially, you will get a red or brown base after treatment.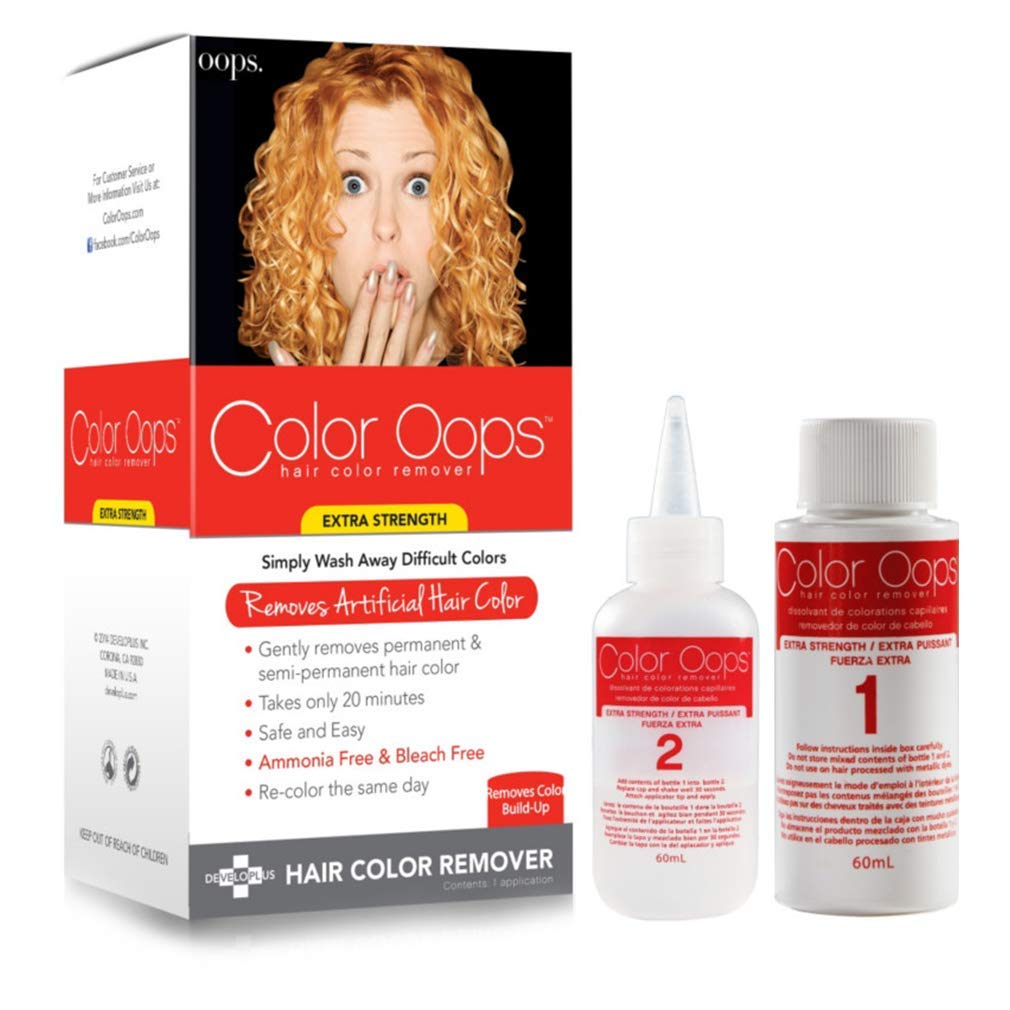 Deionized Water is free of any harsh chemicals and does not allow any buildup. The low concentration of  Citric Acid can help in protecting the scalp without making it dry.  Sodium Hydrosulfite is the element that gets rid of the color. It's a reducing agent that can react with oxidizing agents to lose electrons.
Pros of using Color Oops Extra Strength Hair Color Remover
Removes artificial hair dyes by 85%
Bleach and ammonia-free
Helps transition to a new shade
Cons of using this product
May not work for power shades like blue, green, pink, or purple very effectively
COLOR OOPS BLONDE PROTECT
Processed and bleached hair needs a few ways to rebuild its strength. It can build new keratin molecules and help you reduce breakage. The color damage is easily reverted too. However, it may take a considerable amount of time. You can reduce the effects of heat styling, too, as it has some cooling ingredients included.
The linseed oil in the product can counteract the brittleness and dryness. They also include coconut oil to add shine and luster and also increases the strength of the roots. Crambe Abyssinica Seed Oil has high levels of erucic acid, which can add moisture and provide protection against irritants. The formula contains the richness of the Omega-3s, which nourish the hair follicles and add density to them.
Perks of using Color Oops Blonde Protect
Provides extra hydration to the length of the hair
Protects blonde hair against sun damage
Can be used as a protectant before styling as well
Color Oops Reviews Before and After | Side Effects
Ivanka Sheldon says, "Back in the day when I had the go-crazy phase of life going on for me, I made a few ridiculous choices. I hopped from pink hair to green hair to blue hair. I soon got bored of all of them and tried a different color- orange. The brand that I used was rather inexpensive, and I didn't care. I thought it would work just fine too. However, I was wrong. My scalp was burning when I applied it, and after washing it out, my hair started falling out in chunks. My hair looked fried for days after that. I was lucky because I found the Color Oops remover and quickly put it to use. The hair now feels a little nourished, and it isn't falling out as much now. I wish I had found it sooner. Also, the color got removed, and I'm now left with a lighter shade of my original hair."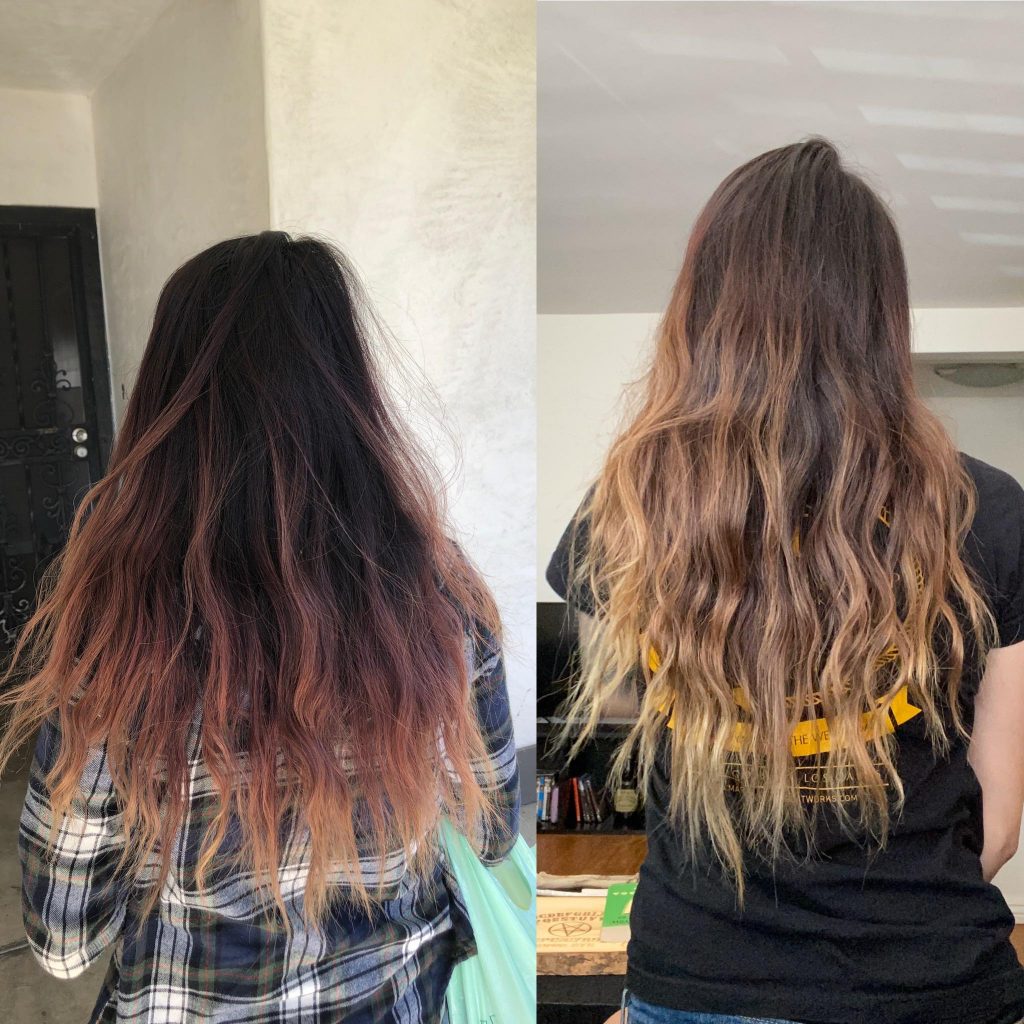 Ygritte Val notes, "I built my first salon here in New York about 40 years ago. People have been crazy about hair colors for the longest time. However, using lower-quality products can cause more danger than you think. I see a lot of young clients come up to our salons and seem distraught about these accidents. We sure do encourage you to try your hand out at DIY hair coloring experiments. Recreation is never a bad thing but using safe products is crucial. Your scalp is susceptible to harsh chemicals. Using protectants and after-care routines is a must. All of our clients usually get introduced to the Color oops packages right after their treatment. They are the best in the business after all."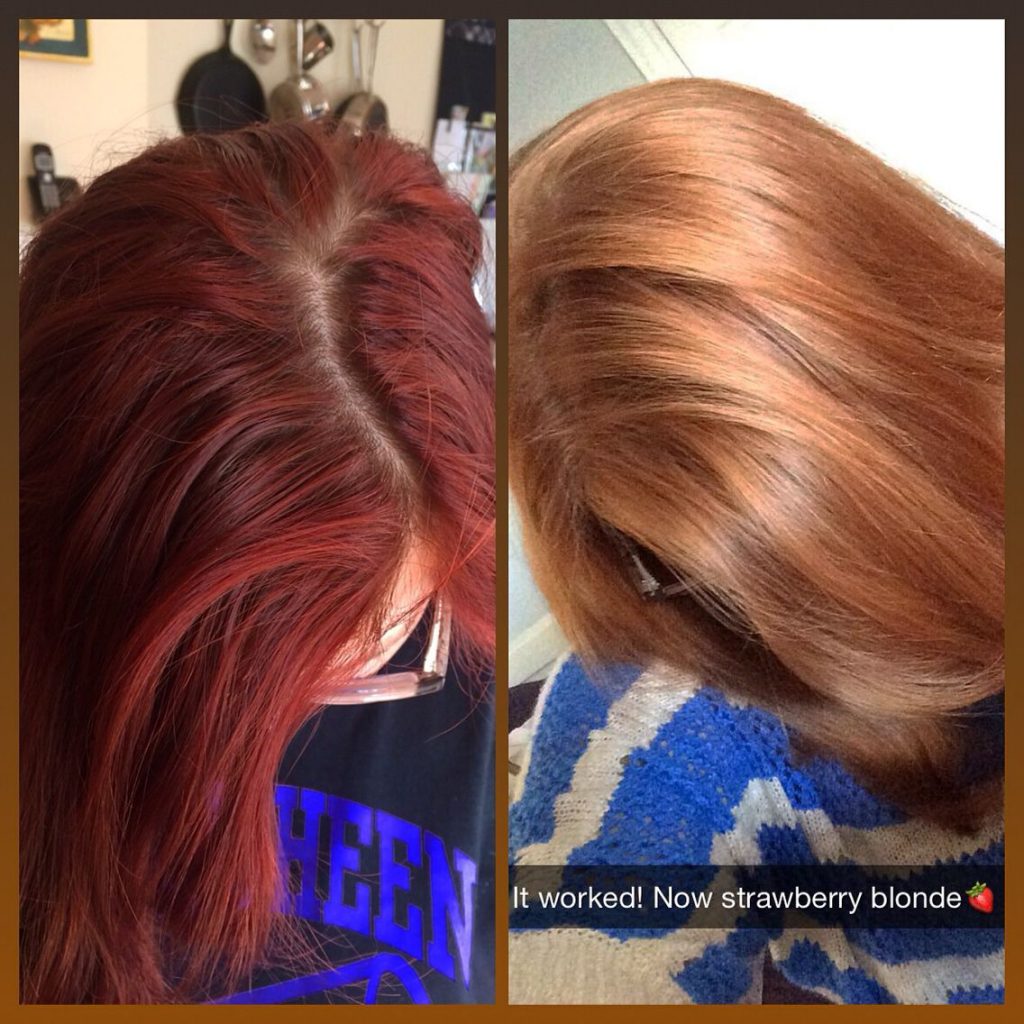 Side Effects
Aleena Jain, a fashion technology student from New Hampton, told us, "I like experimenting with my hair. I've dyed my hair before. Recently, I had to get rid of my green hair color due to a project requirement. After many referrals, I decided to try out Color Oops Extra Strength Hair Color Remover. However, it didn't work for me, and I ended up having a rash on the scalp."
Regardless of what these reviews suggest, we definitely think you must try out the products for yourself. Self-analysis will help you out like no other!
See Also: Maui Babe Browning Lotion Reviews | Boon Or Bane?
FAQs | Color Oops

 Reviews
Is Color Oops Damaging To Your Hair?
Color Oops has been a trusted brand for more than a few decades now. The products use very few irritating chemicals, and all of them have paraben-free formulas. They do not cause any damage to your hair. Instead, they can rebuild its strength.
Does Color Oops Actually Work?
Yes, there have been multiple Color Oops reviews on red hair and Color Oops reviews on black hair with solid proof of effectiveness. They break the color molecules and dissolve them.
Does Color Oops remove permanent dye?
Yes, it does. It can get rid of permanent dye pigments after 20 minutes of application. It has aloe plant and soy extracts that can provide extra conditioning and strengthening.
Closure | Color Oops Reviews
Collating facts and figures from the best Color Oops reviews, we conclude that the brand has gained huge fans. A plethora of products under numerous categories of general haircare and aftercare is what kept us at the edge. There was a wide range of options under each of those as well. However, there were a few red flags that we have already mentioned in the article. Our recommendation is to consult a specialist to see if you've any underlying illness or allergies.
Directed research helps you make the right choice, and we hope to help you in the same. Moreover, if you have any queries or suggestions, do not hesitate to write to us in the comment section. We'll be waiting in the wings for your responses!