It may not sound polite, but most people often judge others by their appearance. Scars, bruises, and pockmarks are often considered a hindrance to being attractive, and people try their level best to hide these marks. A face free of any flaws or spots is stereotyped to be as beautiful. Earlier, people used to worry about hiding their scars, but now, masking everything is possible with the advancement of science. We encourage you to focus more on your inner beauty. But, if you are someone on the lookout for a product to rely on to hide your scars, Dermaflage might be the one for you. But is Dermaflage 100% reliable? Let's find the answer through the best Dermaflage Reviews.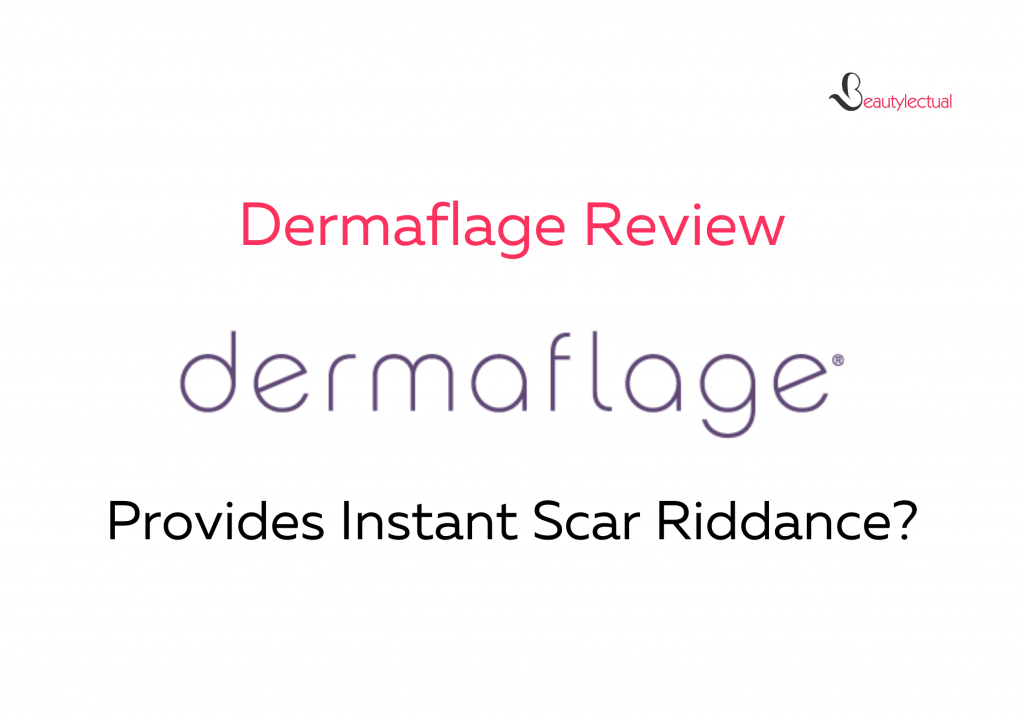 Scars and bruises are not pleasant, and sometimes looking at them can bring back those unpleasant memories associated with them. Therefore, concealing these marks from our bodies is a viable way out. It is also necessary to be precarious of the adverse effects these concealers might have on the body. Amongst all the scar concealers available in the market, Dermaflage professes to be a wise and promising product to choose from. Let us now see if these claims are worthy of being relied upon or not.
You Might Like: Ambi Fade Cream Reviews | Fades Away Marks?
Dermaflage Reviews | Camouflaging Scars?
Jocelyn Atkinson, along with others at Silicone Arts Labs, started manufacturing Dermaflage in 2007. Hollywood's best makeup artists are said to be associated with Dermaflage, which is also dermatologically and clinically tested. Dermaflage is famous as an instant, painless way to hide the scars, marks, discoloration, tattoos, piercing, bruises, etc. There is no surgery required, and with its unique formation, Dermaflage provides a natural, water-proof coverage that lasts up to 24 hours. It has multiple shades to closely match almost every skin tone and blends so immaculately with the skin to give the illusion of natural skin.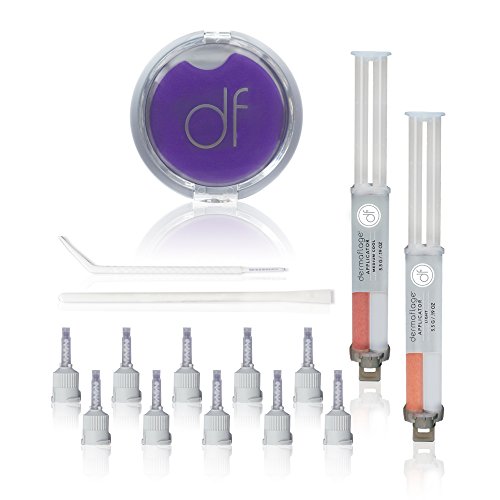 It sinks well into the skin and has no reported issue of skin irritation. Dermaflage's popularity is not just limited to ordinary people. The much-celebrated actor famous for Star Wars, Harrison Ford, used Dermaflage to cover his ear piercing. But, it is to remember that Dermaflage doesn't remove the scars but conceals them. Also, the price is a bit high for a product that hides the marks.
The Best Of Dermaflage 
Dermaflage is a much loved and famous brand among the masses. But there are few products of Dermaflage whose popularity has even touched the sky. The following section talks about the best sellers of the brand and figures out for you whether they live up to the hype or not.
Popular Products Of Dermaflage
Dermaflage Scar Filler
Just as its name suggests, Scar & Wrinkle Filler best works towards filling and camouflaging scars and wrinkles. The Dermaflage scar filler is sold as a kit, including an applicator, a texture pad, mixing tools, and the instructions to mix it properly. It comes in 12 shades- Porcelain, Fair, Light, Medium Cool, Golden Fair, Medium, Bronze Medium, Bronze Dark, Light Tan, Tan, Dark, and Deep and professes to provide 12+ hours of coverage and is an instant way to hide the scars and wrinkles.
The central ingredient used in the Scar & Wrinkle Filler is dimethicone, generally found in skincare products and is a synthetic silicone polymer. It also acts as a skin protectant. The inclusion of dimethicone in the Dermaflage Scar & Wrinkle Filler helps prevent water loss from the skin and fill the spaces between the skin cracks. Dimethiconol helps to prevent moisture loss and increases the efficiency of the Scar & Wrinkle Filler. The other ingredients used are Silica, Rayon, Vinyl Dimethicone, Silica Dimethyl Silylate, etc.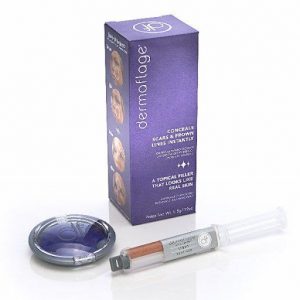 Perks of The Dermaflage Scar Filler
Free 30-day shade exchange

Safe and convenient to use

Time-saving

Hides and fills scars and wrinkles

Does not dry the skin

Provides natural coverage
Drawbacks of this Filler
A bit expensive

Not enough moisturizing
Dermaflage Acne Scar Removal Cream
The scar cream helps not just to hide the scars but also stretch marks and wrinkles. It gets easily absorbed deep into the skin due to its non-greasy texture. The scar cream does not cause any skin irritation and is suitable for every skin type. One should apply it before make-up for extended longevity. The Scar cream is not only backed by science but many powerful ingredients. The scar cream can also be used as a moisturizer and prime to use daily.
Dermaflage Acne Scar Removal Cream With Peptide Power, Fade Acne, Surgical Scars, Stretch Marks And Wrinkles With Good Skin, 2 oz.
Acne scar cream with peptide power for wrinkles, stretch marks, and scars
Prevent scars from forming, fade stretch marks and diminish older scars
Calm irritation from acne marks, stretch marks, rosacea, eczema, redness
Hyaluronic acid is a naturally occurring sugar molecule best known for its non-irritating effect that also helps keep the skin moisturized and hydrated. Silicone helps to reduce scars by hydrating the upper-most layer of the skin. It helps to diminish all types of scars, even stubborn ones. By relaxing the facial muscles, peptides help reduce wrinkles, fine lines, stretch marks, spots, etc. The other ingredients include Potassium Sorbate, Cetearyl Alcohol, Glycerin, Panthenol, Sodium Laurate, etc.
Perks of this Dermaflage Cream
Paraben-free

Contains antioxidants

Suitable for all skin types
Drawbacks of this Cream
Feels greasy on oily skin 
Dermaflage Mineral Powder Foundation
The Mineral Powder Foundation can conceal even the most severe scars, spots, and discoloration along with full coverage. It is smudge-proof and sweat-proof and stays for a whole day without clogging the pores or leaving behind a cakey texture. The foundation also contains 26 SPFand is very gentle for the skin. It has nine different shades- Porcelain, Fair, Light, Medium Cool, Medium, Bronze Medium, Bronze, Dark, Tan, and Dark.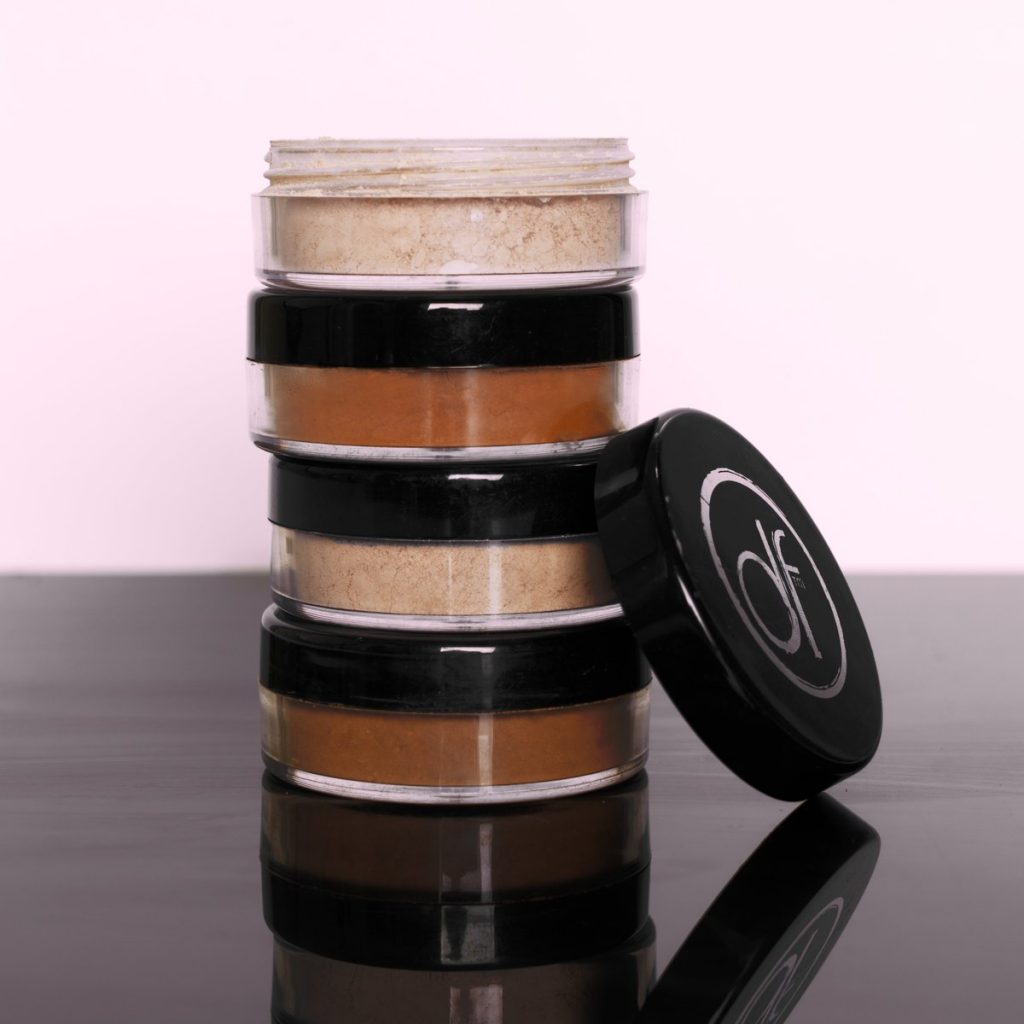 One of the main ingredients included in the Dermaflage Mineral Power Foundation is Zinc Oxide which helps to reduce inflammation and heal scars. It is safe and does not possess any adverse effects. The Titanium Dioxide present in the Mineral Powder Foundation helps to prevent discoloration. Tocopheryl Acetate is known for its moisturizing, healing properties and strengthens the skin's barrier. The other helpful ingredient list includes Ultramarines, Retinyl Palmitate (vitamin A), Chromium Oxide Green, etc.
Perks of The Dermaflage Foundation
Contains SPF 26

Provides seamless coverage

Does not leave behind any white residue

Dermatologist approved

Paraben-free
Drawbacks of this Foundation
Does not have an applicator

Not long-lasting
Dermaflage Before and After | Customer Reviews
Sam says, "The Scar and Wrinkle Filler works fine. I have a small scar running down from my chin to almost my beck. Whenever I used to attend any party, I always felt embarrassed due to the scar. I tried the scar filler, and the coverage of the filler is fine; it hides the scar well without leaving any trace behind. But I feel the price is too high for a student like me to afford it."
Ariana says, "After being suggested by a friend, I purchased the mineral powder by Dermaflage and have been using it for quite some days. Even though my skin is sensitive, it has not caused any irritation to my skin. Even if everything is good about this foundation, there is no sponge or anything to use while applying it. I have to use my hand. This is not a convenient option when you are outdoor."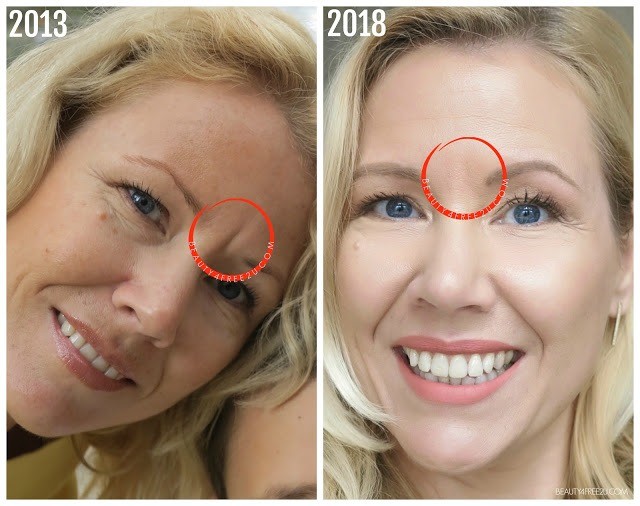 Amber says, "Even if the scar cream is advertised to be as non-greasy, it is a bit greasy. I have oily skin, skincare and whenever I apply the cream, it makes my skin more greasy. I don't know if it's because of my skin or the product. But I feel the product is more suited for dry skin, not oily skin like mine."
See Also: Fungicure Reviews | Better than Kerasal?
FAQs | Dermaflage Reviews
Can you wear makeup over Dermaflage?
It is okay to wear makeup over and before Dermaflage. However, the specific area of spots, discoloration, scars, marks should be kept free of any makeup.
How do you apply Dermaflage Scar Filler?
Even though applying the scar filler might feel challenging, but with practice, it will feel effortless. Apply a small amount of the filler onto the skin, gently press the texture pad into the material, and hold it in place for two minutes. Avoid using makeup on the scar area to prevent it from affecting the adhesion.
Do Dermaflage works?
According to the customer reviews, Dermaflage is an effective and instant way to hide stubborn scars, marks, spots, piercings, discoloration, bruises, acne, frown lines, wrinkles, tattoos, etc. Even if there are some concerns about the products, those are generic concerns. It is to be marked that Dermaflage helps to conceal the marks, not heal them.
How to buy Dermaflage?
Dermaflage is very easy to buy. It is available online and can be purchased from various e-commerce websites like Amazon. It is also available on the brand's official website. Buying from the official website has its own perks as they offer free color exchange and 30 days money-back guarantee to the initial users who are unsatisfied with the working of the product.
Cessation | Dermaflage Reviews
Now it's time to wrap up the Dermaflage Reviews and proclaim our opinion. Dermaflage is an optimal resort to hide marks, scars, tattoos, piercings, and bruises without surgery. It is convenient, painless, paraben-free, and time-saving. What we like about Dermaflage is its natural coverage; it appears as if a second skin. Almost all the products of Dermaflage contain the goodness of powerful, medical-grade, and skin-friendly ingredients. Also, it is water-resistant.
However, even if Dermaflage is an instant way to hide the marks, it is temporary. It does not help to heal the scars. Just as the effect of the product wears off, the scar is visible again. At the same price, scar removal products are also available. Despite all these, we feel if one needs to hide their marks, they should go for it. We hope our review was as clear as water. If you still have any doubts, please feel free to ask us in the comment box below, and we will reply to you soon.