The New York Times, Vogue, Allure, Elle Beauty, Refinery29 – what have all of them got in common, you ask? Of course, they've all got an extensive history of content published in the fields of beauty, fashion, runway, and lifestyle. Besides that, they all share immense love and appreciation for one beauty and pharmaceuticals brand – Dermelect. Setting its foot in the fall of 2003, the brand has built an active fan-base, and so many of the Dermelect reviews also put the company's support system in high regard. Skin is a very delicate organ but still stands tall against a lot of environmental or physical attacks. Let's see if this brand is actually genuine and if it truly deserves all this hype.
The top dermal layers of the body allow different nutrients to seep into the layers underneath and rejuvenate it. It's the first in the line of defense for our body. A good skincare routine can change the whole game. From reducing the signs of aging to lowering mental stress, the habit of taking care of your skin can bring monumental changes. We will be looking into the product ranges, the ingredients under each category, customer reviews, FAQs, and more in this article. Let's settle it once and for all – Is Dermelect worth it?
You Might Also Like: Olaplex VS Pureology | What Will Your Hair Love More?
Dermelect Reviews | Is It Safe For Your Skin?
Dermelect was created to bridge the gap between medical science and beauty science and create products that are a perfect merger. This methodology allowed the experts in both fields to formulate ideas that could have a lasting impact on the skin. The company is being run by professionals in the industry who have thirty years of experience. The ultimate goal is to give women the chance to discover their inner confidence through their outer beauty. Using substantially clean products, they make peace with their daily life struggles as they don't have to worry about their skin problems.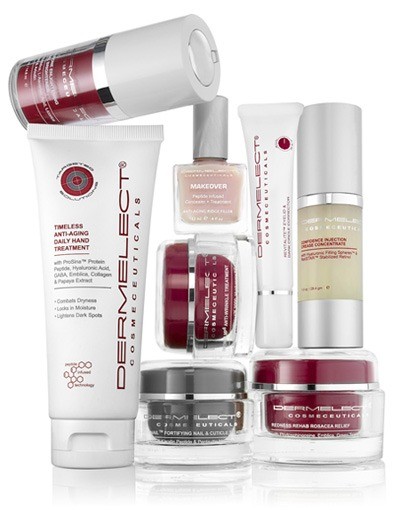 Unlike most beauty product tycoons, this brand develops products that can be used by pregnant women too. Their body care range of options is every mom's favorite in most states of the United States Of America. Their colorful range of natural ingredients has been a massive crowd puller. However, there are a few nicks and nacks that most people seem to vote against.
Dermelect Reviews | The Plethora Of Products
The brand has several products under two categories, namely skin care and nail care. Under skincare, they offer scrubs, moisturizers, serums, lip masks, face masks, retinol creams, lash volumizers, and more. At the same time, products for the topcoat, base coat, cuticle care, pedicure, etc., come under nail care. Let's have a closer look at the best of these!
Popular Products Of Dermelect
DERMELECT- Self-Esteem Beauty Sleep Serum
While we were scrounging for sources of information about the brand, we came across a common thing in almost all the Dermelect serum reviews. It was the glorification of their beauty sleep serum. They state that no other serum provides the nourishment to the face and decollete as this does. The full force of three amino acids works to resolve the issues of fine lines, wrinkles, and age patches. Getting rid of the look of large pores and uneven skin tone can make you look more radiant. Moreover, its exfoliating properties stimulate collagen production and make the blood rush to the surface. This is key to having a youthful appearance.
Glycolic Acid, a powerful AHA, is a part of the base formula. It lifts the pigment off the skin and boosts collagen production. It dissolves the supporter cells of dead skin, which means internal exfoliation. Vitamin C is used to lighten the skin and increase the longevity of the product. Moreover, it is a popular skin tightened, too, when paired with glycolic acid. Comfrey powder has a unique substance called allantoin which helps in cell multiplication and reducing inflammation.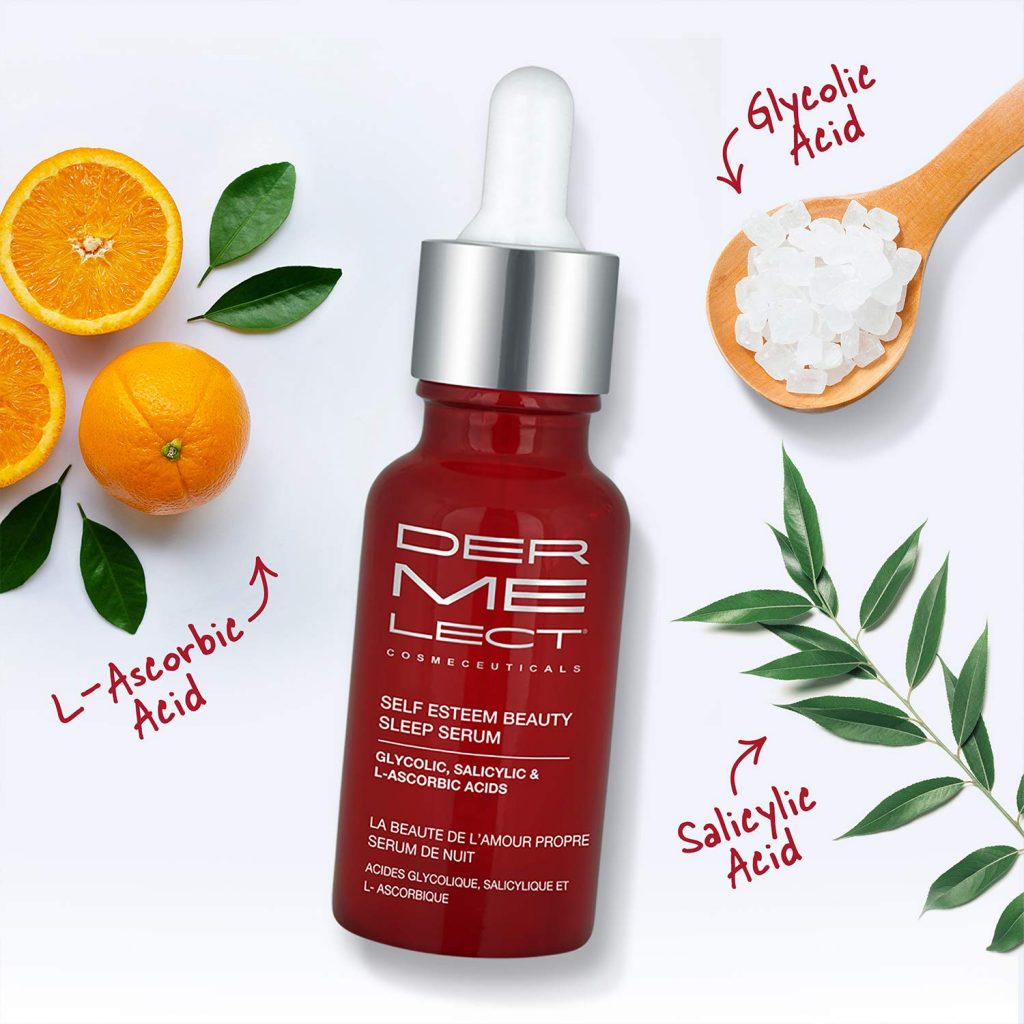 While these ingredients may make you seem like you've hit the jackpot, it's not all glossy. The use of parabens in this product is a downside that you cannot overlook if you have hormonal imbalances.
Why is Dermelect Beauty Sleep Serum the best product for you?
Reduces hyperpigmentation

Skin cells get actively multiplied owing to the ingredients, plumping them up

Fills in the large pores and shrinks them from within

Blurs the appearance of fine lines and wrinkles
Why may this product not be a fine choice for you?
Artificial fragrance may be irritating to some people

Contains Methylparaben and Propylparaben. 
DERMELECT COSMECEUTICALS – Revitalite Eyelid and Dark Circle Corrector
If you're looking for a single solution to end droopy eyelids, eye bags, dark circles, wrinkles, and dark eyelids, this could be your product. The skin near the eyes is susceptible and needs double the amount of care. Most people being naive, try to reduce the puffiness of the eyes by rubbing ice around them. They are unbeknownst to the fact that this can break the blood capillaries and cause unnecessary trauma. The Dermelect Revitalite reviews suggest that it gets rid of this issue by using natural, non-irritative coolants in the cream. It moisturizes the undereye skin and revitalizes it with Multi-Peptide Technology.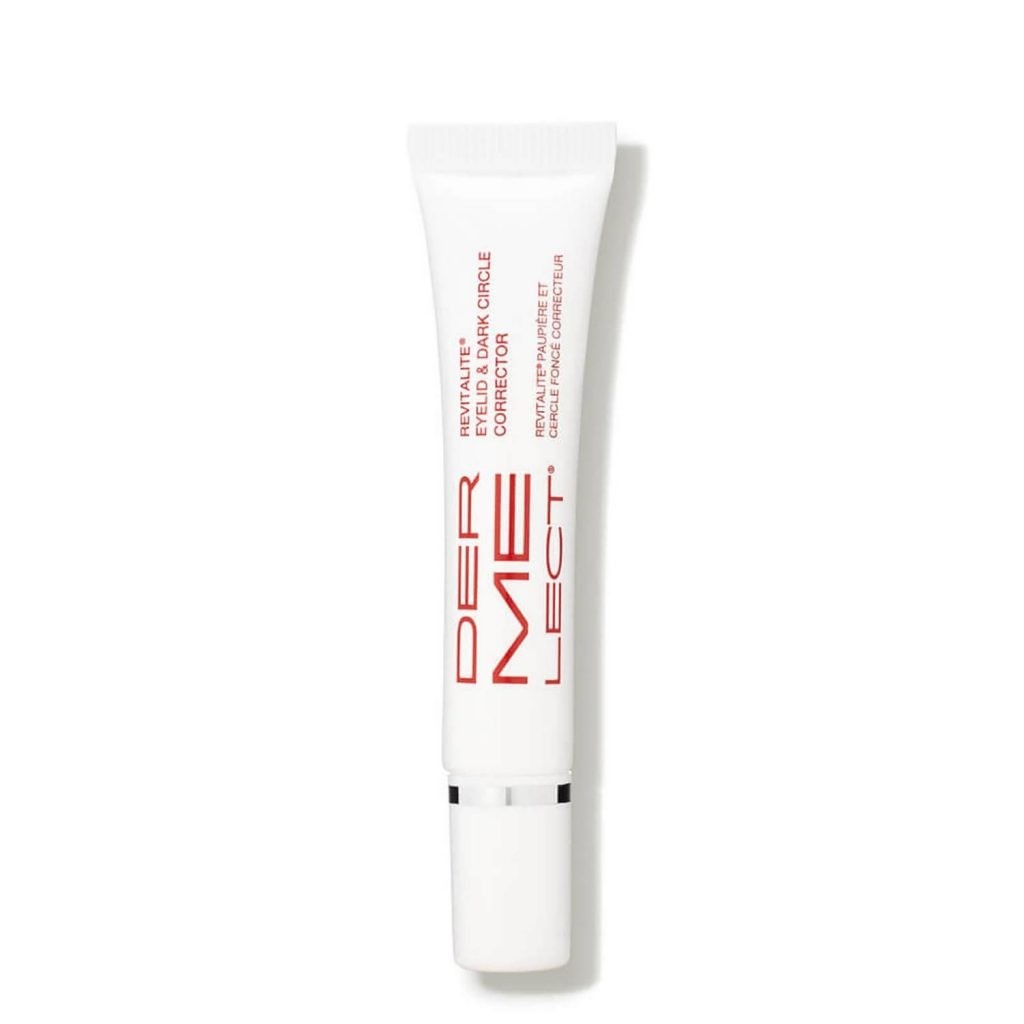 The anti-aging benefits come from the impeccable ingredients in the mix. Eyeseryl is a peptide that contributes to the process of fluid reduction under the eyes. As a result, tissue damages tends to plummet, and voila, no more eye bags either! Liftensyl is another tetrapeptide derived from soy protein that helps with firming and tightening if the wrinkles skin near the eyes. The goodness of sea from Sesaflash, which has similar benefits as sesame but without the allergies!
DERMELECT COSMECEUTICALS - Revitalite Eyelid and Dark Circle Corrector
FORMULATED FOR A YOUTHFUL, BRIGHT EYE AREA: The Revitalite Eyelid & Dark Circle Corrector's unique formula combines multi-peptides with powerful tightening agents that will help decrease the puffiness, dark circles, and under eye-bags.
HYDRATING AND SMOOTHING: Dermelect Revitalite Eyelid and Dark Circle Corrector is enriched with emollient ingredients that diminish the dry, papery translucency of the thin skin around the eyes while tightening, firming and smoothing. Suitable for all skin types.
INSTANT RESULTS: Dermelect Revitalite Eyelid and Dark Circle Corrector is enriched with hydrating properties that will instantly reduce the look of crow's feet, wrinkles & fine lines, removing puffiness and dark circles.
As you can tell, these ingredients are mostly natural and are safe to use. However, it is not devoid of PEGs and silica. Hence, one ought to be careful and do their research before buying the product.
Pros of buying this Dermelect Revitalite Eye Gel
Gets rid of the pigmentation under eyes and on eyelids

Smoothens out the wrinkles and fine line

Tames the unwanted morning puffiness

Revitalizes the skin around the eyes with the required humectants
Cons of buying this Dermelect product
PEGs in the product can disrupt hormonal functions in the body
Dermelect CUTICLE CARE MUST-HAVES 3 Piece Set
The cuticles have a significant role to play in safeguarding the feet. They block the bacteria from infecting the nail beds and avoid any gangrene formation. Taking care of cuticles must be a critical task in today's time when all of us spend the entire day in shoes. Pushing the cuticles too far back and filing too often can destroy the strength of the nail bed and cause extreme pain. A good cuticle care routine can steer you away from all these problems. The Dermelect nail reviews sure do put this cuticle care set in high ranks. It comprises nail cuticle Revital Oil, Rejuvenail Fortifying Nail and Cuticle Treatment, and Nail Gel.
Dermelect Cuticle Care Must-Haves 3 Piece Set
MULTI-TASKING BUNDLE: Our multi-functional treatments work to save steps, time, and money, always providing more than one benefit. Committed to taking the guesswork out of complicated categories. Luxuriously formulated to give you visible results.
ANTI-AGING NAIL AND CUTICLE TREATMENT: A true, anti-aging nail treatment designed to hydrate and strengthen nails and relieve ragged and painful cuticles. The result is increased integrity, cohesion, flexibility, and moisture to the nails.
MULTI-VITAMIN OIL CARE: Infused with Jojoba Oil, Citrus Oils, and Argan Oil to create the perfect natural nail growth formula. With just a shake, the active ingredients provide a sweet-scented, luxurious nourishing treatment.
Pentavitin Moisture Magnet can replenish the nutrients in the toe skin and ease any pain due to nail overgrowth. Shea Butter, a lipid found in Karite leaves, is used to provide instant hydration. Moreover, when paired with Vitamin C, an excellent pigment corrector, it tends to lighten the cuticles. Green tea extract can calm the skin and avoid any ridges in the nail bed. The blend of oils from citrus fruits, jojoba, and argan fruit can fight skin damage enrich it with essential fats to reduce redness.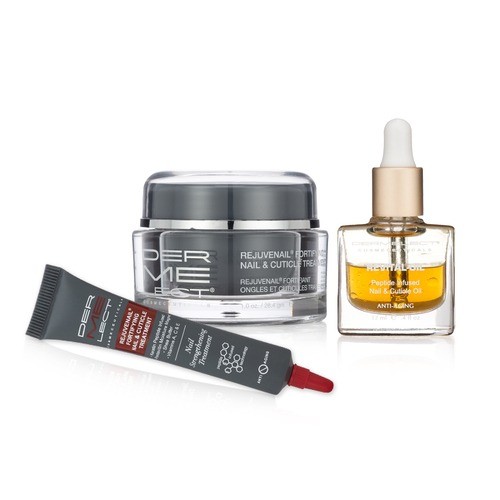 The blend of natural ingredients used in the formula allows your cuticles to feel protected and have healthy cell multiplication. However, two out of three of these products do contain PEG 8s in their composition.
Why may this three-piece set nail care set be the one for you?
Keratin actives strengthen the nail surface and build its integrity

Vitamin E compounds provide photoprotection and restore the flexibility of the nail bed

Suitable for anyone from any age group 

Available at a meager price
Why must you stay away from this product?
See Also: Mented Cosmetics Reviews | Makeup For All Skin Tones?
Dermelect Reviews – Before And After | Side Effects
Anita Sharma, a resident of New Hampton, says, "Like every average teenager, I had my skin struggles since the tender age of thirteen. Finding a skincare routine that was affordable and safe was a huge task at hand. After years of struggling, I've finally found my perfect skincare partner. Dermelect has solutions for everything. Right from face to lips to nail care. I am obsessed with some of their products. I gift them to my friends and relatives as well. Moreover, they, too, continue to give me some exclusive reports stating how good these products are. I recommend anyone with skin issues to check these guys out once!"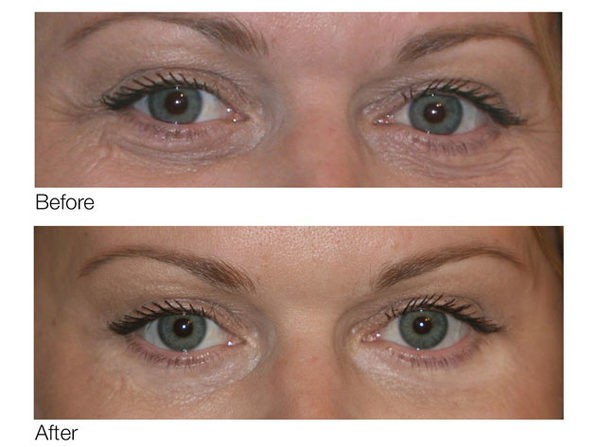 Elena Victor notes, "I'm a nail salon artist who's been in the business for over a good decade and a half now. I often see customers come in with a terrible nail condition. Some have the nail bed being pierced into by the overgrowth, while some have folder nails. This can cause a lot of trauma to the skin cells there and thereby induce pain. When they follow a good nail care routine, they can avoid such mishaps. However, there aren't many expert-approved nail products in the market. This perception of mine changed in the past year when I discovered Dermelect in 2020. Their products are a life-saver. So many of my customers have found instant relief by using their three-piece cuticle care kit that I had to try it out myself! It was a blessing in disguise. My nails are so much stronger now. Thank you, Dermelect."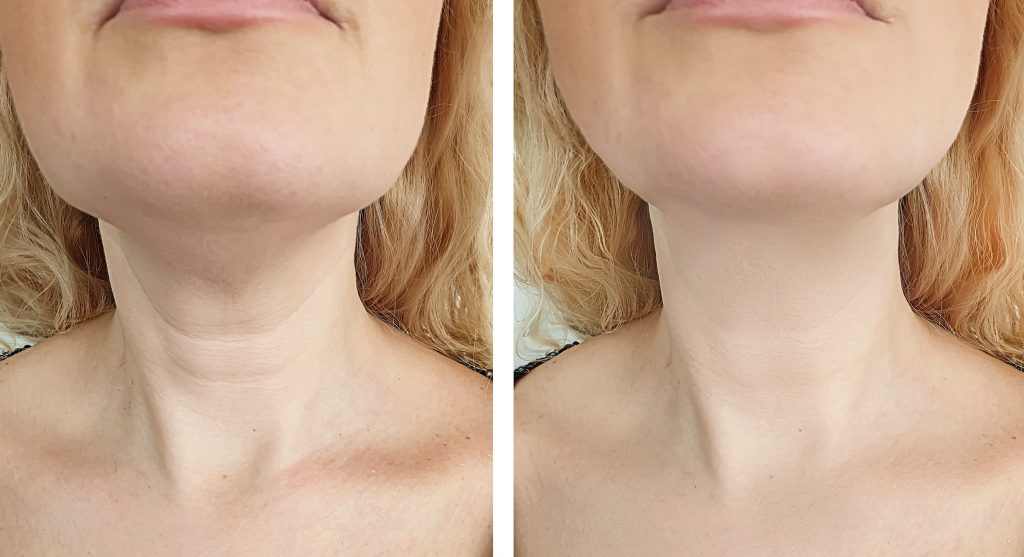 Dermelect Side Effects
While we found no exclusive evidence about the side effects of the products, we advise you to check out the ingredients beforehand. Certain PEGs and parabens in these products can cause hormonal imbalances and disrupt the overall system.
Also read: Egyptian Magic Skin Cream Reviews | A Scam OR Worth It?
FAQs | Dermelect Reviews
What Is Dermelect Used For?
Dermelect is a cosmeceutical company that develops products under skincare, body care, and nail care. They have over 30 different categories under the three of these. The company is one of the top-rated brands by skincare experts in the market.
Does Ulta Carry Dermelect?
The board announced in 2014 that all of the Dermelect products are to be hosted in all Ulta stores across their branches as a part of a collaboration. These products are now available on the Ulta Beauty website too.
Is Dermelect Cruelty-free?
Dermelect does not condone testing its products or samples on animals. Moreover, it got certified as "cruelty-free" by PETA for doing the same.
Closure |

Dermelect 

Reviews
Amassing the correct information from the best Dermelect reviews, we conclude that the brand is undoubtedly good but has its own limitations. It has harnessed the goodness of many natural ingredients but still includes specific components that are not barred as "clean." The plethora of options under each category of products is what excited and kept us on our toes the most. Overall, we could give it an eight out of ten on the beauty chart.
However, we recommend you consult a dermatologist to find your skin's health as it's not advised to use a few makeup products when you have skin disorders. Once it's confirmed that you are well enough to use, give it a shot and see the outcome for yourself!
Profound research helps you make the right choice, and we hope to help you in the same. Moreover, if you have any queries or suggestions, do not hesitate to write to us in the comment section. We'll be waiting in the wings for your responses!