Congratulations on your pregnancy! With a growing baby in your belly, you'll have to make several lifestyle changes – the most important being your diet. Good nutrition is not only essential for normal brain development and healthy birth weight, but it also reduces the risk of congenital disabilities. To guide you in your diet during pregnancy, we rounded up a list of healthy bites your baby will thank you for, along with tips on what nutrients you'll need to focus on and what not to eat. 
Nutrients You Need in Your Diet During Pregnancy
Your baby gets all the necessary nutrients from your diet, so it's essential that you watch what you eat to make sure you're getting the recommended amounts. While all nutrients are important, these five nutrients play a crucial role in your baby's healthy growth.
Folic acid
This B vitamin can prevent severe brain and spinal cord problems. Supplementing with folic acid has been shown to reduce the risk of low birth weight and premature birth. You'll need around 600 to 1,000 micrograms of folic acid daily during pregnancy. 
Find it in dried beans, green and leafy vegetables, peas, lentils, and fortified cereals
Calcium
Calcium helps promote stronger bones and teeth for you and your baby and keeps the muscular, circulatory, and nervous systems healthy. You'll need around 1,300 milligrams of calcium daily during pregnancy. 
Find it in dairy products, kale, broccoli, and calcium-fortified juices and cereals
Vitamin D 
Vitamin D is essential for regulating the amount of phosphate and calcium in the body, which are essential for healthy teeth, bones, and muscles. You'll need around 600 IU of vitamin D during pregnancy.
Find it in salmon, eggs, and fortified milk and juices
Protein
Protein promotes the growth of fetal tissue and is essential for your baby's body development. In addition, it supports the growth of your uterine tissue and breasts during pregnancy. You'll need around 75 to 100 grams of protein per day while pregnant. 
Find it in chicken, beef, pork, lamb fish, tofu, and nuts
Iron
Iron is essential for producing blood that supplies oxygen to your baby, and too little of it can lead to premature birth, low birth weight, and postpartum depression. You'll need around 27 milligrams of iron a day during pregnancy. 
Find it in poultry, fish, and iron-fortified beans, cereals, and vegetables
Best Foods to Eat During Pregnancy
There's a long list of healthy foods to add to your diet during pregnancy, but several stand out for having good amounts of vitamins and nutrients essential for your baby. Add these items to your plate when you get the chance. 
Dairy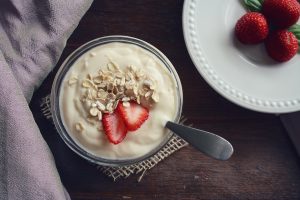 Dairy products like milk, yogurt, and cheese are rich in calcium and protein – two nutrients your baby needs to grow. In addition, dairy contains high amounts of B vitamins, zinc, phosphorus, and magnesium, which will benefit you and your baby. Bonus tip: To soothe and hydrate dry skin often associated with pregnancy, slather on some yogurt, leave on for three minutes, and rinse off. Alternatively, try the best body lotions for pregnancy here. 
Whole grains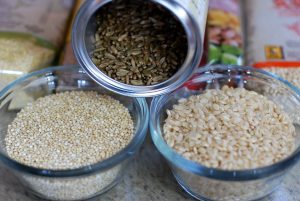 Whole grains like brown rice, quinoa, oats, barley, and wheat berries are rich in vitamins and fiber. Quinoa and oats, in particular, are rich in protein, B vitamins, and magnesium – nutrients pregnant mothers need in higher amounts. 
Salmon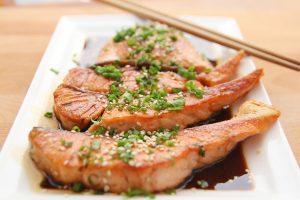 Rich in omega-3 and protein, salmon is one of the best meats to eat during pregnancy. The nutrients in salmon promote the development of the eyes and brain while promoting an appropriate gestational length. 
Sweet potatoes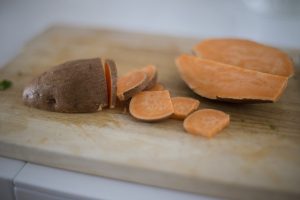 Delicious and filling, sweet potatoes are packed with beta carotene that turns into vitamin A in the body. This vitamin promotes ocular health, healthy development of organs, and a stronger immune system. It's also packed with fiber which aids digestion and prevents blood sugar spikes. 
Dark, leafy vegetables
Green and leafy vegetables like spinach, kale, and even broccoli are a treasure trove of baby-health-promoting vitamins like vitamins A, C, K and iron, calcium, potassium, and folate. Adding lots of green and leafy vegetables to your diet during pregnancy can reduce the risk of low birth weight. 
Eggs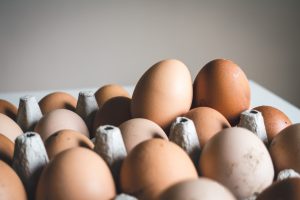 Eggs are a pregnant mother's best friend, thanks to their long list of vitamins and minerals. Apart from providing high-quality protein and fat, it's also rich in choline, which is essential for the healthy development of the baby's brain and spine. 
Lean meat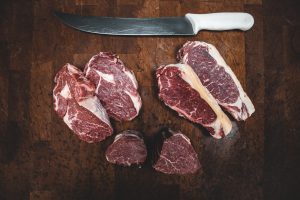 Lean chicken, beef, and pork are excellent protein sources, and protein is necessary for fetal tissue development. Beef and pork are also rich in vitamins like choline, iron, and B vitamins. 
Water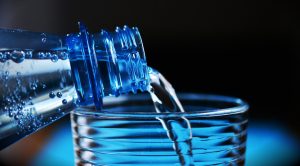 Did you know that your blood volume increases by 45% during pregnancy? If you don't check your water intake, it's easy to get dehydrated. Pregnant people should drink at least 2.3 liters of water daily (this includes the liquids they get from foods and beverages).
What Not to Eat During Pregnancy 
While you don't need a highly specialized diet during pregnancy, you should steer clear of or limit several foods. Be cautious about adding these items to your plate. 
Raw and undercooked food.

Eating raw and undercooked fish and meat increases your risk of several bacterial, viral, and parasitic infections, including Salmonella, Vibrio, Listeria, E. coli, or Toxoplasma. 

High mercury fish.

High amounts of mercury can cause developmental problems in babies, so avoid high-mercury fish like swordfish, tuna, marlin, shark, or king mackerel. 

Organ meat.

While rich in nutrients, organ meat is also packed with vitamin A, and having too much can cause miscarriages or congenital malformations. 

Caffeine.

High levels of caffeine can stunt fetal growth and increase the risk of low birth weight. Pregnant women should limit their caffeine intake to less than 200 milligrams daily. 

Alcohol.

Even a little alcohol can increase the risk of stillbirth or miscarriage and can be detrimental to your baby's physical and brain development. Remove all types of alcohol in your diet during pregnancy. 

Unpasteurized dairy or fruit juice.

Unpasteurized milk, cheese, or juices may contain several bacteria, including Salmonella, Listeria, or E. coli.
Supplementation During Pregnancy
Pregnant people are not advised to take dietary and herbal supplements as the FDA does not approve them. They may contain chemicals, bacteria, metals, or pesticides, which are bad for your baby. Instead, talk to your doctor about taking prenatal vitamins, which are often recommended before and during pregnancy. 
In addition, folic acid supplementation is recommended for all pregnant people as it reduces the risk of neural tube defects and other abnormalities. 
Safe Food Handling
Food safety is essential, especially when you're pregnant. Follow these tips to keep food clean and sickness at bay.
Refrigerate.

All perishable food should be refrigerated to avoid spoilage. 

Wash.

All raw produce like vegetables and fruits should be rinsed under running water before eating. 

Cook.

All raw meat should be thoroughly cooked with temperatures verified with a food thermometer. 

Clean.

All kitchen utensils like knives and cutting boards should be regularly cleaned before and after preparing raw food.