The Elf Poreless Putty Primer is one product that has generated a lot of buzz on the popular video-sharing app Tik Tok.
People couldn't stop gushing about how this product instantly made their pores disappear and provided them with a flawless, smooth base for makeup.
And guess what else?
The price of this primer is only $9.
Undeniably, we wanted to know if this primer was worth the hype, and we're sure you do as well.
So, here's an Elf Putty Primer review to help you decide if this primer is truly worth a shot.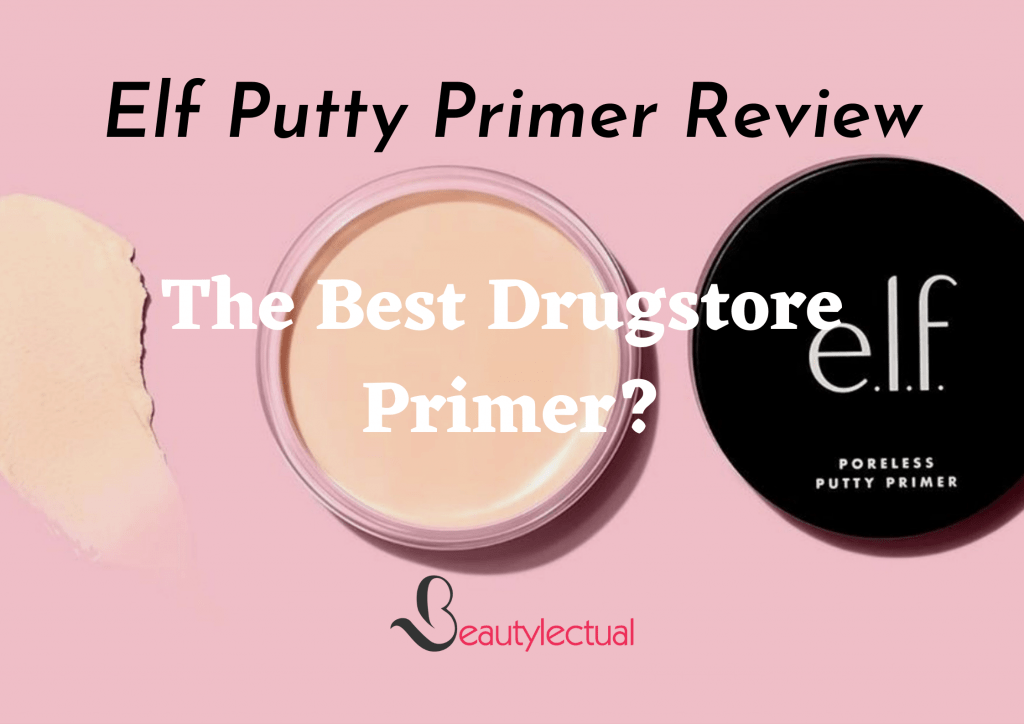 A primer is a product that improves the look and coverage of your makeup while also extending its longevity.
Primers are available in various formulations, with varying consistencies, colors, and other characteristics.
Furthermore, different primers serve different purposes.
Some primers nourish and moisturize your skin, while others reduce the appearance of pores and mattify the skin.
Elf Cosmetics also offers a variety of primers to meet your beauty needs.
We'll go over them in more detail later in the review, so keep reading.
Also Read: Blush Beam Skin Cream Reviews
Elf Putty Primer Review | Is It Worth The Hype?
Elf Cosmetics was founded in 2004 by Joseph Shamah and Scott Vincent Borba in Oakland, California.
This cosmetics company sells makeup, skincare, and professional tools.
All Elf products are cruelty-free and vegan and available in 17 countries. Glamour, Allure, Self, InStyle, and Good Housekeeping have all reviewed their products.
Elf Poreless Putty primer recently went viral on the internet.
Influenster voted it as the Best Mass Primer.
This primer is suitable for all skin types and will help you achieve a velvety smooth, and flawless finish while also increasing the longevity of your makeup.
It easily glides on the skin and is infused with Squalene to provide the skin with maximum hydration.
This product is widely available both online and offline, and it is reasonably priced.
Elf Putty Primer Ingredients 
Squalene – Squalene hydrates the skin, instantly bright, glowy, and vibrant.
It contains antioxidants, which help reduce skin damage and the adverse effects of free radicals.
It can also aid in collagen production, resulting in firmer skin.
Glycerin – Glycerin is a humectant that aids in retaining moisture in the skin.
It hydrates the skin, making it softer and plumper.
It is especially beneficial for people who have eczema or psoriasis, which causes rough and dry patches on their skin.
Because glycerin is antimicrobial, it can help protect the skin from harmful microorganisms.
It also repairs damaged skin and speeds up wound healing.
Camellia Sinensis Leaf Extract – Camellia Sinensis is a tea plant native to Southeast Asia.
Its extract is beneficial for soothing dry skin and reducing transepidermal water loss.
It shields the skin from UV rays, which cause sunburn, tanning, and premature aging.
Furthermore, it aids in controlling excess sebum production, making it beneficial for people with oily skin.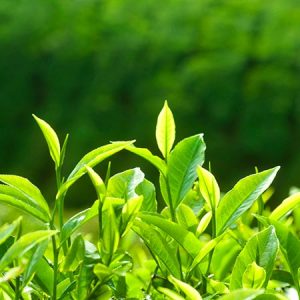 Propylene Glycol – Propylene Glycol is an excellent skin-conditioning agent that hydrates and softens the skin.
It acts as a barrier to water loss, keeping moisture locked in at all times.
Because of the increased hydration, the skin appears instantly fresh and glowing.
Propylene Glycol is a skin-friendly ingredient that reduces dryness, flakiness, and roughness.
Benefits Of Elf Poreless Putty Primer 
Provides Hydration – Elf Poreless Putty Primer contains Squalene, which hydrates and moisturizes the skin for a smooth makeup application.
Furthermore, this primer instantly adds a healthy, radiant glow to your skin, making your skin and makeup look better than usual. 
Reduces The Appearance Of Pores – Elf Poreless Putty Primer effectively minimizes the appearance of pores for a smooth and flawless makeup base.
It also improves and evens the complexion and conceals flaws to make your makeup look the best.
Makes Makeup Last Longer – A primer essentially helps extend the life of makeup. Elf putty primer does an excellent job of keeping your makeup in place throughout the day.
Its creamy formulation perfectly grips the makeup and prevents it from breaking apart or smudging.
Safe And Affordable –Elf cosmetics are free of phthalates, parabens, sulfates, and other harmful chemicals. Furthermore, their products are cruelty-free and vegan.
The best part about Elf primer is that it is readily available for $6-$9 online and offline. 
Product Range 
Elf cosmetics offers other variations of the famous Poreless Putty Primer to meet everyone's beauty and skin needs. Let's take a quick look at them and see what they can do for your skin.
Elf Matte Putty Primer 
This primer, as the name suggests, helps to mattify the skin. Its smooth and oil-free formulation provides the perfect matte finish to keep your makeup in place for long periods.
It also smoothes the skin and significantly reduces the appearance of pores, making it an ideal base for makeup application. For those with oily skin, the Elf Matte Putty Primer is perfect.
This primer contains kaolin and white charcoal, which help absorb excess oil production, keeping pores unclogged and the face shine-free.
The Matte Putty Primer glides effortlessly onto the skin and adheres to the makeup well, allowing it to last all day.
Pros 
Cruelty-free and vegan

Inexpensive 

Ideal for oily skin type 

Mattifies the skin 

Controls excess sebum production 

Absorbs oil all day long 

Increases longevity of makeup

Reduces the appearance of pores 
Sale
e.l.f, Matte Putty Primer, Skin Perfecting, Lightweight, Oil-free formula, Mattifies, Absorbs Excess Oil, Fills in Pores and Fine Lines, Soft, Matte Finish, All-Day Wear, 0.74 Oz
Oil-free formula infused kaolin and white charcoal delivers a perfect matte finish.
Velvety texture glides effortlessly over the skin, smoothing over imperfections for a poreless effect and the ultimate grip on your makeup.
Apply a thin, even amount to moisturized skin prior to makeup application and allow to set for 30 seconds before applying foundation.
Cons 
Contains silicones

Has mildly comedogenic ingredients 
Elf Luminous Putty Primer 
The Elf Luminous Putty Primer is your best bet for achieving a healthy, radiant base for makeup application.
This primer instantly smoothes your skin, conceals imperfections, and minimizes pores. It is best suited for people with rough and dry skin who want to achieve a dewy, natural look.
The critical components of Elf Luminous Putty Primer are Hyaluronic Acid and Collagen, which deeply nourish and hydrate the skin.
Hyaluronic Acid is an excellent skincare ingredient that assists the skin in retaining moisture and remaining plump and supple. Collagen is a structural protein that helps to keep the skin taut and firm.
Pros 
Affordable 

Cruelty-free and vegan

Best suits the dry skin type 

Hydrates the skin 

It makes the skin soft and supple 

It gives the skin a subtle radiance 

Creates an ideal base for smooth makeup application 
Sale
e.l.f, Luminous Putty Primer, Skin Perfecting, Lightweight, Silky, Long Lasting, Hydrates, Creates a Smooth Base, Illuminates, Plumps, Infused with hyaluronic acid and vegan collagen, 0.74 Oz
PRIMER FOR RADIANT COMPLEXION: The e.l.f. best-selling face primer goes luminous! This primer delivers a soft, radiant base for your makeup application.
THE ULTIMATE MAKEUP GRIP: Luminous Putty Primer grips makeup for long-lasting wear.
PLUMPS & HYDRATES SKIN: Infused with hyaluronic acid and vegan collagen to help plump and hydrate the skin.
Cons 
Elf Acne-Fighting Putty Primer 
Acne-fighting ingredients are used in this primer to soothe irritated skin, prevent future breakouts, and achieve a flawless, even complexion. It is best suited for acne-prone, combination, and oily skin.
This creamy primer glides on the skin smoothly and leaves a matte finish.
Salicylic Acid (1.8%), Zinc, and Kaolin are the main ingredients in Elf Acne-Fighting Putty Primer. Salicylic Acid exfoliates the skin gently, unclogging pores and removing dead skin cells—zinc aids in the relief of acne-related irritation and redness.
Kaolin has cleansing properties that help keep dirt and impurities at bay, preventing acne or breakouts.
Pros 
Affordable and easily accessible 

Cruelty-free and vegan 

Calms irritated and broken skin 

Prevents breakouts

Increases longevity of makeup 

It covers imperfections and redness

It gives a flawless and even complexion 

Contains Salicylic Acid 
e.l.f. Acne Fighting Putty Primer, Infused with 1.8% Salicylic Acid, Prevents Breakouts & Reduces Redness, Minimizes Pores & Preps Skin, 0.74 Oz (21g)
PREVENTS BREAKOUTS & SOOTHES REDNESS: Transform your skin into a smooth canvas while saying buh-bye to blemishes with e.l.f. Acne Fighting Putty Primer! This skin-perfecting makeup primer is formulated with acne-fighting ingredients to prevent future breakouts while smoothing over pores and imperfections for a flawless & even complexion.
ACNE FIGHTING INGREDIENTS: Our ultimate skin perfecting primer is infused with 1.8% Salicylic Acid, Zinc, and Kaolin, to draw out imperfections, minimize the appearance of pores, calm irritated skin, reduce redness, control oil, and prevent future breakouts.
GRIPS MAKEUP ALL DAY: The putty's unique, velvety formula applies clear, and smooths over imperfections, gripping your makeup for all-day wear or giving you an even, clear bare-faced natural finish.
Cons 
Salicylic Acid could cause mild irritation in people with sensitive skin types. 
Elf Poreless Putty Primer VS Matte Putty Primer
Elf Poreless Putty Primer and Matte Putty Primer both serve the same purpose of providing a flawless and even base for makeup application.
Nonetheless, their formulations differ slightly to accommodate various skin types and concerns. Squalene is infused into the original Elf Poreless Putty Primer to provide maximum hydration to the skin.
On the other hand, Matte primer contains Kaolin and White Charcoal, which absorb and prevent excess oil, allowing your makeup to last longer.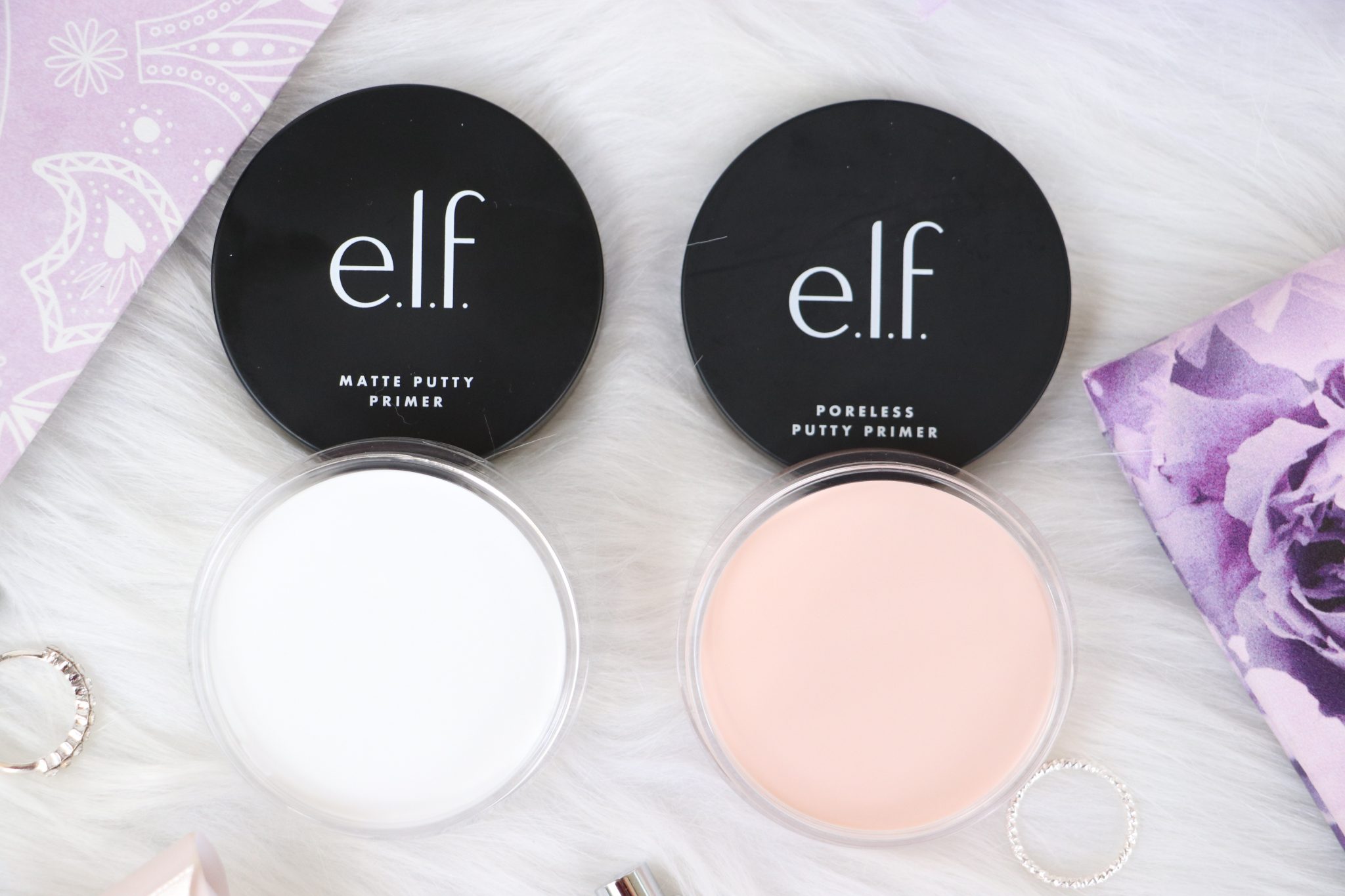 The color of the two primers is another distinguishing feature. Elf Poreless Putty Primer is pink, while the Matte variant is white.
Those with dry skin can use the poreless primer, while those with oily skin can use the matte primer. To achieve a healthy, dewy glow, some people like to use the poreless putty primer on dry and cold days.
You can use Elf Matte Putty primer during the summer to keep sweat and excess oil at bay.
How To Use
Elf Putty Primer
?
Wash your face with a gentle cleanser and pat your skin dry with a towel or tissue. Proceed to do your usual skincare routine. 

Smooth a thin layer of Elf Poreless Putty to your face and gently massage it in your skin using your fingers. (You can also use this primer on your eyelids to lock eyeshadow in place.)

Allow the primer to sit for 30 seconds before applying foundation or concealer.
Also read: Hunmui Face Primer Review
Elf Putty Primer Review | Before And After 
Britanny said, "This primer has completely smitten me. For the past two weeks, I'd been trying to get my hands on it, but it was never available in the local retail stores. I now understand why. This primer is a steal at such a low price, mentioned in one of the Elf Putty Primer Review. Believe me when I say that it magically erased my large pores and redness in minutes. After applying this primer to my face, my foundation glides on very smoothly. Furthermore, my makeup lasts all day with little to no touch-ups. I highly recommend elf primer."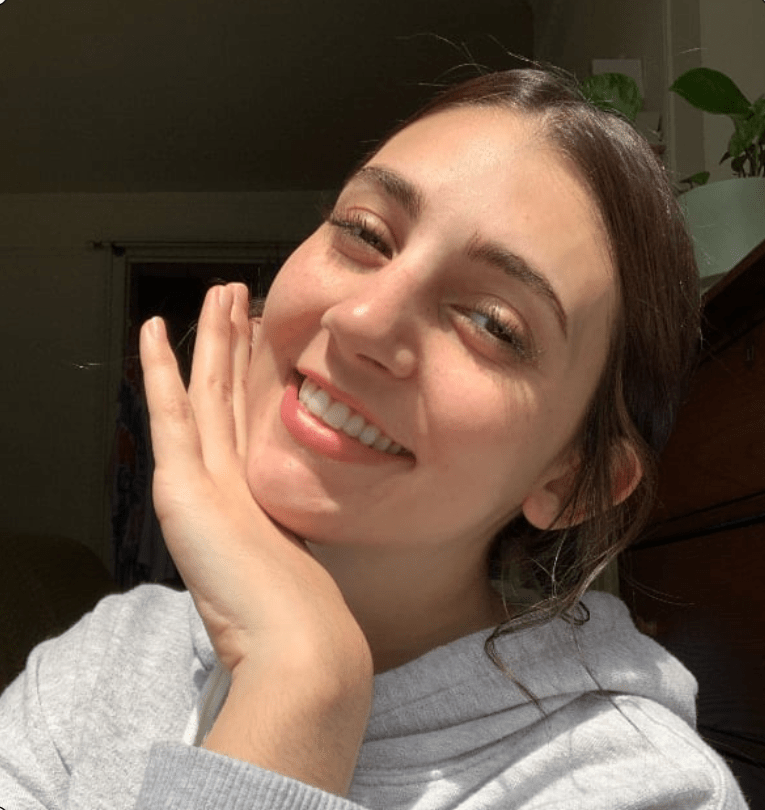 Darlene says," For a drugstore primer, this works surprisingly well. It lives up to its claims and significantly reduces the size of my pores. Furthermore, it is very light and blends in seamlessly with the skin. If you are a beginner or looking for a good product at a reasonable price, I believe this is the primer to choose. "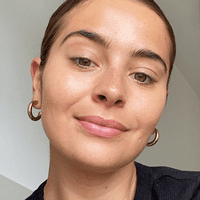 Final Thoughts | Elf Putty Primer Review 
This Elf Putty Primer review has come to an end, and it's time to decide whether or not this product is worth the hype. To answer briefly, yes!
The Elf Poreless Putty primer is worth the hype because it conceals all imperfections to create an ideal base for makeup application.
Furthermore, as the name implies, it reduces the appearance of pores to create a smooth-looking base. It is an excellent product that hydrates, conceals flaws, and allows makeup to last all day.
Elf Cosmetics offers different variations of the same product to address various skin concerns. They have a Matte primer suited for oily skin because it keeps excess oil at bay throughout the day.
Elf Luminous Putty primer can be your best friend if you want extra radiance and glow.
Finally, those with sensitive or acne-prone skin should use Elf Acne-Fighting Putty Primer to achieve flawless makeup.