Makeup has found a profound place in our daily routines. It is a tool to enhance our features and a form of art that helps us express ourselves to the world. The market has all kinds of beauty products. Nevertheless, these products are developed mainly for the younger generation. What about older folks? Well, they get neglected. The aim behind the creation of Fièra Cosmetics was to overcome this negligence. It is a beauty brand that specially caters to women over the age of 40 years. If you are considering using their products, you need unbiased and precise Fièra Cosmetics reviews. We take it upon ourselves to give one to you. 
Our skin undergoes several changes with growing age. Wrinkles, fine lines, dryness, and discoloration are common skin issues seen in old age people. Hence, there arises a need for products that will enhance the skin and not make these signs of aging prominent. Fièra Cosmetics believes in celebrating aging. They promise to offer products that improve the look and health of mature skin.
Also read: Cindy Crawford Skin Care Reviews | Revealing All Secrets!
Fièra Cosmetics Reviews | Worth The Hype? 
Located in the USA, Fièra Cosmetics is a beauty brand that develops makeup products, especially for people above 40 years of age. They believe that the beauty industry preys on people's insecurities and sets unattainable and unrealistic beauty standards. Fièra Cosmetics aims to fight against these corrupt methods and help people be confident in their natural bodies. 

They offer a limited range of makeup products and tools to help you achieve the perfect look you desire. They develop safe products free from parabens and other harsh components to suit one and all. Their formulations are precisely curated with scientifically backed ingredients to fulfill the needs of mature skin. It is also worth mentioning that they donate a meal on every purchase. 
Fièra Cosmetics Bestsellers 
Fiera Anti Aging Concealer Reviews
After going through a few Fièra Anti Aging Concealer reviews, we've come to the conclusion that this concealer is the most beloved product of Fièra Cosmetics. It is a full-coverage concealer that covers fine lines, wrinkles, blemishes, and other spots seamlessly. Also, it does not crease or give a cakey appearance by settling into lines and wrinkles. It is helpful to make the skin appear smooth, dewy, and younger-looking.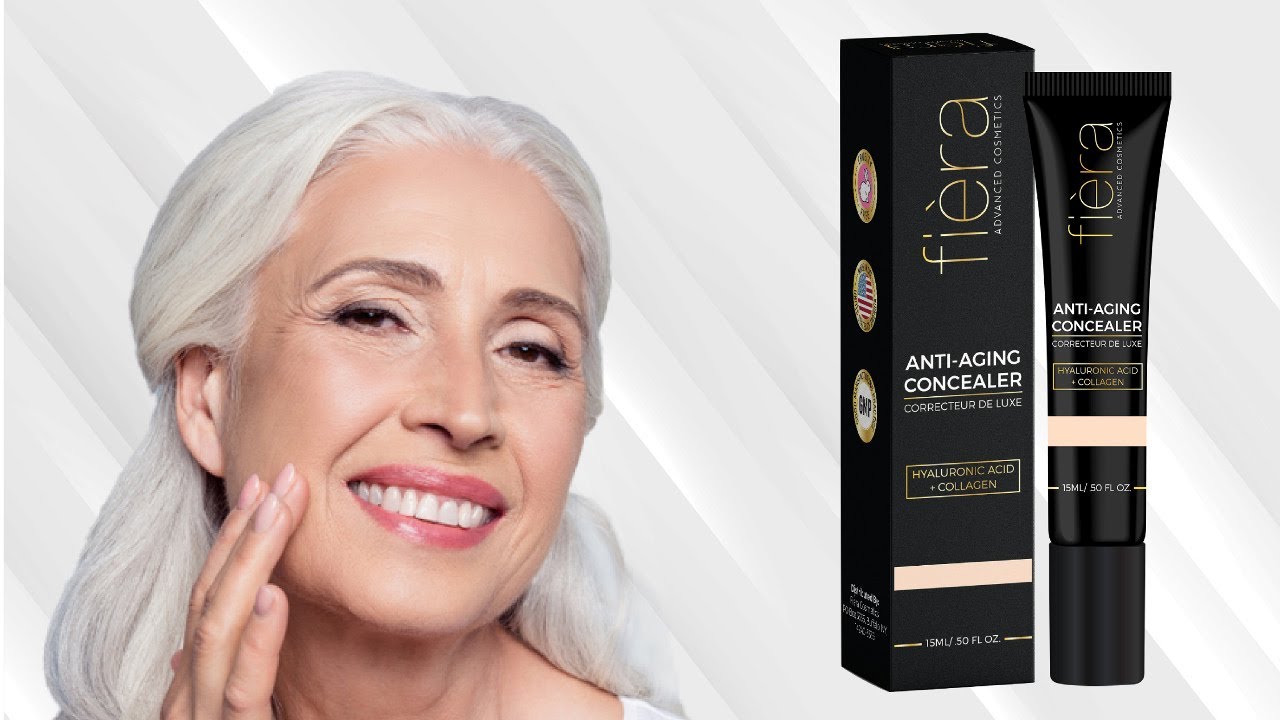 It contains Hyaluronic Acid (Sodium Hyaluronate) that intensely hydrates the skin and diminishes the appearance of fine lines and wrinkles. Fièra concealer also protects against harmful sun rays. It has antioxidants, namely Vitamin C and Vitamin E, that are helpful to fight free radicals and prevent damage caused due to them. The formulation also comprises Hydrolyzed Collagen. It is beneficial to repair dry, damaged skin and restore firmness and elasticity.
Perks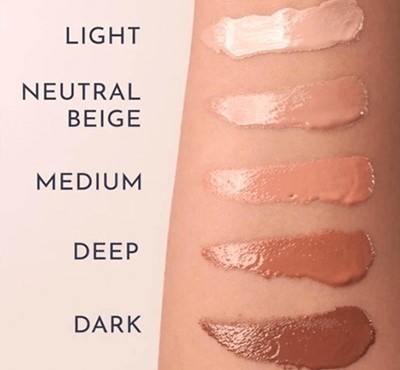 Gluten-free

Cruelty-free

Full-coverage

Conceals fine lines and wrinkles

Provides sun protection 

It gives a dewy glow and smoothens the texture

Improves signs of aging over time

Available in five shades- Light, Neutral Beige, Medium, Deep, Dark
Fièra Luxury Neck Cream 
Another popular product offered by Fièra is a neck cream that tightens loose, thin, and sagging skin. With growing age, our skin loses collagen significantly. Collagen is responsible for keeping the skin taut, firm, and flexible. Hence, low amounts of collagen cause the skin to sag. Fièra Luxury Neck Cream Reviews alleges that it effectively tackles this problem while diminishing the appearance of fine lines, age spots, and wrinkles. It also hydrates and moisturizes the skin deeply to give it a youthful glow and radiance.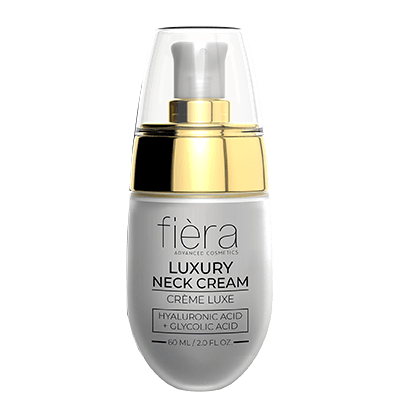 Vitamin E and Green Tea Extract protect the skin from free radicals and prevent sun damage. Shea Butter, Squalene, Hyaluronic Acid, and Glycerin are excellent moisturizing agents that make the skin supple and glowy. Willow Bark Extract is used to soothe irritated and dry skin. Additionally, Glycolic Acid is helpful to remove dead skin cells and impurities, making the skin healthier. 
Perks
Gluten-free 

Hydrating

Paraben and Cruelty-free 

Repairs sun damage 

Smoothes skin by removing dead skin cells

Reduces fine lines, wrinkles, and spots

Tightens crepey, thin, and sagging skin 
Fièra Citrus Stem C Serum
Serums are well-known to nourish the skin deeply due to a high concentration of active and potent components. Fièra Citrus Stem C Serum promises to give you a clear skin tone, restore firmness and elasticity, and minimize wrinkles and fine lines. Additionally, it protects the skin and gives it a dewy radiance. It contains antioxidants, vitamins, hydrating agents, and stem cells.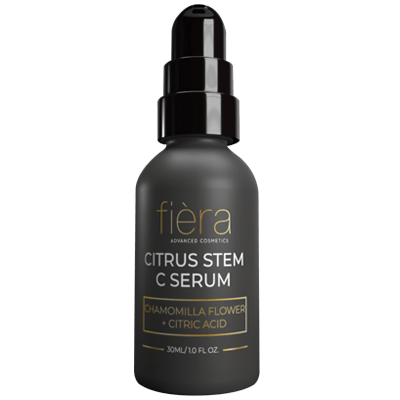 Antioxidants are beneficial to protect the skin from damage, soothe irritated skin, brighten the complexion, and diminish texture. Fièra serum contains antioxidants, namely Caribbean Orange Oil and Vitamin C. They effectively minimize sun damage, redness, dark spots, and blemishes. Citrus Stem Cells are helpful to delay the signs of aging and make the skin firm, taut, and elastic. This serum also contains hydrating ingredients like Hyaluronic Acid and Glycerin. Both are helpful to make the skin soft, smooth, and supple. 
Perks
Hydrating 

Makes skin glowy 

Protects from free radicals 

Reduces discoloration, lines, and creases

Clears skin complexion 

Tightens saggy skin 
Fièra Cosmetics Alternatives 
e.l.f. 16HR Camo Concealer
If you are looking for an effective and affordable drugstore concealer, you should give e.l.f. 16HR Camo Concealer a try. This concealer provides full coverage and gives a matte finish upon application. It is crease-proof which means that the formula does not settle into lines and wrinkles to create a cakey appearance. It is available in 26 different shapes suitable for various skin tones and undertones. 
e.l.f. 16HR Camo Concealer, Full Coverage & Highly Pigmented, Matte Finish, Fair Warm, 0.203 Fl Oz (6mL)
16HR COVERAGE: The e.l.f. 16hr Camo Concealer is a full-coverage, 16-hour wear concealer which conceals, corrects, contours and highlights for flawless skin. The shade Fair Warm is fair with yellow undertones. Note: 16hr Camo Concealer shades run lighter; we recommend matching by bottle image.
ULTRA PIGMENTED & QUICK-DRY: The 16HR Camo Concealer has a highly pigmented thick formula that dries matte, is quick drying and won't settle into fine lines or creases. Ideal for all skin types.
VERSATILE DOE FOOT APPLICATOR: This liquid concealer features a large doe foot applicator that applies the creamy formula evenly and precisely for maximum coverage, and allows you to sculpt, contour and highlight.
Perks 
Inexpensive

Easily accessible

26 shades available

Vegan and Cruelty-free 

Full coverage 

It lasts for 16 hours

It gives a matte finish 

Contains hydrating ingredients
 Maybelline Instant Age Rewind Eraser Dark Circles Treatment Multi-Use Concealer
This award-winning concealer by Maybelline is very popular for concealing dark circles and fine lines instantly. It also covers blemishes, dark spots, and redness to achieve a perfectly seamless look. The formulation is non-comedogenic, making it suitable for people with acne-prone skin types. It is available in 18 shades catering to different skin tones. 
Sale
Maybelline Instant Age Rewind Eraser Dark Circles Treatment Concealer, Brightener, 0.2 Fl Oz (1 Count) (Packaging May Vary)
Maybelline Instant Age Rewind Concealer: America's Number 1 Concealer; Erase the look of dark circles, correct the appearance of redness and brighten the look of dull skin with Instant Age Rewind Eraser multi-use concealer
Anti-Aging Concealer: Turn back time with this anti-aging under eye treatment concealer infused with Haloxyl; Say bye bye to the look of fine lines, blemishes, redness, and dark circles, and hello to a radiant, well rested, refreshed looking eye area
Best Face Forward: Maybelline has sheer, medium, and full coverage foundation in liquid, stick, and cushion foundation formulas, and a range of concealers, plus face primers, contour, highlighter, and pressed powder to help you create a perfect canvas
 Perks 
Affordable 

18 shades available 

Non-comedogenic

Instantly conceals dark under-eye circles

Hides dark spots and redness 

Anti-aging properties 
StriVectin Tighten & Lift Advanced Neck Cream
StriVectin is a renowned skincare brand known to offer result-driven and innovative products using their patented NIA-114™ technology. This cream visibly tightens, firms, and lifts the neck. It diminishes the appearance of wrinkles and fine lines to achieve a youthful look. Additionally, it fortifies the skin barrier and prevents dryness and discoloration. 
Sale
Perks
Available in 3 sizes- 0.25 oz, 1.7 oz, 3.4 oz

You can purchase it from $15 to $139 

Clinically tested on consumers for eight weeks

Tightens, firms, and lifts

Erases lines, wrinkles, and creases 

Prevents moisture loss 
Fièra Cosmetics Reviews | Fièra Cosmetics Before And After 
Cynthia commented, "My colleague recommended this brand to me. I decided to purchase Fièra cosmetics anti-aging concealer first and have been using it for a month now. I am pleased to say that it works as described. It is a full coverage concealer that hides all my blemishes and spots. What I like the most about this concealer is that it does not settle into wrinkles and lines. It makes my face look smooth all day long. I highly recommend it."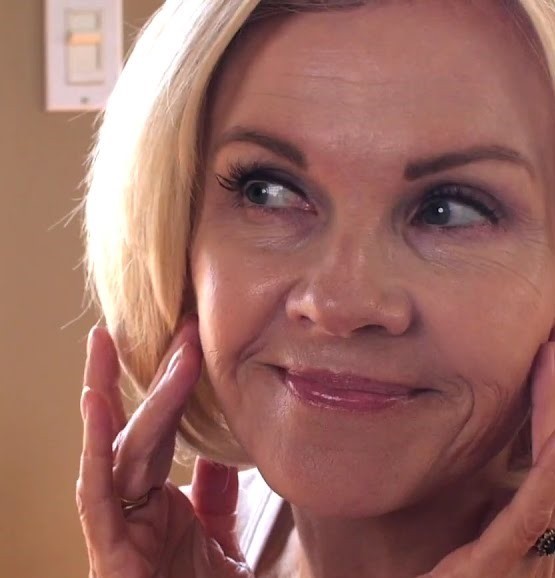 Erica says, "I bought Fièra concealer many months back. I love it, so I decided to buy their neck cream next. So, I received my order a couple of months back, and I use it twice every day. I must say I am not at all disappointed. No other product has delivered significant results in such little time. This neck cream has beautifully diminished the sagginess around my neck. Deep lines and wrinkles look less prominent too. Not to forget, this cream makes my skin very soft. I am delighted with the results."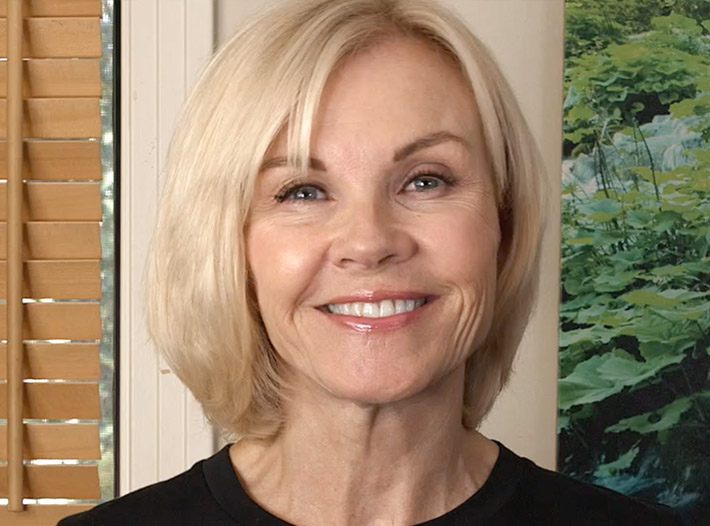 Frequently Asked Questions 
Is Fièra Cosmetics legit? 
Yes, Fièra Cosmetics is a legit USA-based beauty brand that formulates products to suit and enhance mature skin. Their products contain several potent skincare ingredients that fulfill the skin needs of women over the age of 40. 
Where can I buy Fièra Cosmetics?
You can purchase Fièra Cosmetics only from their official website. They do not put their products in retail stores as these stores take a considerable margin and charge a premium for the top shelf space.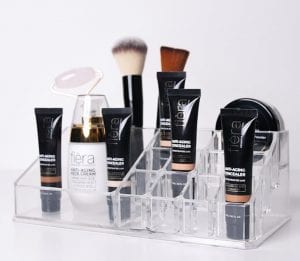 Does the manufacturer provide a money-back guarantee? 
Every Fièra Cosmetics purchase comes with an assured 30 days money-back guarantee. If you are dissatisfied with any product, you can request a refund using the official website. It takes 7-10 business days for a refund to reflect on your credit card statement. 
See Also: Clinique Even Better Dark Spot Corrector Reviews | One-stop solution?
Final Thoughts | Fiera Cosmetics Reviews
Aging is frightening, especially for women. Our society holds youthful skin to the utmost importance making us all insecure about inevitable signs of aging. Fièra Cosmetics believes in celebrating aging. They strive to crush unrealistic beauty standards and make older women feel represented in the industry. Their products are safe and result-driven, helping women enhance their skin as is. Gathering numerous positive Fièra Cosmetics reviews, it is safe to say that this brand is most certainly worth trying. 
Similar to any other brand, Fièra Cosmetics has a few shortcomings as well. The product range offered by them is relatively small. Moreover, you can only purchase their products online, through their official website. Some may argue that their products are expensive as well. For the convenience of consumers, we have listed a few alternatives that work impressively well if not as good as Fièra Cosmetics.