Last-minute plans and parties always scare you from head to toe. How will I hide those wrinkles and puffiness? What cream should I use? Or should I cancel the plans? The market has introduced an instant solution for aging skin for such last-minute shows—Genie Instant Line Smoother.  Anti-aging creams take forever to bring results, and our party cannot wait that long. But is this new introduction worthy of being in your skincare regime? Let us find out with the best collection of the Genie Instant Line Smoother reviews.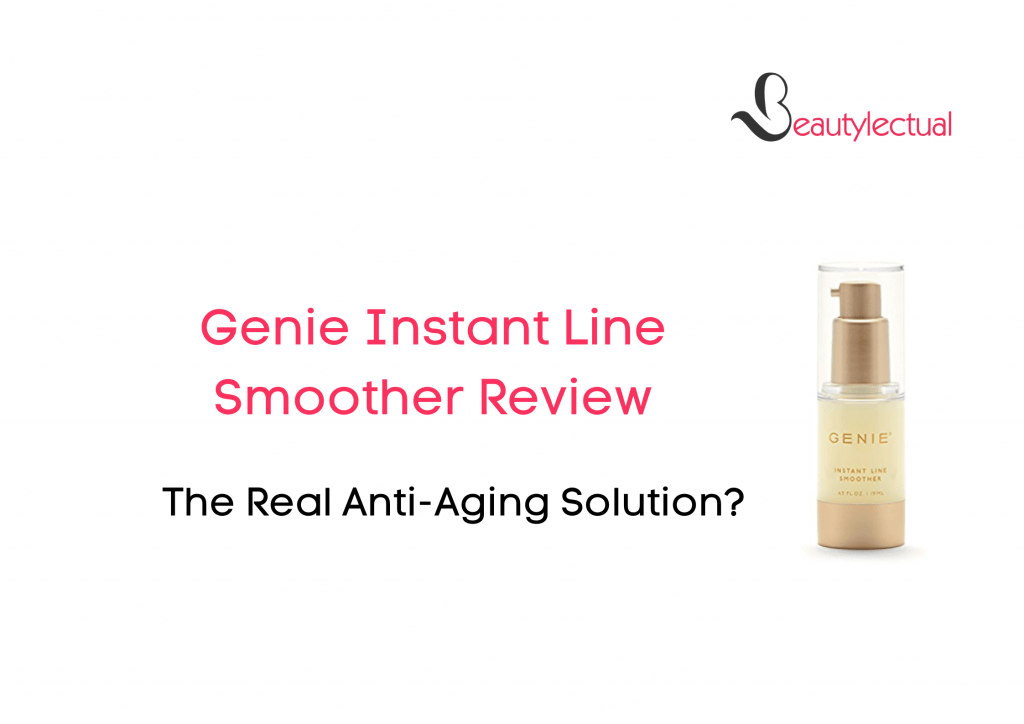 Our booked-up schedules barely give us time to look at our skin. It becomes hard to track those anti-aging creams' that provide long-term results. Genie Instant Line Smoother offering instant solutions can enable quick results. Launching Genie Instant Line Smoother to the market has brought consumers' attention to its fast working. But does it work as guaranteed, or is it just getting users' attention and making money for some false claims. To figure that out, we will discuss its pros and cons and go through some authentic customer reviews.
You Might Also Like: Caudalie Resveratrol Lift Reviews | Worth Trying? (Unbiased)
Genie Instant Line Smoother
Reviews | Instant Results? 
In the 21st century, everything has become easier and faster, so did skincare and cosmetics. Lips have lip plumper serums, and grey hair has natural hair dyes. But when it comes to the skin, there's always a long-term solution. Firstly, they take a long time to work. Secondly, there are so many different cremes and formulas it has become so difficult to choose one. Genie Instant Line Smoother is claimed to work like a magic wand that helps disappear wrinkles, fine lines, puffiness around the eyes, and acne scar within minutes of using it.
Genie Instant Line Smoother has been stealing spotlights of many products by fulfilling such instant requests. Lisa Claycomb, the founder, and developer of this brand has been a part of this journey for the last two decades. She believes in providing results rather than promises to her consumers. It has become a must-have product in travel kits or purses for a last-minute party. Its ingredients are what make it natural. They include natural ingredients like Aloe Vera and cucumbers, which contribute moisture and lock it into the skin. Thus this product claims to have dual benefits- anti-aging solution and acting as a moisturizer.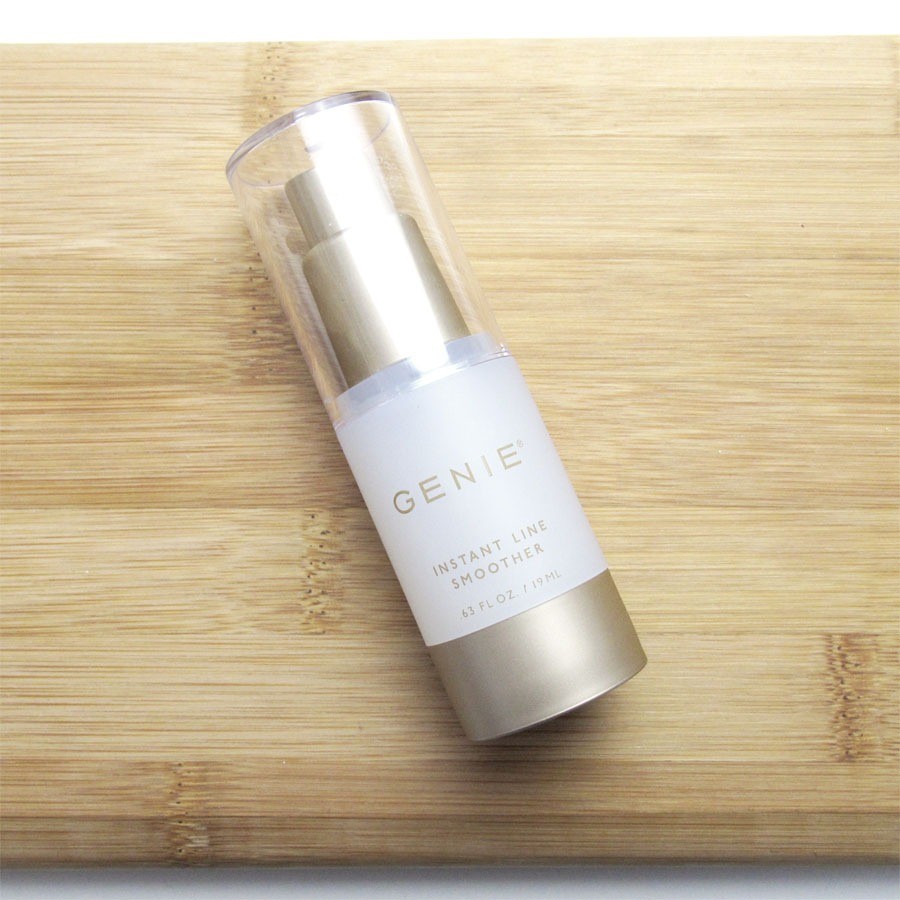 What's inside the Genie Instant Line Smoother?
Hydrolyzed Silk Proteins: These proteins are a general addition to hair and skincare products. Hydrolyzed silk protein helps your skin lock the moisture within your skin cells and avoids dry skin all over the face, especially under the eyes. Along with hydration, it also provides radiance to the skin.
Aloe vera: Aloe vera is a medicinal plant with more than a hundred uses for skin and hair. The addition of this plant in Genie Instant Line Smoothers helps heal common skin crises such as heal-burns, marks, and irritations on the skin. Moreover, it helps moisturize the skin and fight the early signs of aging.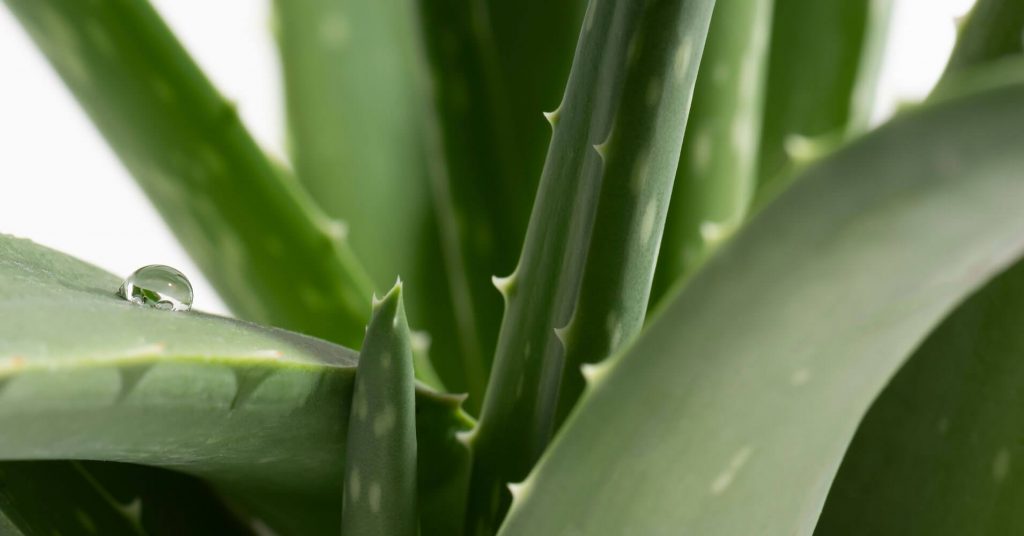 Vitamin A, C, and E: Multivitamins act as antioxidants that help to reduce the free radicals that break down skin collagen, which results in wrinkles, dark spots, and other blemishes on the skin. This triad in the Genie Instant Line Smoother acts as a boon for the wrinkle-affected population.
In addition to the above ingredients, Cucumber- a super hydrator, is also added in the formulation of the product. We may also note that this is a dermatologist-tested product and has no reports of unusual reactions from its existing users.
Why choose Genie Instant Line Smoother?
Locks in hydration

Gives a radiant look

Disappears fine lines, puffiness, wrinkles, and other aging signs

Takes only a few minutes to start working

Dries off quickly

Contains natural ingredients

Does not contain silicon
Why not choose Genie Instant Line Smoother?
Temporary solution

Not pocket friendly
Genie Instant Line Smoother Reviews | Before and After
Ava comments, "I'm in my 50s right now, and wrinkles and fine less are getting so visible on my face. Within 2-3 pumps of Genie Instant Line Smoother, my skin instantly becomes hydrated and smooth. I look way younger than my age. No one can tell that I am in my 50s once I apply this product. This cream made me look radiant and more youthful than other moms. I only wish it was not a temporary solution."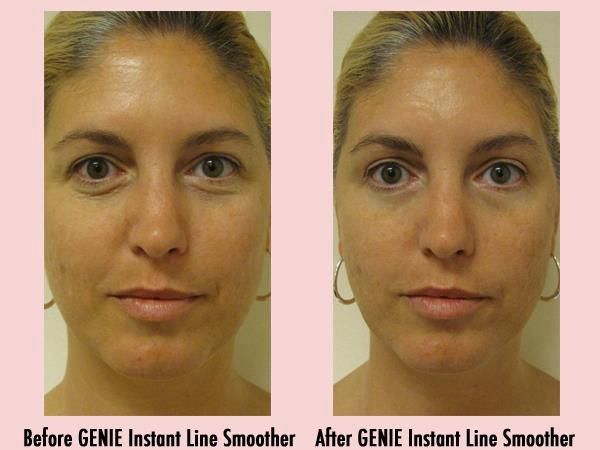 Brittney says, "I have been using this product for years now, and there's no change in the way it works. I have seen excellent results with just a few pumps on the fingertips. Not only does it hide all the aging signs, but it also works as a moisturizer over the skin. No side effects or anything harsh resulted in the skin. I loved the product and would highly recommend it for aging ladies like me."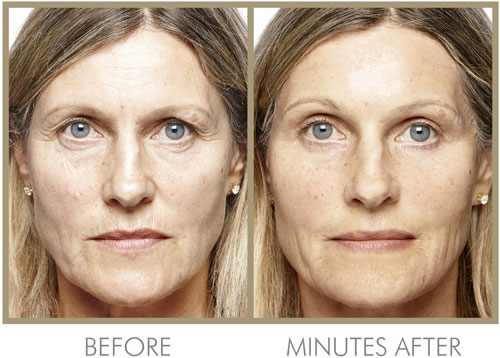 Ray added, "Overall, the Smoother works great, but it does not last as long as expected. End of the day, it starts to lose its effectiveness. For a temporary solution, it's the best."
Reviews may differ from person to person. The majority of users testified to gaining positive results, but the negative ones also showed up. Putting up with both positive and negative impacts, we hope you decide what's best for your skin.
Also See: Becca Glow On The Go Kit Review | Worth the Hype?
FAQs | Genie Instant Line Smoother Reviews
How to use Genie Instant Line Smoother?
Firstly, cleanse your face with a cleanser. Spray some toner, and then use your everyday skincare regimen. Let all your daily cremes and formulas rest on and dry on your face. After this, apply a few pumps of Genie Instant Line Smoother on your face. At first, the texture will be wet, but after using it for 2-3 minutes, it will settle down on your face and dry.
Can I apply it over my makeup?
Not over the makeup, but we suggest you apply a few drops before applying makeup. After cleanser and moisturizer, you can put on Genie Instant Line Smoother and let it dry before you start to put on some makeup because it smooths your skin texture, fine lines, and dark circles. It will help give a more youthful and radiant look after makeup.
How long does Genie Instant Line Smoother last? 
It lasts for a day until you wash it off. So you don't have to worry about reapplying after a few hours of application. It will make you look younger and radiant throughout the day. Under the makeup or without the makeup, this product assures you a glowing look every day.
Closure | Genie Instant Line Smoother Reviews
Summing up the Genie Instant Line Smoother reviews, this product seems to drag in customers due to its instant working nature. Naturally rich products like aloe vera and cucumber with medicinal properties bring attention to consumers with sensitive skin. The product is not pocket-friendly, and this seems to prevent some consumers from buying it. 
From last-minute parties to everyday glowing looks, it is preferable for all types of skin. We hope that the information provided in the report has helped you solve all your queries. But if you have any further questions popping into your mind, you can pin them down in our comment section. We await your responses!