Straight, wavy, curly, or coiled – all kinds of hair need love and attention to look their best. We're set to find the best option in this Hairfinity VS Nouritress Review with you today. In the past few decades, we've seen thousands of styling trends make it into the glam game. Pulling, tucking, crimping, heating – our hair has endured most of it. It's high time to start investing in strengthening it by avoiding these things and adopting some cleaner techniques. We've scrounged the internet to help you out in making the right decision.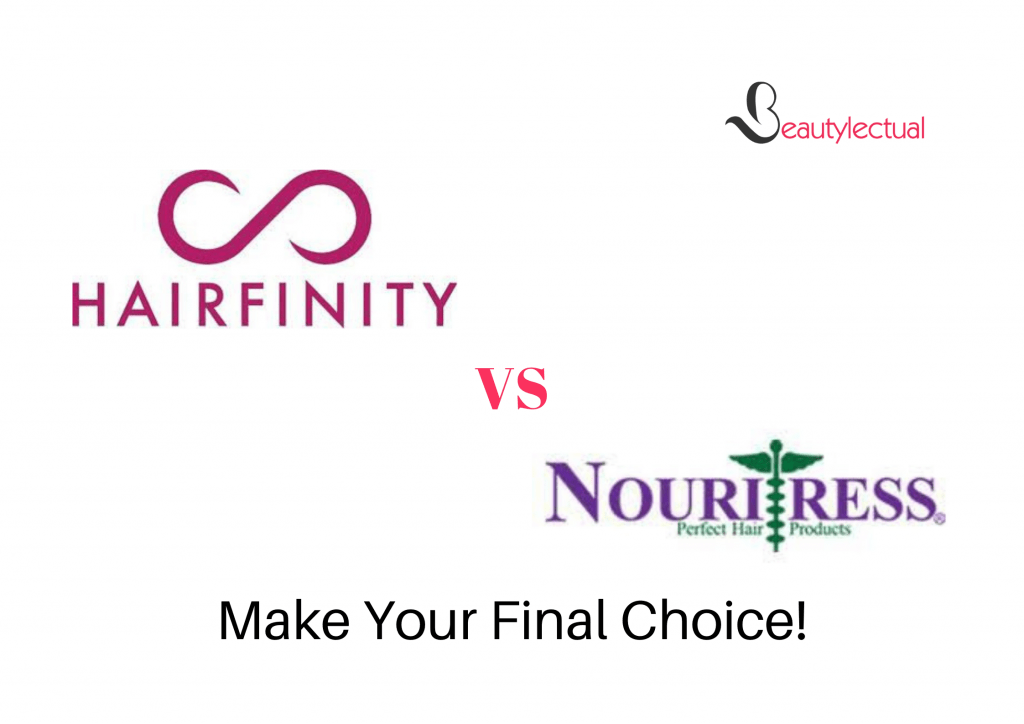 Hair supplements, serums, oils, organic shampoos, and conditioners are some of the products you could use to build the volume and strength of your hair. Companies like Hairfinity and Nouritress bring it to you with clinical shreds of evidence. The hair care industry has been booming since the day the owners first put it on the face of the market. Let's get right into it without any delay and find out the best among the two!
You Might Also Like: It Works Stretch Mark Cream Review | Works Its Wonder?
Hairfinity VS Nouritress Review | Revolutionary Hair Care Options?
When it comes to your hair, there are many facts and speculations that come into the frame. Sometimes it's an illness or trauma, and sometimes it's due to wrong products. Either of these can cause massive amounts of hair loss and other hair-related issues. While diet supplements can cure the cause from within, serums and oils provide quick topical solutions to those in need of it. Both the brands in discussion adopt both these methods and curate appropriate products. The way to answer which one's the best is to speculate the range, ingredients, pros, cons, and customer reviews for each line.
Hairfinity VS Nouritress | Range of Products
Folic acid, vitamin A, B, D, E, omega 3s and Biotin are the fundamental constituents for hair growth. Hairfinity has 2500 mcg of Biotin present in its vitamin tablets. At the same time, Nouritress contains 1.5 times more of the biotin molecules. In fact, the bases for the shampoos and conditioners of each line have different concentrations of different ingredients. However, these are not FDA-approved due to the new rules and regulations.
Hairfinity
HAIRFINITY HEALTHY HAIR VITAMINS
These Hairfinity capsules can make a difference in the very first week. The pills can balance the hormone levels and periodically increase the anagen and catagen phase length. Vitamin D and Vitamin E promote a healthier scalp layer. Other elements like Niacin have improved the blood circulation in the scalp to facilitate the benefits of those vitamins. The product increases the efficiency of oxygenation in the hair follicles and strengthens them too. Folic Acid, Biotin, and Calcium increase hair elasticity and increase keratin production.
Taking two pills a day does the job for all hair types and textures.
Pros of using Hairfinity Healthy Hair Vitamins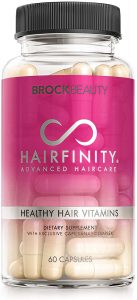 Works for all hair types

Increase blood circulation near the scalp

Strengthens and conditions the hair follicles

Improves the sleep cycle by balancing the hormones
Cons of using this product
Horsetail extract slows down the rate of hair growth
HAIRFINITY NOURISHING BOTANICAL OIL
This perfect blend of vitamins and essential oils can avoid premature greying of hair. Moreover, it also helps you control dermatitis seborrheis, and other scalp infections. It's of no news to us that hair oils are a must to keep your hair conditioned and shined up. This oil has botanical extracts that can help you solidify the hold of the root and cause more minor hair fall. Additionally, some of the ingredients can counteract heat abuse and excessive styling at the back of the head. The product effectively revitalizes the hair tissues.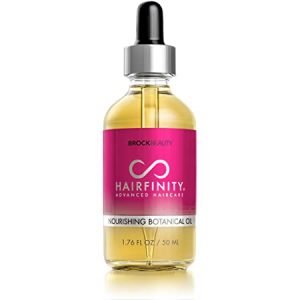 What are the benefits of using Hairfinity Nourishing Botanical Oil?
Suitable for all hair type

Causes no allergies

Fights frizz by locking in moisture

Free of sulfates, parabens, phthalates, silicones

Does not include any mineral oil and petroleum, which may block the follicles
Hairfinity Botanical Hair Oil - Growth Treatment for Dry Damaged Hair and Scalp with Jojoba, Olive, Sweet Almond Oils and More - Silicone and Sulfate Free 1.76 oz
Chemical Free- No additives for maximum healing anti-inflammatory benefits. 100% naturally derived ingredients and essential oils. Free of sulfates, silicones, parabens, phthalates, mineral oil, petroleum and fragrance.
Hair & Scalp Deep Treatment Strengthening Serum - Collagen, Grapeseed Oil, Sweet Almond Oil, Coconut Oil, Olive Oil, Jojoba Oil, Moringa Oil, Apricot Oil, and Vitamin E are infused with Essential Oils.
95% Reduction in Breakage - Pamper and repair your hair and scalp with this powerful blend of nutrient dense vitamins and essential oils. Increase shine & elasticity for faster hair growth.
What are the cons of engaging with this product?
Nouritress
Perfect Hair Vitamins PLUS
The Perfect Hair Vitamins PLUS tablets can internally reduce the DHT levels and cause less hair loss and balding. It has a blend of B-complex, Zinc, Omega 3, Iron, and many more ingredients to promote nourishment and growth of hair. They open up the hair follicles and avoid dry and itchy scalp too.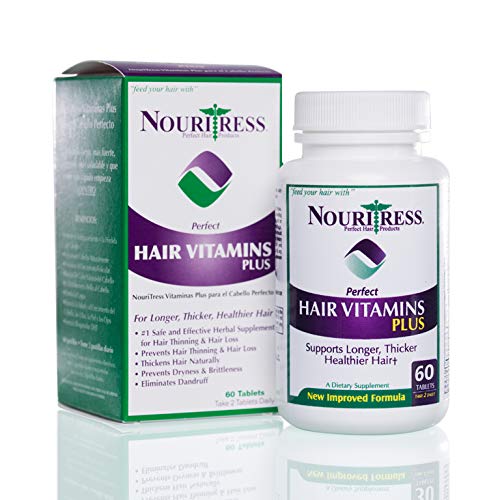 The DHT blocker actives can revert the shrinking of the follicles to allow better absorption of the other products that you may be using.
Perks of using Perfect Hair Vitamins PLUS
Hydrates the scalp

Vegan, Soy-free, non-GMO

Anti-inflammatory benefits

Balances the hormones that may affect other body parts as well
Stimulating Scalp Shampoo
Cortisol is the hormone that is said to be the cause of stress. According to medical research, washing your hair with good shampoos can reduce the cortisol hormone by a significant margin. This can actually reduce hair loss. Moreover, it can clean your hair and get rid of any build-up. The Nouritress Stimulating Scalp Shampoo has been designed with a therapeutic formula to cleanse the scalp. It leaves your hair feeling smooth and silky.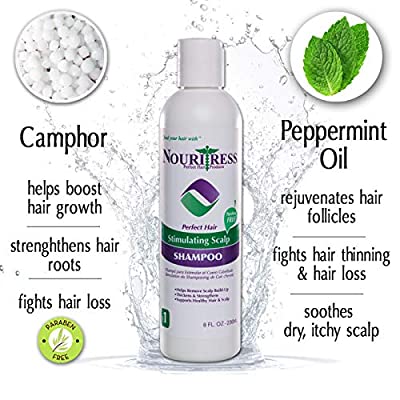 Camphor used in the product is said to improve blood circulation and diminish any irritation. Moreover, peppermint oil is also an excellent humectant.
Why must you invest in this product?
Cleanses the hair and scalp

Suitable for all hair types and all hair colors

Nourishes and moisturizes the hair
Why must you steer away from it?
Contains PEG-150 Pentaerythrityl Tetrastearate, which may cause hormonal imbalances
Hairfinity VS Nouritress Review Before and After | Side Effects
Vanessa P says, "My hair is a big part of who I am. Taking good care of it has always been a top priority. However, due to my post-partum side effects and the stress of a business, I started losing hair. I'd see bald patches and lose my confidence. Thankfully, I discovered Hairfinity's hair vitamins, and things have gotten so much better. My hair has started to grow back thicker and more moisturized. I rarely see any hair in my comb or the washrooms. All of these are a sign of good hair strength, and I'm all for it! I definitely encourage you to go check this brand out! It's a boon."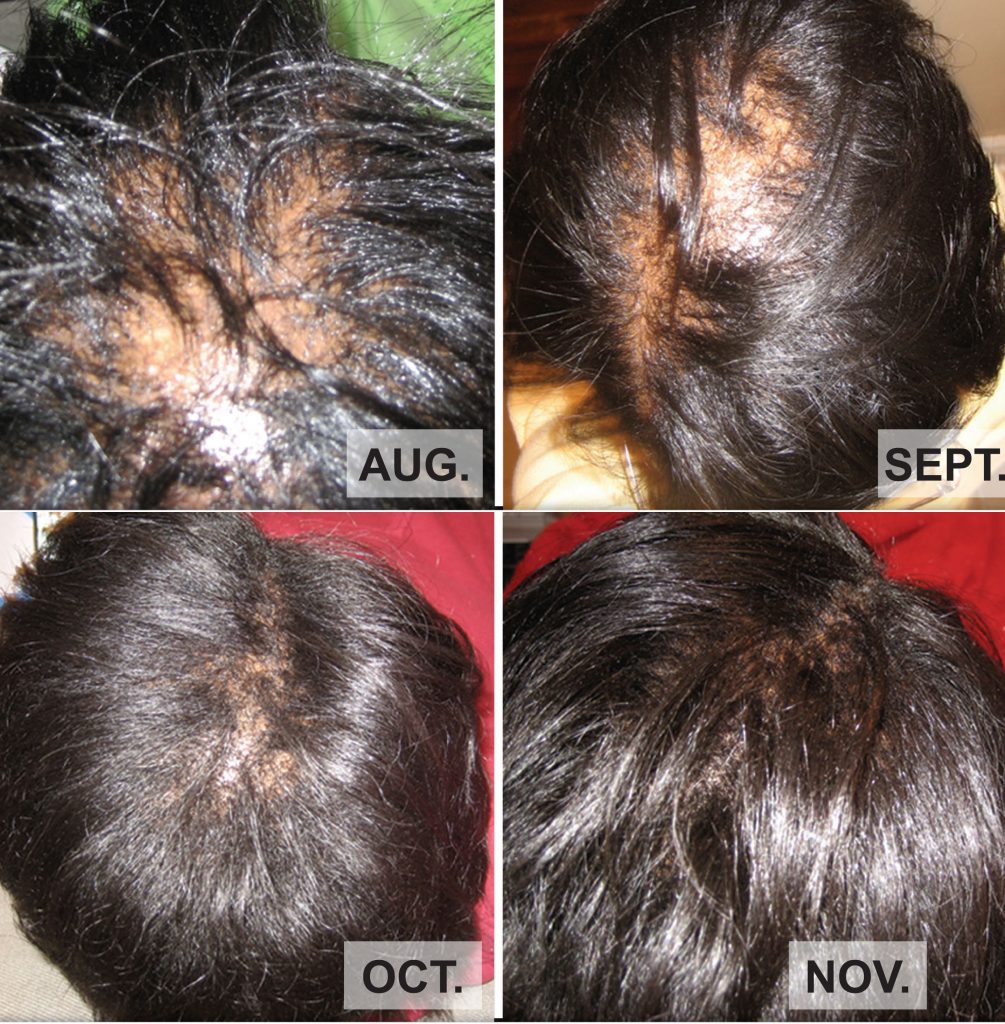 Alissa Jeremiah notes, "I've been in the hair care industry for over eight years now, and I must tell you this. I have never seen any other brand address the issue of hair loss the way Nouritress does. Their history, their reviews, and the current works speak volumes about their dedication. I use their products, and I have seen some exceptional results. It's high time you guys give them a chance and see your life change too!"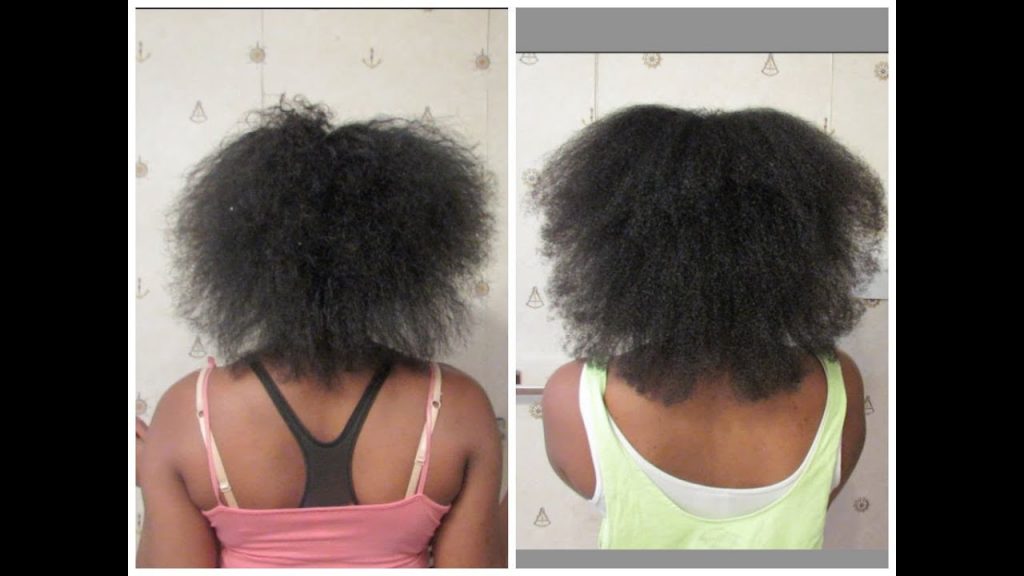 Side Effects
Angelica B had a rather disappointing experience with Hairfinity. She says, "I have had low potassium levels in my body due to a health condition. Completely unknown to the fact that Hiarfiniy vitamins contain Horsetail, I started using them. In a day or two, I started experiencing the side effects of this consumption. My eyes would get watery, and I would faint at any time of the day. I had grown fragile. After I stopped taking the pills, it never happened. Upon research, I had found out that Horsetail contains Thiaminase, which actually causes all of this."
Regardless of what the reviews summarize, we think you must try out the products for yourself. After all, the truth can only be discovered when you seek it.
See Also: Hair La Vie VS Hairfinity | Which One To Pick?
Closure |

Hairfinity VS Nouritress

Review
Gathering the correct information from the right Hairfinity VS Nouritress review, we can conclude that both the brands were mainly at par with each other. However, our top pick for the day is Nouritress. A wide range of products under each category of haircare is what excited us the most. The list of options seemed exciting to us. Moreover, it didn't have any active negative reviews or side effects either. Our recommendation is to consult a specialist to confirm the medical aspect of this brand.
Directed research helps you make the right choice, and we hope to help you in the same. Moreover, if you have any queries or suggestions, do not hesitate to write to us in the comment section. We ecstatically await your responses!