A head full of big, bouncy, and voluminous curls looks gorgeous. However, curling hair can be pretty time-consuming. Not everyone has time or patience to use a curling wand on their hair for hours. Not to forget, the damage caused due to heat and styling products is another problem to deal with.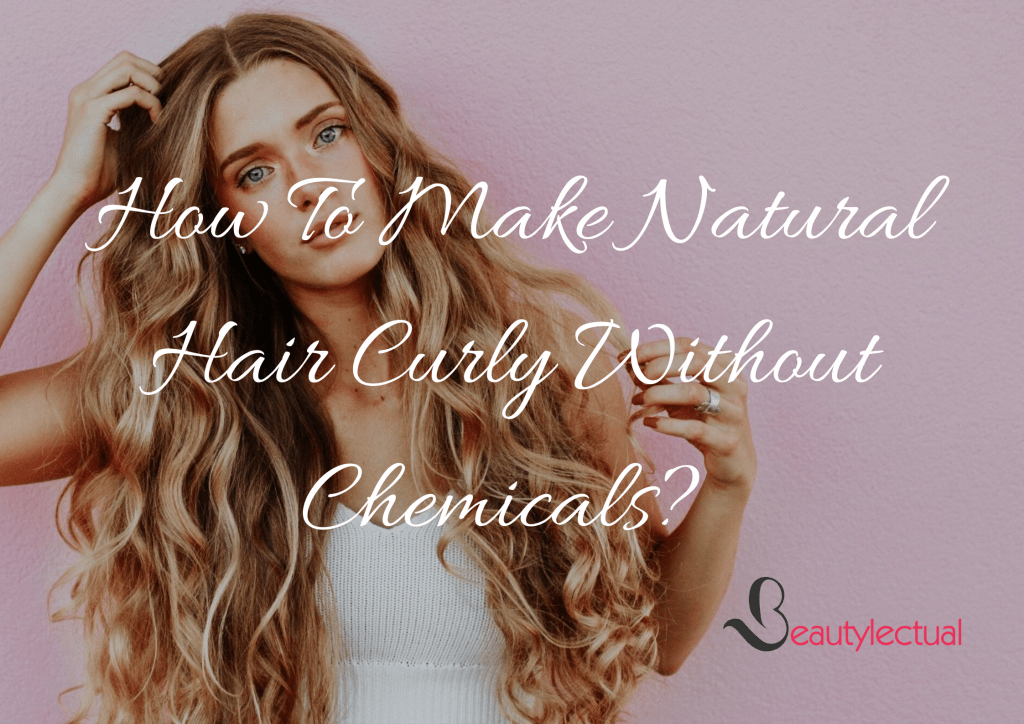 For those wondering how to make natural hair curly without chemicals? This article is the answer to your question. We discuss some easy-to-do and simple methods using which you can get curls to die for. 
See Also: Westmore Beauty Reviews | Hollywood's Go-To Beauty Brand?
How To Make Natural Hair Curly Without Chemicals?
Braids And Bun Can Be Fun!
This is the easiest way to achieve subtle, soft, and wavy curls overnight. You can tie a tight or a loose braid depending on the look you are trying to achieve. A tight braid will produce short rings and vice versa.
Tools Required: Hair ties, comb, hairdryer (optional), hair serum.
Instructions 
Wash your hair with a gentle shampoo, following up with a conditioner. 

Allow your hair to dry partially or use a hairdryer. 

Part damp hair into two sections from the middle down and start braiding each section. 

Secure the braids with a hair tie and go off to sleep.

The next day, untie the braids and lightly brush a comb through the hair.

You can apply a few drops of hair serum to control frizziness and add luster.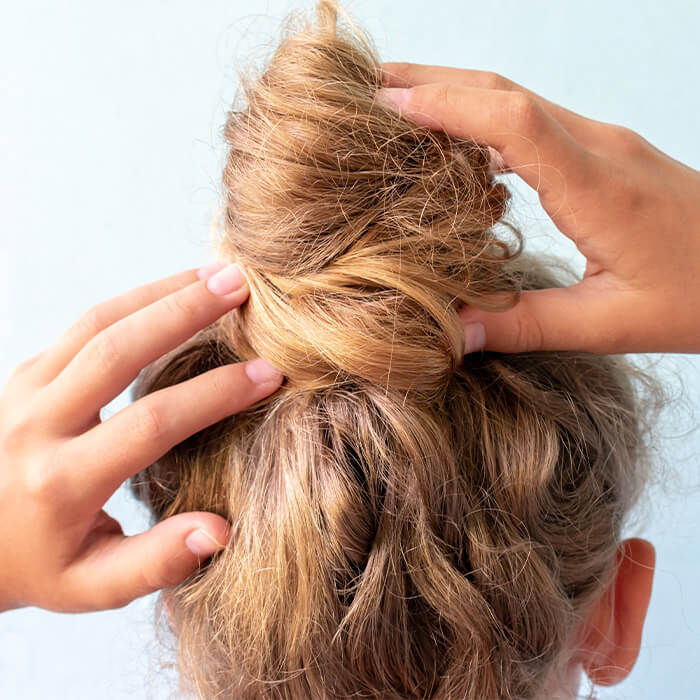 Similarly, you can get some lovely curls by twisting your hair into small buns too. Simply section your hair and coil each section into buns, and leave it overnight. 
GK HAIR Global Keratin 100% Organic Argan Oil Anti Frizz Hair Serum (1.69 Fl Oz/50ml) Styling Smoothing Strengthening Hydrating & Nourishing Heat Protection Shine Frizz Control Dry Damage Hair Repair
NOURISHING ARGAN OIL HAIR SERUM: Feel the power of Keratin and Argan Oil as they invigorate your hair, stimulating thicker and fuller hair, protecting it from heat and giving it a smooth, silky finish.Our Weightless hair oil transforms your hair from dull and dry to beautiful smooth/ healthy hair. You won't feel our product on your hair, its blends itself and has a smooth weightless feel to it.
DESIGNED JUST FOR YOU: This nourishing formula will instantly revitalize straight, wavy, curly, coiled, and tightly coiled hair on both men and women giving you manageable, glossy hair. It provides a protective layer around each hair strand while maintaining a youthful state.
HAIR RESTORATION: A blend of Argan oil, Keratin anti-aging protein), Natural Extracts and many other key ingredients will help stimulate healthy hair as it revitalizes hair follicles and supports a healthy scalp. Thicker, shinier hair returns.
What About Flexi Rods? 
Flexi rods are flexible rods made of foam. They create bouncy and dramatic curls with minimal effort. They are available in many sizes to suit people with all hair types and lengths. As a beginner, you may struggle to use them. Nonetheless, with a bit of practice, you can master it. 
Tools required: Flexi rods, styling gel, wide-tooth comb.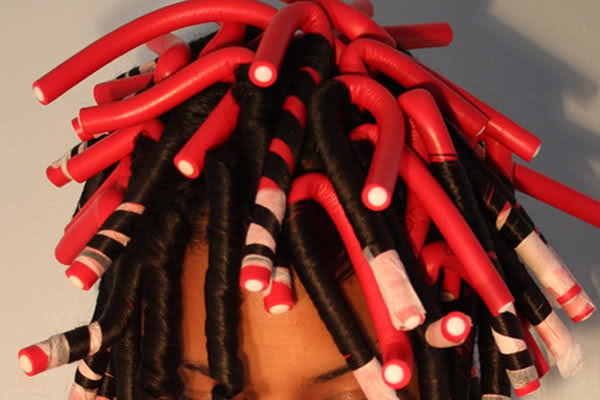 Instructions to use Flexi Rods 
Wash your hair with a shampoo, follow up with a moisturizing conditioner.

Flexi rods work best on damp hair, do not dry your hair thoroughly.

Grab a small section of hair, apply some styling gel and run a comb through it to detangle knots. 

Wrap the end of the hair section tightly around the Flexi rod and roll the rod inwards while simultaneously wrapping the hair around it.

Upon reaching the root, twist the ends of the rod to secure it.

Let your hair dry completely.

To remove Flexi rods, untwist the ends of the rod and roll it in an outward direction. 

Use your finger to separate each section of hair or lightly run a wide-tooth comb to add extra volume.
xnicx 47pcs 7'' Flexible Curling Rods Hair Twist Flexi Rods Flexible Rods Hair Curlers Set No Heat Bendy Hair Rollers Soft Foam for Short, Medium, Short hair to sleep in
VARIETY: 47pcs of Flexi-rods Hair Rollers are suitable for curling long, medium, short hair
EASY TO USE & FLEXIBLE: Easy, quick, bend, twist, roll, foam-made without hurting hair to create beautiful, bouncy and gorgeous curly curls effortlessly.
7 COLORS & SIZES: 7 bright colors, 4/5-Inch, 7/10-Inch, 3/5-Inch, 11/20-Inch, 1/2-Inch, 2/5-Inch, 3/10-Inch, multicolored sizes to create curls and waves of different size and styles for Girls Women Ladies Kids.
Hair Rollers All The Way!
Hair rollers may seem outdated, but they need not be a thing of the past. They give salon-finish curls within the comfort of your homes. Hair rollers come in various materials and sizes to suit the demands of all types of hair. You can use them in multiple ways to achieve different kinds of curls.
Tools required: Hair rollers, comb, bobby pins.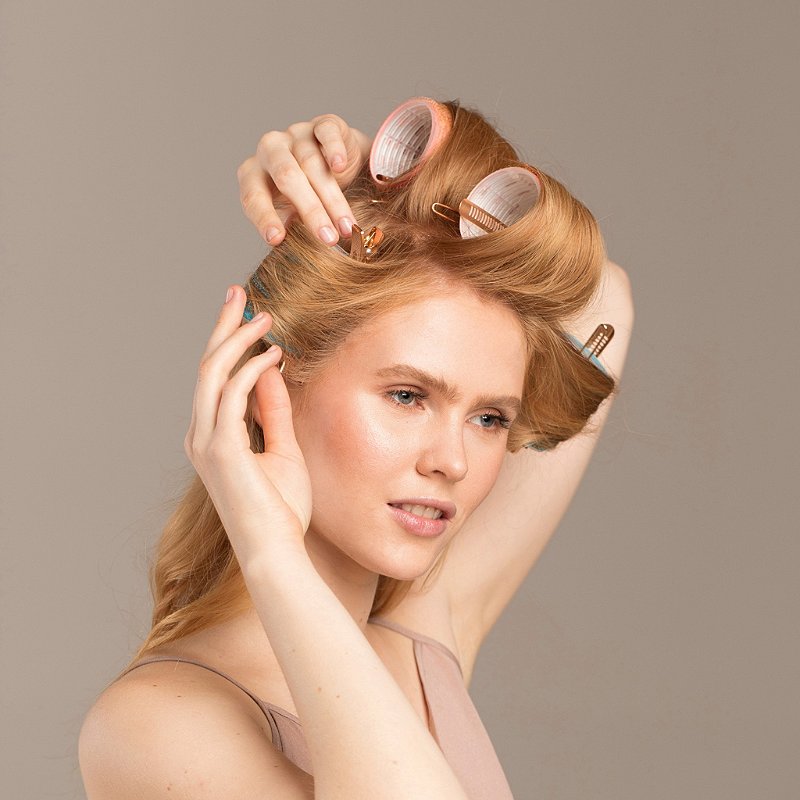 Instructions 
Begin with washing your hair with a mild shampoo to remove excess oil and gunk from the scalp. 

Part the hair into small sections to fasten the process.

Comb the hair away from your face and wrap the ends around the roller.

Roll the roller down (towards your scalp) and secure it with bobby pins upon reaching the roots. 

Let the hair dry completely before removing the rollers. Run a comb lightly through the lengths of the hair to bring the whole look together.
Save A Scarf!
Who said you need a hair curler to curl your hair? All you need is a scarf. This technique produces tight as well loose curls. You can use a robe waistband or some socks instead.
Tools required: Scarf (made of silk or satin preferably), comb, scrunchies, hair ties, hair oil.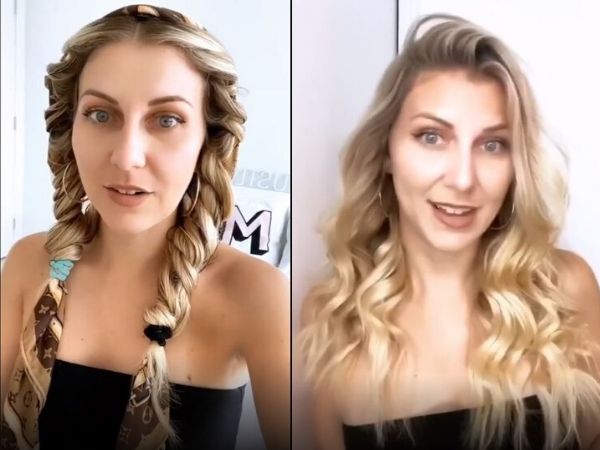 Instructions
You can wash your hair as usual or damp your hair with some water instead. 

Part your hair from the middle all the way to the back to create two sections. Detangle each section with a comb.

Put the scarf on your head with the ends hanging on the sides of your face.

Start with either side first. Part the section into two parts again and start twisting on part around the scarf. As you go down, grab the other piece and revolve it all together around the scarf.

Secure the ends with a hair tie. After that, roll the entire section up in a bun and secure it with a scrunchie. 

Repeat the same on the other side. Leave it overnight.

Lightly brush through your hair with a comb and apply a few drops of oil to the lengths of the hair to add volume and shine.
Gift for Mom 100% Pure Mulberry Silk Head Scarf for Women Silk Neck Scarf 20"×20" Small Square Satin Neckerchief Scarves Mother's Day Gifts for Mom for Bag & Hair Decoration (B-Toterm Crown)
♥【Size】 20.87" x 20.87" / 53cm x 53cm, Perfect size as silk neck scarf for women. Note: It is normal that this small silk neck scarf will fade slightly when washing it by hand for the first time (please carefully confirm the size of silk scarf before purchasing in case of wrong purchasing).
♥【Material】This small silk neck scarf is made of high quality 100% mulberry silk, Natural materials, smooth, soft, shiny, warm in winter and cool in summer as clothing accessories, perfectly matching with your clothing.
♥【Health protection】 Mulberry silk has a super protective function, green natural radiation-proof clothing fabric, good air permeability, excellent moisture absorption, warm and breathable, suitable for wearing close to the body.
Headband Hack! 
How To Make Natural Hair Curly Without Chemicals with a hairband? Well, a headband will give you smooth and loose curls overnight. This method is easy, effortless, and fast.
Tools required: Headband, bobby pins.
Instructions
Dampen your hair with some water.

Wear the headband and section your hair by clipping ⅔  of hair away from the face.

Coil, the first section, twist it at the back of the headband and secure it with bobby pins.  Repeat the same for other sections. Leave it overnight and unravel it the day after. 
The Magic Hair Roller!
Another easy method to get some beachy wavy curls is using magic hair rollers. They are available in two different sizes.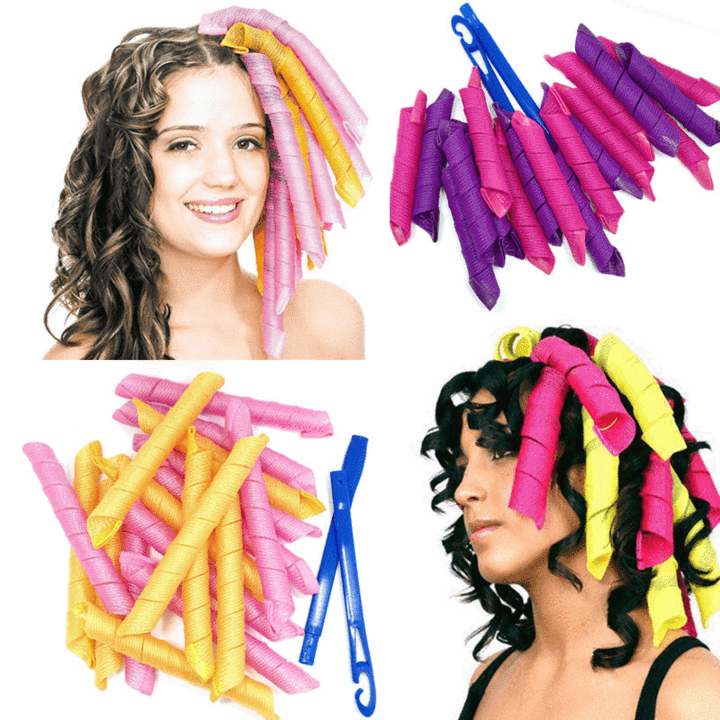 Also read: Caboki Reviews | The Perfect Hair Concealer?
Tools required: Magic Hair Rollers
Instructions
Dampen your hair with water if you want tight curls. If you are going for loose curls, you can use them on dry hair. Make sure to leave it for a long time. 

Pop open the roller and start rolling your hair from the ends all the way up to the scalp and close the roller to resemble its original form.  

Please allow your hair to dry completely before taking them off.

Gently brush a comb through the hair to separate the curls.
Magic Hair Curlers 21 PCS Spiral Curls Styling Kit,18 No Heat Hair Curlers and 3 Styling Hooks, for hair up to 22" (55 cm) long,for Women,Girls,Men (Spiral Curl)
Features: Can Be Reused. An Excellent DIY Tools For Your Hair Style. Soft And Light Weight, These Rods Are Comfortable Enough To Sleep In.
Simple to Use Curlers: The tip with Curlformers hair curlers is to apply them to small sections of damp, freshly washed hair combed through with some curl-defining cream. If there is any pulling or snagging during the application process this is because the section of hair is too large for the hook. Remove some of the hair and the process will be smooth. Leave to dry completely, remove and style!
No Heat Hair Curler : Curlformers are a great alternative to using heated styling irons and will create healthy-looking magic curls and waves, without damaging your hair. Easy, Glossy, Smooth, defined, healthy curls every time. Use on all ages, all hair types from thin straight hair to coily thick hair, wigs and weaves also creates defined smooth curls every time with no heat damage.
Closure | Natural Hair Curly Without Chemicals
How to make natural hair curly without chemicals? We hope we answered your question well through this article.
The techniques mentioned above are effortless, harmless, and easy on the pocket. You can try them all to find the one that works the best for you.