Are you looking for an ideal instant tanning formula that best suits your skin? Well, some pieces on Jergens Natural Glow Instant Sun Reviews might be of help. Here we have one such piece for you to base your purchase decision on. Who isn't obsessing about the perfect tanned look on the skin? Almost all those audiences who are reading the blog post at the moment. When you have us, there is no scope for despair. 
Though self-tanners have proven to be a steal, there are other options too. Yes, it is the instant formula that comes as a surprise. Instant formulas have always been the most sought-after. And here we are all geared up to discuss the titbits of one such formula. As a consumer, you deserve to know how beneficial a product can prove for you. So without further delay, let's start off with our undertaking in hand.
 Recent: Brainol Reviews 2021 | Is It Safe for You? (TRUTH)
Jergens Natural Glow Instant Sun Reviews | Should You Buy It?
It is the flawless tanned skin that acts as the attracting factor. Thus, instant tanners are in great demand in the market. With several options with numerous claims, making a choice gets difficult. Whatever may be the case, patience is the key. Throughout this piece, we would help you find answers to whether or not you should buy the Jergens Natural Glow Instant Sun formula. We will discuss all aspects, such as its benefits to be expected, what benefits you would derive, etc.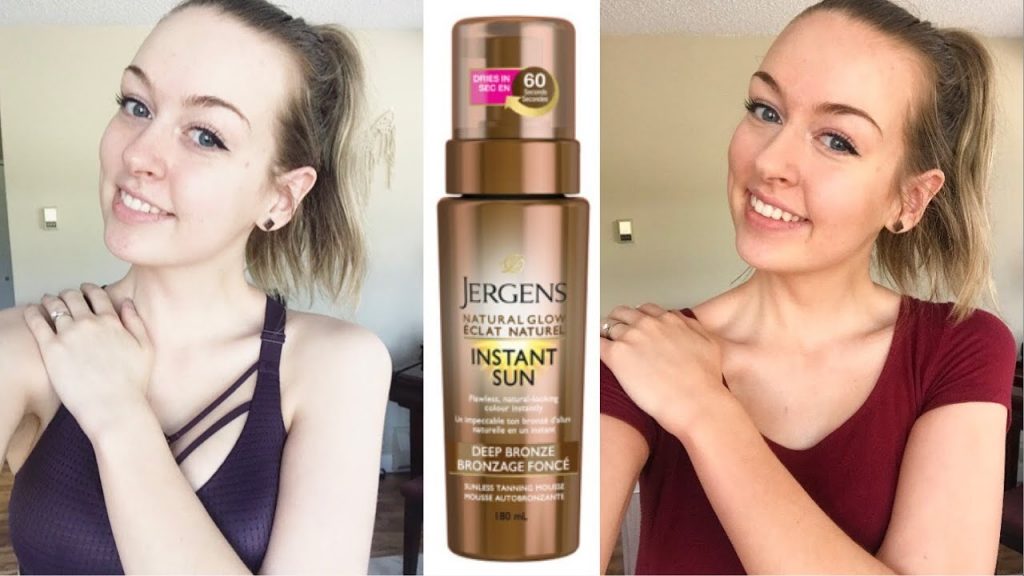 The Jergens Natural Glow Instant Sun is a self-tanning formula that comes in two different variants. It claims to be an instant dry formula that is entirely hassle-free to use. The product formula claims to be uniquely built to suit every skin tone. Its variations in formulations provide options to its users to pick any that they feel convenient to use. Both the towelettes as well as the mousse have the same job to accomplish. However, before jumping to conclusions, let us go through a comprehensive analysis of each. 
Jergens Natural Glow Instant Sun Variants 
Jergens as a brand has its unique role to play when it comes down to instant tanners. Apart from the 'Natural Glow' range, Jergens offers the 'SOL' range with similar attributes. Both are equally meant to address the tanning needs of their target customers. However, the 'SOL' range wins the race owing to more number of variants. The Deeper By The Drop Serum, Water Mousse, Full Body Towelettes, and the Body Bronzer are members of the 'SOL' story. Each of its variants offers distinctive benefits and tanning experiences to its users. Having said that, let's take a look at the products offered under the 'Natural Glow' line.
Jergens Natural Glow Sunless Tanning Mousse Review
As the name in itself suggests, it is precisely in the formula of a mousse. The color variants of the range include the light bronze and deep bronze shades. It offers a natural-looking tan in no time. It is designed to gel with any skin type and color, thus leaving a flawless bronze look as per your complexion. The product's packaging claims it to be an instant dry formula that shows the best results in 24 hours. It takes about 60 seconds for the product to dry up completely. With time, the color tends to develop, and for further satisfaction, reapplication is suggestive for darker needs.  
Sale
How to Use? 
For effective use, it comes with a pump to prevent excess product spilling. It is essential to prepare the skin before application. Thus, exfoliation is suggestive for better absorption and retention of the formula. Spread the pumped quantity evenly, and put emphasis on the dry areas. The ankle, knees, and elbows require extra attention, do not miss out on that. Wash hands post-application immediately. Wait for 60 seconds for the formula to dry onto your skin and witness the color develop instantly. With time, it tends to deepen till you are satisfied with the ideal tan outer appearance. 
Why Should You Buy It?
It comes with a pump for convenient use 

The texture is light and airy and does not feel heavy on the skin 

It has undergone dermatological tests and is not hazardous for the skin 

It comes in fruity tropical essence and feels fresh on the skin 
Jergens Natural Glow Towelettes Review
Well, the towelettes from the 'Natural Glow' formula is perhaps the most convenient of all. There is no specific regulation you need to maintain for the product. Just a swipe down, and you are all good to go about with the ideal tan. Irrespective of the skin tone you behold, it works for all equally.
The scent dispersed by the product is more of fruity tropical nature. On application, it takes a few hours for results to show up on the skin. It is capable of being applied on any part of the skin and not just the face. For this formula, too, reapplication is a suggestion for those seeking a darker shade. 
Sale
Jergens Natural Glow Instant Sun Sunless Tanning Towelettes, Single-Use Self Tanner Wipes for Flawless, Natural-Looking Color, 6 Count
INSTANT NATURAL-LOOKING TAN - Works with your unique skin tone to create a sun-kissed, natural-looking tan within hours. Pool party vibes for days - all in a simple swipe!
BUILDABLE NATURAL COLOR - Formulated with a prestige-inspired blend of DHA + Erythrulose, our towelettes create natural-looking, streak-free results that mimic beautiful color from the sun. Say goodbye to orange tones.
TROPICAL FRAGRANCE FOR A SUNLESS TAN - Indulge in Vitamin E and a Fragrance that blends the tropical fruits of Mango and pineapple with a touch of vanilla for a fun, flirty summer feeling all year long.
How To Use?
All you need to do is unfold the towelette and start off with the application. It is for application on clean and dry skin for better results. The suitable method of application would be in circular motions. It would be best if you washed your hands post-application. As always, allow the formula to settle on the skin till it completely dries up. Finally, after a few hours, visible results come to the forefront. And that's how simple it is to get yourself the tan you lack naturally.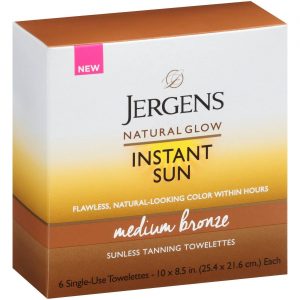 Why Should You Buy It?
It is a full-body tanning formula and thus requires no extra efforts 

It is a streak-free formula and therefore you need not worry about lines forming 

The product has undergone dermatological tests and is safe to use 

The odor of it feels refreshing on the skin on application
Cessation | Jergens Natural Glow Instant Sun Reviews 
The Jergens Natural Glow Instant Sun Reviews is a must before you purchase it. Thus we have tried our best to curate content based on your needs. The Jergens Natural Glow is one such tanning formula that is recommended by many. It has been accredited a 4.4 rating on the e-commerce platform Amazon. Both in terms of the value and utility of the product, it has won the hearts of most users. Some have even recognized it as an excellent purchase and have vouched for a repurchase too. 
One of the significant reviews claims the product to have successfully worked even for people suffering from Vitiligo. And many others, too, have reviewed it in all good faith for you to rely on them. With different textures and colors of skin, the exact product might not fit all. Contrary opinions always remain a part of those verified claims. Thus, to discover more of the truth, it is on you to give it a try and see if it works for you. 
With that, we come to the end of the blog post with all the relevant aspects covered as far as is practicable. We are looking forward to solving your queries, if any. Do not forget to comment down below and reach out for help.