As the world expands each day, we see that human beings are only going further away from nature.
We all seem to have forgotten that artificial things only give us temporary joy.
This also applies to the way we take care of our bodies.
With chemical products doing their work in minutes, we often steer away from their harmful side effects.
Fortunately, we've witnessed organic production growth in the cosmetic industry in the past few years.
This will definitely save us from catastrophes.
We've gathered information from the best Juice Beauty reviews to help you see if they've managed to do this as well or not.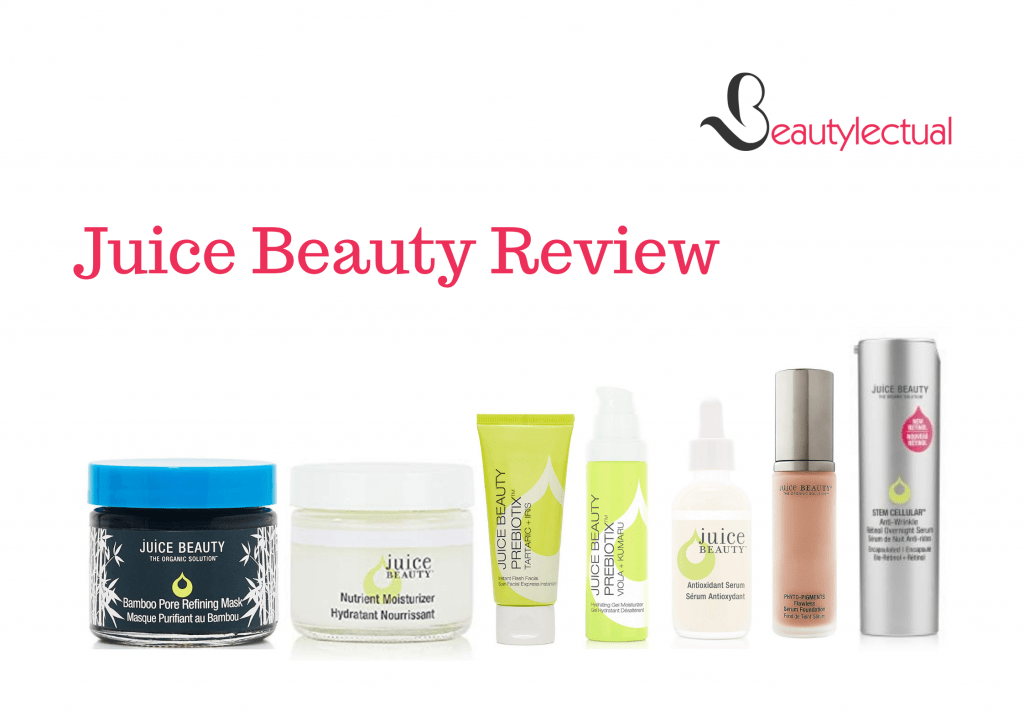 None of us are created equal, but there's one thing we all have in common.
It's the fact that not taking care of something always leads to situations we never asked for.
Our skin is possibly the most delicate part of our body.
Exposing it to the baleful chemicals in the cosmetic products is like standing on thin ice.
An organic substitute like Juice Beauty claims to protect your skin for the better.
However, the validity of these claims is yet to be proved by us.
See Also: Pattern Hair Care Reviews | Did It Work? (Unbiased)
Juice Beauty Reviews | A Game Changer?
There are loads of brands in the market that label their products as "natural" or "organic."
However, these are just gimmicks to catch your eye.
They only have 3 or 4 natural ingredients in their entire composition and highlight those to mislead you.
Therefore, it is essential to check the ingredient label before buying any product.
Juice Beauty has gathered some good support when it comes to being honest with its consumers.
They believe that they've gone beyond natural. In fact, all their ingredients seem to be certified by the USDA.
Despite all the praises, there are a few drawbacks that Juice Beauty vs. Dermalogica reviews have shed light upon.
The packaging of the products has been a major concern for many of them.
Moreover, the increasing number of dupes is also a menace that needs to be curbed.
Regardless, we should judge the brand's worth by researching well and testing the products out.
That's exactly what our team of reviewers has done!
We suggest you continue reading to find all the details about the products and make an apt choice.
Popular Juice Beauty Products
Juice Beauty Products | Best 6
The brand offers a gamut of products which includes skincare and makeup.
Moreover, they also have customized regimens that target different skin problems.
The primary range includes moisturizers, toners, serums, peels, and sunscreens under skincare.
They also have a makeup line that uses pigments from plants and creates products for all skin tones.
They use antioxidants and an organic botanical juice base instead of PEGs for all their formulas.
Studying facts from the best Juice Beauty reviews, we've listed the top 6 products of the brand below!
JB Flawless Serum Foundation
A good foundation must cover blemishes, acne scars, and fine lines and provide good moisturization.
The top Juice Beauty reviews for foundations say exactly that about this product. It offers medium to full coverage.
In fact, our team of reviewers found the weightless mouse texture comfortable to wear for the whole day.
Moreover, it comes in 13 different shades that do not settle into the fine lines.
However, some customers say that the scent isn't very pleasing.
The Ingredients In The Mix
Grapeseed oil and fruit stem cells are a part of the age-defying serum technology that reduces wrinkles and fine lines. The product also has soothing coconut alkanes that can help in minimizing pores.
All the pigments are derived from plants which makes it petroleum-free.
The organic safflower oil cuts down the chances of developing dry skin. The Argan shell flour leaves a shimmer without giving any allergies.
Perks of Juice Beauty Flawless Serum Foundation
Comes in 13 different shades.
It blends well and does not sink into pores.
Peeves of this product
The darker shades are not as inclusive.
Stem Cellular Anti-Wrinkle Retinol Overnight Serum
Retinol and retinoids are both derivatives of vitamin A.
Retinoids are more powerful and need a doctor's prescription to purchase them. On the other hand, Retinols are a little weaker and are used in cosmetics.
This retinol serum changes the rate at which skin cells divide. In fact, our skin becomes thinner as we grow older, and that's what causes the fine lines, sagging and wrinkles.
The formula actually thickens the skin layer by hastening the cell regeneration process.
Despite all the hype, one cannot help but be skeptical about retinol.
It may cause dry and itchy skin if sun protection is not used. Regardless, Juice Beauty retinol reviews show a 28% reduction in wrinkles and a 17% increase in elasticity in a week.
The combination of retinol and bio-retinol has less harmful side effects as compared to harsh chemicals. Moreover, it also boosts collagen levels quickly.
The Key Ingredients
Juice Beauty uses a blend of fruit stem cells from apple buds, grape buds & lemon leaf for its base.
The bio retinol removes dead skin cells and delays cell aging.
Moreover, it reduces scars and helps to treat conditions such as eczema.
It has the evening primrose extract that reduces inflammation and eradicates skin cells that cause lesions.
It also protects the concentration of Vitamin A. Also, it has jojoba oil and shea butter for good moisturization.
Many Juice Beauty reviews of the Stem Cellular line praise the inclusion of Vitamin B5 in this product as it is proved to heal wounds.
The aloe vera extract adds a soothing factor. Moreover, many clinical reports have proved that it increases hydration.
All of these ingredients seem good, but it is risky to use retinol. Stepping out in the sun with just a retinol cream on your face could lead to skin burns.
Pros
Reduces dark spots, roughness, and wrinkles.
The brand makes the packaging from recycled waste.
The product is stored in an airless and opaque bottle to stop oxidation and light damage.
Free of silicones, parabens, PEGs, and sulfates.
Cons
Not using sunscreen after applying this product can cause skin burn.
Pregnant or nursing women should not use it.
You must not use it on broken or irritated skin.
It can be replaced by an affordable option like Ordinary Retinol 1%.
Juice Beauty Stem Cellular CC Cream 
Color correcting creams or CC creams are a staple in every makeup bag.
That is because of the multitasking abilities they have. In fact, we can also use them as primers, light coverage foundations, or even sunscreens if they have SPF.
Many Juice Beauty reviews of CC cream products suggest that it is an excellent choice if you're looking for a race-inclusive CC cream. It has 7 different shades listed in the catalog.
It also has three different types of finishes – matte, natural, and radiant.
Our reviewers have seen a significant difference in their fine lines and uneven texture.
Moreover, it acts as a no-chemical sunscreen or non-nano natural sunscreen. Several beauty polls have rated it as the best-tinted moisturizer.
Additionally, it has a long shelf life. Since the product does not have any artificial dyes, you can mix different shades to match your skin tone.

The Magic Mix Of Ingredients
The Aloe Leaf juice has essential proteins that can soothe your skin and circulate blood around the surface.
The product has a low concentration of organic coconut oil that rehydrates the skin. It also gives it a dewy glow.
Grape juice extract has antibacterial properties that promote skin rejuvenation. Moreover, it also protects skin cells against free radical damage and lowers the risk of skin cancer.
The Zinc Oxide in the product also helps in fighting against skin burns or rashes.
Vitamin C brightens the skin and gets rid of acne spots. In addition, Vitamin E increases the shelf life and prevents oxidation.
Perks
Contains no silicones or parabens.
Gives broad-spectrum sun protection with mineral Zinc.
Available in 7 shades that can blend.
Minimizes the appearance of wrinkles and fine lines.
Blemish Clearing Cleanser
Facial cleansing is important to get rid of sebum, pollutants, oil, and dead skin cells.
If these are allowed to stay on the face for too long, they can cause breakouts and moisture loss.
The Juice Beauty reviews of the Blemish Clearing Cleanser show that this product has diminished the lesions greatly.
Moreover, it cleanses the skin without stripping away the natural oils. However, there are few drawbacks to this product.
A few customers had reported that the product only works for a small period, and then the skin goes back to its acne-prone state.
The Key Ingredients
The willow bark derivative is scientifically proven to reduce breakouts and clogged pores when used with salicylic acid.
Additionally, botanicals like organic sage and dandelion detoxify the skin layer. The organic fruit acids even out the skin tone and texture.
Vitamin C, E, and B5 work towards making the skin firm and elastic. Moreover, aloe vera, green tea, and white tea extracts improve hydration and blood circulation.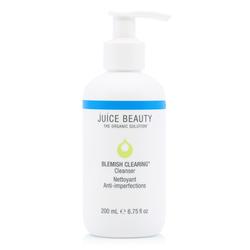 Why is Juice Beauty Blemish Clearing Cleanser worth it?
Does not cause any redness.
Improves the skin tone and texture.
Juice Beauty Nutrient Moisturizer
Moisturization is a crucial part of skincare.
It helps with boosting collagen and regulating blood circulation.
When the skin isn't hydrated enough, it slows down its ability to regenerate cells. This is exactly what aging is.
Juice Beauty moisturizer reviews show that this product has helped with reducing wrinkles and uneven skin tone. The fatty acids and other botanical compounds promote healthy skin renewal.
Juice Beauty Nutrient Moisturizer, 2 fl oz
Hydrates with nutrient-rich organic shea and jojoba
Soothes and replenishes with organic aloe and algae
Rejuvenates with flavonoid rich organic botanicals of primrose, borage and linseed
According to many Juice Beauty reviews by dermatologists, using plant technology in designing this product is a master move.
The juice-based lotion allows all the nutrients to penetrate slightly deeper than regular moisturizers. However, some reports do suggest that the consistency isn't as desired. We also notice that the smell isn't delightful.
What Goes Into This Cosmetic Recipe?
Organic Shea butter and jojoba oil hydrate the skin and supply it with nutrients.
The algae fragments are high in antioxidants and thus, fight against free radicals. Moreover, they also help revitalize the skin and reduce cellulite and wrinkles.
Flavonoid rich organic botanicals of primrose, borage, and linseed absorb UV radiation. This makes sure it does not interact and damage the skin cells.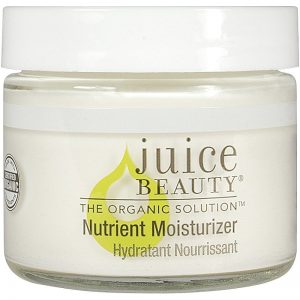 The small concentration of Hyaluronic acid can speed up the healing of wounds and allows locking of moisture.
Chamomile extract tightens pores and hastens the old collagen breakdown, thus building new collagen fibers. The natural oils give the product a few cleansing properties as well.
What makes Juice Beauty Nutrient Moisturizer so hype-worthy?
Vegan and cruelty-free.
The packaging is made of recyclable materials.
Designed for all skin types.
Rejuvenates skin with nutrients.
Drawbacks
The product has an unpleasant smell.
You Might Like: Bliss Skincare Reviews | Perfect Skincare Regimen?
Juice Beauty Antioxidant Serum
This serum has a concentrated formula that includes active ingredients that boost the efficacy of a good skincare regimen.
In fact, it helps to keep the skin firm and blends out fine lines and wrinkles.
You can use it to treat specific skin concerns like dark spots, redness, clogged pores, and fine lines.
However, certain juice beauty serum reviews show that sun exposure after applying this product can lead to a burning sensation.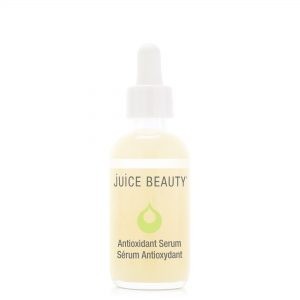 The Key Ingredients
Resveratrol from organic grapeseed and grape juice helps fight the free radicals.
The vitamins and algae extracts feed the skin with collagen actives. Aloe vera in the product helps in fighting inflammation and heat.
This, in turn, reduces acne breakouts and dry skin. Moreover, the organic acids smoothen the fine lines and wrinkles.
Pros
Free of PEGs, sulfates, DEAs, and other parabens.
Vegan and cruelty-free.
Packed with plant oils to get rid of minor acne and uneven skin tone.
Note: It may not be suitable for you if you have skin diseases.
Juice Beauty Before and After | Side Effects
Jane Brado says, "I have had hormonal acne all my life. Using the Juice Beauty serum has helped me overcome the problem. Organic is the way to go! We can all see how well it works by looking at the Juice Beauty reviews for acne. I recommend this to anyone who's looking for non-irritating ingredients in their skincare."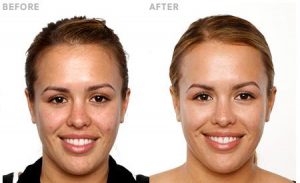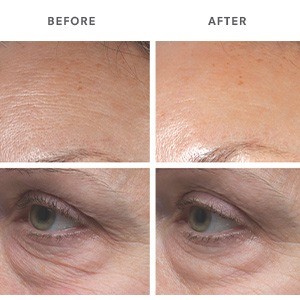 Erica M. notes, "A friend of mine recommended the stem cellular range of products to me. I can't thank her enough. Moreover, the range of shades in the foundation section is definitely worth a shoutout." 
Juice Beauty

Side Effects
Eva Jackson had a rather disappointing experience with Juice Beauty products. She says, "The serum is something you should be careful about. I only stepped out in the sun for a minute or two after using it and my skin started burning. However, despite trying to wash it away, my skin remained red for the whole week."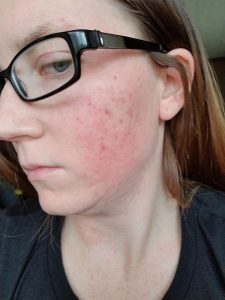 FAQs | Juice Beauty Reviews
Are Juice Beauty products good?
The line has been received quite positively by many customers.
Our volunteers have encountered good effects. However, the results vary from person to person.
Does Gwyneth Paltrow Own Juice Beauty?
Gwyneth Paltrow is not the owner of the company.
She is the creative director of makeup since 2017. She is one of the shareholders of the company.
Is Juice Beauty Really Clean?
Juice Beauty has all its ingredients clinically tested.
The released reports confirm that none of the products contain any PEGs, sulfates, DEAs, or parabens. Therefore, it can be called a clean brand.
Is Juice Beauty Good For Aging Skin?
Most of the products have properties that boost collagen production.
This is exactly what reverses the signs of aging. In fact, volunteer studies show that most of the products have reduced wrinkles and fine lines.
Cessation | Juice Beauty Reviews
Gathering information from Juicy Beauty reviews, we can say that the brand is at the top of the skincare game in the market.
An organic, environment-secure approach towards beauty is exactly what we need right now.
However, due to the usage of some ingredients, the products may not smell too well all the time.
Personally, our team volunteers have experienced good results.
Directed research helps you make the right choice, and we hope to help you in the same. Moreover, if you have any queries or suggestions, do not hesitate to write to us in the comment section.