Your hair can sometimes be your best attribute. In the anaphase of the hair cycle, hair follicles seem to use their stem cells to heal deep cuts and wounds amongst humans. They also have a good supply of oxygen and nutrient at the tips. There's nothing better than having a good hair day, and what better way to celebrate your beauty than through a good hair care routine. Many companies have shot at creating products to improve hair conditions, but few could win the market race. The top ten companies have various factors that led to their victory. According to Keranique reviews on the internet, it's one among those. However, we are yet to find out the truth behind the brand's objective. Is it all clean, or is there a dark secret behind their successful establishment?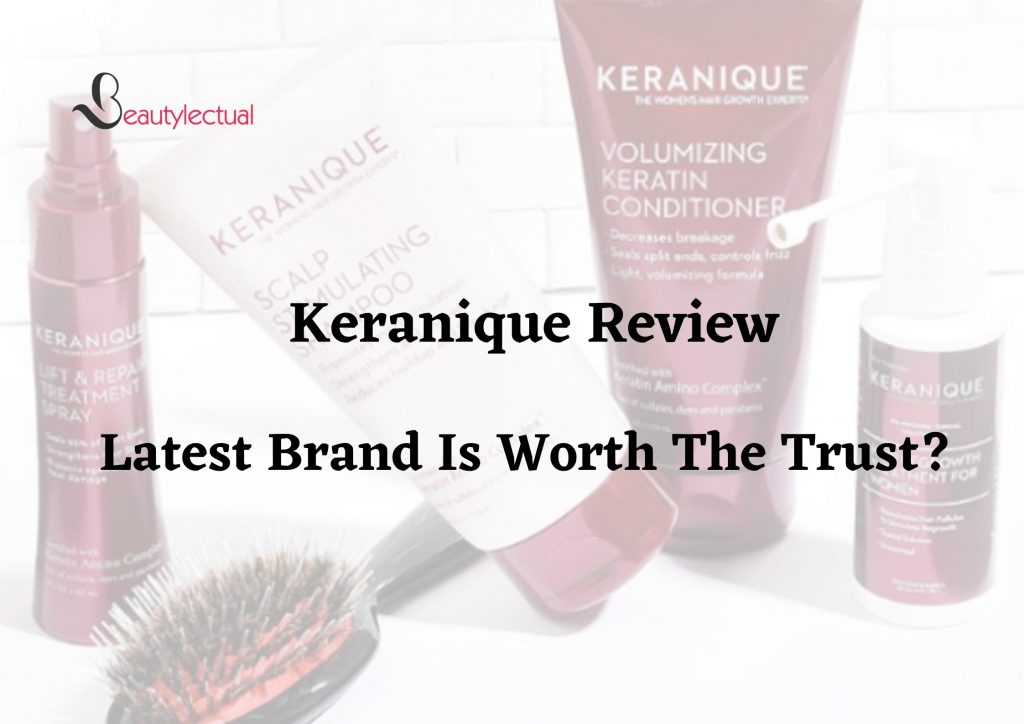 The haircare market is segmented by products such as shampoos, conditioners, pills, etc., utilizing various distribution channels. It is estimated to grow by a margin of 3.35% CAGR during the forecast period of 2021 to 2026. People seem to prefer organic products over chemically-intensive ones. We tested some of the best Keranique products to see where they score well and whether the brand is worth the hype. We will be analyzing the yields, their ingredients, FAQs, reviews, and more! Stay tuned to discover the true nature of this famous brand.
You Might Also Like: SeroVital VS SeroVital Advanced | Best Anti-Aging Solution?
Keranique Reviews | Your New Hair Savior?
Keranique is the brainchild of Dr. Sonia Batra, a Harvard Medical School graduate who has been a successful dermatologist for a decade now. The company has its products laid out in a 4-part hair care system. As far as we've noticed, it's not their over-the-top advertising that gets them their numbers is their ingredients. Being paraben-free, all of their products ensure safety from hormonal imbalances.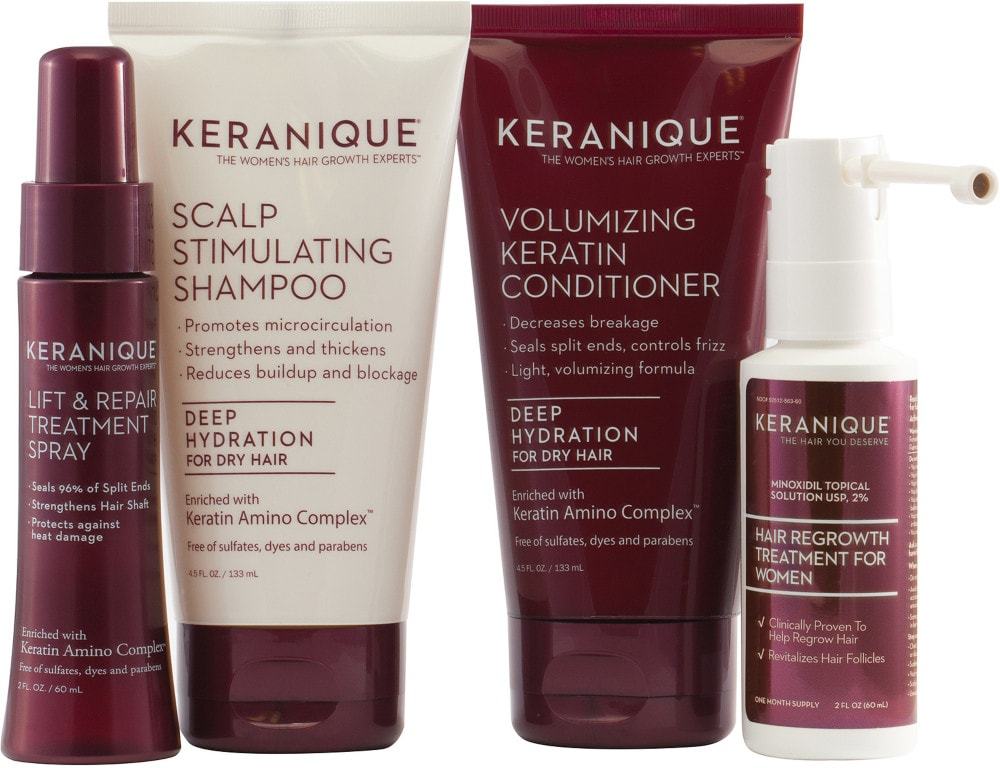 Their star technology is the Keratin Amino Complex which has been in the news for some time now. It is believed to contain the essential ingredients to rebuild hair strength and restructure the hair growth cycle. Based on these few facts, anyone would think it's a brand worth investing in. However, we chose to dig deeper and find out more about the ingredients. So, let's get into it and see what's in store.
Keranique Reviews | The Range Of Products
Keranique sells shampoos, conditioners, serums, mousses, sprays, and supplements under its product catalogs. A few of the best-reviewed ones have been picked for today's discussion. Moreover, we'll be listing out the pros and cons to help you decide whether the product is of use to you or not.
Keranique Deep Hydrating Shampoo and Conditioner Set
The brand claims that by using the Keranique Deep Hydrating shampoo, you can eliminate the excess sebum and oil that clog the hair follicles. Your hair is prone to breakage as you age, and this product helps you prevent the extended timeline of this process. Following this with the Keranique conditioner locks in the moisture and nutrients effectively. It smoothens the hair cuticles and protects the hair from environmental stressors. In fact, in some cases, it may even reverse heat damage to some extent. Additionally, Keranique reviews for African hair suggest that it leaves the hair feeling silky and shiny.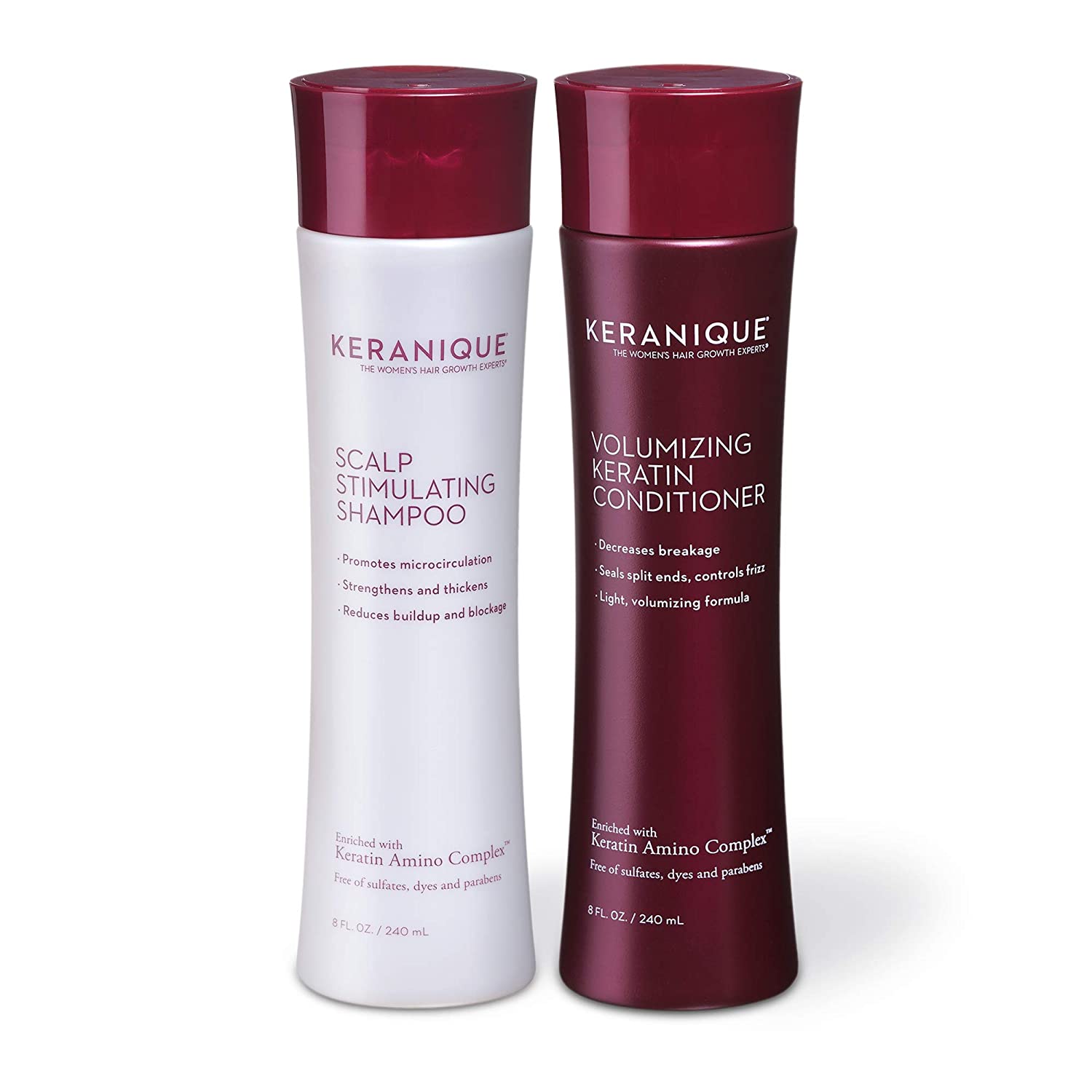 Avocado Oil is high in oleic acid, thereby adding moisturizing and strengthening hair strands. It can seal the cuticle cells and prevent the follicles from losing grip. Eventually, this reduces the breakage of hair. Panax Ginseng Root Extract is a famous medicinal herb used in Southeast Asia to increase hair length. It multiplies the count of the dermal cells on the scalp, which ultimately strengthens the hair follicles to a great extent.
Additionally, Hydrolyzed Ceratonia Siliqua seeds are also used in the base to allow other ingredients to penetrate well into the scalp. Another traditional root extract used is from the Arctium Majus fruit. It improves blood circulation and makes the hair roots more robust and the hair coat shiny.
From these ingredients, anyone would understand the deep-rooted usage of natural produces in this mixture. However, it is essential to note that few chemicals are used to maintain the product's stability. Methoxy PEG/PPG-7/3 Aminopropyl Dimethicone is one such ingredient.
Pros of using Keranique Deep Hydrating Shampoo and Conditioner
It does not leave any waxy residue on the hair.

Shampoo volumizes the hair, and conditioner makes it appear dense

Phthalate-free

Suitable for color-treated hair also

Protects from breakage and thinning of hair
Cons of buying this set
Contain PEGs which may cause hormonal imbalances in some cases
Keranique KeraViatin Hair & Scalp Health Supplement
Multiple factors can cause hair loss. These include Genetics, hormone levels, age, environmental stressors, poor diet, lousy styling, and ailments. If you fail to protect your hair against UV and IR radiation, it may become too brittle and wither off. The Keranique KeraViatin Hair and Scalp Health Supplements are claimed to solve the problem from within the body. They bring the hormones up to optimal levels and reduce the amount of cortisol in the body. This strengthens the hair follicles by supplying oxygenated blood to the scalp.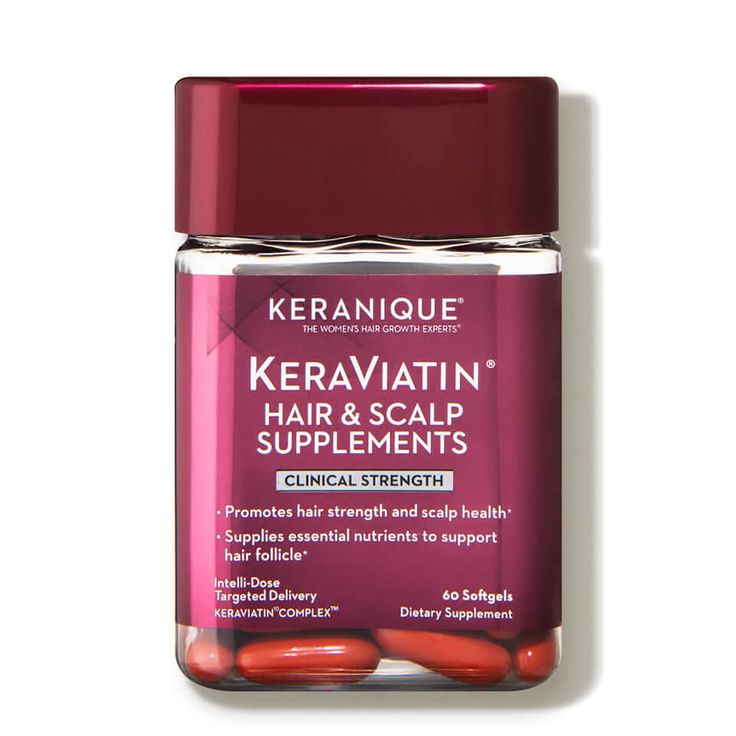 The Curcumin C3 Complex and Black Pepper extract are used as an amalgamation in the making process. These are excellent antioxidants that can clean up the scalp and allow proper circulation. It contains Vitamin B1 (as Thiamine Mononitrate), Riboflavin (Vitamin B2), Vitamin B6 (as Pyridoxine Hydrochloride), and Vitamin B12 to reduce inflammation. Moreover, Biotin converts sugar from carbohydrates to chemical energy that You can use to create more substances. These eventually help with cleansing the blood and multiplying the dermal cells.
Keranique KeraViatin Hair & Scalp Health Supplement, Clinical Strength, Biotin, Vitamin B, 60 Softgels
KERAVIATIN HAIR & SCALP HEALTH SUPPLEMENTS: These supplements do more than traditional hair vitamins with a premium, powerful blend of vitamins, minerals, & nutrients that helps support beauty from within.
CLINICALLY TESTED: It contains clinically tested, non-gmo & sustainably sourced ingredients nourish hair from within as a drug- free advance in the care of the hair & scalp.
PROMOTES HAIR STRENGTH: Keraviatin10 complex present helps promote hair strength & supports scalp health, addressing the underlying causes of poor hair health which can cause hair loss
After thoroughly checking the labels, we found out that the product is free of any harmful chemicals. In addition, there's no gluten, soy, marine extract, nuts, or milk used in these, which can cause allergies.
Why must you invest in these Keranique KeraViatin Hair and Scalp Health Supplements?
Sustainability sourced ingredients

Reduces stress levels by a significant margin

It makes the hair strong and shiny

Cleanses the blood to minimize scalp buildup and promote hair growth

Cruelty-free 
Keranique Thickening & Texturizing Mousse
If you're someone who experiences frizz at the end of a long day of work, this product might just be your savior. The Keranique Thickening and Texturizing Mousse can help tame the frizzy hair and nourish it too. The structure of the hair strands may cause collision from time to time and ultimately cause frizz. Using this mousse can help control that and give your hair more bounce than expected. Additionally,  it can be used as a detangler and heat protectant too.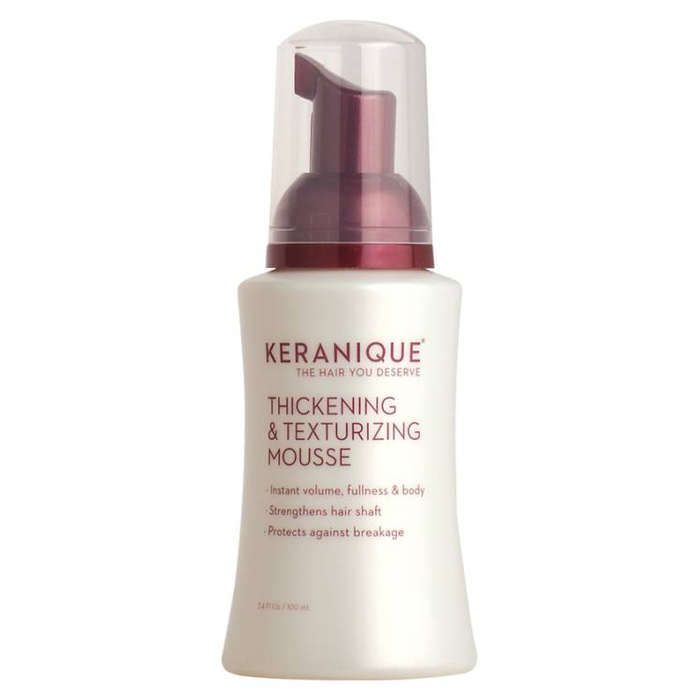 Keratin Amino Acids strengthen the hair and give it a natural shine. The compounds also add volume to the hair. Peppermint (Mentha Piperita) Oil has antimicrobial benefits. In fact, it cuts down on the starvation of blood flow to the hair follicles ad allows lush new hair to grow more quickly. From more profound research, we understand that none of the ingredients in the mix cause any adverse side effects.
Pros of buying this Keranique Mousse
Adds volume to the hair.
It controls frizz very well.
The product can be worn throughout the day.
It elongates the hair cycle duration.
The formula works as a heat protectant's alternative too.
Cons of buying this product
It may feel greasy on some hair types.
Keranique Anti-breakage Volumizing and Detangling Brush and Comb Set
Having curly is both a blessing and a bane. It's a blessing because you get compliments all year round and a bane because you'd have to do a lot to maintain the visual appeal. Brushing out curls daily is a strict no-no for curly heads. However, getting rid of stubborn knots every once in a while is a total yes. Using just any kind of comb you'd find at a dollar store can damage your hair as it needs a different approach.
Keranique Anti-breakage Volumizing and Detangling Brush and Comb Set
KERANIQUE DOUBLE SIDED DETANGLER COMB: Specially designed to work the Keranique Volumizing Keratin Conditioner. Wide-tooth comb evenly distributes conditioner from roots to ends. Medium-tooth comb separates and detangles hair, allowing you to brush and style with ease. Tapered edges glide easily through the hair without pulling or tugging.
KERANIQUE VOLUMIZING DETANGLER BRUSH: Unlike ordinary hair brushes, Keranique Detangling Hair Brush does not rip or pull out the knotted hair. It glides through the hair to untangle even the toughest tangles with ease.
ULTRA SOFT BRISTLES: Keranique Styling Hair Brush features exclusive ultra-soft bristles that glide through tangles and knots with ease and massage the scalp while stimulating blood flow and strengthening your hair.
The Keranique Detangling Brush has thin and long bison bristles that can glide over your hair easily without causing too much scalp damage. In addition, it gets rid of any excess product buildup on your hair lengths too. The volumizing brush is a wide-teethed comb that you can use to spread the conditioner all over the lengths of your hair. This comb makes sure that you don't have to pull or tug your hair to get the knots out.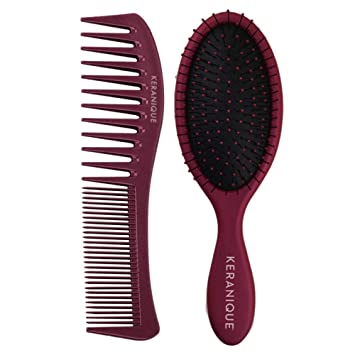 Perks of using this brush and comb set by Keranique
You can use the comb to distribute any hair product evenly.
The brush helps you get rid of tight and unkempt knots.
Brushing your scalp can improve blood circulation and help hair grow faster.
Using these tools can add some volume to your hair.
You can use them on all hair types.
Peeves of using these products
Keranique Micro-Exfoliating Follicle Revitalizing Mask – Keratin Amino Complex
Many trichologists suggest their patients use a hair mask once a week. You may be wondering what good that's going to do. Deep conditioning is one of the critical steps of any routine because moisture is your hair's best friend. Throughout the day, multiple factors contribute to stripping away your hair of its water retention power. Using the Keranique hair mask can facilitate the process of deep conditioning and replace the lost moisture. Moreover, it even reverses the damage caused by color treatments and excessive styling.
Keranique Micro-Exfoliating Follicle Revitalizing Mask, Keratin Amino Complex, Sulfate, Dyes and Parabens Free, Exfoliates, Nourish and Condition the Scalp, Supports Longer, Stronger Hair, 4 Fl Oz
PROMOTES HEALTHY SCALP: Removes buildup that can weigh hair down and clog follicles. Gently exfoliates, which can help accelerate surface scalp turnover, promoting healthy scalp and hair
LONGER AND STRONGER HAIR: This miracle mask helps to strengthen, replenish and restore the hair and scalp. Keranique Micro-Exfoliating Follicle Boosting Mask supports longer, stronger hair
PROTECTS FROM DRY AND DAMGAED HAIR: Micro-Exfoliating Follicle Boosting Mask is formulated with Protein Boost Technology to help restore vitality to dry or damaged hair
Cyperus Esculentus Root Oil is used in the base of the formula, which restores the vitality of moistureless hair. It can accelerate the process of increasing the number of dermal cells on the scalp. This increases the volume of the hair by a good margin. The Jojoba Esters and Castor Oil can add moisture to the hair strands and boost the scale of strength and manageability. The Protein Boost Technology promotes a healthy scalp and supports long and shiny hair.
Why is this product worth investing in?
It rehydrates your hair follicles.
It's a fast and effective way to take care of color-treated hair too.
The product leaves your hair feeling shiny and silky smooth.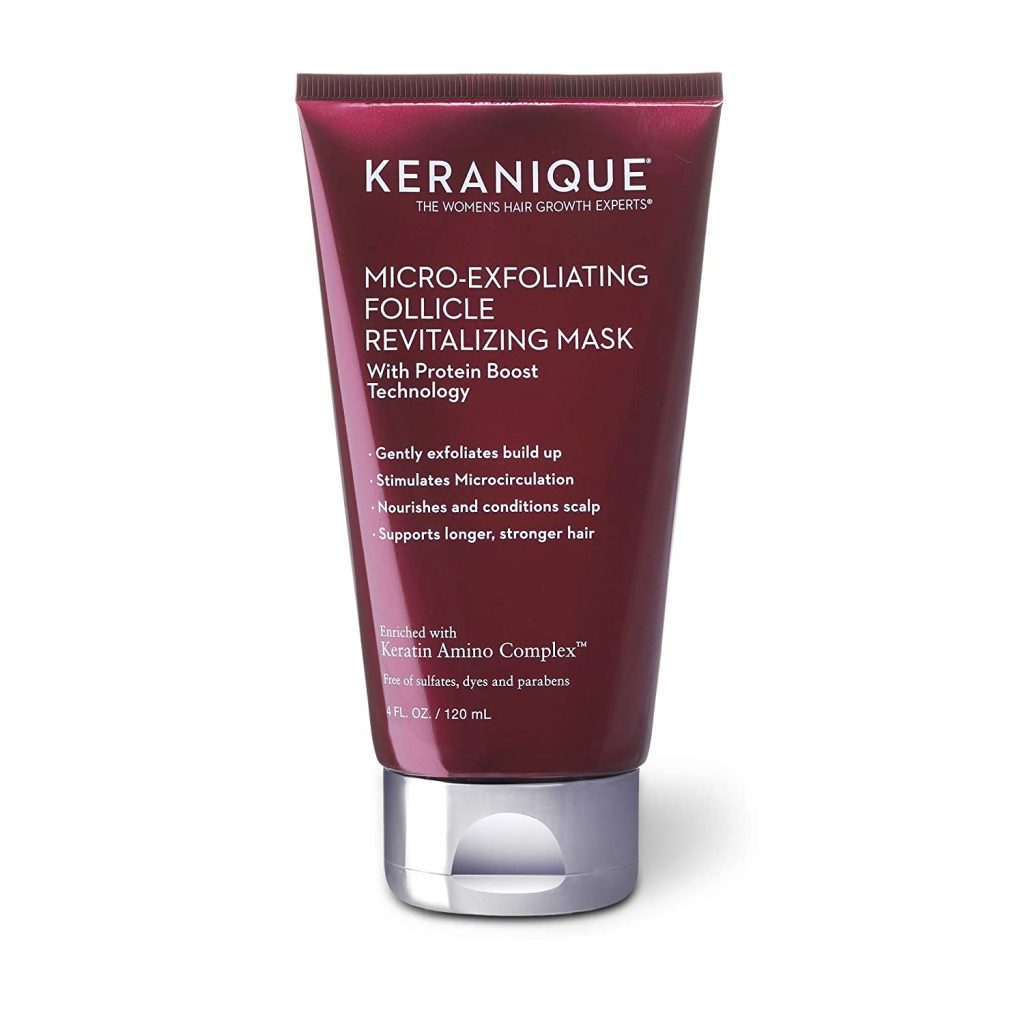 Why must you stay away from it?
Keranique Hair Regrowth Treatment Extended Nozzle Sprayer – 2% Minoxidil
Multiple agents can cause hair disorders. Sometimes, our very own follicles can malfunction and give the hair an unstable base to get attached to, causing eventual hair fall. Genetics also plays an essential role in such situations. However, You can reverse physical damage caused to the hair fibers if appropriate measures are taken. One such solution is the Keranique hair regrowth serum spray. It has been tested by 30 volunteers, out of which 13 of them had alopecia across several different stages. Their comments suggest that the serum has managed to bring their hair fall rate down by six percent over the two weeks of usage.
Sale
Minoxidil is a scientifically proven treatment for androgenetic alopecia. It's a vasodilator that opens the gate for potassium components to get into the scalp tissues and allow the anagen phase to last longer. Two percent of this solution is enough to get your hair to grow thicker and more robust. This is the core ingredient of this serum and has garnered a lot of hype, all of which it stands true to.
How is this serum the best choice for you?
You can use it to cure alopecia.
The product makes your hair stronger.
Keranique Reviews | Before And After 
The Keranique reviews on e-commerce sites like Amazon Amazon have eighty-three percent positive reviews. However, people have reported that dupes are being sold in the market, adversely affecting their hair health. Let's look into some of the reviews by the customers to understand the results better.
Customer Reviews
Ally Christa, a social media influencer with eighteen thousand followers, commented, "I had seen Keranique all over the internet before I decided to try the products out. All of my friends had been massive fans of the brand, and I get why they chose it for themselves. All of their products are so easy to use. The serums are highly effective and absorbing. I had noticed a huge difference the very first time I used it. My hair has grown shinier, and it looks better in photos now. However, my favorite product is the Keranique growth pill that I take twice each day. It has made my life so much easier. I love how it has balanced my sleep cycle and reduced my stress levels as well. I think everyone who has hair fall or hair damage should check it out right away!"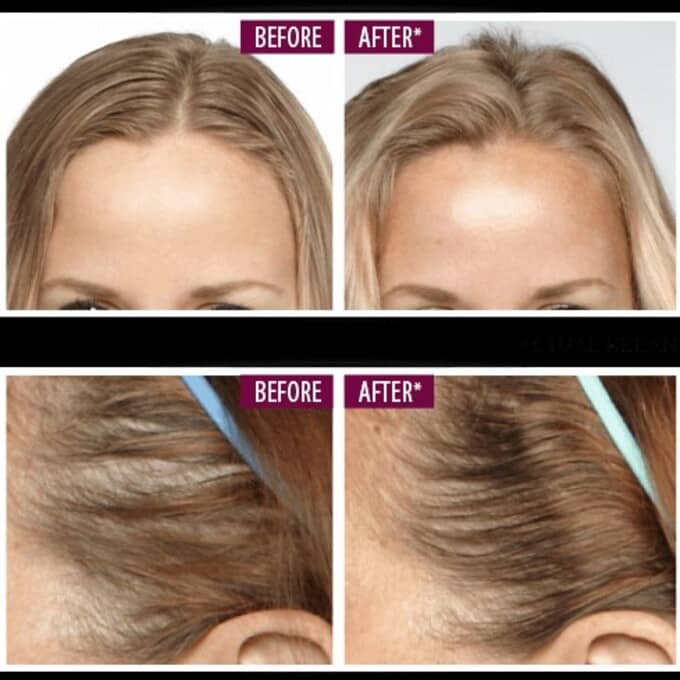 Shaheen Jasper Vera says, "After my second childbirth, I had started to lose hair from the sides and the front of my head. I wasn't feeling confident anymore. My hair lost all its shine and volume. That's when my gynecologist referred me to one of the dermatologists in her contacts, and she recommended Keranique to me. Their shampoo and conditioner work well for me. I have noticed that my hair doesn't fall out in the shower as much. Following that with a serum application makes it shiny and strong. Moreover, their pills have reduced my postpartum hair fall too. Thank you for your service Keranique."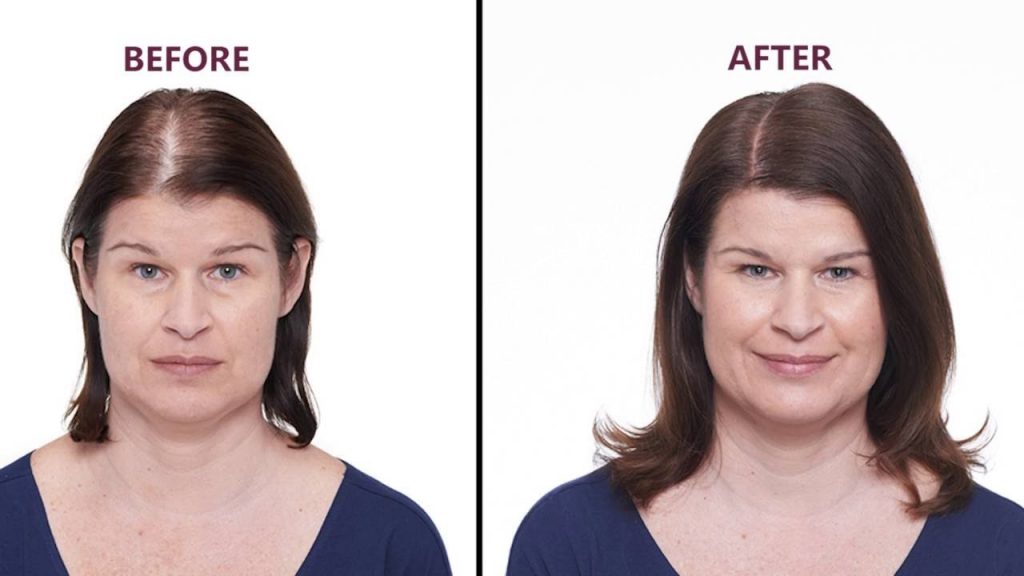 FAQs | Keranique

 Reviews
Is Keranique Good For Hair Regrowth?
Keranique has a 4 product system that aims to resolve any issue related to your hair. All of these are FDA-approved products and have natural bases in the formulas. Multiple reports suggest that the products do increase the hair density and length in twelve weeks.
What Happens To Your Hair When You Stop Using Keranique?
Consistency is the key. If you discontinue using the products, you may notice that the hair starts to shed again. We recommend you incorporate a hair care routine in your schedule for sure.
How Effective Is Keranique?
Keranique has some positive reviews associated with its name. A lot of celebrities also seem to have a liking for it. Moreover, according to the reports released, ninety-six percent of volunteers noticed a change within eight weeks.
Conclusive Thoughts | Keranique

 Reviews
Jumping right to the question – Is Keranique worth it? Multiple consumers and professional reviewers, including us, conclude yes as the answer. If you are looking for something that can correct your sleep cycles, mental health, and hair loss issues all at once, the Keranique pills are all that you need. The use of natural ingredients and minimal inclusion of chemicals is what grabbed our attention. Moreover, their hair care complexes have proven medical reports to back their claims.
We rate it a nine and a half out of ten as per our judgment. Thorough research is key to finding the true you. We hope we've helped you through the process of finding a hair care solution for your problems. Do consult a dermatologist before buying the product to confirm your allergy-free state. We hope you find your perfect haircare partner through this analysis. If you have any doubts or questions uncleared or have a message for us, write to us in the comments. We'd be delighted to read and respond to them!