As we start to age, the collagen production in our bodies reduces. This results in less skin elasticity, and fine lines and wrinkles begin to appear. Our skin becomes dry, loses its moisture, and becomes loose and saggy. It is decided where the skin needs more attention based on the thickness of the skin in that area. One of the most important yet ignored parts of our bodies is the neck. The skin on our neck is relatively thinner than the skin on our faces and hands but goes through the same wear and tear. Hence, it starts to age long before other parts of our bodies. While there are many options to prevent the neck from sagging, wrinkling, and drying out of hydration, the most convenient and pocket-friendly options are the neck creams. Nectifirm is one such product making a lot of buzz in the market recently. But is it worth the buzz? Let's dig into honest Nectifirm Reviews to find out if it's worth a try or is it just another scam?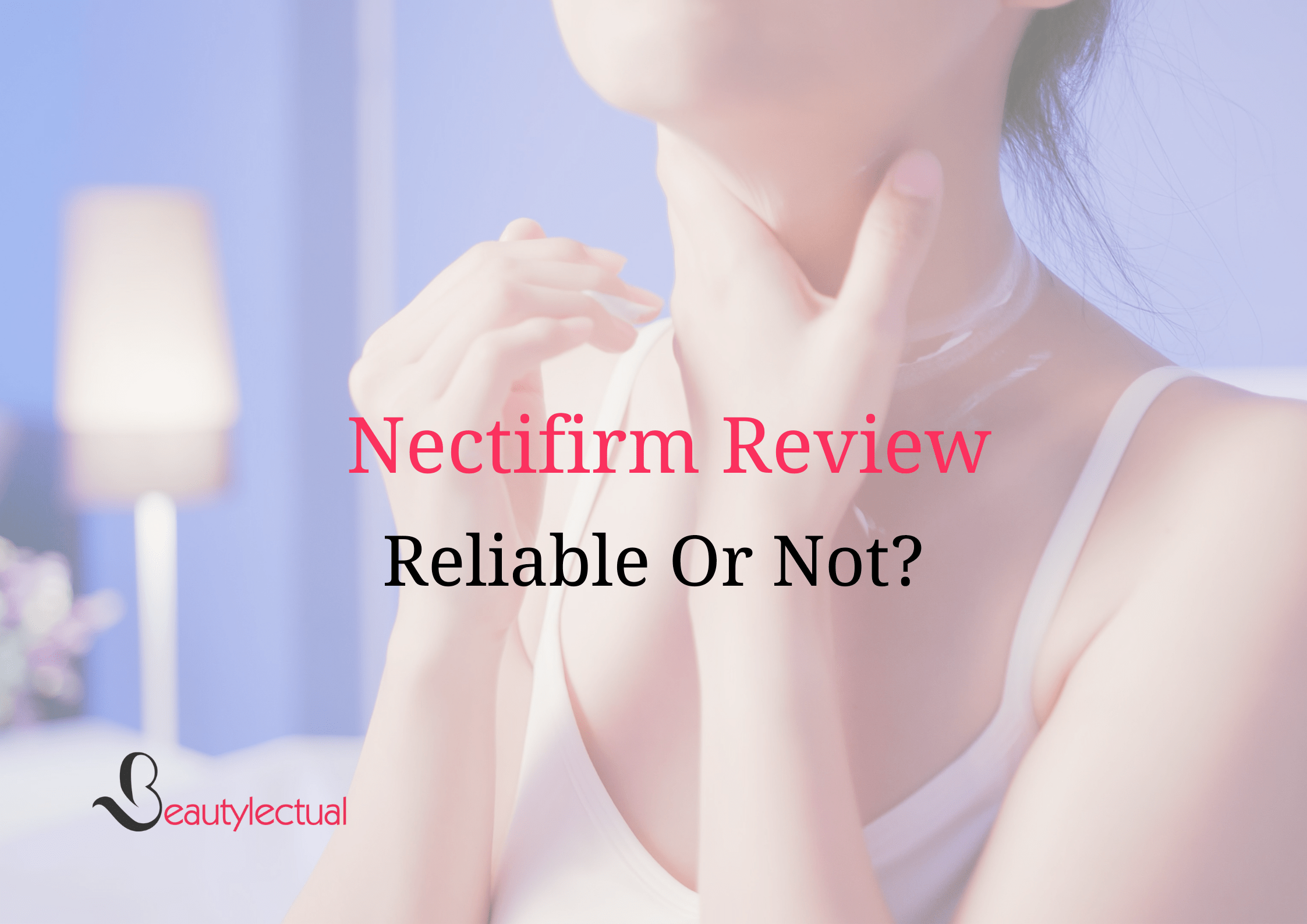 Nectifirm anti-aging neck cream is manufactured by Revision Skincare. The product and the brand have been all over the media and have won several awards, including Beauty Best Buys and Cosmopolitan. The product claims to work wonderfully by doing all the practical and necessary things on the neck. In this unbiased overview of the best Nectifirm Reviews scourged from all available sources, we will help you figure out how it works, the key ingredients, FAQs, and a few authentic customer reviews, so that you may make an intelligent decision.
You Might Also Like:  Hunmui Face Primer Reviews | The Only Suitable Primer?
Nectifirm Reviews | Does It Actually Work?
Revision Skincare, the manufacturer of Nectifirm, is a brand that claims that you may achieve younger skin without jeopardizing the skin's long-term health. It claims that their distinct formulation strategy paves the way for more effective treatment methods while defying existing tactics to provide tremendous results. Revision Skincare's products are always verified by physicians and dermatologists. It is also the first branch to create a category for skincare experts to use for neck at-home therapy.
Nectifirm neck cream is claimed to be made with a ground-breaking composition containing five peptides, plant extracts, antioxidants, and proprietary biotechnological mixes. It promises to smooth and rejuvenate the neck, jawline, and decolletage. It is also considered to be masterly crafted and clinically proved to address early to moderate aging indications on the neck and decolletage. 
Nectifirm claims to firm and lift the saggy skin of the neck and help the jawline to appear. It fades away and reduces wrinkles and fine lines, and the appearance of crepey skin. In addition to that, it might also prevent any photodamage and because glucosamine is included in the composition, Nectifirm might also aid in erasing hyperpigmentation on the neck. 
Nectifirm Ingredients 
Peptides- Peptides are amino acids that act as raw materials to form extra collagen in the skin and stimulate collagen production in the body. This leads to skin firmness and increased skin elasticity. It reduces wrinkles and fine lines and lifts the sagging skin.
Barley Extracts- Barley extracts are rich in essential vitamins and minerals, proteins, and enzymes; thus it nourishes our skin abundantly. With antioxidant properties, these extracts protect the skin from external damage and fight against free radicals. It is also the key ingredient for moisturization. It has a hydrating impact on the skin, making it soft and resilient.
Dihydromyricetin- Dihydromyricetin has antioxidant, anti-inflammatory, anticancer, antibacterial, cell death-mediating, and lipid and glucose regulating properties. It improves the appearance of skin elasticity and suppleness, which helps to shape the neck. 
Glucosamine- Glucosamine can diminish melanin synthesis by reducing Tyrosinase. This method can aid in the treatment of discoloration or hyperpigmentation caused by UV skin damage. Glucosamine also exfoliates the skin in the same way that alpha and beta hydroxy acids do. Exfoliating accelerates the skin's peeling process and helps to unveil a layer of new, healthy skin cells.
Other ingredients include Vitamin C and E, Squalane, Algae Extract, Phelondron, among others, that provide hydration to the skin and prevent the skin from becoming dry and flaky and also to firm the skin, reduce wrinkles and fine lines and make the skin glow. 
Why Nectifirm?
Reduces wrinkles and fine lines

Lifts and firms the skin

Helps the jawline appear more prominently 

Prevents and reduce photodamage

Evens out hyperpigmentation 

Smoothes out texture and provides hydration 

Suitable for all skin types 

Paraben-free and trusted by dermatologists
Why NOT Nectifirm?
Expensive

Results may vary from individual to individual
Nectifirm Reviews | Customer Insights
Irene shared, "It has been just a few weeks that I have been using Nectifirm, and let me tell you, it is worth all the money. I had my neck sagging and my jawline disappearing before I started using it. But in just 8 weeks, my skin has been lifted, and my jawline has started to appear. I am so excited to see how it goes in the future." 
Wilma says, "I am 50 years old, and I swear by this product. It has been a constant in my vanity for over a year. I always complained about my crepe skin and sagging skin on my neck until I came across Nectifirm. It will take at least 5 weeks to show results. You just have to be consistent. The skin on my neck has become supple, and it feels great now that it doesn't sag as much."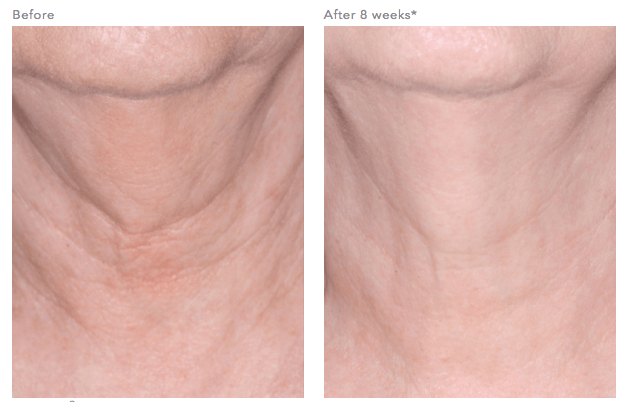 Jane says, "I won't say that all my fine lines and wrinkles have faded away or my skin has transformed to what it looked like 10 years ago after I started using Nectifirm because it can't happen unless I go for cosmetic surgery. But Nectifirm has done everything it claims to do. It has provided my skin with more elasticity and lifted it naturally. And it has improved the photodamage I have been dealing with. It has completely faded away the new wrinkles and has reduced the appearance of the old ones. My skin also feels soft and supple rather than dried and crepey." 
Surprisingly, there has been only a particular kind of negative review about Nectifirm. Let's look at a few of them.
Aimee says, "It has been 2 months of using Nectifirm, and I have still not noticed any results. I hope it changes."
Miley says, "I like how Nectifirm nourishes my skin. However, I have not noticed any surprising results in 4 months of using it."
Apparently, Nectifirm might take different times for everyone to show static or desired results. People have not witnessed any allergic reactions, yet hence it might be considered a safe product to try at least once. We still recommend performing a patch test before applying Nectifirm on the desired area.
See Also: Phoera Foundation Reviews | Legit Or Scam?
FAQs | Nectifirm Reviews
Where to Buy Nectifirm?
Nectifirm is available on the brand's official website as well as many e-commerce platforms such as Amazon. 
How to Apply Nectifirm?
Take a few pumps of Nectifirm on your palm. 

Start by gently applying it to your decolletage 

Work your way up to your neck and jawline in upward strokes. 
Nectifirm is to be applied twice a day for quick and effective results.
Is Nectifirm Cruelty-Free?
Revision Skincare products are not tested on animals unless the law requires it.
What Are the Side Effects of Nectifirm?
There are no recorded side effects of Nectifirm yet.
Conclusion | Nectifirm Reviews
After briefly coming across these Nectifirm reviews, it can be concluded that Nectifirm is a 4.8/5 product. Nectifirm does everything it promises to. Statistically proven, about 98 percent of individuals noticed an improvement in their appearance in terms of neck lift and crepiness; 94% of individuals noticed improvements in their appearance of jawline lift, and 100% of individuals were satisfied with improvements with overall photodamage. However, it requires absolute patience since it might sometimes take a long time to show the exact desired results.
Nectifirm is ideal for all skin types and does not cause any reactions. The Nectifirm product research demonstrated that we have discovered an effective anti-aging lotion. Even if some reviews claim that it takes so long for the initial results to appear, you must understand that all anti-aging products take time to work their charm.
In the end, we may say that Nectifirm is worth all the hype it has gotten through magazines, including People's Magazine, Elle, Allure, and New Beauty. If you're suffering from "turkey-neck", dryness, wrinkles and fine lines, and a disappeared jawline, Nectifirm might be the one for you. We hope you share your Nectifirm experience with us soon. In case of any further queries or suggestions, we will eagerly wait for you in the comments section.