Are you looking for the best nail treatment formula? Well, you are in the right place looking for one. Today, we will be comparing two popular nail clarifying products — Nonyx VS Kerasal. Both formulas enable nail treatment with their unique set of benefits. We will address all relevant points such as the similarities, differences, and how one is better than the other subsequently.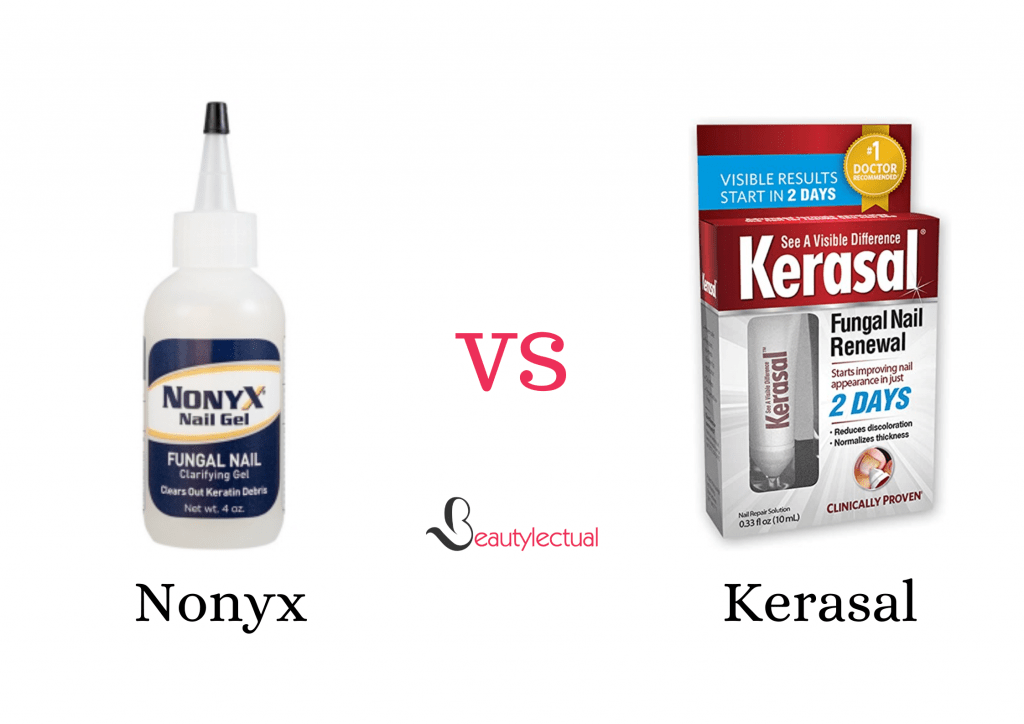 The same product with competing brands makes a choice difficult for consumers. However, there is no need for you to worry. Here we have for you the best comparison report on two distinctive and closely competing brands of the same product. Thus, hang around with us to resolve all your queries by the end of this report. Read each word of this piece to know and discover more. 
Also read: Sol By Jergens Reviews | Worth Trying? (Honest Review)
Nonyx VS Kerasal | Which One Is Better?
Both Nonyx and Kerasal have their unique fan base. But, when it comes down to choosing one out of the two, it gets tricky. The users of Nonyx might not want to shift to Kerasal and vice-versa. But, if you happen to be faced with one such situation, you ought to be knowing the intrinsic details. In that regard, nothing could be better than a vivid comparison between the two. And here we have all that you need to know.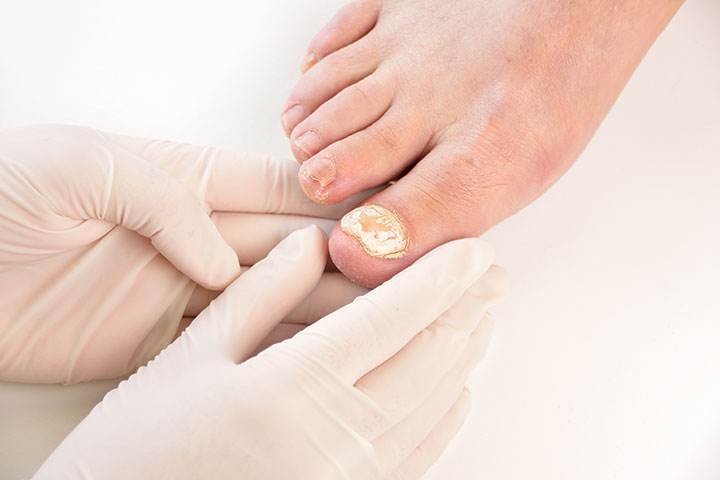 The Nonyx Fungal Nail Clarifying Gel is effective in dealing with discolored, damaged, thick, and brittle toenails as well as fingernails. Its primary job is to clear out the keratin debris that forms under the nails, making them unhealthy. On the other hand, the Kerasal Fungal Nail Renewal throws an impact on the appearance of the nails. It reduces thickness and discoloration alongside hydrating and exfoliating the damaged nails. Apart from this, several other factors are eligible to contribute to this discussion. Without any delay, let us discover each aspect in detail. 
Nonyx VS Kerasal | Points Of Distinction 
The Nonyx Fungal Nail Clarifying Gel and the Kerasal Fungal Nail Renewal can be differentiated on several grounds. Let us look at each in detail. 
Ingredients
Nonyx Ingredients: Deionized Water, Ethanoic Acid, Xanthan Gum, Fragrance are some major ingredients of Nonyx. Amongst all, ethanoic acid as an ingredient has a significant role to play. Due to its presence, the excess keratin debris is cut off from the nails, thus giving it a healthy look. It is a natural solution and is also highly effective, as claimed by its users.
Kerasal Ingredients: Propylene glycol, urea, glycerin, lactic acid, water, sodium hydroxide, disodium EDTA is what goes in the making of the formula. The presence of chemical compounds helps to suck out the impurities from the nails. Lactic Acid has a significant role to play here. The glycerin content helps hydrate the nails alongside exfoliation. All of its ingredients play an active role in every benefit the product offers. The American Podiatric Medical Association ratifies it.
Therefore, the ingredients contained in each formula are distinctive from the other. There is a major difference that one can witness in terms of the ingredients. Probably, it is because of the ingredients that Nonyx and Kerasal have different usages. 
Purpose 
Nonyx Gel: (Does Nonyx Gel Kill Fungus?) The primary purpose of using this nail clarifying gel is to remove the keratin debris stuck under the nail's that is home to fungal infections. This formula also addresses any other discoloration, damage, brittle or thick nails that are an outcome of the presence of keratin debris. Thus, if not direct, it has an active role in preventing nail fungus.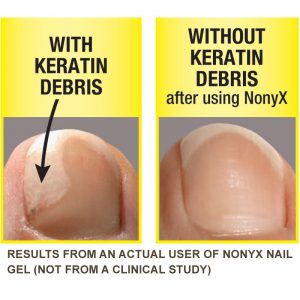 Kerasal: the role of this product comes into play after your nails have been impacted by fungus. It is meant to do the job of restoration rather than prevention, unlike Nonyx gel. It is obvious that fungus tends to damage the nails. Thus, any impact of fungus such as discoloration, damage, thick nails, etc., is dealt with using this formula. 
Apparently, both the products seem to deal with the same issues. But, to be specific, Nonyx helps deals with the source and Kerasal; the aftermath.  However, your purchase decision ought to be based on the utility you wish to address.  
Money-back Guarantee 
Nonyx Gel: its manufacturer Xenna Corporation has this unique marketing strategy to grab the attention of its target customers. It has the ideal policy that consumers often seek for. If the product satisfies you, you keep it. If otherwise, you are eligible for a complete refund as per the claims of the company. But, here too, patience is the key. 
Kerasal: in this regard, Nonyx stands in an advantageous position. Kerasal as a brand does not take up any such challenges with its customers. Though it claims positive results, you do not have the chance to avail of a refund as such. There is no scope for compensating for your loss (if any). 
Thus, if you are in search of a formula with strong footing on its claims, Nonyx beats Kerasal. 
Results 
Nonyx Gel: based on a nine-month clinical study, the product claims to heal 90% of the infected people. However, its results take quite some time to show up. Predictably, it takes about three to six weeks to bring out satisfactory results. 
Kerasal: In the case of Kerasal, results show up as early as two days. The packing of the product itself mentions the same on its body to attract its audiences. Thus, it seems more promising. In terms of getting faster results, Kerasal has proven to be a greater deal.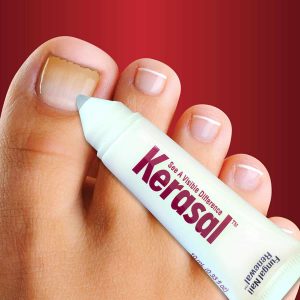 Quantity
Nonyx Gel:  The Nonyx Nail Clarifying Gel has been reviewed as a better performer in its price and other policies. Its users identify it to be an economical product. The quantity one gets in one unit is 4 oz. and costs about $21 ($5.26 / Ounce). One unit can last for about six months.  
Kerasal: It comes in the packaging containing 10 ml of the product in a single unit. The quantity offered by Kerasal is comparatively lesser than Nonyx and that also decreases its cost to $15.69. 
In terms of quantity and pricing, it is just a matter of choice. Both are available at good prices but Nonyx does better in terms of quantity. 
Similarities Between Nonyx & Kerasal 
On the face of it, both the products individually appear as nail fungal treatment formulas. However, upon comprehensive study, some differences have been brought forth before you. Now, let us take a look at the converging aspects:
Both Kerasal and Nonyx Gel come with its easy application tip, which facilitates the easy and better application of the formula.

They equally have been a doctor's choice to deal with nail-related issues caused by fungus presence. 

Both the formulas have undergone clinical tests and claim 90% success rates equally. 

They work similarly for fingernails as well as toenails though the requirements are different. 

Both have the same application method, i.e., it is, twice daily for optimum results. 
Sale
Nonyx Fungal Nail Clarifying Gel, a Toenail Fungus Treatment that Clears out Fungus by Removing Keratin Debris where Nail Fungus Grows, 90% of Nails Improve, 4 fl oz
Nonyx Fungal Nail Clarifying Gel (pronounced Nonex or Nonx) works differently than other toenail fungus products – it breaks down and cleans out yellowing keratin debris where nail fungus grows. As keratin debris is removed, the fungus goes with it, leaving nails looking clear and healthy again.
Clinically proven - 90% of nails significantly improved in a nine-month clinical study. Nonyx is an effective nail solution for damaged and discolored fingernails and toenails and improves the appearance of nails that are yellow, thick, dark, brittle, broken, cracked or lifting.
Dermatologist tested, a choice of doctors for over 10 years, and a leader in nail care products since 2006. Made in the USA, it is safe for diabetics with healthy feet.
Sale
Closure | Nonyx VS Kerasal 
And here we are, declaring the end of the battle between Nonyx VS Kerasal. Finally, your dilemma on which nail fungal formula to opt for remains addressed. When it comes down to healing and restoration, Kerasal has been chiefly a preference for many. On the contrary, to prevent the occurrence of fungal infection, Nonyx has been ruling hearts. In terms of the price, they are equally a great deal. But, some users have kept Nonyx ahead of the other ones.
Thus, it is ultimately the purpose you want to address. Both have their equal potentials; all you need to do is, get the one that suits your needs. Afterall all of us reading this piece at the moment deserve clean, healthy, and beautiful nails. That not only makes you appear attractive outwardly but also boosts your self-esteem. Having said that, do not forget to revert to us for any queries.