NuFace is a brand that consistently brings technology and results to the table.
They are bent on healing skin and nourishing the already tired skin.
Aging is a natural process, and we cannot hinder it in any way.
Trying to look younger is not the point; having clear and healthy skin is a must in your troubling times.
Now NuFace has a range of exceptional products which are similar but their uses range.
NuFace Trinity and NuFace Mini are the prime competitors of the brand.
While the inclusions are identical, there are differences overall.
NuFace Trinity VS Mini is the countdown we're going to target today. 
There has been a considerable increase in technology in beauty products.
Aging skin creates a lot of visible damage to your skin.
Anti-aging creams, treatments are a discontinuous and lengthy procedure.
What is the smart option for these problems?
As technology and AI is taking over every aspect of our life.
Beauty isn't far behind.
Fine lines, wrinkles, and saggy skin have more innovative ways of resolving.
Surgery is not an option at all.
Is the new technology reliable?
Using microcurrents and galvanic currents in a device form can massage and treat anti-aging issues.
Let's get into the details and understand which one deserves our money.
Also Read: Revitalash VS Grandelash
NuFace Trinity VS Mini | A Fair Comparison
NuFace carries the aim that they want to bring affordable, beauty solutions for women delivered to them in the comfort of their homes.
They want to provide anti-aging benefits to all women tired of their dull and aged skin.
When no anti-aging creams or treatments seem to work, you are bound to try this.
NuFace has two primary and bestselling products we will discuss today.
Both the products use microcurrents to repair and nourish your skin.
Microcurrents treat signs of aging on your face by rubbing the device over your face.
They fix and uplift your look with repetitive use. 
NuFace Trinity and Mini are their best products, and they both use microcurrents to improve your skin.
Apart from this similarity, there are many differences that we will discuss further.
NuFace has been in the industry for over 20 years, so without a doubt, they do know what they're making.
The reviews have been outstanding, and women have noticed early results.
Using technology to aid you in maintaining your face is a new idea not all women are comfortable with.
Let's find out the detailed comparison. 
Components | NuFace Trinity VS Mini
Trinity 
Facial toning device:

The toning device is equipped to tone your face fixing your imperfections.

It passes mild currents with low voltage. It causes muscles to contract and relax, stimulating the skin to produce more collagen. 

Gel primer:

The gel primer is supposed to make toning and gliding the toning device. It protects your skin from being in direct contact with each other. It comes in a 2oz quantity and lasts for a long time. Also, it comes in a water-based gel which makes it easier for the current to flow through your skin. Acts as a conductor for the microcurrent. 

Effective lip and eye microcurrent attachment:

You will receive this add-on if you choose the lip and eye attachment package. Fine lines and wrinkles near your eye and the lip region are visible too. To precisely correct signs of aging in these areas, you can purchase this package. 

Wrinkle reducer attachment:

You can buy the wrinkle reducer attachment if wrinkles are the main concern for certain people. Mature skin has wrinkles almost on the face, and a point wrinkle reducer would be a great option.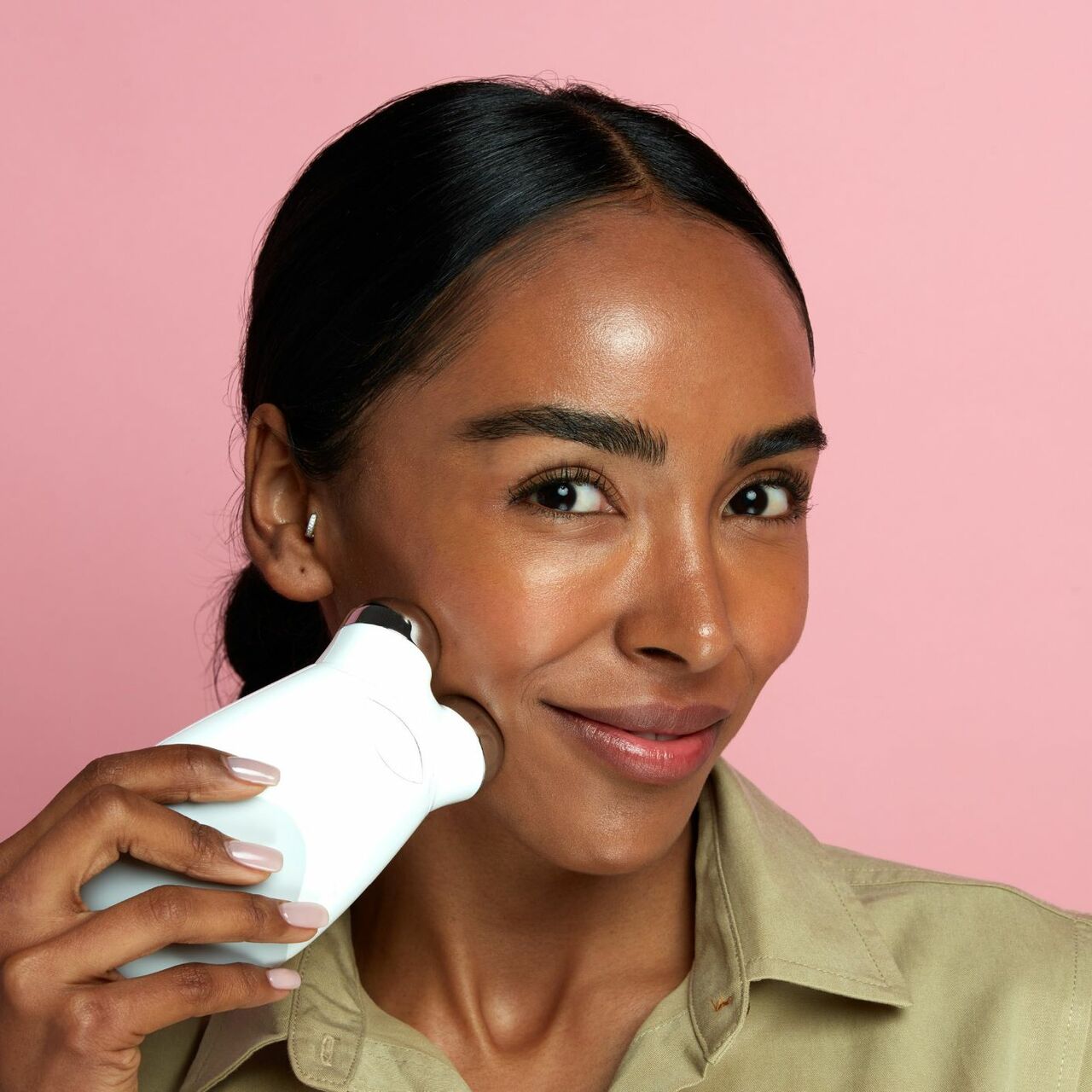 Mini 
Facial toning device:

The toning device has been equipped to tone your face fixing your imperfections. It passes mild currents with low voltage. It causes muscles to contract and relax, stimulating the skin to produce more collagen. 

Gel primer:

The gel primer is supposed to make toning and gliding the toning device. It protects your skin from being in direct contact with each other. It comes in a 2oz quantity and lasts for a long time. Also, it comes in a water-based gel which makes it easier for the current to flow through your skin. Acts as a conductor for the microcurrent. 

Power Adapter:

You do not need to worry about traveling and your Mini not working. The power adapter can fit into any unit, making traveling with your Mini everywhere you go. 

User Manual and Quick Start Guide:

They provide you with a user manual for making the initial process easy for you. Mini usually is for beginners who have no experience with microcurrents before. Mini could be the perfect device for you to start with. It is effortless to use the product with the help of the user manual and the quick start guide that comes with every product.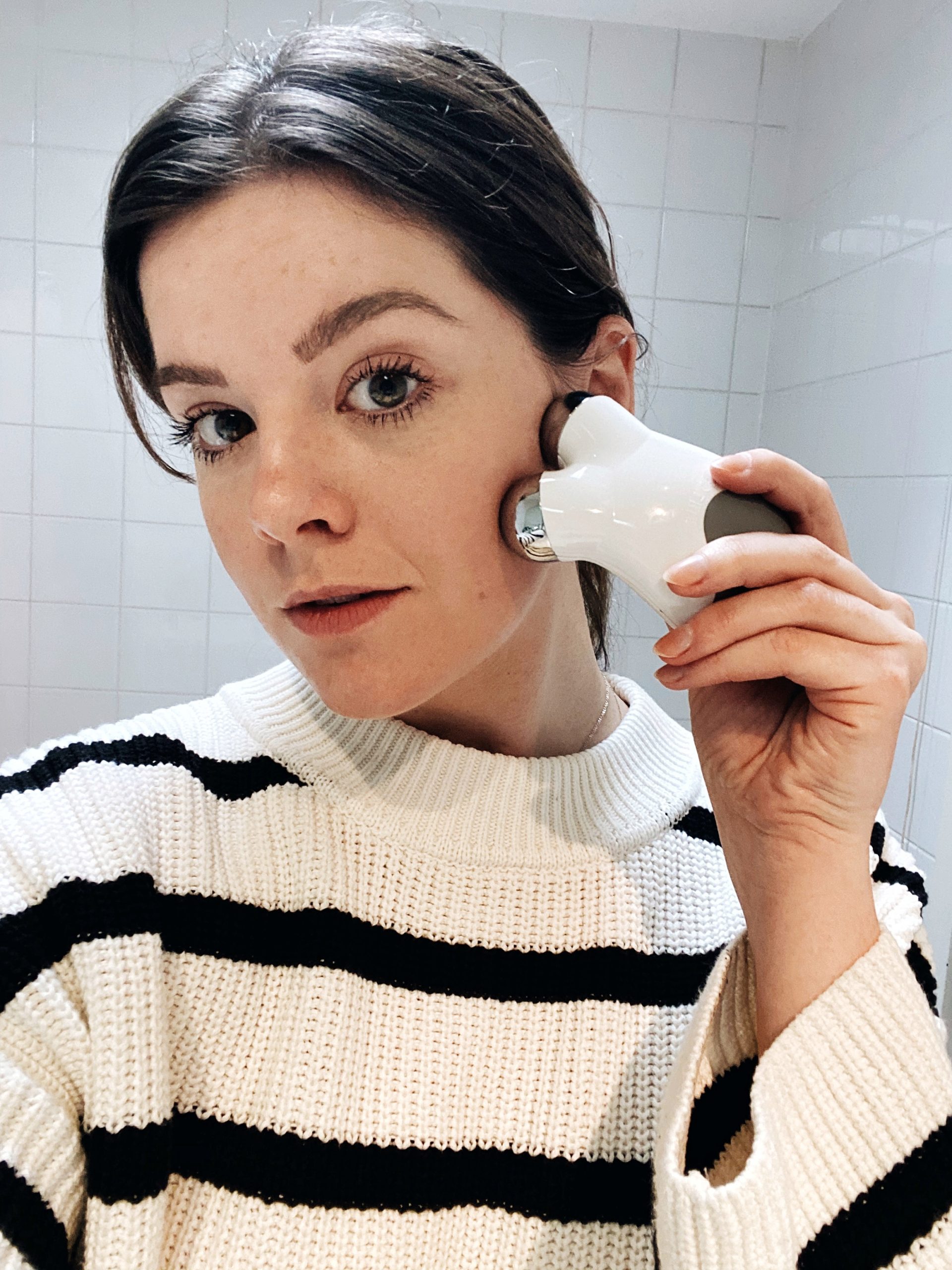 Benefits 
Trinity 
Collagen Boosting Properties:

The low voltage current contracts and relaxes the muscles of your face. It stimulates the production of collagen and elastin. They are skin-building proteins, and if collagen production increases, it will generate new cells, and skin feels renewed. Encouraging skin to increase these proteins is a sign of replenishing and healthy skin. Energizes and activates the facial muscles. 

Evens Skin Tone:

Reduces saggy and baggy skin, making us look older, and skin deteriorates faster. Toning the face skin would make your skin look younger and youthful. You get the lifted and toned face look. 

Anti-aging benefits:

Anti-aging properties are not imbibed in the gel, but they result from the muscle contractions and relaxation of muscles. New cell generation in the skin heals the signs of aging and makes your skin feel young. Fine lines, wrinkles, and saggy skin are the main issues that the toning device targets. It energizes and activates skin muscles.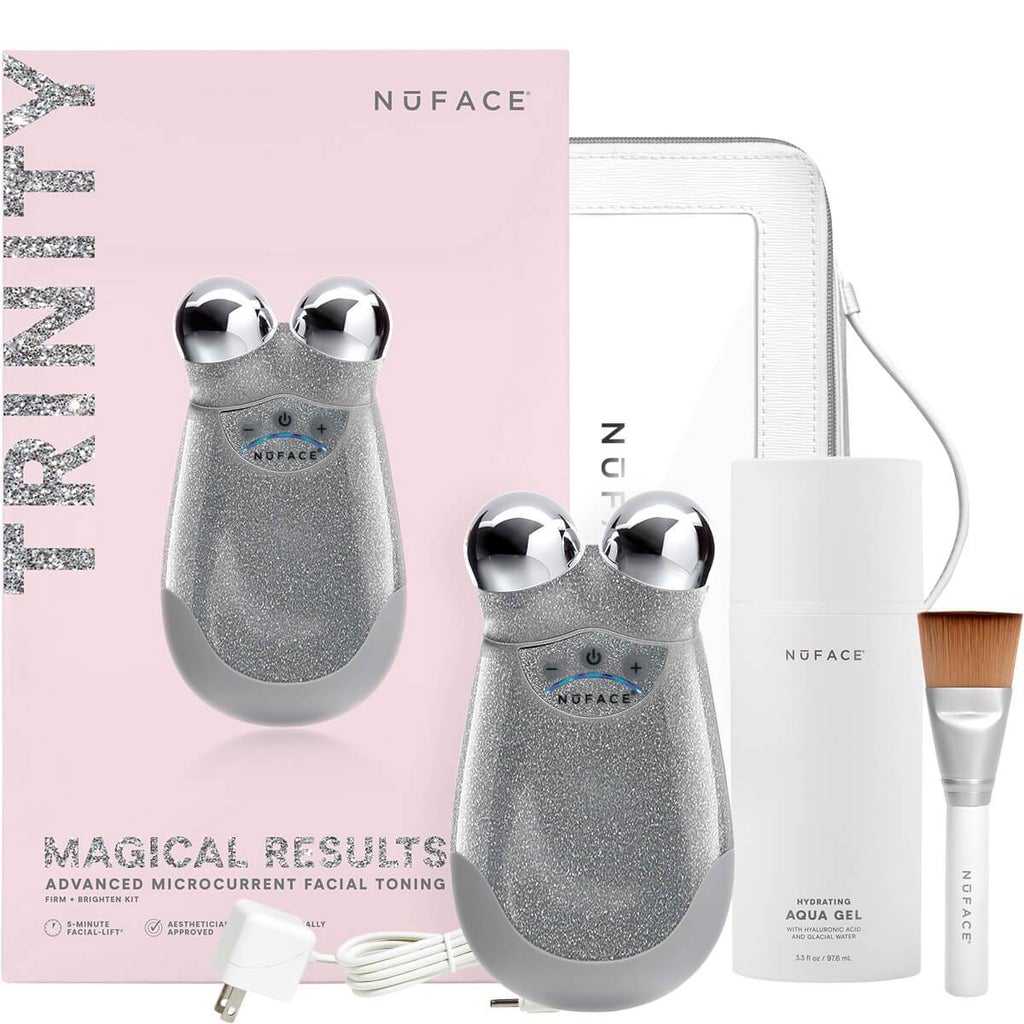 Immediate effects:

Many of the users reported fast and effective results. 

Improves skin health:

The skin quality will automatically blossom when you start providing these nourishing toning treatments. Skin becomes smoother and softer. Your face feels moisturized and hydrated for a long time. 

Easy to use:

The instructions are easy and pretty simple to follow. You do not have to go through Youtube or watch "how-to" videos. The use is simple and very user-friendly. 

Cooling effect:

You get a pleasant cooling sensation when using the product. That makes you feel like you are in a salon and receiving professional treatment. It also provides a one-year warranty. They provide a replacement if your product gets damaged in the warranty period.
Sale
Mini 
Collagen Production:

This is directly linked to blood circulation, which increases with time. The more collagen produced, the more assured that imperfections in the skin are healed. 

Wound Healing:

Evidently, collagen production heals wounds. 

Anti-Aging:

Wrinkles and fine lines are the primary concerns you have when your skin ages. 

Device:

The device is the latest and new technology that can give you the best results. The device feels very soft and gentle on your skin. 

Easy Application:

The application and use of the device are not complex. Very easy to use with the manual provided. It is the best for beginners and is the perfect switch to using microcurrents for the first time. 

User Friendly:

The device is user-friendly and does not need any special skills to use it. 

Skin appears tight. The microcurrents increase the skin's firmness, and your look changes considerably. 

Cellular Regeneration:

Increased collagen production causes cell regeneration.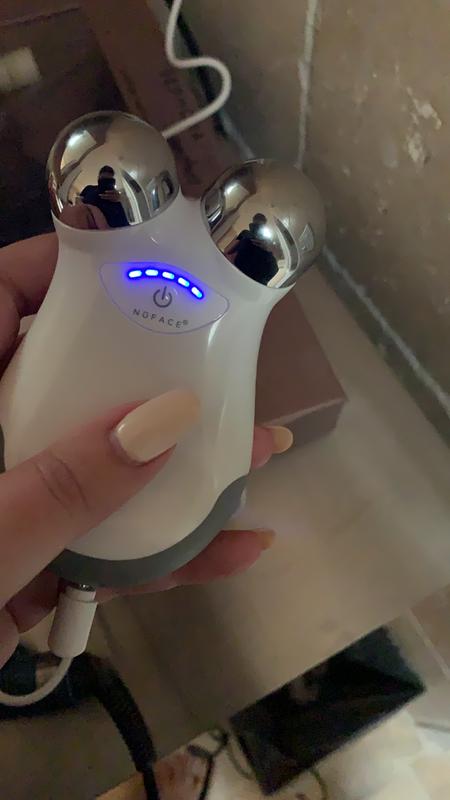 Faster Results:

Most clinical results say that you can see visible results in 60 days. However, most users say they noticed minor changes after every use. 

Even Texture:

Skin texture feels balanced overall, and there are no differences in skin textures over your face. The Mini also helps in hyperpigmentation throughout your face. It decreases the differences and makes it evenly throughout your face. 

Firmness and Elasticity:

Brings back firmness and elasticity to your face. 

The Mini is compatible and works on all skin types.

Clinically Tested 

Cruelty-Free 

FDA Approved 

Paraben-Free 
Sale
NuFACE MINI Starter Kit ,White
FITNESS FOR YOUR FACE: Skincare is your nutrition, microcurrent is your exercise. Just as exercise sculpts and tones the body, our microcurrent devices contour and tone the face. Microcurrent benefits are visible and long-lasting with continued use.
5 MINUTE FACIAL-LIFT: Developed with the same technology as the NuFACE Trinity, the NuFACE Mini gently stimulates the larger surface areas of your face and neck to help improve contour and tone, and improve the appearance of fine lines and wrinkles
PETITE. PORTABLE. POWERFUL: Experience the benefits of a professional microcurrent facial lift and anti-aging treatment wherever you go. Mini has a straightforward design that allows for an effortless 5-minute beauty treatment anytime, anywhere
Drawbacks
Trinity 
Affordable:

The Trinity kit is more expensive than the Mini, and beginners always choose the Mini instead of the Trinity kit. 

Device Issues:

The device seems to break down after early use. Many customers have complained about faulty and used products. 

Missing Parts:

Many complaints have the headlines that the Trinity comes with missing parts and extensions. Not getting them is a different hurt after paying extra money for the extensions. Also, after specific uses, the pieces start failing. 
Mini 
Some users complain that they delivered faulty products that stopped working after a few days. There are tons of reviews of Amazon that the customers received defective and used products which stopped working soon. 

Shock:

Some cases say they received small ticks of electric currents. This has not happened frequently, but some users did experience this. Improper use also could be a reason for the shocks that people receive.

Results:

Users say that using the product for a long time did not showcase any results. Even after repetitive use, they say that there was no difference in their skin, and the product is money down the drain. 

Inclusions:

Trinity includes the lip and cheek extensions specializing in the area. These are not included in the Mini kit. It would not make much of a difference for beginners, but it isn't easy for amateur users. Extensions make it much easier to target specific problem areas of your face. 
Also read: Nuface VS Nuskin | Which One Deserves Your Liking?
How To Use It?
Trinity 
After cleansing and cleaning the face, pat it dry. Apply the gel primer you are going to work on first. 

Place the device in a starting position and glide it up and down. Use it on the jaw area first. 

Start with vertically moving it up and down on the jaw. Gilde it toward your ears till it beeps. 

It beeps every 5 minutes. Move the toner to the cheekbone. Glid it there till the toner beeps again. 

Repeat this sequence three times. After that, you can move to the other areas of your face or neck. 

Using this product will be 5-20 minutes every day for 60 days. After this, you can start using it only once a week.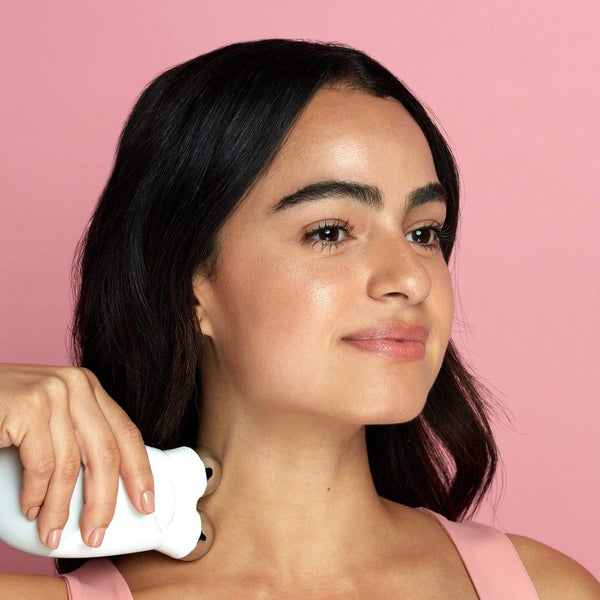 Mini 
Cleanse your face with an oil-free cleanser and pat your face dry.

Apply the gel onto your fingertips and massage it in your clean and dry skin.

Massage it till the solution is fully absorbed.

Turn on the Mini and start performing glides on your problem areas.

You can use it easily for 5 minutes, after which it will shut off automatically.

After the session, use the moisturizer and eye cream after your use. 

Use the device for 60 days, but you can expect to see the results after early use.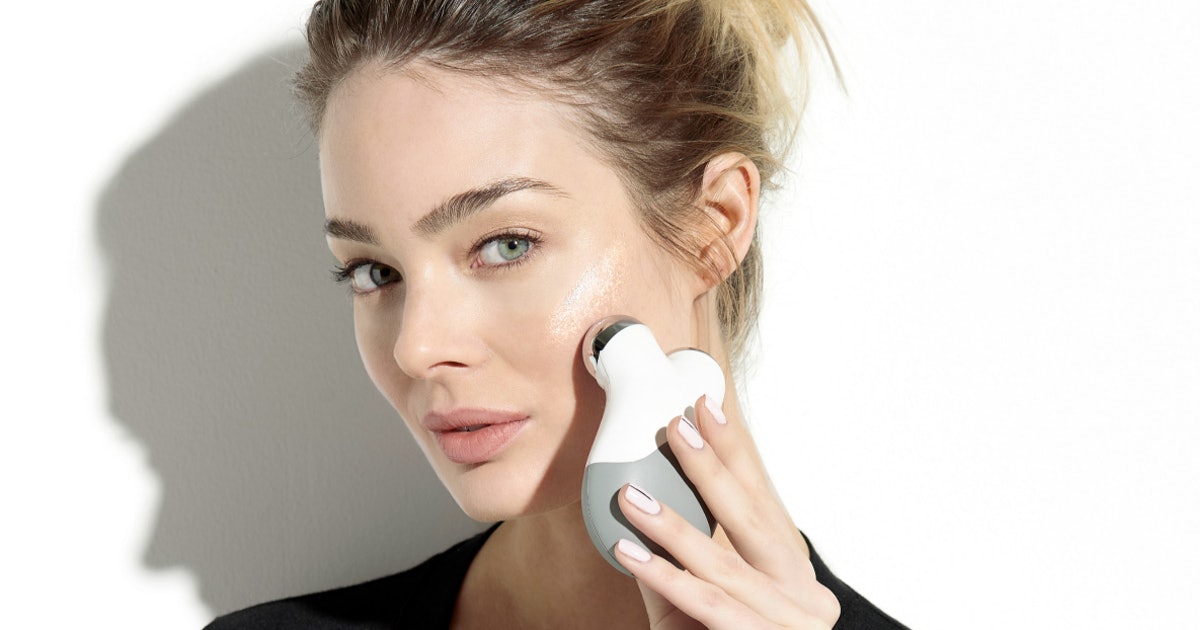 Conclusion 
This was a detailed and critical comparison of NuFace Trinity VS Mini.
Who won? Without a doubt, the Mini. The Mini is a beginner's kit, and most users tend to buy this.
The differences are the extensions included in the Trinity and not the Mini.
If you purchase the extensions separately, you will have to pay much more than the Trinity.
If you are a beginner, you should go for the Mini, but if you want to concentrate on the problem areas from the very beginning, you should go for the Trinity.
Having a more extended chord and more features than the Mini, The Trinity device does not sell more pieces than the Mini. Mini is the highest selling product, and you should get it real soon.