Our hair is now prone to damage more than ever due to our participation in various hair trends. We mindlessly use hair styling tools, dyes, bleach, chemicals, and whatnot. Albeit, these are not the only factors that ruin the health of our hair. Hormonal imbalance, environmental factors, stress, etc., are responsible for it too. Hence, it is essential to take good care of your hair to avoid as much damage as possible. This Olaplex VS Pureology article shares an unbiased comparison between the two to help you determine which one is a good pick for you.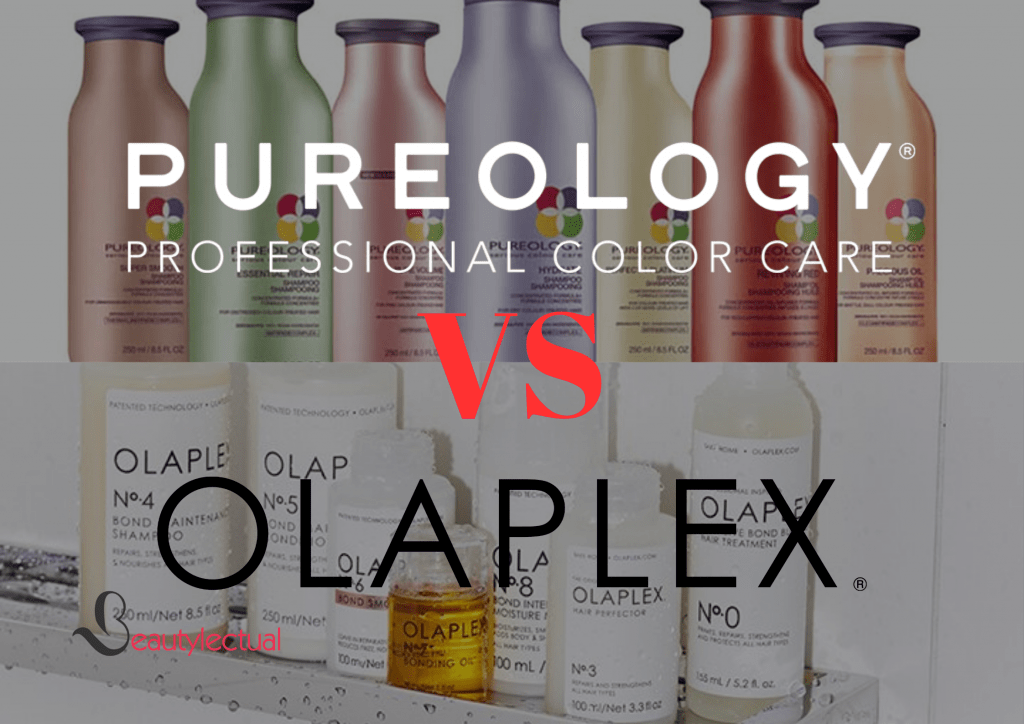 Our hair plays a significant role in enhancing our beauty. No wonder we passionately try different products and styles to find the one that makes us look the best. Although other, Olaplex and Pureology provide hair care solutions to prevent damage to reveal healthy, shiny, voluminous, and beautiful hair. 
See Also: Living Proof VS Olaplex | Better Pick for You?
Olaplex VS Pureology | Fad Or Worth The Money?
Based in California, Olaplex launched in the year 2014. Owing to their patented Bis-Amino technology, this brand has secured a profound position in the haircare industry over the last few years. It is used widely by professional salons, hairstylists, and celebrities. They offer products to repair and rebuild damaged hair to achieve healthy, shiny, and beautiful hair. Olaplex is currently available in over 100 countries. 
Popular Olaplex Products
Pureology began in 2001 in California. Later in 2007, it was acquired by L'Oréal. This brand develops professional products for color-treated hair. They are determined to make women feel beautiful by offering products that suit their hair the best. Similar to Olaplex, Pureology is also renowned for its patented ingredient named Antifade Complex. They take immense pride in creating vegan and sulfate-free products that are suitable for all hair types. 
Popular Pureology Products
Ingredients
Olaplex 
The main ingredient used in all Olaplex products is their patented ingredient named Bis-aminopropyl diglycol dimaleate. According to the Olaplex website, our hair contains many disulfide bonds that give structure, strength, and stability. Breakage of these bonds leads to hair damage. Bis-aminopropyl diglycol dimaleate is helpful to repair and rebuild broken bonds to achieve healthy, shiny, and manageable hair. 
Pureology 
Similar to Olaplex, Pureology also uses its patented ingredient called Antifade Complex in every product. This component helps to keep the hair color intact and last longer. Sunflower seed, a UV filter, and Vitamin E also help maintain shine and fight damaging environmental factors. Sunflower seeds are known to hydrate the hair and reduce frizz and hair loss. UV-filter is essential to protect hair color against harmful sun rays. Lastly, Vitamin E is helpful to reduce hair breakage and nourish the scalp.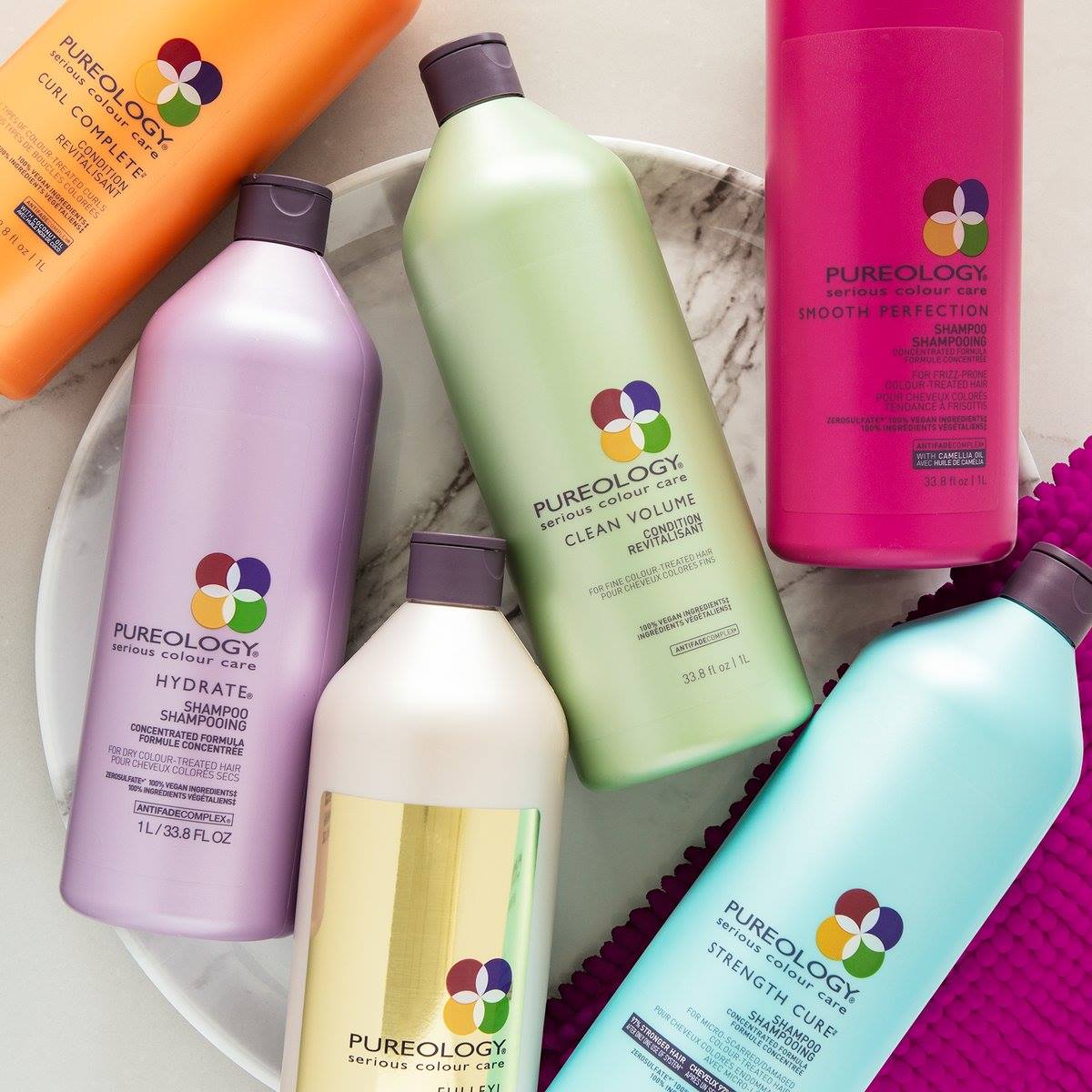 Product Range 
Olaplex 
Olaplex offers different hair care products ranging from treatment, mask, shampoo, oil, and more. Every product contains its patented ingredient to revive broken and damaged hair. 
Olaplex Nº.0 Intensive Bond Building Treatment is the first step in the hair care system and performs like a primer. 
Nº.1 and Nº.2 are Bond Multiplier and Bond Perfector, respectively. Both are helpful to repair and strengthen hair. 
Nº.3 Hair Perfector is helpful to reduce breakage and improve the appearance of hair. 
Nº.4 and Nº.5 are the shampoo-conditioner set. This shampoo reduces damage, frizz, and split ends. The conditioner helps to make hair shiny and manageable. 
Nº.4P Bond Enhancer Toning Shampoo cleanses and tones blonde, lightened, and grey hair. 
Nº.6 Bond Perfector moisturizes all types of hair for up to 72 hours. 
Nº.7 Bonding Oil significantly increases shine, softness, and color vibrancy. 
Nº.8 Bond Intense Moisture Mask provides moisture, shine, and smoothness to the hair. 
Pureology 
Pureology offers a wide range of products targeting various hair concerns like dullness, frizz, breakage, split ends, and much more. Products offered by them include shampoos, conditioners, leave-ins, hair masks, etc. 
Their best seller is Pureology Hydrate Shampoo and Conditioner Duo. This pair is precisely formulated for colored hair to maintain shine, smoothness, and moisture. 
Another popular Pureology product is Color Fanatic Multi-Tasking Leave-In Spray. It effectively nourishes, moisturizes, and protects the hair against heat damage. It balances the pH of the hair, making it smooth and shiny. 
Olaplex Perks And Pitfalls 
Perks
Environment-friendly 

Rebuilds and aligns broken hair bonds 

Suitable for all kinds of damaged hair 

Provides nourishment and moisture

It makes hair shiny and smooth

Free of parabens, sulfates, phthalates, and phosphates

Treats damage caused due to styling tools, chemical treatments, friction, and environmental factors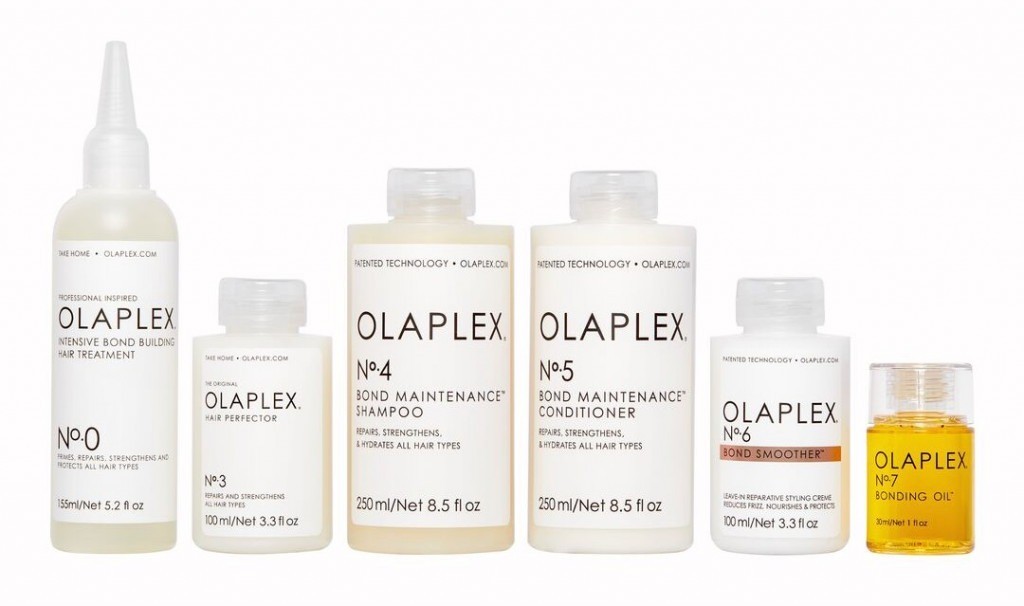 Pitfalls
A bit expensive  

Limited range of products 

You can purchase some products only with a professional license.
Pureology Perks And Pitfalls 
Perks 
100% vegan 

Professional quality 

Suitable for colored hair 

70+ applications in one bottle 

Adds shine, smoothness, and vibrancy

Free of sulfates, mineral oil, and parabens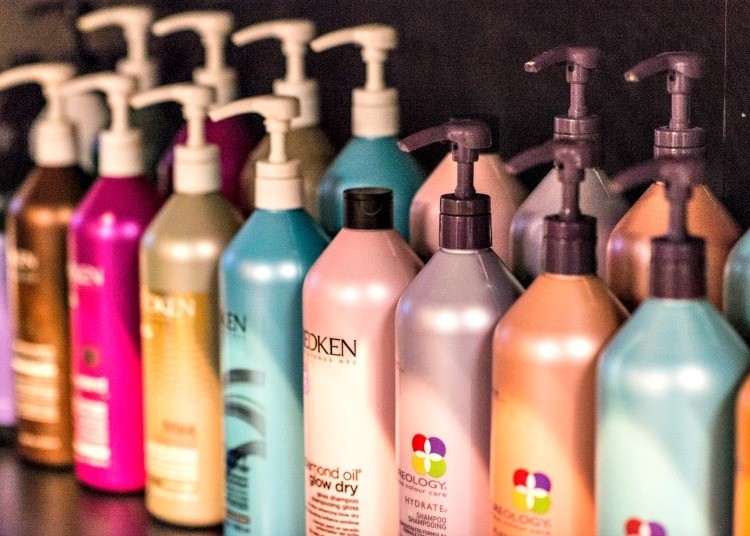 Pitfalls 
It Falls on the pricey side. 

Not suitable for natural and chemically untreated hair 
Customer Reviews | Olaplex VS Pureology Before And After 
Olaplex
Natalie commented, "I bought Olaplex shampoo and conditioner set a month back. It has been a complete game-changer for my dehydrated and damaged hair. It leaves my hair smooth and shiny. Also, I barely have any frizz anymore."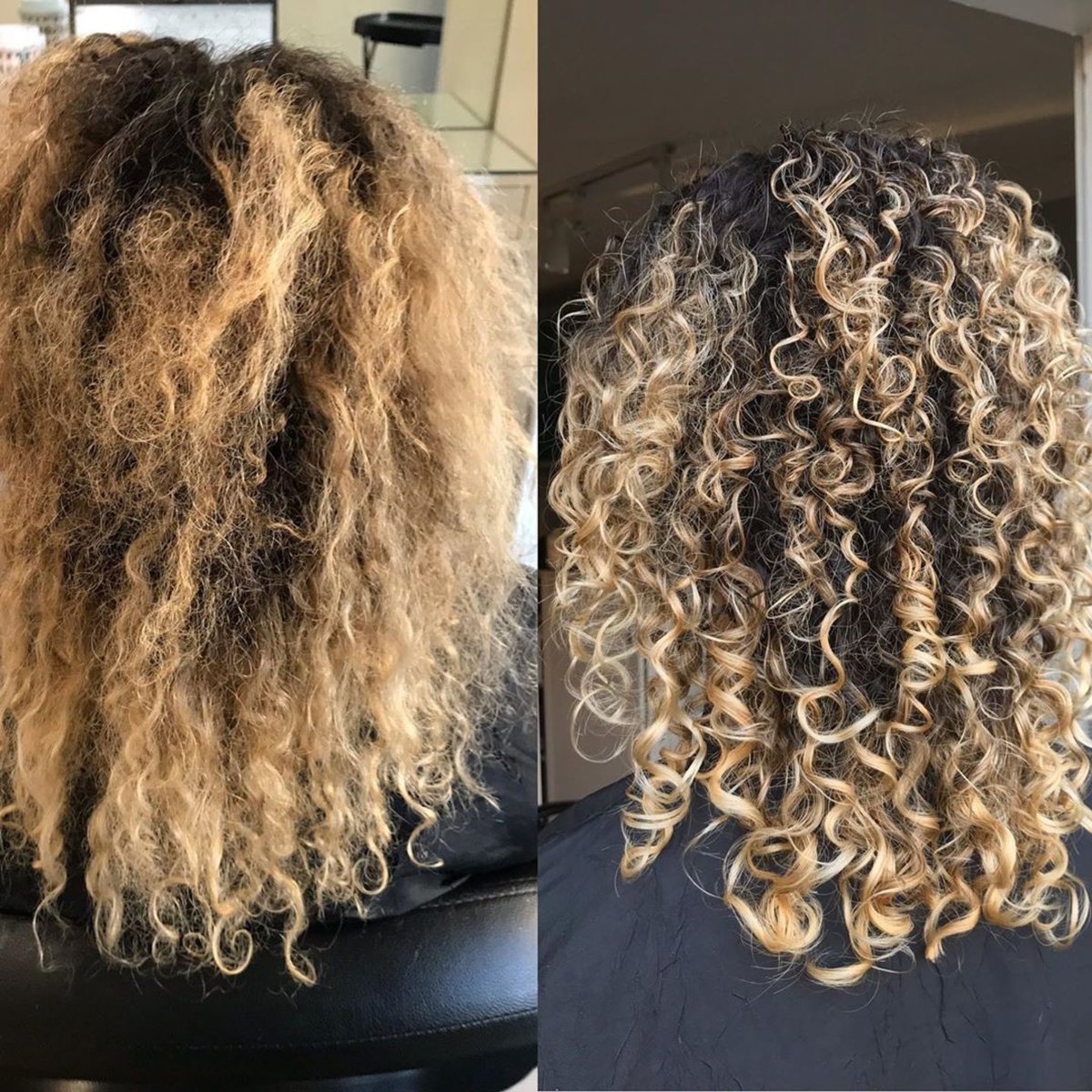 Lily said, "My hairstylist suggested the Olaplex mask to reduce damage. I love coloring and styling my hair often. Inevitably, my hair is damaged and feels very rough to the touch. Since I started using this mask, the health of my hair has changed drastically. Dryness and roughness have dissipated significantly. It looks shiny and feels very soft to touch. I am pleased with the results."
Pureology 
Emma noted, "I love Pureology hydrate shampoo. I colored my hair sometime back on my birthday. Initially, I was hesitant because I was afraid of my hair getting damaged. My dear friend and hairstylist assured me that my hair would be healthy if I used Pureology products. I took the chance and went for it. Three months later, my hair color is still as good as new. Most importantly, my hair is not damaged whatsoever. I highly recommend everyone with colored hair to give Pureology a shot."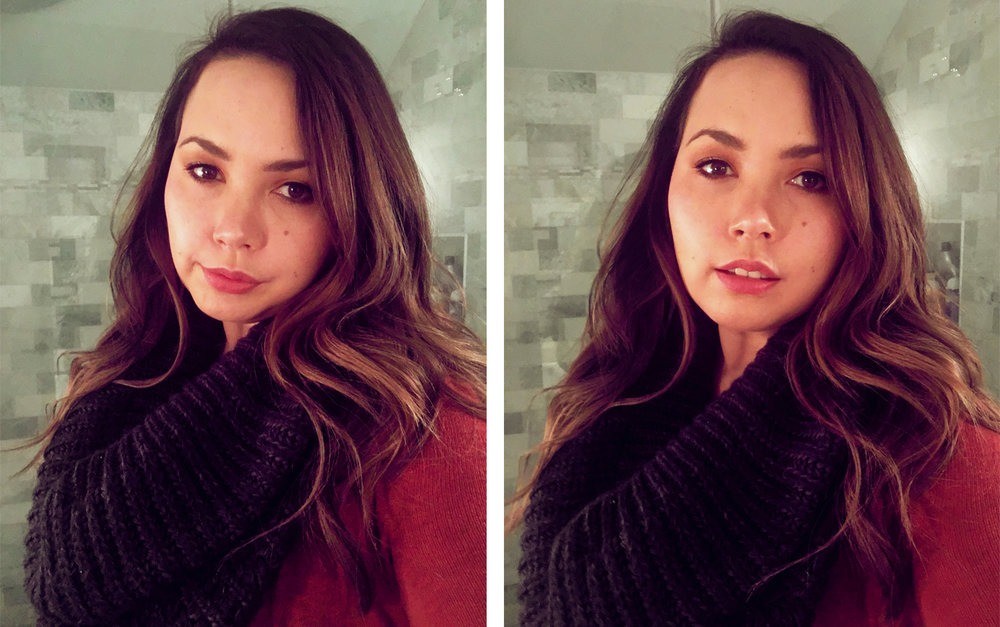 Nancy says, "I wanted to switch to using sulfate-free products for a while. My friend introduced me to Pureology recently. I purchased a few products and have been sincerely loving them. I think it is a great brand. However, the only downside for me is that the products are expensive."
See Also: Egyptian Magic Skin Cream Reviews | A Scam OR Worth It?
FAQs | Olaplex VS Pureology  
Can Olaplex ruin your hair? 
No, Olaplex does not ruin the hair. Contrarily, this haircare brand is well-known for repairing damaged hair with its patented Bis-Amino technology. One can use their products to reverse damage caused due to styling tools, sun damage, chemicals, and more. It is best to consult a hair expert to understand how to use these products the correct way to obtain optimum results. 
Is Olaplex better than Pureology? 
Although Olaplex and Pureology are hair care brands, they target different hair concerns. Olaplex repairs damaged hair, and Pureology provides various products to take care of colored hair. As per one's needs and concerns, one can choose between the two. 
Final Verdict | Olaplex VS Pureology 
So, who wins Olaplex VS Pureology? It is hard to tell. As we have seen so far, both brands are very different from one another. Instead of picking one amongst the two, we think it would be best to use both together. Repair and rejuvenate damaged hair with Olaplex and look after colored hair with Pureology. Both brands are famous for their innovative, high-quality, and potent formulations. 
The biggest downside of both brands is that they are a bit heavy on the pocket. Luckily, Olaplex facilitates the option to pay in instalments for orders worth above $35. However, Pureology does not allow the same. Both Olaplex and Pureology are known to offer professional quality products. Ergo, the prices of their products are a bit high. Regardless, both are good options to take care of your hair and keep it thriving.