The eyes are the aperture of the soul, the mouth is the messenger of thought, and the nose carries the memories of distinct smells. Your skin is a mere canvas to the portrait. The skin's clarity of acne, spots, and other conditions is solely an aid to the accepted standards. The Perricone MD skincare line was the first of its kind to accept holistic healthcare and wellness. Amassing information from several Perricone MD reviews, I shall take a closer look at the brand in this article.
Perricone MD is a flourishing system that consists of three pillars. Namely, an anti-inflammatory diet, nutritional supplements, and skincare solutions. In fact, the brand's primary motto is to focus on what goes inside- and outside- your body. Debuting in 1997, the brand has released multiple skincare, makeup, and supplements. Also, considering how much media influences us into looking at the layers and appendages of our exterior, this brand has struck all the right chords. 
Recommended: Image Skincare Reviews | Ultimate Skincare Solution?
Perricone MD Reviews – Wellness Inside and Outside?
Dr. Nicholas Perricone MD says that our skin exists in a persistent state of growth. With old collagen breaking down, new collagen fibers come into the picture every day. Moreover, it is affected by what we consume to what environment we reside in. I now realize that healthy skin is better trained to combat signs of aging. It also heals much rapidly and staves off dormant diseases better than unhealthy skin.
As a result, the Perricone MD products focus on incessant and effective skincare, addressing inflammation as the number one cause of your skin problems. In brief, all the products are divided into skincare, makeup, supplements, and skin regimens categories. I have noticed that their products are loaded with gold-standard ingredients like retinol for softening the look of wrinkles and fine lines. Besides, their makeup products are extremely light on my skin and give me the much wanted "no makeup" look.
The cosmetic industry has seen great growth over the past decades. In fact, the global beauty product market is estimated to reach over $22 billion by 2024. Makeup is the largest branch of the beauty industry, and skincare, the second. 
Perricone MD Product Reviews
The raceme of products includes serums, exfoliators, sunscreens, highlighters, lipsticks, foundations, mascaras, omega-3 supplements, and much more! Furthermore, there is an availability of blushes and eyeshadows created to suit your gentle skin. The plethora of options is what caught my attention on the first go!
The Perricone MD line of products brought me the solutions for a healthy body and ways to enhance it using cosmetics. Their products are the best mix of cosmetics and pharmaceutics. In fact, they perfectly balance the goodness of nature with modern science, giving me the best of both worlds.
Based on many Perricone MD reviews, including mine, some of their best products have been listed below.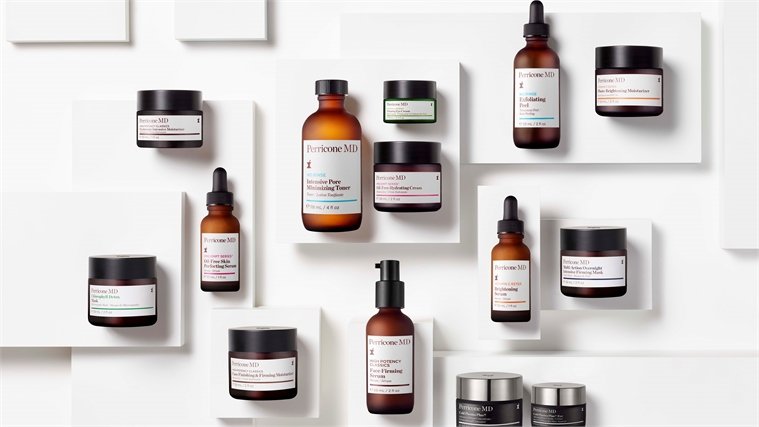 Cold Plasma Plus+ Advanced Serum Concentrate
This multi-pronged bottle of nourishing ingredients uses a liquid crystalline delivery system for light penetration of ingredients. It discovered and drastically reversed the loss of elasticity in my skin.  In particular, it helped with uneven texture and tone, enlarged pores, and wrinkles on my skin. I applied it every day for a week and watched the magic unfold. 
Its ingredient list includes Vitamin C Ester, Omegas 3, 6, and 9, and Copper compounds. Besides, it also has Sunflower Seed Oil primarily.  Vitamin C impedes the path of unwanted production of the skin pigment, melanin to even out the skin tone and lightens dark spots. Also, Ester-C abundantly increases the vitamin C concentrations in white blood cells. Sunflower oil contains organic acids that reinforce and hydrate the skin barrier.
Subdivided into ALAs, EPAs, and DHAs, Omega-3s are of great benefit. It greatly reduced my inflammation and photosensitivity. Copper consists of histidine, lysine, and glycine. This helps repair your skin by activating its cells to rebuild themselves. It boosts collagen production and keeps your skin soft and firm. Together with Perricone MD Vitamin C Ester brightening serum, this product can be used alternatively to get the best results.
Why is this Cold Plasma Plus worth buying?
This product is gluten-free and fragrance-free.

Free of phthalates, sulfates, and parabens. 

It is cruelty-free and 100% vegan.
Why may Advanced Serum Concentrate not be the right choice?
It contains a small amount of PEG compounds that can cause cancer.

It is expensive.
No Rinse Intensive Pore Minimizing Toner
This Perricone MD intensive pore minimizer is filled with DMAE and salicylic acid. It exfoliates and purifies my skin of any dirt. As a result, it helps reduce the appearance of huge pores. Moreover, I notice that it promotes good bacteria, removes sebum and other pore-clogging debris.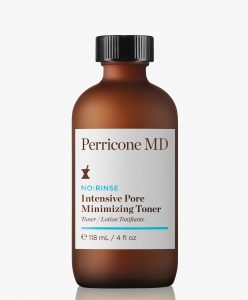 Its ingredient list includes DMAE, Copper Complex, and Zinc salts primarily.  Singularly, DMEA is a derivative of the B vitamin compounds. For the most part, it sets off the production of complex neurotransmitters. It has increased my skin's firmness. However, it does not have long time functionality.  The Copper complex increases hydration and elasticity. They also have the zinc salt of an organic acid. In this case, it is a synthetic ingredient that functions as a preservative. In fact, it also helps fight acne. Additionally, Limonene is an antioxidant that calms your skin. However, it oxidizes and sensitizes the skin when exposed to air. Perricone MD exfoliating pore refiner reviews show that using the minimizer after the exfoliating is sure to diminish your pores.
What's good about this Pore Minimizing Toner?
This product does not have any mineral oils.

Free of phthalates, sulfates, and parabens. 

It is cruelty-free. 
Why should I be careful when buying it?
Pregnant women should not use salicylic acid in the product. 

Cheaper options can replace it. 
Also read: Olaplex Reviews | Salon At Home?
No Makeup Foundation Serum Broad Spectrum SPF 20
Serum Broad- A semi-matte foundation with a velvety smooth composition melts into my skin with no stickiness. Above all, it leaves me with a natural, well-hydrated surface and gives medium coverage. The moist blurring makes my skin look unblemished, luminous, and dewy. Moreover, it has added broad-spectrum SPF 20 for UV protection.
It contains the nerve, Daisy Flower Extract, and active ingredients like Zinc Oxide (8.26%). Subsequently, Neuropeptides vitalize the skin. They help the epidermis respond to the functions of the outermost skin cells and the functional tissues. Generally, their effect on barrier cells between the vessels and tissue improves the skin's immunity. The alcohol in the product, derived from Chamomile, is said to fade dark spots by curbing melanin synthesis. In addition, the daisy flower extract is a combination of compounds that reduce melanin production as well. It works just like the enzyme busters that brighten your complexion. Consequently,  Zinc oxide blocks the penetration of UV rays.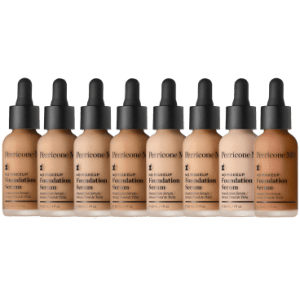 A tinge of my Perricone MD no makeup blush to go with this foundation is the icing on top. Furthermore, the application of the Perricone MD no makeup mascara can transform my entire look in one stroke.
Pros
It comes in 8 different shades.

Also, It has a lightweight formula.
Cons
It is an expensive product. 
Perricone MD Vitamin C Ester Brightening Serum
This oxidants-rich serum has proven to enhance my skin's natural luster. Additionally, it polishes its texture. The formidable Vitamin C Ester serum is mixed with Shark Liver Oil and Rosemary leaf extracts. Hence, it helps drops my pores and stirs up my skin for the day. In this case, applying an AHA moisturizer after the serum is extremely beneficial. By the way, a few other Perricone MD acne reviews say that this product is an essential part of the acne-relief regimen.
What are the good things about MD Vitamin C Ester Serum?
It helps fight discoloration and gives you a radiant face.

It is 100% cruelty-free.

In summary, it reduces the signs of aging.
What are the unavoidable things about this product?
Incidentally, it is not recommended for sensitive skin.

Shelf life is small.
Customer Reviews | Is Perricone MD Worth It?
All the skincare, makeup, and dietary items are compatible with mature bodies. Thereby, they are crafted with high-quality ingredients. The shipping is quick, and the payment can be made in installments using the Afterpay app. As a result, the delivery frequency is flexible, and there are sporadic cases of faulty products. Additionally, discounts are available for exclusive members as well. Despite all of these options and features, there are a few setbacks. For instance, the products are expensive enough to dish out some consumers' major chunk of income. Similarly, some of the products don't stand the test of the clock, and their quality reduces after a point in time.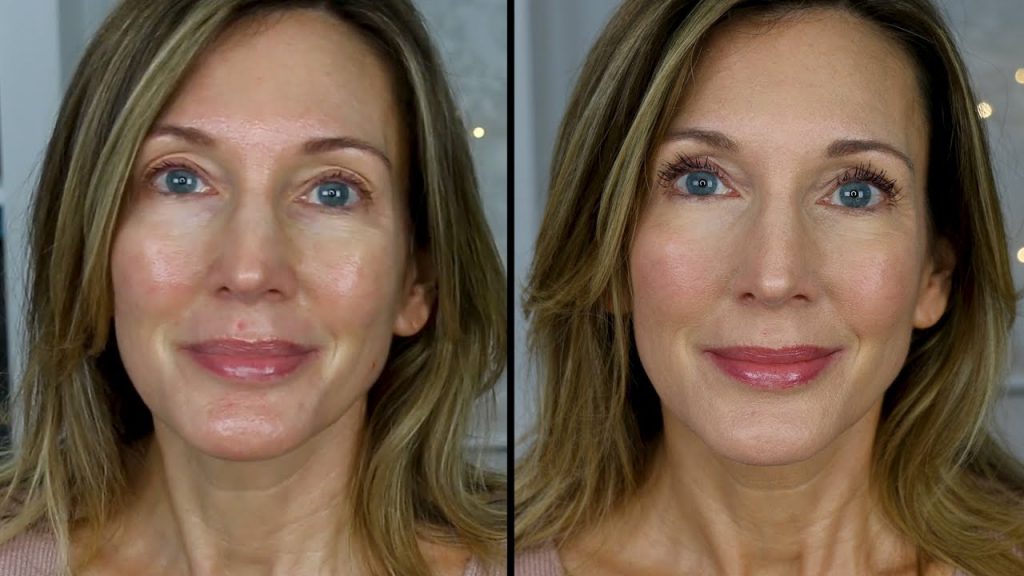 Connie P notes, "I've been using Cold Plasma Plus products for quite a few years. Very pleased with the results, I will keep buying again and again." 
Kathy V states, "Love this foundation. I have experimented with other foundations and always come back to this. Very natural, comfortable foundation." 
JB Malcolm, however, has opposing views. He says, "I have been using Cold Plasma Plus+ Advanced Serum  for many weeks."  He adds, " I see no improvement or even added moisture to the area."
FAQs | Perricone MD Reviews
Is Perricone MD a Clean Brand?
Perricone MD does not use animals for any testing. Most Perricone MD products have positive reviews. Although, some of the products contain harmful ingredients.  Usually, they can irritate sensitive skin. Hence, checking the ingredient list before purchasing any product is recommended.
What Does Perricone MD Do?
Perricone MD is a cosmetic line that produces products using nutrient antioxidants. In brief, it has a huge selection of products along with custom routines. The products are also available in Sephora stores. Furthermore, a few selected products are also available on Amazon. 
What Is The Best Perricone MD Product?
All the products mentioned in this review are their top-rated products.
Does Perricone Cold Plasma Work?
Multiple reviews show that it, in fact, does show the desired results most of the time.
How to Cancel Perricone MD?
You can contact the company's customer service number to cancel their subscription immediately.
Closure
Gathering many Perricone MD reviews from customers, I conclude that the brand comes with an equal number of pros and cons. However, if you have enough budget, the products are worth giving a shot! They have some exceptional results to offer if used in the correct procedure. 
They design all the Perricone MD products with holistic approaches. That is, they aim to reduce inflammation. We are also offered exchanges and refunds in the case of customer dissatisfaction. Therefore, get in touch with your dermatologist and get a custom regimen for you today!
If you have any queries or suggestions, do not hesitate to write to us in the comment section.