Do you want to gain the benefits of SeroVital? If yes, you are probably confused about choosing between the original and advanced version of it—this SeroVital VS SeroVital Advanced report compares both the products side by side to help you choose the best. SeroVital is a popular dietary supplement known to reduce signs of aging and promote the overall health of women over the age of 45.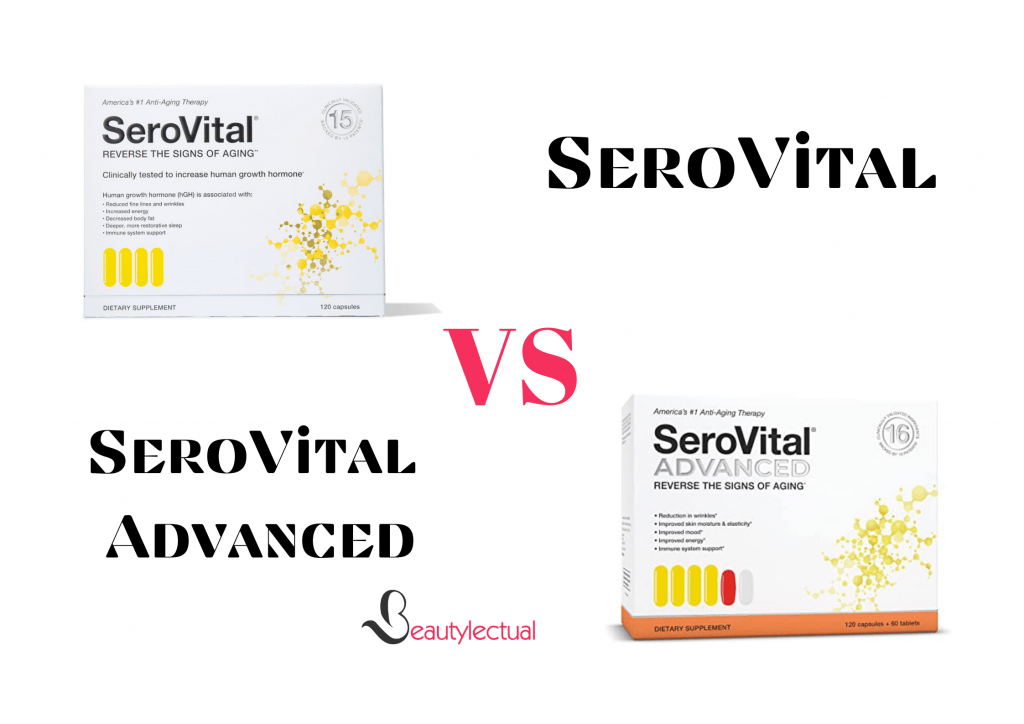 With age, our body undergoes several drastic changes. As a result, our general health deteriorates significantly. Our bone size decreases, muscles lose strength and flexibility, the digestive system weakens, and much more. More often than not, there arises a need to supply nutrients to our bodies externally. Dietary supplements are beneficial to do the same and to improve our well-being. 
Also, Check-Out: Becca Glow On The Go Kit Review | Worth the Hype?
SeroVital VS SeroVital Advanced | Which Is The Best Choice?
Founded in 2010, SanMedica International, a US-based company, manufactures SeroVital–an anti-aging dietary supplement. SeroVital launched in 2011. The manufacturer claims that this dietary supplement is clinically approved to reverse varied signs of aging by increasing the production of Human Growth Hormone (HGH). 
Human Growth Hormone(HGH) is an essential hormone that plays a significant role in human development. It is responsible for cell reproduction and regeneration. It is also beneficial to strengthen bones, muscles, increase protein synthesis, and much more. With age, the production rate of this hormone considerably declines. 
SeroVital claims to boost HGH levels by 682%. Although HGH is commonly used to restore vitality in adults, there is little evidence to prove that it is beneficial to do the same. It could cause complications and other medical conditions. Doctors often advise against the use of this hormone. It is essential to know that SeroVital does not contain this hormone; instead, it increases its production naturally.
SeroVital Ingredients 
Renewal Complex 
According to the manufacturer of SeroVital, the renewal complex is a blend of ingredients that supports more restful sleep, adds lean muscle mass, increases mental acuity, energy, and gives smoother skin.
L-lysine hydrochloride – Unlike other amino acids, L-lysine hydrochloride does not get produced within our bodies. We must provide it to our bodies externally. It is present in meat, tuna, salmon, potatoes, chickpeas, etc. It is beneficial to alleviate stress and anxiety, boost collagen production, increase calcium absorption, and heal wounds. 
L-arginine hydrochloride – L-arginine hydrochloride is an amino acid commonly found in food items such as dairy, red meat, eggs, and fish. It is helpful for protein synthesis. Its benefits include improved blood flow, treatment of heart disease, reducing high blood pressure, improving kidney function, etc.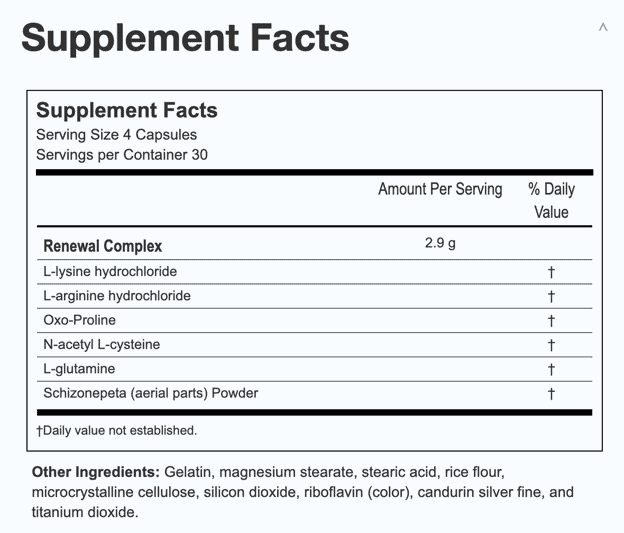 Oxo-Proline – Oxo-Proline is another amino acid that naturally occurs in our body. It is a derivative of another amino acid named glutamine. It is helpful to improve memory and learning ability and also supports brain function. 
Extract of fermented L-cysteine – This component is beneficial to treat diabetes, bronchitis, angina, bowel disease, and improve lung health. Chicken, beef, pork, oatmeal, yogurt, etc., contain L-cysteine. 
L-glutamine – L-glutamine is an abundant amino acid found naturally in the body. It supports gut health, the immune system, promotes wound healing, and regulates the functioning of vital organs. 
Schizonepeta (aerial parts) Powder – Schizonepeta is helpful to treat various skin conditions like eczema and psoriasis. It is also beneficial to treat sore throat, fever, and the common cold. It is safe to use in low doses for most people. 
Other Components
The Renewal Complex blend is used by SeroVital Advanced as well. Nevertheless, it contains many more ingredients for added benefits. Below a few are explained.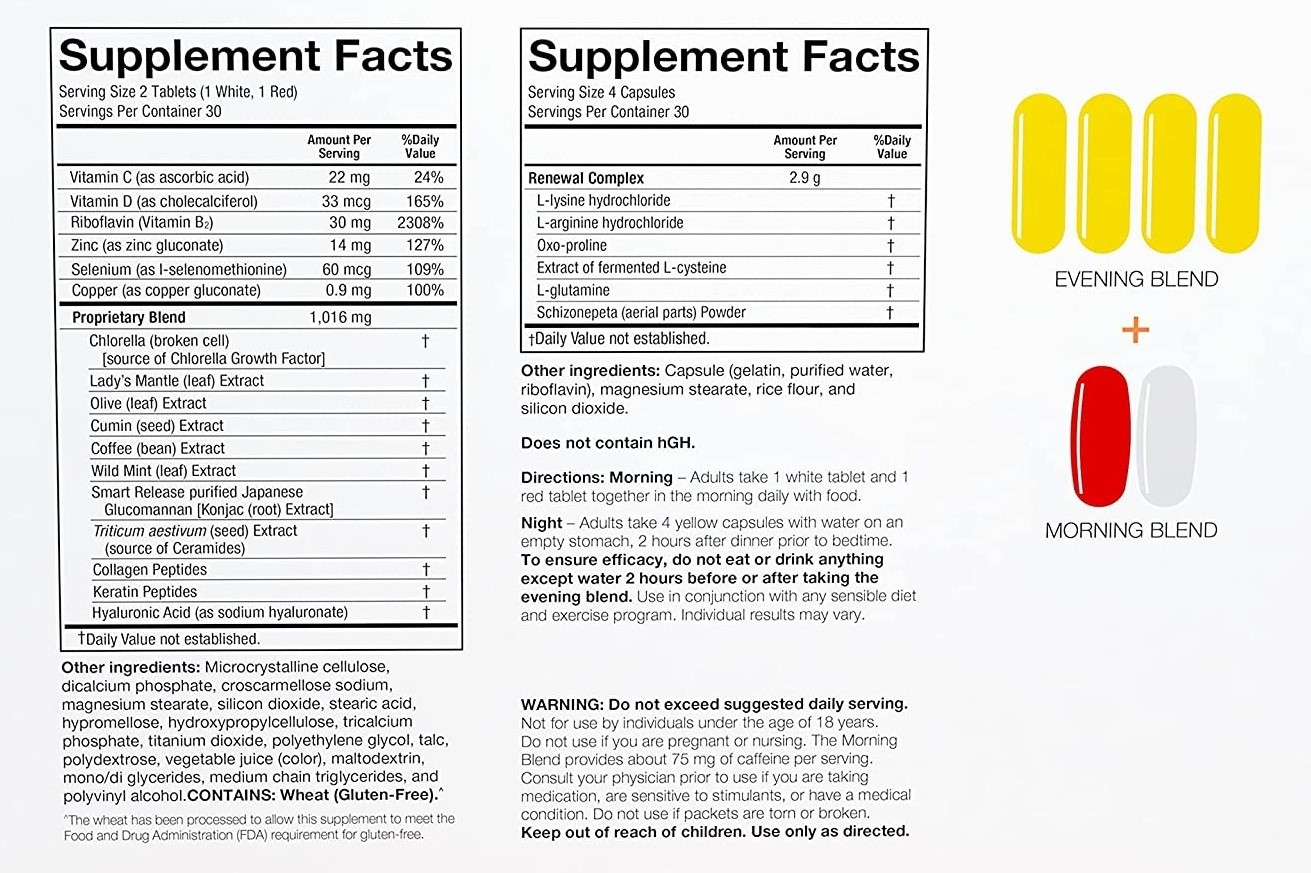 Vitamin C –  Also known as Ascorbic Acid, is a significant component responsible for various bodily functions. It is responsible for the healthy functioning of body tissues, collagen formation, better absorption of iron, and much more. It is also beneficial to improve skin texture, complexion and reduce sun damage. 
Riboflavin – Riboflavin is a vitamin necessary for growth and general well-being. It develops and regulates the functioning of the digestive system, blood cells, and the skin. Also, Riboflavin is helpful to treat eye conditions and migraines. 
Zinc – Zinc is a crucial nutrient beneficial for better immune and metabolism function. It is also helpful for protein and DNA synthesis. Zinc does not get produced nor stored in the body. Hence, we must supply our body with it constantly. It is present in meat, whole grains, poultry, legumes, and a lot more.
SeroVital Dosage 
SeroVital (Original) requires you to consume four capsules in total daily. You should take all four pills at once on an empty stomach 2 hours after eating every day, with a full glass of water. 
In total, SeroVital Advanced requires you to consume six capsules every day. For convenience, the dosage is distinguished into morning blend (Red and White pills) and evening blend (4 yellow capsules).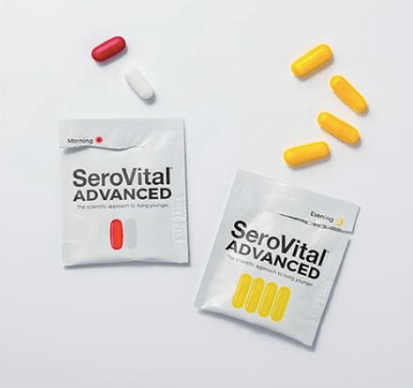 Take the morning blend with breakfast and the evening blend 2 hours after dinner (before going to bed). 
The manufacturer advises not to eat anything before and after 2 hours of taking pills. It is best to consult a doctor beforehand.
SeroVital Benefits 
SeroVital (Original) 
Increases levels of Human Growth Hormone (HGH) 

Minimizes fine lines and wrinkles 

Reduces body fat 

Aids in restful sleep 

Strengthens the immune system 

Boosts energy 
Serovital Renewal Complex, Serovital - Renewal Supplements - Female Critical Peptide Support - Revitalizer for Women, 120 Capsules (Pack of 1)
REDUCE FINE LINES AND WRINKLES – With our women's supplements, your next years really can be your best. Our topicals and supplements work synergistically to create change inside and out, giving you results that go beyond skin deep.
Product Note: Exposure to heat or sunlight may lead to melting/damage of product. Hence customers are expected to be available during the product delivery
INCREASE ENERGY & SLEEP BETTER – Youthful pituitary function has been associated with better sleep support, mood boost, and energy. At SeroVital, we believe in a whole-body, inside-out approach to staying your most vibrant self.
SeroVital Advanced 
Increases Energy

Supports deeper and restful sleep

Improves skin elasticity 

Provides Hydration 

Improves mood, relieves stress and anxiety 

Fewer Cravings

It helps reduce 1 pound per week (on average)
SeroVital Shortcomings 
Expensive and inconvenient to use

Large dosage 

Not approved by FDA

There is no crucial evidence to prove that HGH is beneficial to reverse signs of aging.
SeroVital Side Effects | Is It Safe? 
SeroVital claims to reverse the clock back of aging by boosting levels of Human Growth Hormone (HGH). Its formulation contains amino acids that are beneficial to promote good health. Nevertheless, there is little evidence to prove that these components restore youth and vitality in adults. 
Some common side effects of SeroVital are nausea, stomach pain, diarrhea, low blood pressure, heartburn, bloating, and constipation. It is necessary to consult a doctor before taking these pills. People under 18 years of age, pregnant and nursing women, those with medical conditions, and sensitive to stimulants should not consume SeroVital.
See Also: Cindy Crawford Skin Care Reviews | Revealing All Secrets!
SeroVital Reviews | SeroVital VS SeroVital Advanced Before And After 
SeroVital (Original) Reviews 
Mindy said, "I am 55 years old. The reason why I chose SeroVital is that I was constantly struggling with fatigue. I started taking these pills six months back. I am thoroughly impressed with this supplement and proud to say that I am always high on energy now. Not just that, I see great results in the improvement of wrinkles and fine lines. I swear I look 5-10 years younger. I highly recommend it to everyone. "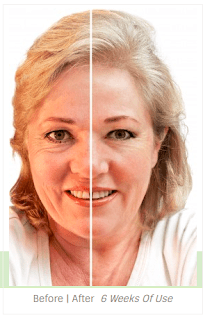 Caroline commented, "I was expecting to see some results in 30-45 days. However, two months have passed, and I haven't seen any significant change in my health. I hope it starts working soon." 
SeroVital Advanced Reviews 
Esmeralda said, "My friend uses the original SeroVital. She swears by it, so I decided to try it for myself. I chose SeroVital Advanced as I heard it works faster. I have been using it for 4-5 months. The improvements I have seen so far are unbelievable. I don't feel lethargic anymore. I have also been able to sleep peacefully lately. My skin has also tremendously benefited from this supplement. It is less saggy and wrinkly. My face always looks glowy and radiant. "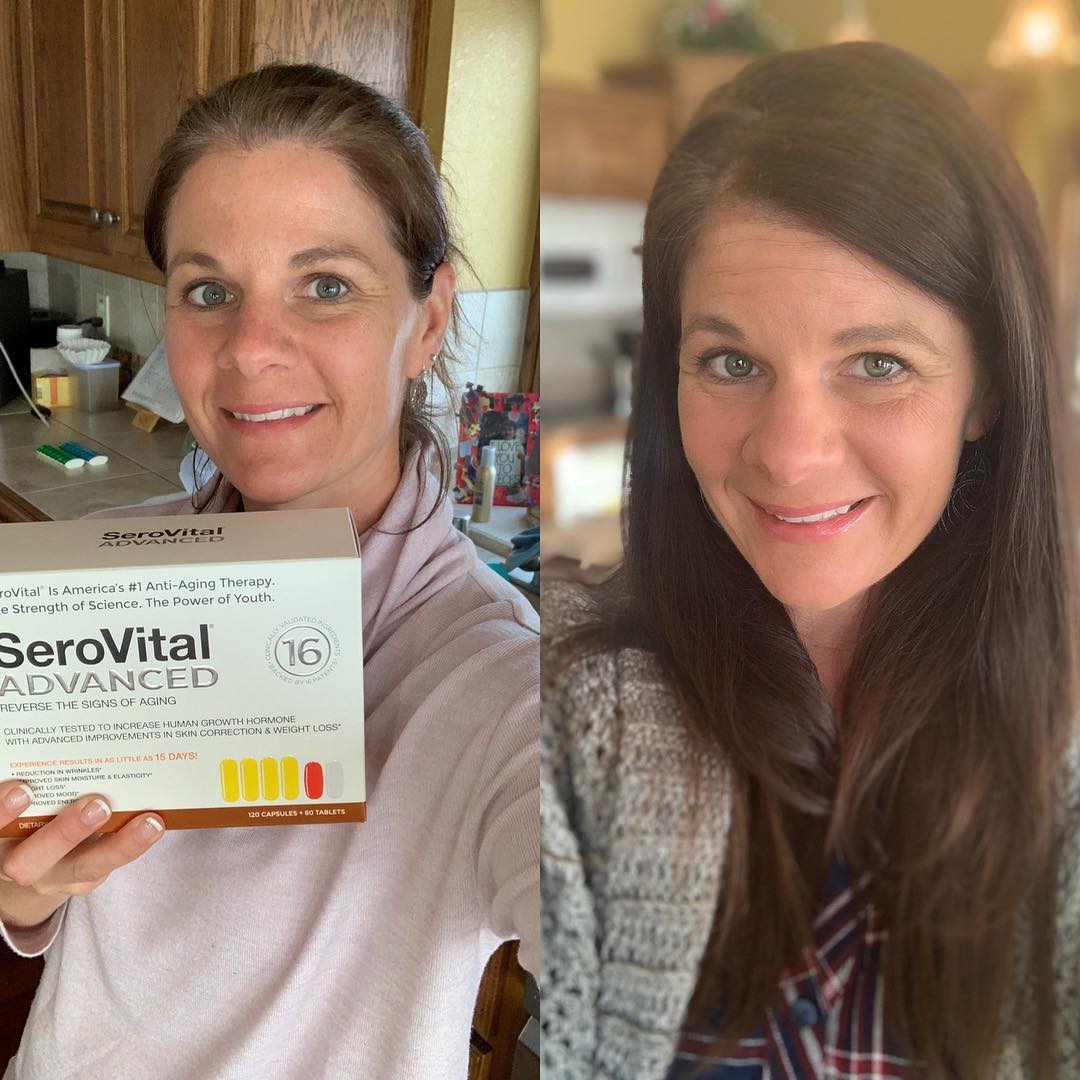 Noella says," I have heard many positive things about SeroVital. I was very excited to try it. However, to my dismay, it has been a big disappointment. Since I started taking these pills, I have been experiencing severe stomach pain. I have stopped taking this supplement on the advice of my doctor. I am planning to return it. "
FAQs | SeroVital VS SeroVital Advanced 
Which is the difference between SeroVital and SeroVital Advanced?
According to the manufacturer, SeroVital Advanced gives rapid results in comparison to the original formula. It also comes with added benefits. SeroVital Advanced could be an ideal choice for those wanting to lose weight. 
What is in SeroVital Advanced? 
SeroVital contains an amalgam of the renewal complex (comprises several amino acids) and a proprietary blend of essential nutrients such as Zinc, Riboflavin, Vitamin C, Peptides, etc. This blend is beneficial to lose weight, increase energy, support sleep, and get better-looking skin.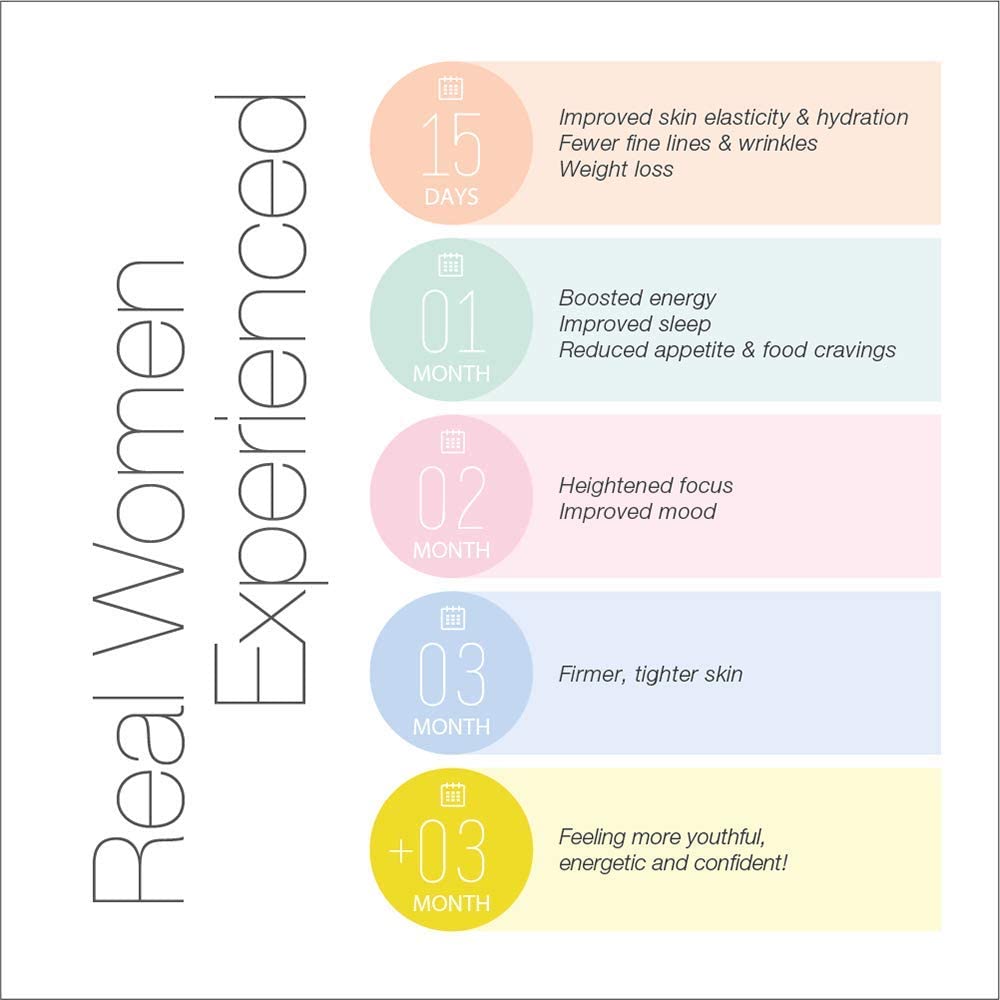 How much does SeroVital Advanced cost? 
You can purchase SeroVital Advanced anywhere from $99 to $275. One can avail of discounts on various e-commerce platforms. Nevertheless, we suggest you buy the product from a trustworthy website to avoid cheating and fraud. Do not use it if the packets are torn or broken.
Cessation | SeroVital VS SeroVital Advanced 
So, who wins the SeroVital VS SeroVital Advanced battle? The composition of both products is primarily the same since they both use the renewal complex. Nonetheless, SeroVital Advanced is distinct from the original version as it contains many more ingredients beneficial to improving overall health. 
The manufacturer claims that SeroVital Advanced comes with additional benefits and is an ideal choice for weight loss. It is also more likely to show results in a few months of usage. If you do not want these added benefits, you can pick the original formulation over it. 
Speaking about the downsides of SeroVital, both versions are on the pricey side. However, SeroVital (Original) is comparatively cheaper than the advanced formulation. Another disappointing factor is that both products have large doses making it inconvenient for people to follow. Regardless of what you choose, review the ingredients and consult a doctor beforehand to avoid side effects.