If asked, nine out of every ten women would agree that their hair is the most attractive feature of their body.
A head full of healthy, lustrous locks can create a difference, adding beauty.
But, the hair care routine is more complicated than skincare.
The typical thing about our hair is that you can't possibly bracket it into a single type.
There are numerous hair types.
With this, curating the perfect hair care regime is overwhelming, but with little help, it may get easier.
To help you out, we have dug every possible place on the internet and come up with something helpful.
You have to read today's Shedavi Reviews to know what we have in store for you.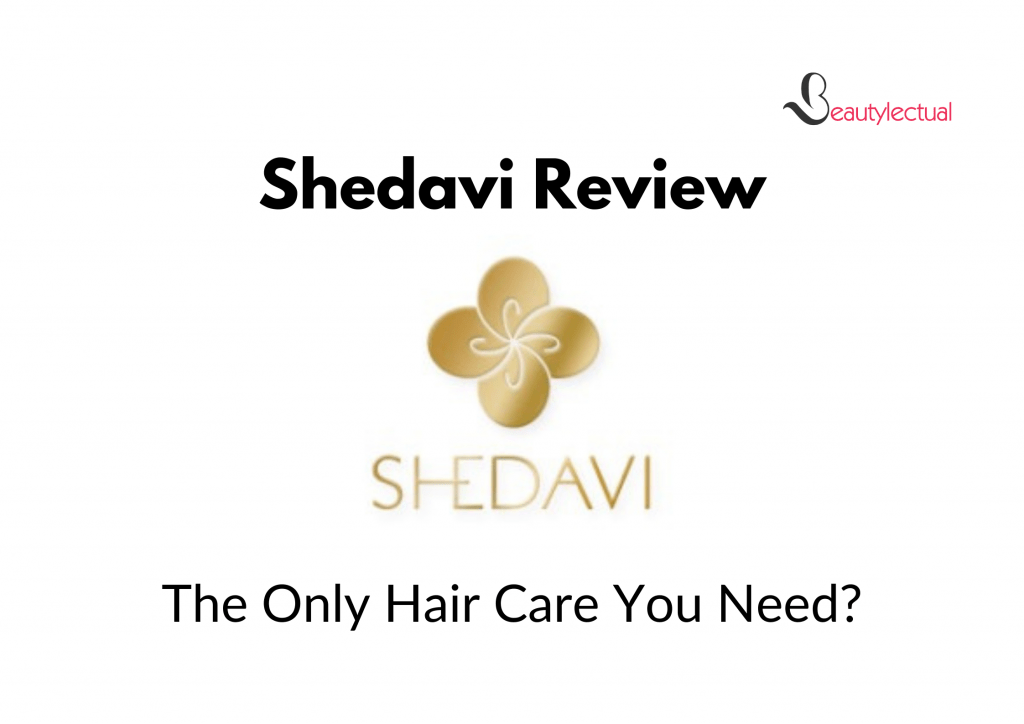 Seeing a handful of strands accumulating in the shower drain is the worst nightmare for all of us.
This situation indeed is horrific.
But are we doing anything to avoid it?
Filling our shelves with numerous hair products without even knowing whether they are helpful or not.
Just because something's popular doesn't mean it is effective.
Shedavi is a brand that claims to be the only hair care brand you might need.
But can we trust them blindly?
Let's find out if Shedavi hair care stands out from the crowd.
You Might Also Like: Maelove VS Skinceuticals | An Unbiased Comparison
Shedavi Reviews | Works Equally For All Hair Types?
The history of Shedavi can be traced back to 2016 when it hit the beauty world.
Elizabeth Davis, the founder of Shedavi, was an engineer by profession.
She noticed that her hair texture started deteriorating day by day with her busy schedule.
To tackle this, she read a lot about black hair.
Taming black hair is very difficult because the root of the hair is oily, but towards the end, the hair strands are parched.
And after years of research, Elizabeth came up with a natural remedy to tackle hair loss.
After her hair health improved, she thought about helping other women with her knowledge.
Thus, she created a beauty brand that focuses on hair, skin, and nail health.
The brand gained overnight success, and the credit goes to its clarity and dedication.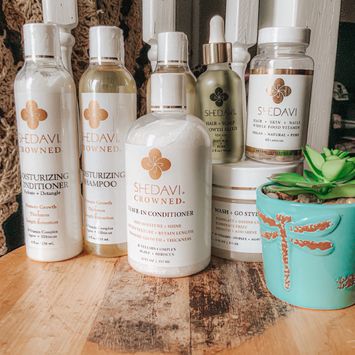 Shedavi focuses on creating a genuine cure for hair loss while maintaining simplicity and consistency.
All the products of Shedavi are natural and homemade.
Although Shedavi is primarily formulated for black hair types, it is equally beneficial for other hair types.
The brand prides itself on being vegan and providing natural hair loss remedies.
All the products of Shedavi are formulated with the goodness of Ayurveda.
Shedavi offers a wide variety of hair care products that offer healthy hair.
The significant part about the brand is that it is budget-friendly.
Shedavi is a widely recognized brand featured in many notable publications.
It has a two-fold working system- it provides internal and eternal nourishment.
Not just hair, but Shedavi products also help get a healthy scalp.
Let's peek into some of the trendy Shedavi hair care products to see if they would fit in your regime or not.
Shedavi Natural Hair Vitamins
Hair Vitamins are the shortcut to getting healthy and shiny hair.
Shedavi Natural Hair Vitamins are natural and herbal supplements that support healthy hair growth and stop hair fall. The herbal capsules are made from ethically sourced, organic ingredients.
The hair vitamins help reduce inflammation on the scalp, which reduces hair loss. It provides nutrients to the scalp and hair stand, increasing its elasticity.
These vitamins make the hair stronger, thicker, longer, and fuller. Shedavi Natural Hair Vitamins make the hair appear shinner and increase its strength, making it less prone to breakage.
Also, these vitamins reduce dandruff accumulation on the scalp.
The easy-to-consume capsules are also easily digested and have no side effects on gut health. Another advantage of hair vitamins is that they are beneficial for the hair and the nails and health.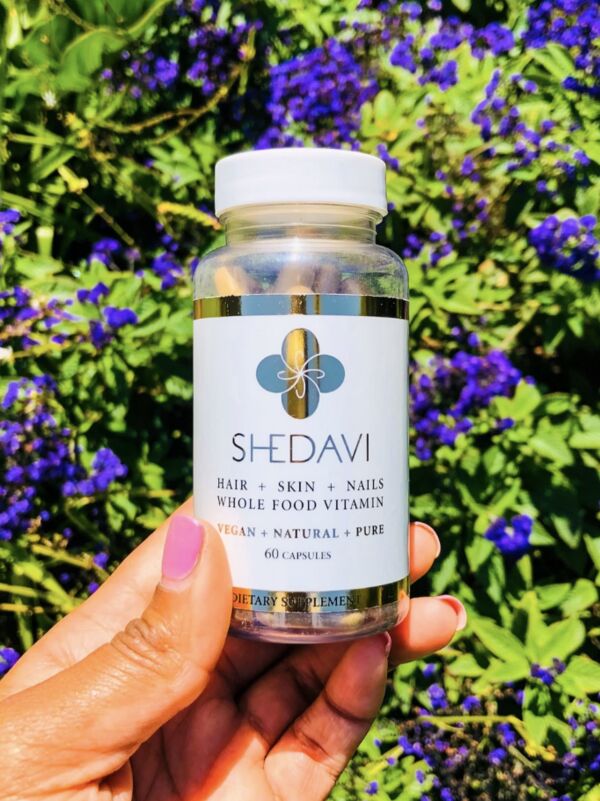 Saw Palmetto has promising hair benefits and they are well known for being a DHT- blocker. They block the hormones that cause hair fall. It strengthens the hair follicle, which makes the hair strands stronger.
Saw Palmetto prevents hair loss, and studies also suggest that it promotes hair growth.
Pumpkin Seed contains cucurbitacin, an amino acid that helps to eliminate dandruff from the scalp. It has the power of Vitamin B, Vitamin C, Vitamin D, and Zinc.
Pumpkin Seed accelerates the hair growth rate.
Amla, also known as Indian Gooseberry, is one of the most effective ingredients to promote new hair growth. It prevents premature greying of the hair, and its antioxidants protect the hair from free radicals.
Amla also has antifungal properties that prevent fungal infection on the scalp.
MSM is rich in sulfur, and it provides strength to the hair. It improves the elasticity of the hair and makes it look shiny.
Bhringaraj is a traditional herb used primarily in the Indian Subcontinent to prevent hair loss. It strengthens the hair root, which in turn prevents hair fall.
Perks Of This Hair Vitamin
Vegetarian capsules

Gluten, sulfate and soy-free

Cruelty-free

Contains organic ingredients

Beneficial for hair, nails, and skin

Improves hair texture

Makes the hair strong, thick, long, and shiny

Beneficial for all hair types

Prevents hair loss

Promotes new hair growth

Reduces dandruff

Good for scalp
Drawbacks Of This Hair Vitamin
Should not be consumed by pregnant women and breastfeeding mothers
Shedavi Hair + Scalp Growth Elixir
Shedavi Hair + Scalp Growth Elixir is the brand's most popular product.
Shedavi Hair + Scalp Growth Elixir is a lightweight oil that contains over the power of 20 essential oils. The elixir helps to seal the cuticles, which prevents moisture loss.
Shedavi Hair + Scalp Growth Elixir promotes blood circulation on the scalp and cures the problem of dry scalp and dandruff. It moisturizes the scalp and the hair strand.
This hair oil seals moisture in the hair shaft, making them less frizzy. It tames the unruly hair, protects it from heat damage, and prevents it from becoming untimely grey.
This deeply nourishing oil smoothes the hair strand and enhances its shine without weighing down the hair.
The best part about Shedavi Hair + Scalp Growth Elixir is that you can use it on your eyebrows, hair, nail, and as a part of hot oil treatment.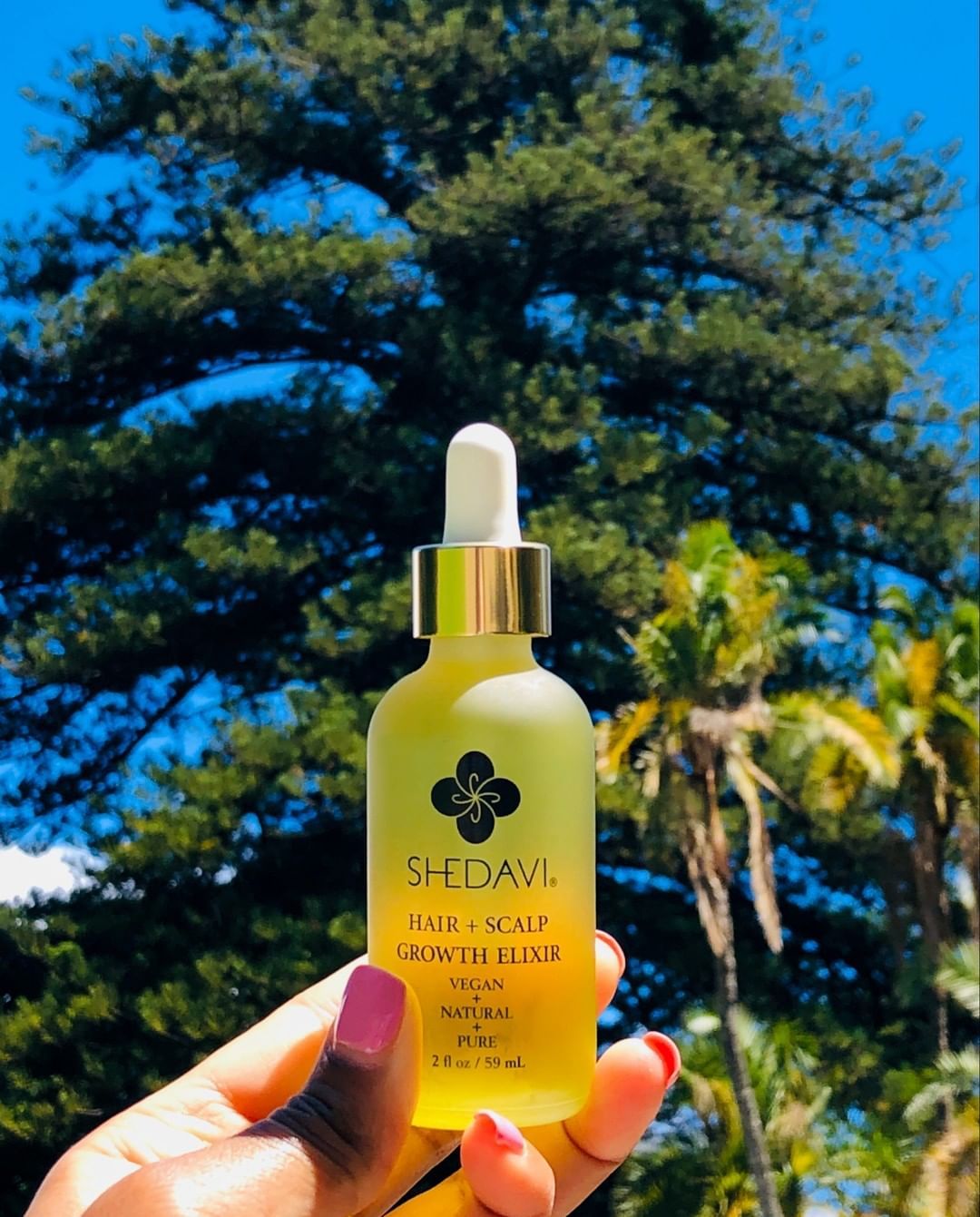 Grape Seed Oil is rich in Vitamin E, Linoleic Acid, and other nutrients that help to add moisture to the hair strand and scalp. It prevents the scalp from becoming dry and flaky while making the hair shiny and soft.
Camellia Oil adds moisture to the hair strand and increases the hair's elasticity. It reduces hair breakage.
Avocado Oil is full of multivitamins that help deliver essential nutrients to the scalp. The anti-inflammatory properties of Avocado Oil decrease inflammation on the scalp and help control excess oil production.
Castor Oil is the most famous oil for promoting hair growth. Castor oil helps with receding hairline, hair thinning and thickens the hair strand.
Argan Oil has a high amount of antioxidants that protect the hair from oxidative damage.
Perks Of This Hair Oil
Contains 20+ essential oils

Adds strength to the hair strand

Promotes hair growth

Reduces split ends

Addresses several hair issues

Reduces dandruff

Vegan

Cruelty-free

Free of parabens

Does not have a strong smell

Lightweight oil

Tames frizzy hair
Shedavi Vegan Healthy Hair Growth Oil Serum With Botanicals - Hair Growth for Women & Men - Hair Treatment for Dry Damaged Hair and Scalp With Argan, Coconut, Castor, Tea Tree Oil For Hair Growth
𝗧𝗵𝗶𝗰𝗸𝗲𝗿 𝗛𝗮𝗶𝗿 𝗚𝗿𝗼𝘄𝘁𝗵 - This lightweight oil mixture nourishes your hair and scalp with all the necessary nutrients for optimal hair growth, strand thickness, and strength. It forms a natural barrier on the skin to lock in moisture and keep microbes out. Hair growth oils restore your scalp back to health encouraging hair production, strengthen the roots, and eliminate breakage.*
𝗣𝗿𝗲𝗺𝗶𝘂𝗺 𝗡𝗮𝘁𝘂𝗿𝗮𝗹 𝗜𝗻𝗴𝗿𝗲𝗱𝗶𝗲𝗻𝘁𝘀 - Promotes hair growth in bald spots. This elixir contains a rich blend of over 20 essential oils from around the world. Exotic oils have been used by women in their native lands for centuries to maintain soft, thick, and healthy hair. Our vegan serum is gentle on your skin and is formulated without parabens or phthalates.*
𝗡𝗮𝘁𝘂𝗿𝗮𝗹 𝗛𝗮𝗶𝗿 𝗦𝗲𝗿𝘂𝗺 - Perfect for hot oil treatment and pre-poos. By using hair oils your scalp will be toned, soft, and moisturized. Massage into the scalp to increase blood circulation promoting hair growth. Versatile Uses - It's effective for enhancing eyebrows and skin, hands and cuticles.
Drawbacks Of This Hair Oil
Not sold at a reasonable price

Does not hydrate sufficiently
Shedavi Crowned Moisturizing Shampoo
Shampoo for hair is like a spear for a warrior, of utmost importance.
Shedavi Crowned Moisturizing Shampoo is infused with botanicals that promote hair growth. It helps to cleanse the scalp and reduce dandruff formation thoroughly.
This shampoo does not make the scalp dry and itchy. Shedavi Crowned Moisturizing Shampoo controls the scalp's natural oil production and does not make the hair oily.
The shampoo is suitable for all hair types and helps manage frizzy and unruly hair.
Shedavi Crowned Moisturizing Shampoo increases the thickness of the hair and protects the hair length.
The shampoo effectively improves the hair texture and makes the hair manageable.
Shedavi Crowned Moisturizing Shampoo is well known for moisturizing dry hair.
The shampoo also acts as a detangler and adds a shiny bounce to the hair. It helps to improve the texture of damaged hair and increases the hair's elasticity.
Shedavi Moisturizing Shampoo for Dry Hair - Moisturizes Dry Hair Ultimate Moisture Silicone -Free - Vegan Hydrating Women Shampoo for Dry, Color-Treated Hydrates & Strengthens Hair Sulfate-Free
𝗦𝗼𝗳𝘁, 𝗦𝗶𝗹𝗸𝘆, 𝗔𝗻𝗱 𝗦𝘁𝗿𝗼𝗻𝗴 𝗛𝗮𝗶𝗿 - Shedavi's Crowned Moisturizing Shampoo is infused with vegan botanicals, vitamins, agave nectar, and hibiscus. Promotes hair growth, strengthens and moisturizes. Strands appear thicker and aides in length retention. Effectively cleanses hair without stripping natural oils. Reduces frizz and leaves the scalp feeling fresh and clean.*
𝗦𝗮𝗹𝗼𝗻-𝗾𝘂𝗮𝗹𝗶𝘁𝘆 𝗠𝗼𝗶𝘀𝘁𝘂𝗿𝗶𝘇𝗶𝗻𝗴 𝗙𝗼𝗿𝗺𝘂𝗹𝗮 - No silicone, sulfates, mineral oil, gluten, petrolatum, or parabens. Formulated specifically for dry hair. Moisturizes, softens, and adds shine.
𝗡𝗮𝘁𝘂𝗿𝗮𝗹 𝗜𝗻𝗴𝗿𝗲𝗱𝗶𝗲𝗻𝘁𝘀 - Our moisturizing shampoo for dry and damaged hair is crafted using premium-quality and naturally-derived ingredients, essential oils, and botanicals. The result is healthy and shiny hair with improved elasticity.
Biotin, also known as Vitamin B7, is a keratin stimulator.
Keratin is the main thing that makes our hair.
Biotin helps deal with many hair problems such as hair loss, dandruff, itchy scalp, hair thinning, hair breakage.
Biotin is suitable for all hair types and works equally on male and female hair patterns. It stimulates hair re-growth in the area where hair has stopped growing.
Hibiscus Extracts stop hair fall by providing strength to the hair. It also prevents premature greying of the hair and protects the colored hair. Hibiscus moisturizes the hair follicle and makes the hair shiny and smooth.
Tocopherol is home to several antioxidants that shield the hair strand from getting damaged due to the radiation of UV rays. It assists with hair growth and helps eliminate free radicals.
Perks Of This Shampoo
Detangles the hair

Reduces hair breakage

Increases capillary circulation on the scalp

Strengthens the hair strength

Moisturizes the hair follicle

Paraben and toxin-free

Cruelty-free

Contains many antioxidants

Formulated with natural ingredients

Does not make the hair frizzy

Treats damaged hair

Hydrates each hair strand

Thoroughly cleanses the scalp

Retains hair length and thickens it

Protects hair from heat damage
Drawbacks Of This Shampoo
Contains added fragrance

Not for super dry hair
Shedavi Crowned Hair Conditioner
Conditioners are as crucial as shampoos.
Shedavi Crowned Hair Conditioner is an immensely hydrating conditioner that one should use after Shedavi Crowned Hair Shampoo. This conditioner is unlike traditional conditioners and has a creamy texture.
Shedavi's Crowned Hair Conditioner should be applied to the length of the hair to soften it. It does not weigh down the hair and feels heavy.
Shedavi Crowned Hair Conditioner moisturizes the hair without being oily or greasy.
The conditioner delivers instant smoothening benefits right from the first use. It tamps down frizz, dryness and makes it nourished while improving the hair's elasticity and making it stronger.
It also delivers vital nutrients and reduces split ends and hair breakage. This is useful to restore the shine and moisture of the hair. Also, it adds volume to the hair and makes the hair look fuller.
Shedavi Hydrating Hair Conditioner for Damaged Dry Hair - Deep Conditioner Ultimate Moisture Silicone-Free Moisturizing Conditioner - Protein Free Conditioner for Women - Petrolatum and Paraben Free
𝗦𝗼𝗳𝘁, 𝗦𝗶𝗹𝗸𝘆 & 𝗦𝘁𝗿𝗼𝗻𝗴 𝗛𝗮𝗶𝗿 - This unique moisturizing conditioner with B-vitamins, Agave & Hibiscus is specially formulated to replenish moisture. It draws moisture to damaged areas to help prevent breakage and increase elasticity. It feels silky and boasts a glossy sheen. Never feels oily. Detangles and improves hair comb-ability.*
𝗛𝗶𝗴𝗵-𝗾𝘂𝗮𝗹𝗶𝘁𝘆 𝗛𝗮𝗶𝗿 𝗖𝗼𝗻𝗱𝗶𝘁𝗶𝗼𝗻𝗲𝗿 - For dry and coarse hair, this product can be used as a deep conditioner and is suitable for colored hair. It's vegan, and free from parabens and sulfates. Formulated to make detangling easy, it softens, moisturizes, and reduces frizz.
𝗠𝗼𝗶𝘀𝘁𝘂𝗿𝗲 & 𝗦𝗵𝗶𝗻𝗲 - Deep conditioning formula retains the natural moisture of the hair. It can rejuvenate and restore the shine of the hair to make it look youthful and natural. You will see the difference from the first use. Conditioner instantly detangles hair, leaving damaged hair soft and shiny.
Niacinamide is one of the potent hair-boosting ingredients.
It enhances the appearance of the hair by making the hair shiny. It restores the elasticity of the hair and adds bounce to the hair.
According to research, a lack of Niacinamide in the body can cause hair fall.
Aloe Vera Extract is enriched in Vitamin A, Vitamin C, and Vitamin E, which helps to improve cell turnover and soothe the inflammation on the scalp.
Aloe Vera is said to make the hair shiny. It repairs the dead skin cells blocking the scalp.
Panthenol is a by-product of Pantothenic Acid, also known as Vitamin B5. It helps retain moisture in the hair strand. It makes the hair shiny, lustrous, and bouncy.
It strengthens the hair strand and reduces hair breakage. Also, it thickens the hair.
Squalane increases the moisturization of the scalp and prevents inflammation on the scalp.
Perks Of This Hair Conditioner
Thick and creamy consistency

Does not make the hair look oily

Vegan

Cruelty-free

Natural ingredients

Protects the hair length

Tames split ends

Contains many vitamins

Repair the skin cells

Increase cell turnover

Stimulates keratin production

Adds luster and shine to the hair

Adds a playful bounce to the hair

Soothes inflammation

Infuses moisture in the hair

Strengthen the hair follicle

Unisex
Drawbacks Of This Hair Conditioner
Not much effective for fine hair
Shedavi Before And After | Customer Reviews
Amara says, "I have stubborn curls, and my hair texture is severely damaged due to excessive use of hair styling equipment. I have been using Shedavi Hair Vitamins for a year now, and the results have moved me. The hair vitamins have entirely transformed the look of my hair. The vitamins have resulted in healthy hair growth. My hair is no longer rough; instead, it is soft, smooth, and more manageable. I would recommend people who have the same issue as me to use these vitamins."
Rose says, "I have used Shedavi shampoo and conditioner, love them both. The price is reasonable as compared to other brands. Recently I was faced with a serious hair fall, like every time I wash my hair, a handful of hair would come off. Therefore, after days of research, I purchased this duo. After using these every day for five months, my hair fall has stooped to a great level. Although there's no significant hair re-growth, it is good for hair loss. Not to mention my hair is much more shiny and glowy now."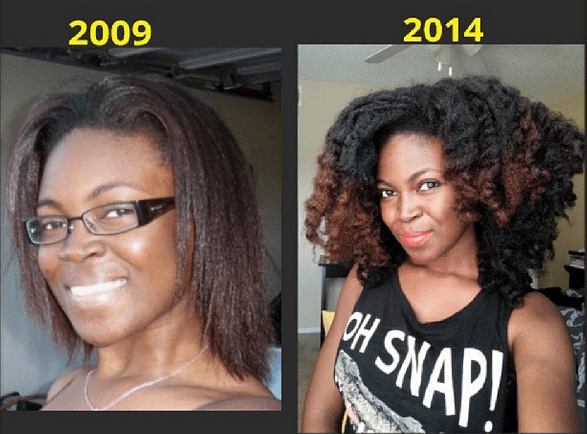 Zora says, "The thing that I love about Shedavi is that it is all-natural. There are no chemicals, toxins, or sulfate in its formulations. I have used a co-wash of the brand, and the results have been fairly beneficial. I love how less time-consuming it was; just apply the co-wash and, after five minutes, wash your hair. It acts as shampoo and conditioner. After using that, my hair always feels smoother and softer. Although I did not notice any such great hair growth results, it did refine my hair texture."
See Also: Revitive Reviews | The Guarantee To Stay Ageless?
FAQs | Shedavi Reviews
How do you use Shedavi Growth Elixir?
Shedavi Hair Growth Elixir is a lightweight hair oil having benefits equivalent to serum.
Apply a few drops of the serum on your scalp and massage it properly for five minutes. Use it about four times a week for better results.
Is Shedavi only for black hair?
Shedavi is a black-owned hair care brand. Although Shedavi is mainly for black hair types, people of every hair type can use the products.
Also, both men and women can use the hair care products of Shedavi.
Is Shedavi good?
Shedavi is a natural hair care brand based on the goodness of Ayurveda. All the products are formulated with natural ingredients that support hair growth and minimize hair loss.
Although the products are excellent and practical, the effectiveness may differ on every hair type.
Where can I purchase Shedavi hair care products?
You can easily buy the Shedavi hair care products from any online platform.
We would recommend Amazon as it is the most reliable platform to make any purchase.
Similarly, you can also buy the products from Shedavi's official website.
Cessation | Shedavi Reviews
Now that we are at the end of Shedavi Reviews, it's ultimately time to summarize the review.
Shedavi is a natural, herbal haircare company based on the power of Ayurveda. All of the products are formulated using organic and natural, plant-based ingredients.
The brand has many hair care products that ultimately address one issue- to increase the hair's health. The products reduce hair loss, accelerate hair growth, and make the hair smooth and shiny.
There are no such harmful ingredients in the formulation of the products, but according to the brand, pregnant women and lactating mothers should consult their physicians before using the products.
Although Shedavi is more suitable for black hair, anyone can use it on every hair type.
Shedavi has been featured in many reputed magazines for its effective ingredients; it is one of the fastest-growing haircare brands.
There are very few complaints about the brand; therefore, according to us, the brand is a neutral one.
One should personally use the products as every hair type is different, and genetics play a significant role in determining hair health. Therefore, we recommend you try the brand to know its effectiveness.
We hope this review was helpful. If you have any more questions, drop them in the comment box. We will get back to you as soon as possible.