With so many brands, trends, and products in the skincare industry, some would think finding a suitable one is easy, but that's usually not the case. Not only are there so many skincare lines, but they also seem so similar, just like SkinMedica vs SkinCeuticals. Both brands have an excellent reputation and underline the importance of the science behind their formulations, but they have a few distinctive properties. We'll help you understand them better and discover all the fors and againsts. You'll learn about each brand's product range, ingredients, pricing, availability, and customer satisfaction.
Product Range
Both brands maintain great product diversity and offer facial cleansers, moisturizers, correcting serums, sunscreens, and a few post-treatment creams.
SkinMedica's website allows you to find an appropriate cream or serum based on your skin concern or skin type. Whether you have acne, wrinkles, or hyperpigmentation, you may discover SkinMedica's product explicitly tailored to your skin type. The best seller is TNS Serum, ideal for improving skin's texture and getting rid of coarse wrinkles and fine lines.
The SkinCeuticals website lets you search the products by type, ingredients, skin type, or skin concern. In addition to the products mentioned above, SkinCeuticals has fantastic face masks, toners, eye creams, and lip care products. It's also well-known for vitamin C serums, perfect for blemish-prone skin. The brand's best-seller is C E Ferulic Vitamin C Antioxidant Serum, which promises visible anti-aging benefits. 
Winner: SkinCeuticals has more products. Also, its website is easier to navigate and thus allows customers to quickly find what they need.
With the proven antioxidant synergy your skin loves in a gel formulation, #SkinCeuticals Phloretin CF Gel is ideal for skin that's dehydrated after summer travel as well as dryness caused by the upcoming shift in weather. pic.twitter.com/7oVroCc8WP

— SkinCeuticals (@SkinCeuticals) October 26, 2022
SkinMedica vs SkinCeuticals Ingredients
Both brands provide products brimming with fantastic active ingredients. As usual, each product offers a complete list of components, but each SkinMedica product on the website has a separate section with key ingredients and their benefits. We really love this feature, as well as Before & After pictures, which are also available for every product.
SkinCeuticals also has one distinctive feature—it allows users to search the products by ingredient. So, you can quickly get a list of all products containing any of the following elements:
Retinol

Glycolic Acid

Hyaluronic Acid

Vitamin C

Salicylic Acid for Skin

Azelaic Acid
The brand uses pharmaceutical-grade ingredients, which means they're approved by FDA or other recognized compendia.
Winner: This one is a tough call since each skincare line has its unique blend of powerful ingredients, but cruelty-free SkinMedica takes this victory.
Some Popular SkinMedica Products
Sneak
Product
SkinMedica HA5 Rejuvenating Hydrator, 2 Oz
SkinMedica TNS Essential Serum, 1 Oz
SkinMedica Retinol 1.0 Complex, 1 Fl Oz
Sneak
Product
SkinMedica HA5 Rejuvenating Hydrator, 2 Oz
Sneak
Product
SkinMedica TNS Essential Serum, 1 Oz
Sneak
Product
SkinMedica Retinol 1.0 Complex, 1 Fl Oz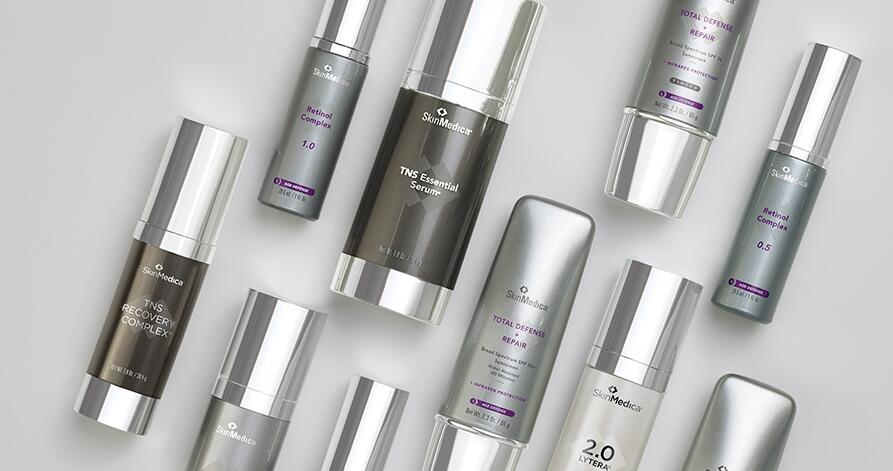 Price Range
SkinMedica's prices range from $40 to nearly $300, while products developed by SkinCeuticals cost between $30 and approximately $180. The price difference varies according to the product type, so be sure to compare them before opting for the latter.
Winner: SkinCeuticals is more affordable than SkinMedica.
Availability 
SkinMedica is available in the U.S. and delivers to Canada, but that's it as far as authorized retailers are concerned. There are unauthorized online sellers, but these aren't always reliable and may sell counterfeit products. 
On the other hand, SkinCeuticals is available worldwide, and you can purchase from their website or one of the authorized online retailers. Aside from U.S. and Canada, SkinCeuticals products are available in Australia, Europe, the Middle East, South Africa, and several Asian countries.
Winner: This is an easy win for SkinCeuticals since it covers significantly more locations.
Some Popular Skinceuticals Products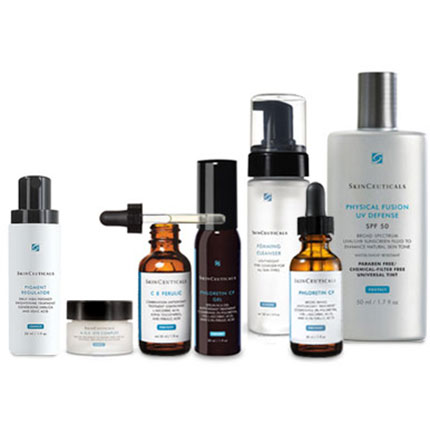 Customer Insights
Unlike SkinMedica, SkinCeuticals' website lets users see each product's rating and the number of reviews while going through the product list, which is pretty cool. Aside from their official sites, our team checked out multiple retailers and other relevant sources to find honest reviews. 
Both brands have received generally positive reviews, and most users are delighted with their products. Of course, every skin is different, so there's also a share of negative comments, but the number is insignificant compared to the favorable ones.
Winner: Although SkinCeuticals seems to have more reviews, this one is a tie. Users love both skincare lines and products.
Final Thoughts + Pros & Cons
Both brands offer safe, high-quality, medical-grade products available at major retailers in the U.S. These products address issues of all skin types and include cleansers, moisturizers, serums, and gels. Both SkinMedica and SkinCeuticals have fantastic anti-aging serums and post-treatment creams but not many products for acne-prone skin. 
Here's a list of all advantages and disadvantages of each skincare brand and its products. 
Brand

Pros 

Cons

SkinMedica 

Cruelty-free

Variety of ingredients and online descriptions of the key ones

Great post-treatment skincare line

More expensive than SkinCeuticals

Authorized retailers available in two countries only

SkinCeuticals 

Extensive and safe product line

More affordable than SkinMedica

Available worldwide

Amazing anti-oxidant and vitamin C serums

Not cruelty-free

Some products are still rather pricey
In the game of SkinMedica vs SkinCeuticals, it really comes down to your preferences, skincare needs, and budget. The Beautylectual team also highly suggests seeking advice from a dermatologist or other professional before making a purchase.