Be it a child, a teen, or an older person; skin tags don't spare anyone in particular. They are something that anyone can encounter. Although they are not exactly harmful, skin tags tend to come in the way of lots of things. In fact, they seem so unsightly and irksome that most of us want to take them out right away! The good thing is there are a few ways that claim to help us achieve that. Dive in to find out from the best TagBand skin tag removal reviews if it's true or just another cash-grab.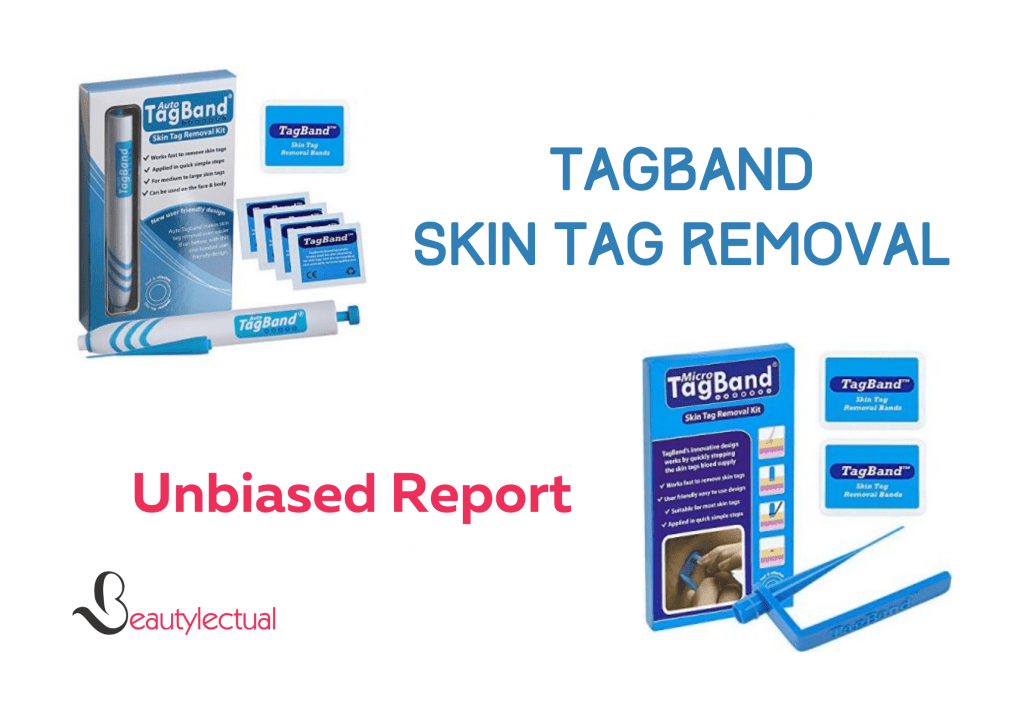 There are multiple home remedies available on the internet to get rid of skin tags. One says use tea tree oil, while the other asks you to use your good old toothpaste. Actually, anyone who has tried it out knows it seldom works or takes unusually long to show minimal results. Moreover, they might even cause uncomfortable infections and irritate your skin further. Let us not waste our time and see if modern devices like TagBand skin tag removers are good or just the same. Is it even safe to use them? Do keep reading to find all the answers!
See Also:  Obagi Reviews 2021 | Should You Try these Products? (Unbiased)
TagBand Skin Tag Removal | Does It Really Work?
One of the ways to get rid of skin tags is to freeze them. Although it is effective, it comes with a bigger con than pros. Multiple patients have reported having inflammation in the nearby skin for days after the procedure. On the other hand, people have cited in TagBand skin tag removal reviews on social media that it is a better option. However, with the amount of paid promotions, we cannot risk having the herd mentality and buy the product. The only way to make a judgment about it is to spend time reading valid research documents!
A skin tag is a small sack-like growth observed on the skin's surface. It is made up of excess collagen fibers, nerves, and fat cells packed under a layer of skin. These are more common among people who suffer from obesity and are above the age of 50. Additionally, patients with diabetes may encounter them as well due to insulin resistance. Genes also play a big role in their appearance.
Regardless of how or why they appear, most people want to eradicate them. The TagBand Skin Tag Removal Device cuts off the blood supply to make it fall off. However, we do want to bring it to your notice that if you discover lots of skin tags at once and feel sick, do consult a doctor.
Popular TagBand Skin Tag Alternatives
Product Range
The brand has two categories of products – TagBand and Auto TagBand. Both of these categories have a micro version as well. There are quite a few ways for removing skin tags, but not all of them are economical.
For example, cosmetic surgery is one of the options, but the downside to it is the high cost. Moreover, we understand that it is not even considered for medical insurance. According to dermatologists, the TagBand skin tag removal device reviews show that they're much cheaper but may not be the safest. Moreover, some reviews show that they don't give the expected results. Regardless, our team of reviewers has received some positive results using them.
TagBand Skin Tag Removal Kit Review
This kit was designed to get rid of medium to large-sized skin tags. You can use the device to remove them from almost any area of the body except the eyes. The sharp edges of the applicator may cause accidental damage to the cornea of the eye. The kit consists of one removal tool, ten cleansing wipes, ten silicone removal bands, and an instruction manual.
The bands are put around the skin tag to block the blood flow. Eventually, they fall out without leaving any harsh scars. However, we noticed that the application was rather difficult for many of us. It would be best if you had precision when you're locating the skin tag, etc. Many Micro TagBand Skin Tag Remover reviews also suggest that.
How To Use TagBand Skin Tag Remover Device?
The manual explains how to use the device in detail. However, older people may require some assistance. Before doing anything, you must use the cleansing wipes in the kit to clean the skin tag. It is also advised to clean the skin surrounding it as well. Once that's done, it's time to work with the actual tool, which has two parts.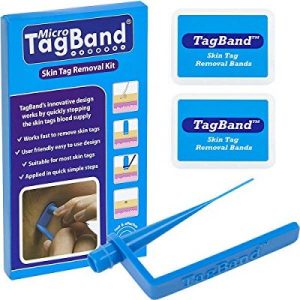 Take a silicone band and roll it over the pointed end of the conical piece. Next, secure the TagBand remover arm around the cone and push it till it reaches the band. Place the opening of that cone over the skin tag and pull it away to let that band wrap around the skin tag. Once secured, the band will stop the blood flow, and the skin tag should fall off in a few days.
Perks of using TagBand Skin Tag Removal Kit
No freezing or burning is involved.
Can get rid of upto ten skin tags.
Is an affordable option.
Comes with a sixty-day money-back guarantee.
Peeves of this product
Must not be used if you have allergies to silicone.
May cause irritation or discomfort if you have skin cancer.
The bands may break easily sometimes.
You cannot use it to get rid of the skin tags near the eyes.
Auto TagBand Skin Tag Removal Kit Review
This device is quite similar to the previous one. However, it comes with added benefits. It has a new design that allows you to use it with a single hand. You can use it on areas like the back of the neck or underarms hard to reach.
Unlike the normal TagBand device, Auto TagBand makes use of a pen-like applicator. Although it's hassle-free, there are reports about the tag band not falling off sometimes.
How To Use Auto TagBand Skin Tag Remover Device?
As recommended, you must cleanse the skin tag and the area around it with the cleansing wipes in the package. Once done, attach the sharp-ended cone to the pen applicator and roll the band over it. Thereafter, remove the cone and place the device on the skin tag quickly. Click the button at the base of the pen to release the silicone band. According to the claims of the brand, the skin tag should fall off in a couple of days. However, we found that the pen didn't get attached to the skin tag very well.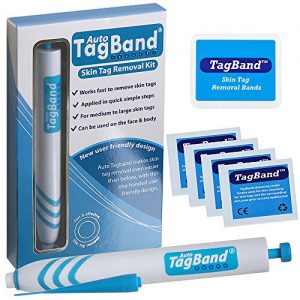 Pros 
Completely free of chemicals.
Easy to use for elders as well.
Cons
You cannot use it on warts or moles.
Does not work for skin tags of size less than 2 mm.
TagBand Skin Tag Removal Before and After | Side Effects
Vanessa Grey says, "I have had this annoying skin tag at the back of my neck for over fourteen years now! Cosmetic surgery is really scary and well, way too expensive to follow up with. I am so glad that I found the Micro Skin Tag Removal Device reviews the other day. I got rid of the skin tag in 5 days! No less than a miracle."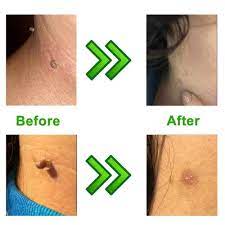 Maria J notes, "I have been using it for 6 days now and trust me when I tell you it works. After trying countless homemade DIY treatments, I finally found my saviour!"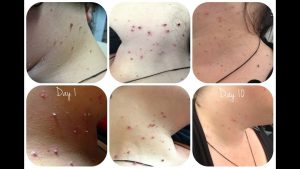 Veronica Myers, on the other hand, had a rather disappointing experience. She says, "TagBand doesn't tell you the entire truth. I tried doing the process using all the 10 bands. All of them broke and I got no results." However, she did not have any photographic evidence to prove the same.
TagBand Skin Tag Side Effects
Katie M suffered from a red rash and pain due to the tight hold of the silicone band. She says, "I had to use an antibiotic cream to relieve myself of the pain it caused. I would not use this ever again."

Actually, we suggest you stay away from the tool if you have skin cancer or any other kind of allergy to silicone. Moreover, it is not apt to use it for the skin tags near the eyes as the cone's tip is too sharp.
FAQs | TagBand Skin Tag Removal Reviews 
How Long Does It Take For A Skin Tag To Fall Off Using TagBand?
After following the procedure mentioned in the manual, the skin tag usually takes 3 to 4 days to fall off. However, the rate of success usually depends on the user. It may even take a week for the tool to work.
Does TagBand Really Work?
As you can see from the customer reviews above, it does usually work. Though, we cannot deny that specific individuals did not get the desired results. However, it received a 5-star rating on Amazon.
Does TagBand Work On Small Skin Tags?
Yes, it does. The brand designed the Micro version of both the category of products for this purpose. However, they only work for skin tags as small as 2 mm. The band may not capture anything smaller than that.
What Is The Best And Quickest Skin Tag Remover?
Micro Auto TagBand Skin Tag Remover Device was 2020's favorite pick in this category. Freezing the skin tags and laser therapy were the other options on the list that give guaranteed results.
Cessation
Collating various TagBand Skin Tag Removal reviews, we conclude that it is definitely worth a shot. Due to the affordability of the products, we can definitely give it a chance. However, we strongly recommend you let a doctor diagnose you if many skin tags start appearing at once. That could be an indication of something serious.
Personally, our team volunteers have experienced good results. Profound research helps you make the right decision, and we hope to help you in the same. If you have any queries or suggestions, do not hesitate to write to us in the comment section.