Gua sha stones and jade rollers are all the rage right now, but what recently caught our eye is a decade-old anti-aging facial massage technique from Japan – the Tanaka Face Massage. The beauty community has long raved about its bold claims of reducing wrinkles and toning the skin, but does it really work? While we're skeptical about how a good rub down can wipe away years from your face, we're surprised to learn that facial massages offer several scientifically-backed benefits. 
We conducted an in-depth study of the massage technique to see if its skin-toning and wrinkle-reducing claims hold true (short answer: they do, but not in the way you think) and included a step-by-step guide on how to perform the massage on yourself. 
What Is the Tanaka Massage?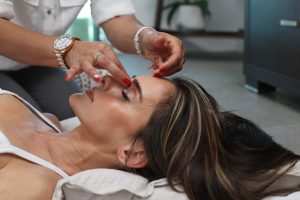 The Tanaka massage, sometimes called the Zogan massage, is a type of facial massage invented by the late Japanese makeup artist Yukuko Tanaka. This facial massage technique is actually one of the many variations of the "Asahi massage", a type of Japanese facial massage that targets the lymph nodes to de-puff and firm the skin. Asahi massages usually involve long, soothing strokes that are similar to Swedish massage. 
The Tanaka massage combines the benefits of face acupressure with lymphatic drainage massage to provide a lifting and contouring effect. 
What Are the Benefits?
In a tutorial video where the late Yukuko herself teaches the technique, she claims that the massage can "reduce wrinkles, pouches and bags, big pores, and loose skin." She even goes so far as to say that "if you do it every day, it will bring you back to your youthful look 10 years ago." That's a big and bold claim that immediately triggered the skeptic in us. 
After thorough research, we discovered that not all of the aforementioned benefits were true, but that's not to say that the Tanaka massage offers no benefits at all. Let's see which of these benefits are backed up by science. 
Does It Work?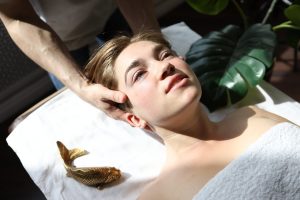 The Tanaka massage shares the same benefits as many types of facial massages that focus on lymphatic drainage. According to dermatologists, lymphatic drainage massages can de-puff the skin, improve face contour, and reduce the appearance of sagging. It can also improve circulation, enhance blood flow, and leave a glowy effect on the skin. 
Let's also not forget the positive effects of a good massage on stress alleviation and psychological relaxation. If you're feeling stressed or under the weather, a good facial massage employed before your skin care regimen can be a good pick-me-up. 
However, many dermatologists say that the aesthetic benefits of facial massages are minimal and temporary. No facial massage technique can permanently lift the face or strengthen facial muscles. There is also very little data to support that Tanaka massage can reduce the appearance of pores or wrinkles, and neither can it make you look ten years younger. If you're looking for a more drastic and longstanding anti-aging treatment, nothing can replace the effectiveness of a facelift or a good skin care regimen.
With that said, do we recommend the Tanaka massage for people looking to combat aging? We do if you lower your expectations and understand that the results are only temporary. If anything, the massage feels incredibly relaxing!
How To Do the Tanaka Massage
The Tanaka face massage consists of 11 steps that take around 5-10 minutes to do. Many of these steps include lymph massages that flush fluids from the face, thereby de-puffing the skin and contributing to a more contoured appearance. 
In the video below, you'll notice how Tanaka would frequently massage areas lined with lymph nodes: the front of the ears and down to the neck and collarbones. Here are a few tips to ensure a pleasurable and effective massage. 
Use firm but gentle pressure without rubbing your face. The massage should not feel sore. Stick to a lighter pressure if you have sensitive skin. 

We recommend performing the massage in the morning or evening before your skincare routine. 

Using the proper oil or cream is essential for this massage technique. Proper lubrication helps your fingers glide on your face without tugging on your skin. We recommend almond oil for dry skin, argan oil for oily skin, and aloe vera for sensitive skin. 
Here's a 4-part YouTube video where Tanaka herself teaches how to perform the massage technique.

Customer Reviews
Upon research, we discovered that plenty of people who employed the massage technique religiously (every day for more than two weeks) reported firming and contouring benefits. Here are some of the Tanaka Massage reviews we found online. 
"This is awesome. I'm in my late 40s and have some loose skin around my lips and jawline. Doing this properly only this morning with some facial serum, the line disappeared, and I see much more firm skin already. Thank you so much." 

"This is one of my favourite facial massage videos. If I do it regularly I see a marked visible difference. I was born with a rounder full face. Chubby cheeks still I think look youthful. Good toning routine here."

"Been doing facial massage like this and gua sha almost daily since June – the results are real. I will do this forever!   I do use various organic oils for massage I like to switch it up with oils for brightening, moisturizing or firming. ❤️"

"I've been doing this massage for 3 weeks now and the result is amazing. I always have round face with no shape at all. But after doing this massage, it really improved my face, I can see my jawline and my face has that shape that i always wanted..i feel younger and i feel beautiful."