Between cleansing and moisturizing, toning is often skipped, and its importance is overlooked. We feel toner is an unnecessary beauty product; little do we realize it's magic. Toning is crucial as it balances the pH level of our skin and preps our skin for other facial products to work well. It's evident that being influenced, probably now, you're looking for an excellent toner to incorporate into your skincare regime. Like every time, this time also, we have your back. To help you, we've rounded up a few things in this Thayers Toner Review.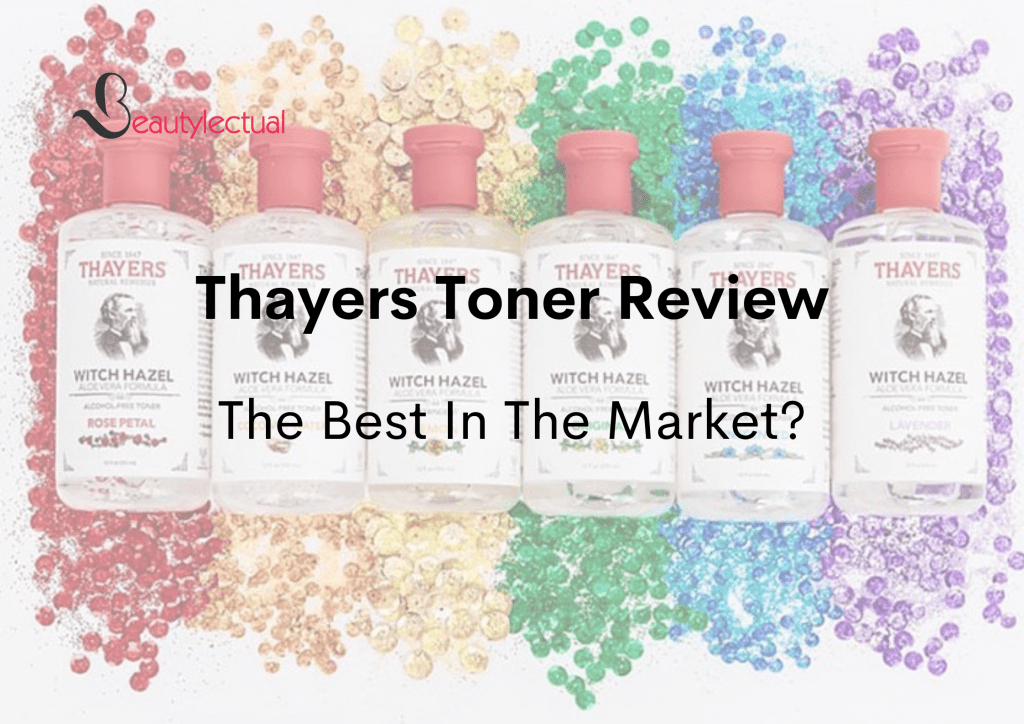 The working of toner is all rounded because you can incorporate toners into every skin type. After cleansing and before the moisturizer, it is generally used to hydrate the skin and prepare it for moisturization. The goal of a  good toner is to ensure that the skin is clean and gunk-free. If used optimally, toner can deliver a myriad of skin benefits and help the skin look radiant, bright, and healthy. If you are wondering whether Thayers Toner will deliver such optimal results, you need to stick till the end of the review to find out.
You Might Also Like: CeraVe Acne Control Gel Reviews | Best Acne Control Solution?
Thayers Toner Review | Is It The Best Toner?
In 1847, Dr. Henry Thayer opened a laboratory in Cambridge and named it Henry Thayer & Company. The company further prospered to become the largest manufacturer of pharmaceuticals in America at the time of the Civil War. Since then, Thayers has never looked back and is a recipient of many prestigious awards. Witch Hazel, a flowering plant known for its medicinal properties, is the company's hero ingredient. Thayers Witch Hazel is Certified Organic and sourced from a family farm. Thayers Original Facial Toner is the classic and the initial toner introduced by the brand. But now, several variations of the toner are available while the formulation is still the same. All the ingredients used in the toner are free of cruelty, naturally sourced with minimal processing.
THAYERS Alcohol-Free, Hydrating Original Witch Hazel Facial Toner with Aloe Vera Formula, 12 oz
Gentle Face Toner: Alcohol-free and formulated to soothe, tone, hydrate, and balance the pH level of skin; This face toner helps reduce the look of pores, balance oily skin, and maintain the skin's moisture barrier
98 Percent Natural Origin Ingredients: Made with certified organic Witch Hazel grown and harvested exclusively for Thayers on a family farm in Connecticut, and certified organic Aloe Vera
Unique Formulation: Thayers Witch Hazel extract is farm-to-bottle.  It's picked by hand and made the old-fashioned way (via maceration) using water only and NEVER touching alcohol; Dermatologist tested for safety and 100 Percent cruelty free
Thayers Facial Toner is a cult classic made without alcohol that keeps the skin bright and soft. It is a dermatologist-tested product and is claimed to be safe for sensitive skin as it makes the skin healthy, prevents skin irritation, and soothes it. It does not disrupt the natural moisture barrier of the skin and curbs excess oil production. This toner harnesses the power of aloe vera, witch hazel which lit away dead cells and smoothed the surface texture for skin that looks lit from within. Regular use of the toner adds a fine layer of moisture to the skin while refreshing, soothing, and brightening. It makes the skin soft and adds radiance to it without any irritation. But, is it as good as professed? Let's find out.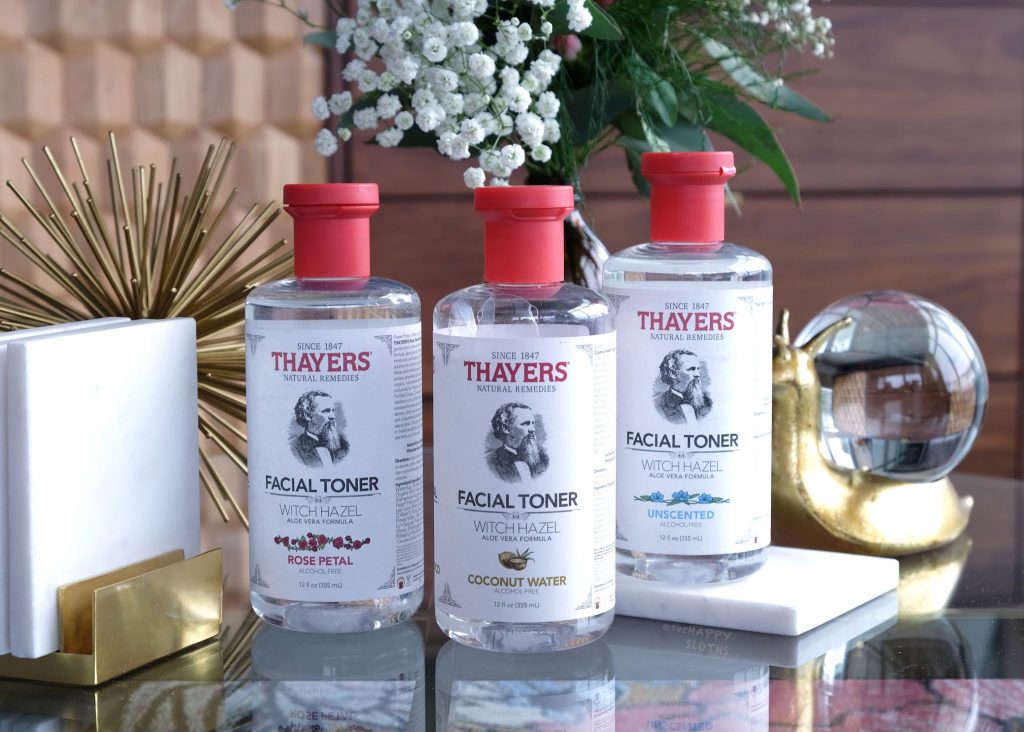 THAYERS Alcohol-Free Original Witch Hazel Facial Toner
Ingredients
Witch Hazel: Witch Hazel is the common ingredient present in all the variations of Thayers Toners. Witch Hazel is grown on an organic farm in the Thayers Headquarters. The anti-inflammatory properties currently in the Witch Hazel relieve inflammation and soothe irritated, sensitive skin. It acts as an astringent and makes the pore shrink and make it tight. It removes the excess oil from the skin.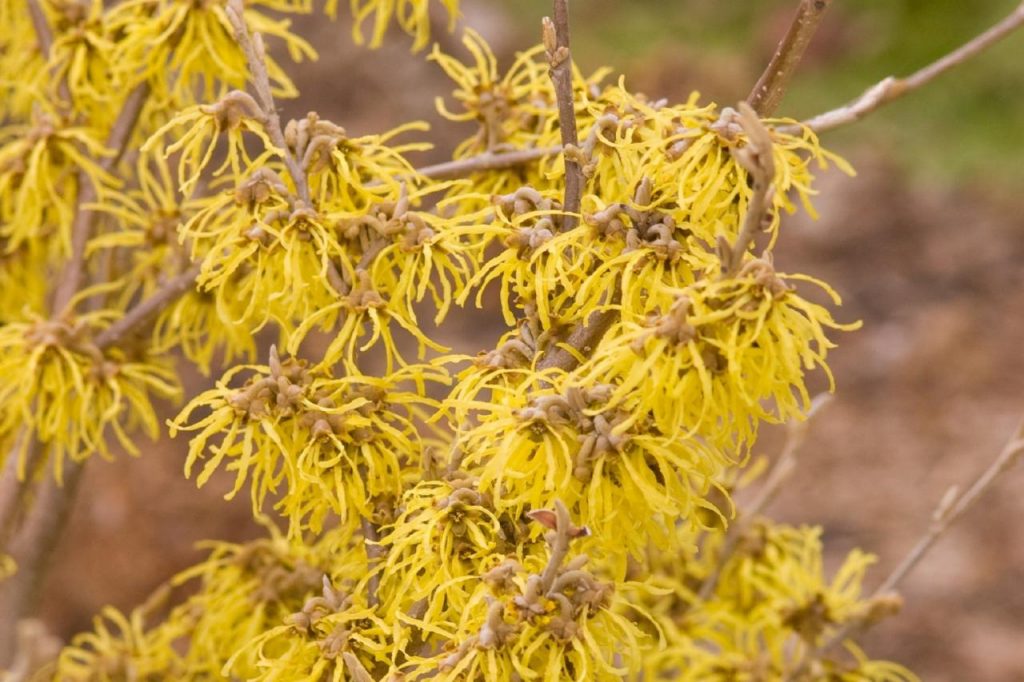 Glycerin: Glycerin is an emollient and a humectant, allowing the skin to retain its moisture. Glycerin hydrates, moisturizes, nourishes the skin. Glycerin also helps to reduce the signs of aging, such as wrinkles, fine lines. It makes the skin look youthful and healthy. It also holds several powerful antioxidants that protect the skin from radical sun damages. It forms a protective layer on the skin cell and does not let the radicals damage the skin.
Aloe Vera Extract: The cooling and anti-inflammatory properties of Aloe Vera helps to soothe and calm the skin. Aloe Vera gets quickly absorbed into the skin, making it an ideal moisturizer for people with dry skin. Aloe Vera possesses some medicinal properties to treat minor skin conditions such as eczema, psoriasis, etc. In Thayers Toners, Aloe Vera and Witch Hazel are present in the same proportion, i.e., 1:1.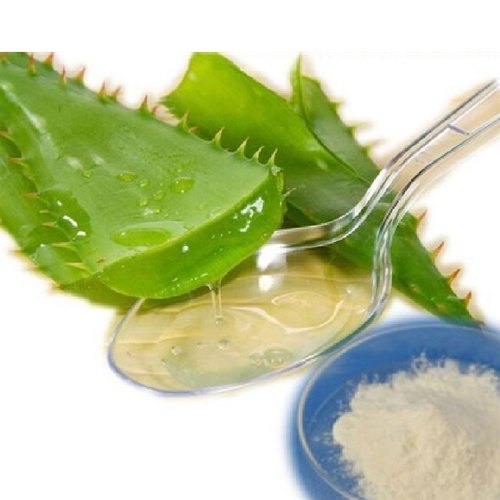 Why Should You Use Thayers Toner?
Hydrates The Skin: Thayers Facial Toner has several skin hydrating properties that retain the moisture on the skin. It locks in the moisture, tightens the pores, controls oil secretion, and nourishes the skin. The toner profoundly hydrates the skin and keeps it hydrated for a longer duration.
Several Variations: Thayers have not limited themselves, and there are various variations of the toner available in the market. The initial one is the Thayers Original Facial Toner, but several variations such as Rose Petal, Lemon, Unscented, Coconut Water, Cucumber, Lavender are also available. The central formulation of all the toners Headquarters with some minor changes.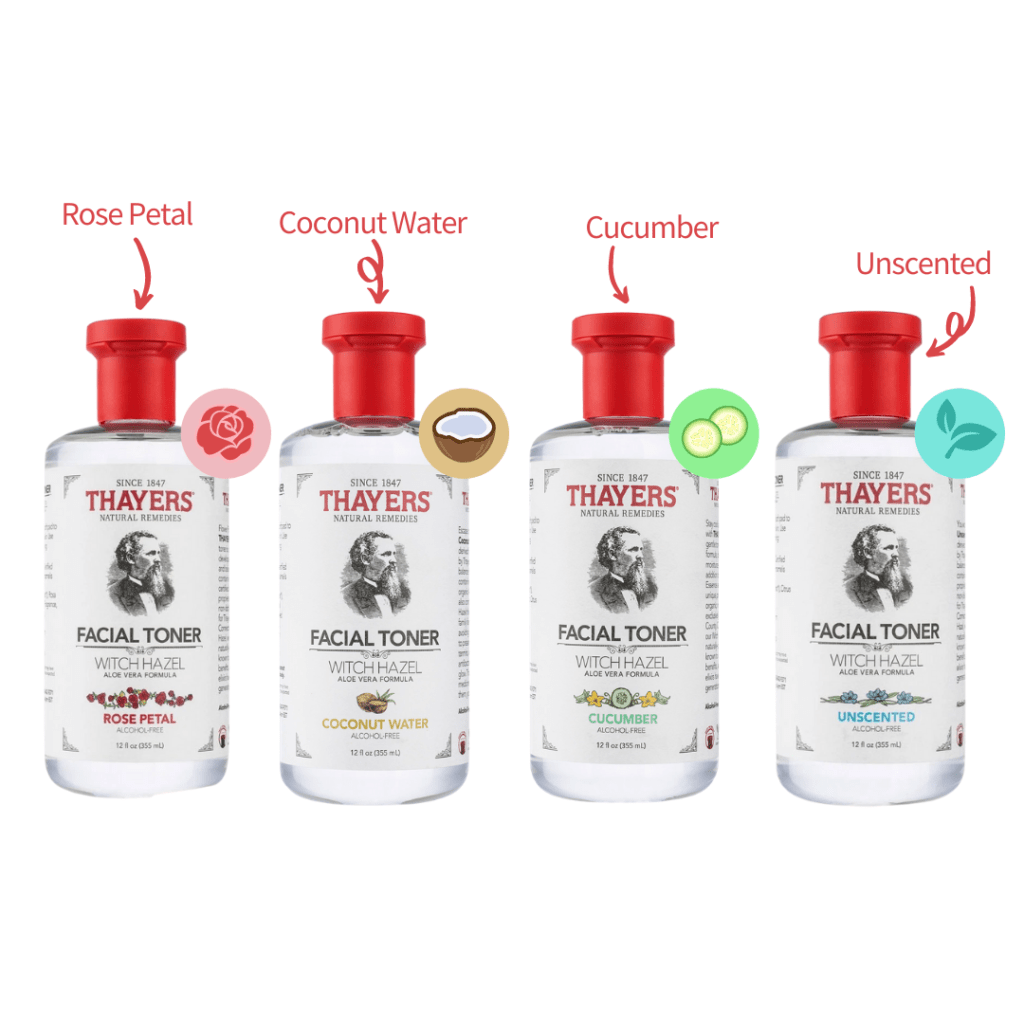 Reduces Inflammation: The presence of skin-soothing, anti-inflammatory ingredients in the Thayers Facial Toner helps reduce inflammation on the skin. The toner, when applied, calms the inflamed skin and cools it down. The toner is also beneficial for treating skin conditions such as eczema, psoriasis, etc.
Organic Ingredients: Thayers Facial Toner is majorly made from naturally sourced, organic ingredients, with a minimal procession. Witch Hazel, the critical element of all the Thayers Toners, is grown on an organic farm in the Thayers HQ. The formulation of the toner is free of baleful chemicals that can trigger severe skin reactions.
Perks Of This Facial Toner
Dermatologist tested

Thayers support environmental cause

Alcohol-free, Paraben-free, and cruelty-free

Lghtens the skin tone

Makes the skin look refreshed and smooth

Adjusts the pH value of the skin

No strong scent

Uses skin-friendly ingredients

Antioxidant properties

Budget-friendly
Drawbacks Of This Toner
Can irritate some skin types due to the use of Citric Acid

Not recommended for broken and damaged skin

Overusing may make the skin dry and itchy
Thayers Toner Before and After | Customer Review
Jessica says, "Thayers Lavender Facial Toner is a unique product. This toner is different from all the toners I have used in the past. Earlier, I used to use a toner with alcohol, and I read somewhere that it dries out the skin; therefore, I decided to give this toner a try. This toner has made my skin soft and moisturized. I feel it has also lightened my complexion. Also, it has a light scent of lavender which I don't mind."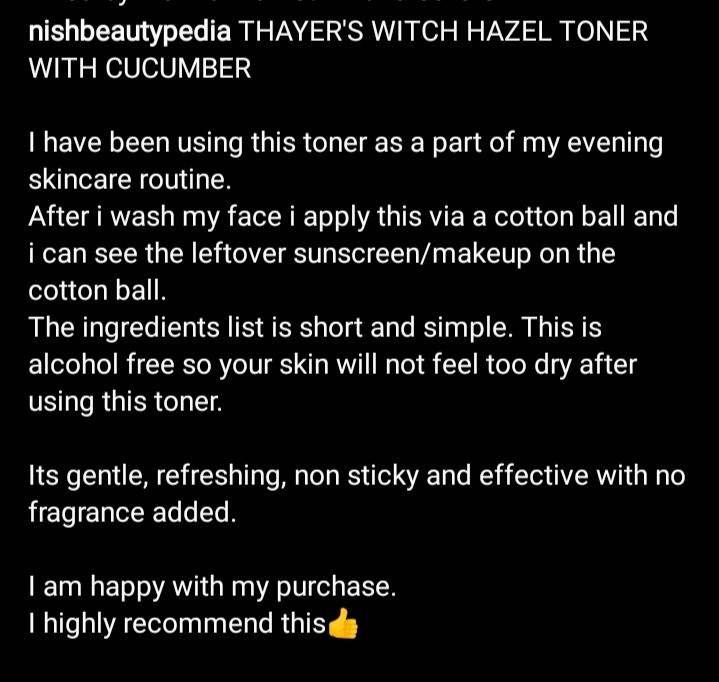 Masha says, "I have sensitive skin, and this toner always irritates my skin. I feel itchy whenever I apply the toner to my face. I feel it happens due to the inclusion of citric acid in the toner. The Thayers Facial Toner effectively cleanses, tones, and moisturizes the skin. However, I feel it is an ordinary toner, not something so great; I mean, this toner is fine."
Cindy says, "I have been using the Thayers Facial Toner for over two years now, and I have no plan to switch to another toner. The toner is so lightweight and very soothing. It doesn't make my pores feel clogged or irritated. Mostly, all the toners I have used make my skin a bit dry. But this toner has not. I have sensitive skin, and the toner has not triggered any breakouts on my skin until now. But till now, I haven't noticed a drastic difference in my skin, but I love using this anyway because it feels great."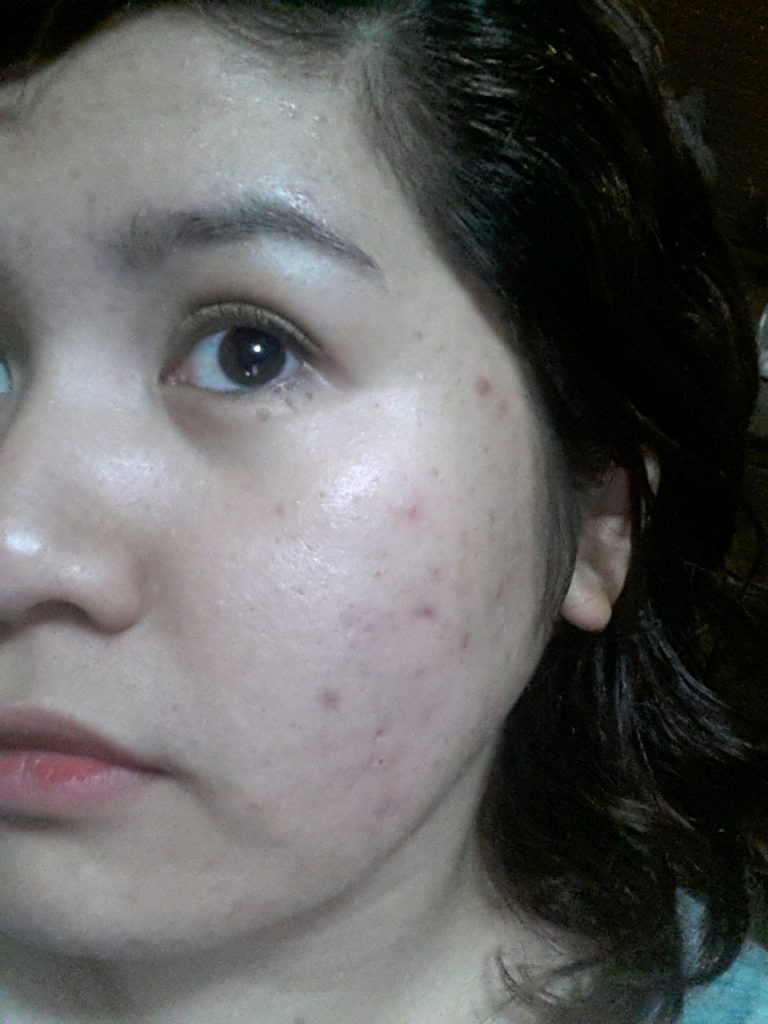 See Also: The Ordinary Glycolic Acid Toner Reviews | Unbiased Report
FAQs | Thayers Toner Review
Does Thayers witch hazel have alcohol?
No, Thayers Facial Toners do not have alcohol. All the Thayers Toners are free of alcohol, cruelty, and paraben.
How to use Thayers Witch Hazel Toner?
Firstly, cleanse the face using any cleanser. Pat dry the face. Then, using a cotton pad, apply a few drops of the toner on your face and neck. Gently swap the toner all over your face. Let the toner dry, and then continue applying your other skincare products.
Where can I buy Thayers Witch Hazel Toner?
You can easily purchase the Thayers Facial Witch Hazel Toner from many online platforms. One of the best platforms to buy the toner is Amazon, an e-commerce website. Also, you can purchase the said toner from Thayers' official website.
What is Thayers Toner good for?
Thayers Facial Toner is widely popular for its moisturizing and hydrating properties. The toner is alcohol-free, dermatologist-tested, and suitable for every skin type. The toner has antioxidative, anti-inflammatory properties that protect the skin from oxidative damage and reduce inflammation. The Thayers Facial toner makes the skin nourished and brings out a radiant glow to it.
Cessation | Thayers Toner Review
We feel now it is time to speak some concluding words and end the Thayers Toner Review. Thayers is a brand of principles, and they firmly abide by their regulations. The Thayers Facial Toner is made from naturally sourced ingredients that have a very low procession. The hero ingredient of the Thayers Toner is Witch Hazel which is organically farmed at Thayers HQ. The toner has a three-step working; cleansing, toning, and moisturizing the skin. It locks in the moisture and does not let the skin dry out. Plus, the toner is budget-friendly. Doesn't it seem like a fair deal?
Despite all these, some customers have complained that the toner is not very suitable for extremely dry skin. Overuse of the toner has resulted in the skin becoming dry and flaky. But, as rightly said, too much of everything is harmful; make proper use of it, and the toner will yield you successful results. Thayers Toner, in our opinion, is a fair choice to make, only if you want. It all depends on you and your needs. We hope we were clear and eased all the doubts you had at the beginning of the review. If there is any more doubt, please don't hesitate to comment them down in the comment box. We promise to reply to them to the best of our knowledge.