When you have perfect fleek eye makeup but struggle to apply eyelashes without getting lash glue all over your eye is a struggle we all face. Some may be experts at it, but we all have some accidents where eyes are sticky because of lash glue on them. Well, worry no more! 
We have a solution for applying magnetic eyeliner and eyelashes; how cool is that, right? Imagine eyelashes just getting stuck to your eyes like magnets, and voila, you are ready to conquer the world. 
We have a list of the best magnetic eyeliner and lashes to choose from and apply according to your preferences. The lashes come with a pack with a set of eyelashes and a liner. 
These eyeliners work by using iron oxides that act like a paint-on magnet, which attracts the tiny strip of magnets around the lashes. Then, you have to line your eyelids and watch them snap right into position.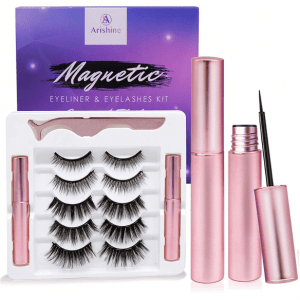 Goodbye mascara and hello magnetic lashes. You don't need to coat your lashes with mascara, as magnetic eyelashes are your one-stop-shop destination. The durable kit comes with five pairs of eyelashes and eyel
iner. Apply the eyeliner on the lash line before applying eyelashes. 
The smudge-proof eyeliner is all you need to stick your lashes to the lids. Within a minute, you can achieve a flawless eye makeup look, a proud moment for all makeup lovers.
On fleek lashes all day, everyday. Arvesa has created 100% safe four pairs of lightweight magnetic lashes. These lashes give you the exact volume you need and blend perfectly with your natural lashes.
The magnets are three times more powerful, durable, and last longer throughout the day. The kit comes with an applicator that helps to adjust the lashes according to your eyes properly. The lashes give your perfect volume and length to make your eyes look fluttery.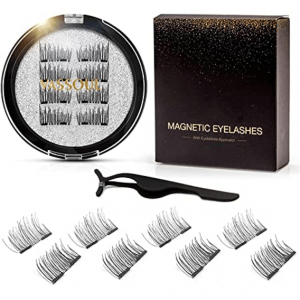 Easy in and easy off, that's what we call magnetic eyelashes. Vassoul dual magnetic lashes are very convenient to use. The applicator they come with is made of unique alloy material, and you need a few seconds to apply the lashes with it.
The only thing to take care of is that eyelashes should be adequately cleaned with eye makeup remover so that they don't cling to each other. Give them a try; you won't be disappointed.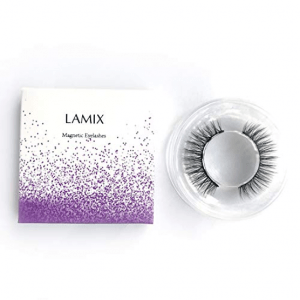 Suppose you are new to applying eyelashes on your own. Lamix is just for you. Its easy application makes it worthy of being applied by anyone. It would help if you bought a magnetic liner separately to apply this pair of lashes. The pair is reusable and can be used again and again if you take adequate care of it.
LAMIX offers magnetic lashes of different styles to pick your style according to the occasion. Fix these lashes with a magnetic eyeliner to get that anti-smudge and waterproof effect.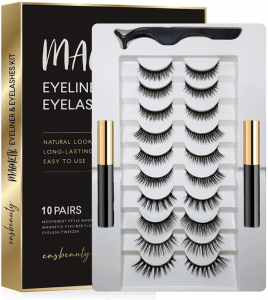 Lashes make everything better! That's what we like to believe, and with an effortless beauty kit, it's pretty much possible. The kit comes with an eyeliner and five pairs of lashes. The formula for Easbeauty eye eyeliner is unique as it doesn't stick to the lids and can be removed easily. 
The lashes are high quality and have a significant volume with length. They are suitable for all occasions and make your eyes look bright and attractive. Trust us on this one.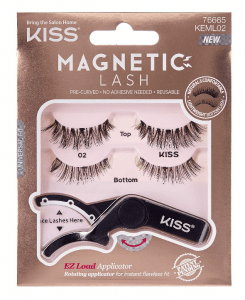 Good lashes = Good mood. We all know that's true! So why not give Kiss magnetic lashes a try. These lashes come in a pack of one pair but are available in three more different sizes and styles. 
It doesn't come with a magnetic eyeliner, but you can use or from the same brand (purchased separately). Kiss magnetic lashes can last up to 16 hours without moving from your eyelid.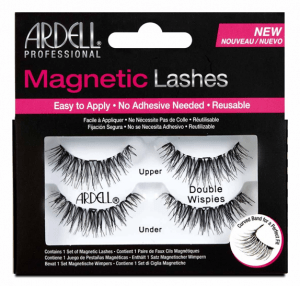 Live, love, lash! It is the motto we follow when our lashes look good. Ardell is known as the best magnetic eyeliner and lashes for easy stick-on. They are pocket friendly and come in pairs of two lashes in a kit. 
These lashes are made with budge-proof multi-magnet technology that uses virtually invisible magnets embedded from end to end so that the lashes sit right on your lash line. They also offer serious drama while looking insanely natural.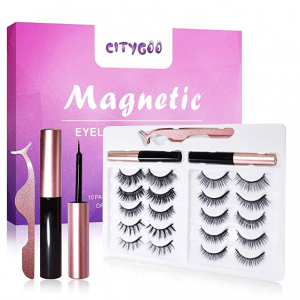 Embrace and enhance your lashes with Citygoo magnetic eyeliner kit. These handmade lashes are soft, latex-free, and irritation-free. They come in a pack of 10 pairs with two magnetic eyeliners and one tweezer. The eyeliner is formulated with no harsh chemicals and is toxic-free.
You can't go wrong with this one, so go ahead and give it a try.