You need to add a biotin supplement to your diet if your concern is brittle nails, lacklustre skin, and thinning hair. These are not only beauty issues but an underlying cause of vitamin deficiencies in your body. 
Biotin supplement are water-soluble supplements and play a crucial role in maintaining the health of your skin, nails and hair. Most people fulfil biotin requirements from their diet, e.g. eggs, meat, fish, nuts and veggies. But, certain conditions like pregnancy and nursing mothers require more biotin than others. One must take a biotin supplement and a healthy diet to meet biotin needs. 
Related article: Biotin VS Hairfinity – An Unbiased Comparison
What is Biotin?
Biotin is a B vitamin, essential for facilitating healthy metabolism and creating crucial enzymes. Biotin converts nutrients into energy and can initially improve the keratin structure of your body. Like any other vitamin of the B family, it helps the body to metabolize proteins and process glucose. 
Since the human body cannot synthesize biotin, we must consume it through diet or supplements. The body does not build up any biotin reserves; unused biotin flushes out of the body in urine. Therefore, we must consume it through a biotin supplement or a healthy diet.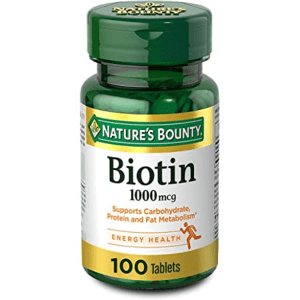 The Nature's Bounty Biotin Supplement is a flagship brand of Nature's Bounty Co, a trusted brand for health-conscious people. It contains soft gels which protect the biotin and makes it easy to digest in your body. The soft gels do not have any preservatives, sugar or artificial flavours. It is available in doses of 1000, 5000 and 10,000 mcg. The supplements are easy to swallow as they are soft and have a neutral taste. Supplements take time to show results, so don't expect hair to grow overnight. 
Related article: Miami MD Supplements Reviews – How Does It Work?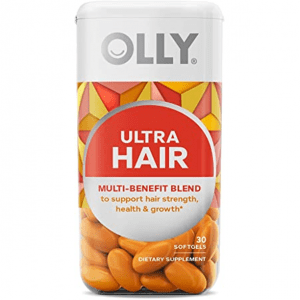 Olly Ulta Hair Biotin Supplements are the popular ones in the range of biotin supplement. Each capsule contains keratin to promote hair growth along and contains silicon. Olly claims the formula promotes more robust and longer hair that is less likely to break. Folic acid and copper are both known to support skin regeneration. The capsules are easy to swallow and are free from artificial ingredients. However, they contain wheat, soy, shellfish, fish, peanuts, eggs, and milk so check on your food allergies before consuming these biotin supplements.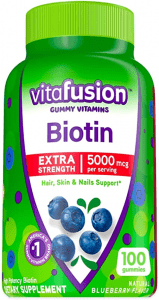 Vitafusion Biotin Gummies are an excellent source of biotin supplement. They come in delicious natural blueberry flavours. It is manufactured in the USA and is free of gluten and high fructose syrup. Two extra strength biotin gummies provide a daily value of 5000 mcg of the vitamin. It supports good hair, nails and skin and has protein, fats and carbohydrates. The gummy formula is easy to consume than vitamins in tablet or pill forms. It is gelatin-based and includes some artificial flavours and colouring.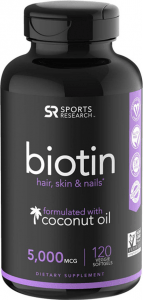 Sports Research is a family-run company that provides high-quality health and wellness products. The Sports Research Biotin with organic coconut oil supplement supports and promotes healthy hair, skin and nail growth. It also adds healthy metabolism. The biotin supplement contains 10,000 mcg of biotin in organic cold-pressed coconut oil. Coconut oil reduces weight, boosts immunity and may help control diabetes symptoms.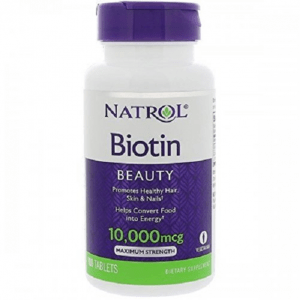 Natrol is a leading vitamin and supplement manufacturer. Natrol Biotin supplement helps restore your hair's health, the skin's radiance, and the nails' strength. The supplement supports metabolism and assists in the conversion of food into energy. Natrol Biotin Supplement is a 100% vegetarian supplement that helps maintain healthy hair, skin and nails. It offers all the benefits of biotin supplements and includes calcium. It is available in 1000, 5000 and 10,000 mcg. 
The biotin supplement is excellent if you want healthy skin, nails or hair. It takes around 4-6 months to show results, but we promise it's worth the wait. The best part is that they do not have any side effects on your health; they are readily available everywhere and budget-friendly.