Gone are the days when we wore plain, dull nail paints; why not try something new and cool this season? Spring nail designs are a way to express yourself through the art, colour and shapes of your fingernails.
Just like the spring season, dive into the latest trend of colourful spring nail designs that come in different shapes and are a combination of pastels with bold patterns. It doesn't matter if you have short or long nails; make sure to add simple details and designs. 
Let's explore the latest spring nail designs that are trendy this year and easy to pull off.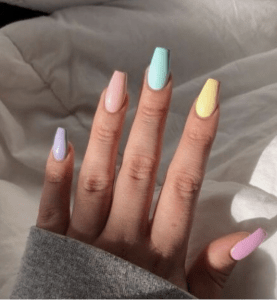 Spring is a season of colour and new blossoms, so why express that through your manicure? Pastels are a popular choice to go for when it comes to spring nail designs. They are versatile, timeless and effortless to pull off. They compliment every skin tone, and the best part is, why go for one colour? You can choose different pastel colours on each fingernail for a distinctive look perfect for spring nail designs.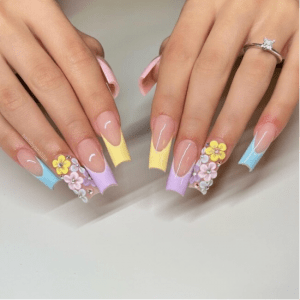 Who doesn't like classic french manicured nails? It's one of the most popular nail designs to have when you can't think of anything else. They look decent, sophisticated and can compliment any outfit. This spring, why not go for floral french tips instead of regular ones? We say yes,yes and yes! Pastel colored floral french tips look divine and ravishing; a must try for this spring season.
Floral Nail Art with 3D Details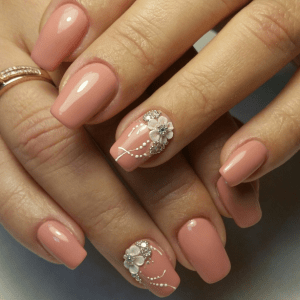 You can't get enough of floral nail art regarding spring nail designs. When flowers bloom again this spring, make sure they do so on your nails. You can add 3D florals to each fingernail, and the minor detailing of each patterned design will give a unique look to your nails. The statement nail art will awestruck you this spring season, and with a floral dress, they look just perfect. 
Dreamy Cherry Blossom Nails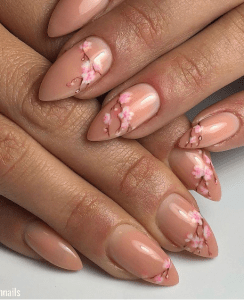 Cherry blossoms are symbol of beauty, radiant and elegance. They are the epitome of grace and are extremely popular in Japan as they call "Cherry Blossom Season". The tiny pink flowers look gorgeous on the nails and are perfect examples for spring nail designs. Mix and match them with a pastel colour and little pretty detailing of cherry blossom; it looks breathtakingly beautiful.

Multicolored Pastel Polka Dot Nails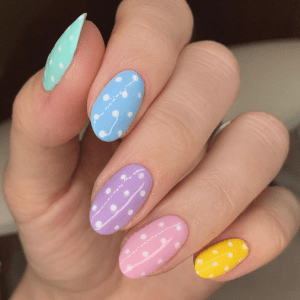 Polka dot is all you need to add to your spring nail designs. The polka dots are bold and match well with the pastel base. They look so cute even on saturated hues like reds or oranges, but many go for pastel base and white dots. You can incorporate large or small dots according to your liking. 
Baby Blue Nails with Daisy Feature Art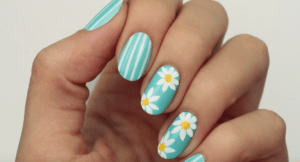 Baby blue is a versatile colour to try for your next manicure appointment. The colour pairs well with other neutral, soft shades and looks excellent when worn with nail art; it could be anything from a simple pattern to a detailed daisy flower (We prefer a flower). The daisy is a symbol of happiness, joy and innocence. Try adding a daisy flower on one fingernail to go for spring nail designs when you are at it. 
Green and Yellow Daffodil Nail Art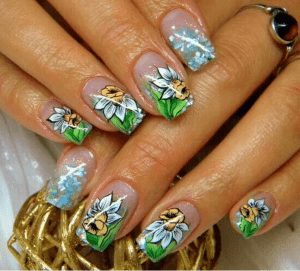 Daffodils are the first flower to bloom in the spring season and surround the environment with their pretty yellow grace and fragrance. The yellow base nail with Daffodil looks perfect and gives a very subtle feeling of spring. The same concept can be applied to your nails to create cute and symbolic manicure spring nail designs. 
Florals and Rainbows Nail Art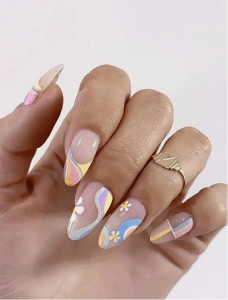 The two symbols of happiness are florals and rainbows. The pretty packed combination is attractive, playful and colourful to go for this spring nail designs. The artwork can cooperate on all nail lengths and shapes, but the oval shape looks the best if you want to arc the rainbow shape on the tip of the nail. You can experiment with different pastel colours, and adding floral designs on the ends will look ravishing according to the spring season. 
Spring is a season of new flowers blooming and full of colors so why not show that off in your manicures? The best spring nail designs are colorful, playful with patterns and flowers on them. Do try any of the styles mentioned above to celebrate the spring season.