We should wash the face a minimum of two times a day.
What do you use for cleansing your face?
Did you buy a 2 dollar cleanser from the nearest drugstore? Is your cleanser satisfying your needs?
Cleansing should be an essential part of your cleansing ritual.
Your pores open up, and you need to get some air.
Removing dirt and tired makeup from your skin is a critical task, and we should not rely on cheap cleansers just because they're doing their job.
We need this job to be done more seriously and Tula Face Cleanser claims to do the job.
Don't go on to buy a ridiculously expensive cleanser but have a look at Tula Face Wash Reviews, and you'll get my point.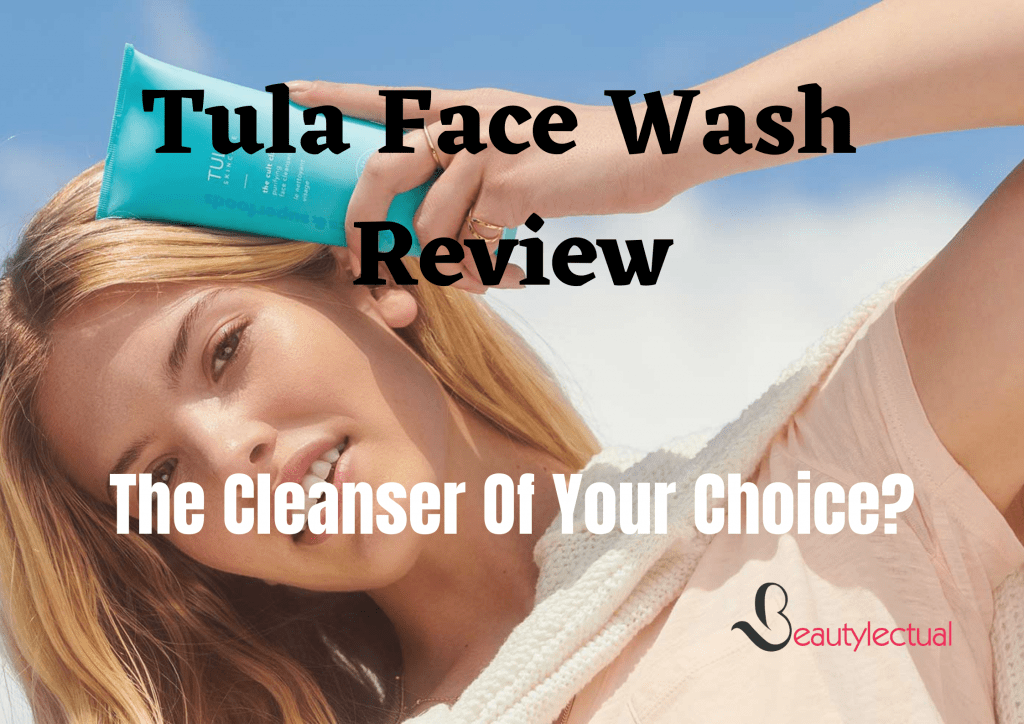 Any facial wash or cleanser should thoroughly clean your face and not leave it dry but softer than before.
It should contain hydrating skin-friendly ingredients.
2 washes should be sufficient for your skin, and you should feel refreshed after every wash.
Let's see if Tula Face Wash meets these grounds.
Also Read: NYX Marshmallow Primer Reviews | Is The Hype Justified?
Tula Face Wash Reviews | Should You Buy It?
Tula Face Wash is a daily cleanser that helps your face get rid of dirt and makeup.
It contains natural ingredients and keeps your skin healthy.
Your face feels cleansed and moisturized after usage.
They have a cult following, and once a Tula follower; they don't feel the need to switch.
Their products contain probiotics and skin-friendly toxic ingredients.
Tula Face Wash is safe for all ages and all skin types.
It keeps your skin moisturized and hydrated.
Do not strip off the natural moisture of your face.
It keeps your face balanced and makes it feel very soft after cleansing it. 
Sale
There is a visible freshness to your face after cleansing, and you want it to keep for a long time.
You can start noticing the change in the quality of skin just after 2-3 washes.
Probiotics help to lock in moisture in your skin and give you radiant, glowing skin.
Cleanses your pores thoroughly, preventing any possible breakouts that could happen.
Non-comedogenic as it does not clog your pores and lets them breathe.
Also, it treats blackheads and whiteheads too.
Why stop at that?
It also has anti-aging benefits, which smooth fine lines and wrinkles.
Exfoliates and fights acne, dryness, and dehydration—one for all solutions. 
What Is It Made Up Of?
Lactic acid
Lactic acid is naturally found in milk, but it is used in professional skin surgeries today.
Similarly, lactic acid is to exfoliate the skin, lighten dark spots and improve your fine lines and wrinkles.
It stimulates cell renewal and forms new cells.
Smoother and softer skin also helps with maintaining your complexion.
Betters skin texture and keeps your skin hydrated.
It can create noticeable changes if you use it daily. 
Chicory Root 
Chicory root was consumed orally for bowel and heart issues.
It has many applications for your body and is loaded with health benefits.
Chicory root is a natural inflammation reducer, and it increases collagen production.
Collagen production, in turn, has anti-aging benefits and tightens your skin.
It makes your face look visibly bright and hydrates for a younger look.
It can help you achieve your goal of healthy and more youthful-looking skin. 
Turmeric root
Turmeric is the magic spice that has the best healing powers.
What does it do for your skin, though?
It has anti-inflammatory and antioxidant properties.
They give you glowy skin and great texture to your skin.
It makes your skin lustrous by bringing out the natural glow of your skin.
It has healing benefits, heals wounds on your face.
Also, it has a positive influence on new cell formation and rejuvenation.
Works on acne scars by calming your skin and reducing the visible imperfections on your face. 
Blueberries
Blueberries have anti-aging benefits.
High in antioxidants and helps fight cell-damaging radicals.
If you are concerned about the exposure and aging signs to your skin, blueberries are high in antioxidants, and it helps to heal and tighten skin.
Antioxidants give you better skin quality.
Promote healing and prevent further premature aging.
Blueberries pump up the blood circulation in your face.
Blood is required to provide energy to the cells for cleaning the pores and healing.
If you provide them with a constant blood flow, you can notice the change instantly.
It gives you healthier skin and helps in skin rejuvenation.
It boosts collagen production, healing wounds, and helps in acne-related inflammation.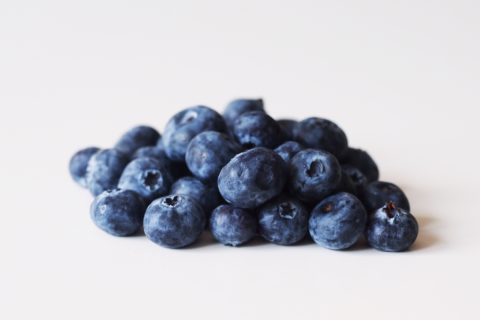 Probiotics
Probiotics are healthy bacteria in your body.
It treats conditions like acne, dry skin, eczema, and UV exposed skin.
Moreover, they reduce inflammation in the skin.
Helping skin makes a more substantial barrier against any exposure.
Tula is one of the handfuls of facial washes containing probiotics and can deliver desirable results after using it.
Traps moisture in the skin and keeps it hydrated.
Some of the studies suggest that probiotics also help manage the skin's pH and protect it against radical damage.
Some small but promising studies say some probiotics also help treat skin aging and skin cancer.
Overall the inclusion of probiotics in the facial wash has been a newer concept, and new perspectives are still being discovered, but it is responsible for delivering results. 
The Good Part
We should now look at the harmony and the results of using these fantastic ingredients together.
How does Tula Face Wash benefit our skin?
Let's discuss this in detail.
Cleansing power
It thoroughly cleans your pores and all the dirt off your face.
Moreover, it foams up and gets in the skin for exfoliation.
It does not over-dry your face after use and keeps it hydrated.
Also, it works as a very gentle face wash and leaves your skin soft and smooth after cleansing.
Exfoliates your skin and cleanses deeply such that there is no speck of dust left.
It does not leave your skin feeling parched. 
Refreshing
It makes your skin feel fresh and vibrant after every wash.
Instantly gives you new and energetic skin.
The word captured our attention, and the facial wash is all about instant happenings.
It instantly firms up the skin and makes it feel radiant, and brightens skin.
Soft and smooth
Softens your skin after washing.
It makes you feel it again and again.
You can notice the overall difference in your skin as it gets smoother.
You can feel the toxins pulled out of your skin and the shining glow you get after.
It gives you soft skin after every wash and keeps your skin hydrated.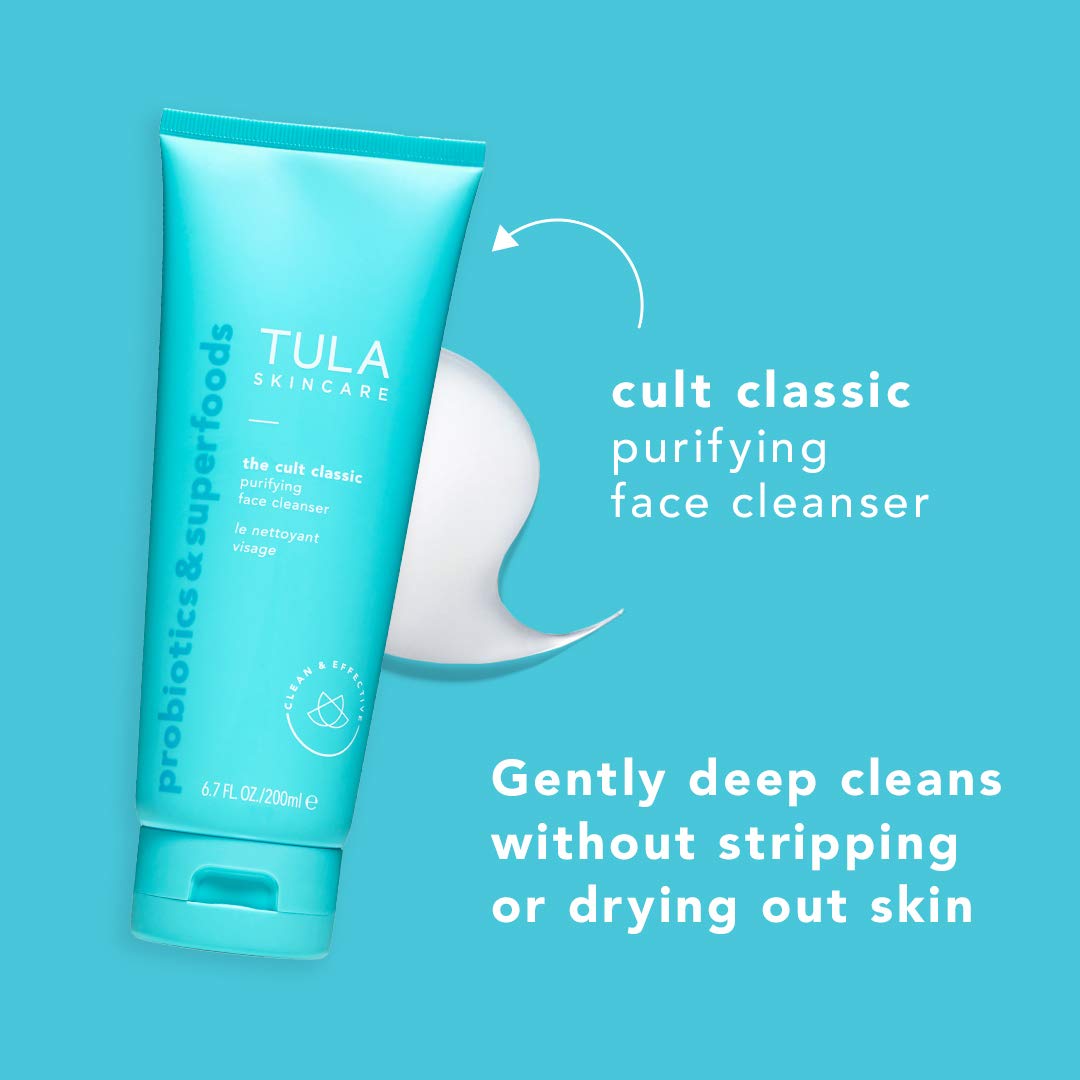 Good for acne and dry skin
The face wash is suitable for all skin types and all ages.
You do not need to worry about skin with severe acne problems as you will have no breakouts.
It would calm your skin and reduce any acne-related inflammation.
For dry skin, the facial wash hydrates your skin and locks in moisture.
Dehydrated and troubled skin comes to life, and new cell generation is boosted. Skin feels soft and not flaky. 
Removes makeup instantly
Tula Face Wash is great as a makeup remover and removes it all in one go.
Makeup generally requires two washes and a little scrubbing.
To my surprise, girls have said it removes your makeup in one way—even the rigid mascara, which has always left my eyes red from scrubbing.
You do not need to clean your face rigorously, and your makeup will vanish in one wash. 
Natural Ingredients
Tula Face Wash consists of toxin-free natural ingredients.
Similarly, it has no chemicals containing skin-friendly ingredients.
Turmeric root, chicory root, probiotics, and blueberries are the primer ingredients.
It is beneficial, and health-boosting elements in their pure form, and they are clean ingredients with no added chemicals.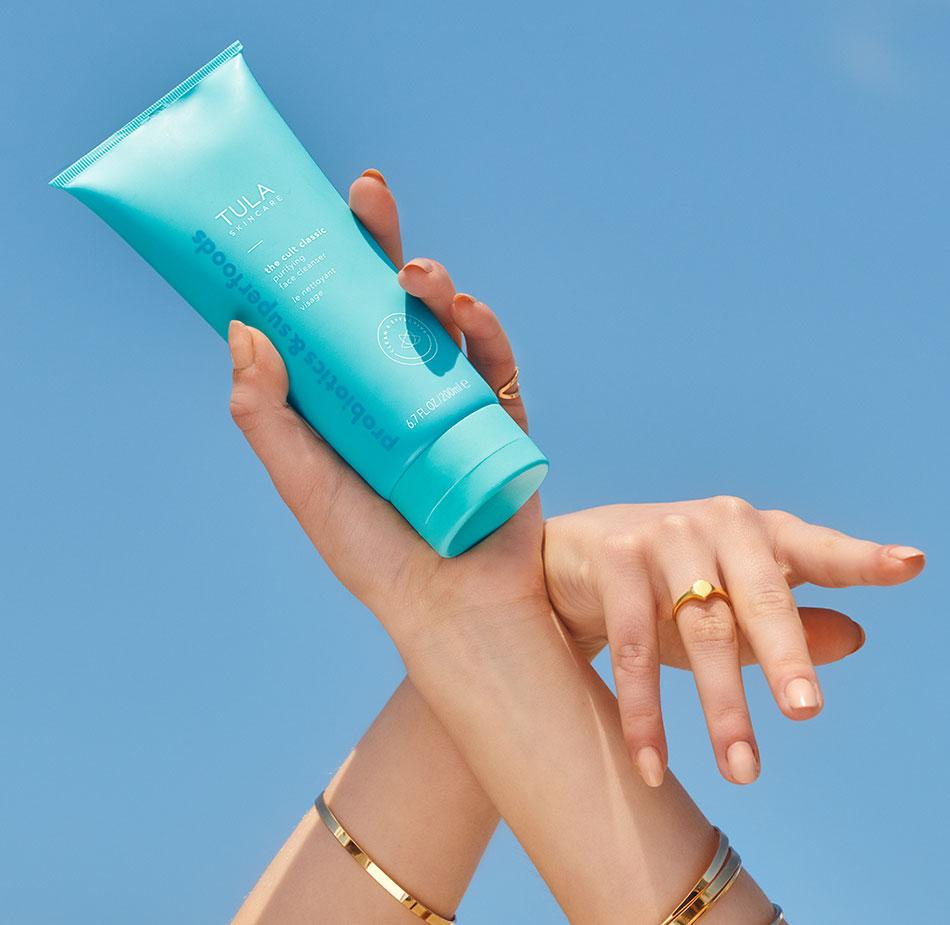 Anti-Aging
The wash has anti-aging benefits, and it works on fine lines and wrinkles.
Smooths out fine lines and reduces the appearance of wrinkles.
It tightens your skin and makes it appear healthier according to many Tula Face Wash Reviews.
Furthermore, it fixes complexion and evens out skin texture. It makes your face look younger and fresh. 
Cruelty-free
Tula is a cruelty-free brand, and they make sure none of their products are tested on animals. 
Gluten-free
Tula Face Wash is gluten-free; this is another feather in the cap of the fantastic cleanser. 
Paraben, Phthalate, and Sulphate free
It is free of all harmful toxins and does not contain any additive chemicals—a clean product with skin-friendly properties. 
The Bad Part
Fragrance:

There are so many complaints about the aroma of the facial wash. It has a peculiar smell, and it is advised not to use it if you're sensitive to smells. It works well for all skin types, but many users have complained about the strange smell. So if you are very particular about the fragrance, then this product might not be ideal for you. 

Expensive:

Tula Face Wash is very expensive if you consider it in the face wash range. It is costly and will make you question if you want it. If you look at the size and feel it'll last long then, that's not the case. The bottle goes fast, and that's the reason to question the price. It is only valid because the face wash gives you quality products and healthy skin.

Limited In-Store Availability:

You can find it online on many retail websites. But not many stores have Tula Face Wash on their shelves. If they do, there is always a limited quantity. That is a little disappointing and contradictory to the hype it gets.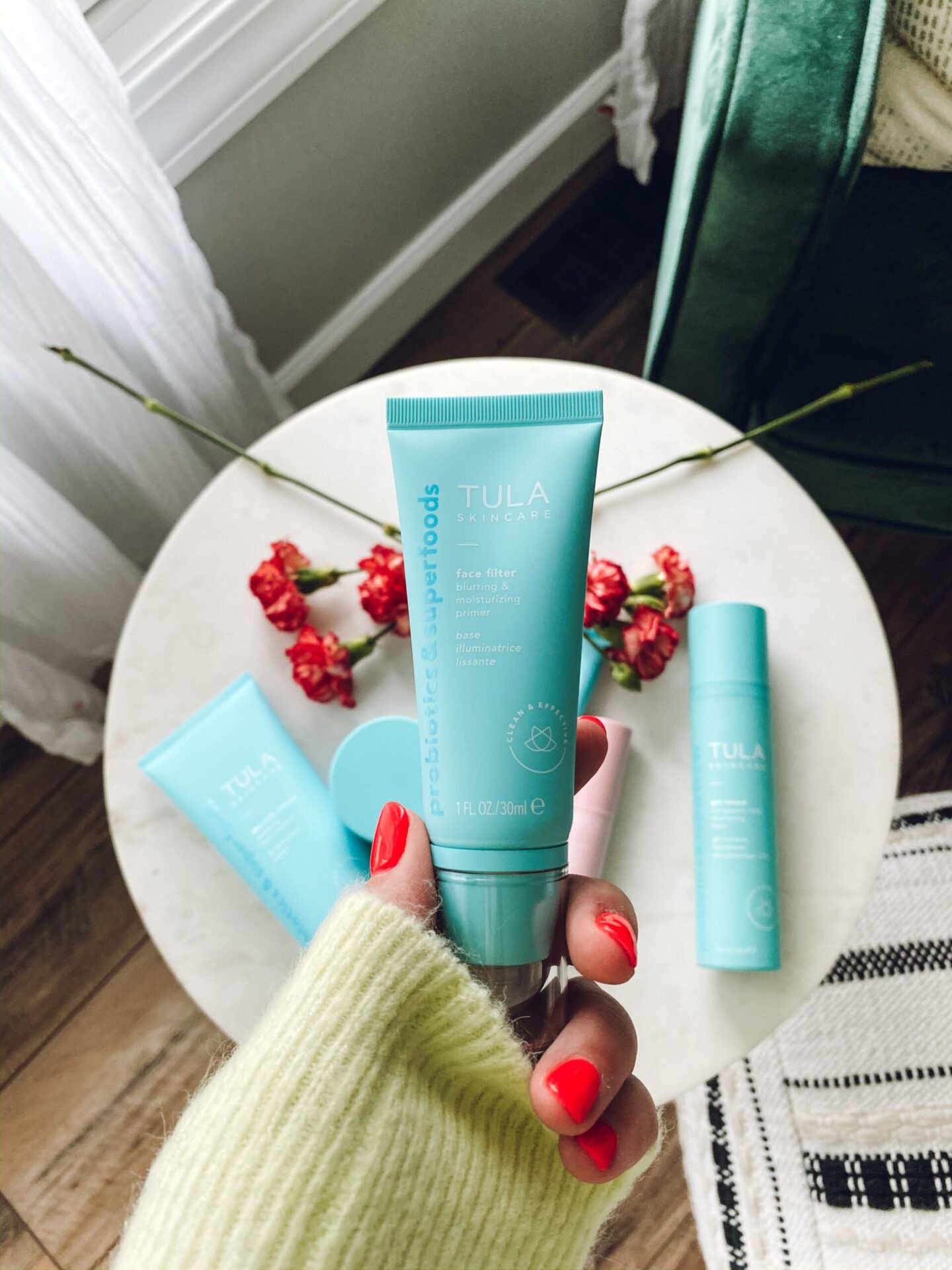 How To Use Tula Face Wash?
Apply it on wet skin and massage it on your skin.

You can repeat it for 2 minutes and then rinse it off. 

Pat your skin dry and follow the routine of applying moisturizer or serum.

Follow this process twice a day.

You will start noticing the change in just a few washes. 

The noticeable difference may take up to a week or two.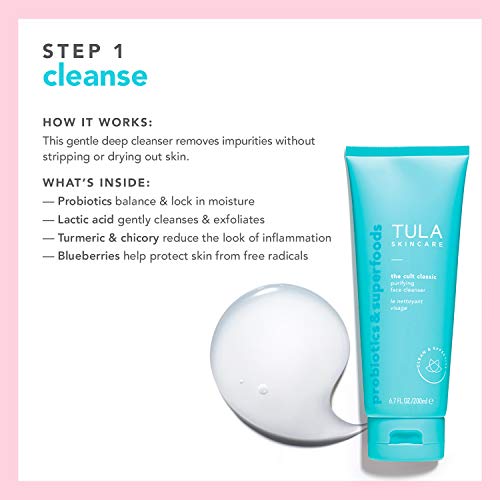 Customer Ratings | Before and After | Tula Face Wash Reviews
Meghan says, "I have been using Tula Face Wash since my college, and I have gone through bottles of this stuff. I had an average face wash before Tula and did not focus on cleansing my face. I bought Tula and used it for two weeks straight. The inflammation due to acne, which crowded my face, looked reduced. It was cleaner, and my skin started feeling like my skin again.
I tried so many products for my acne, but nothing calms my breakouts down as well as Tula does. You have to live with acne, and you need to incorporate acne-friendly stuff. I think it has been more than three years since I've used Tula, and I cannot remember the number of bottles I've gone through. It has always helped me calm my skin and given me a radiant glow after cleansing."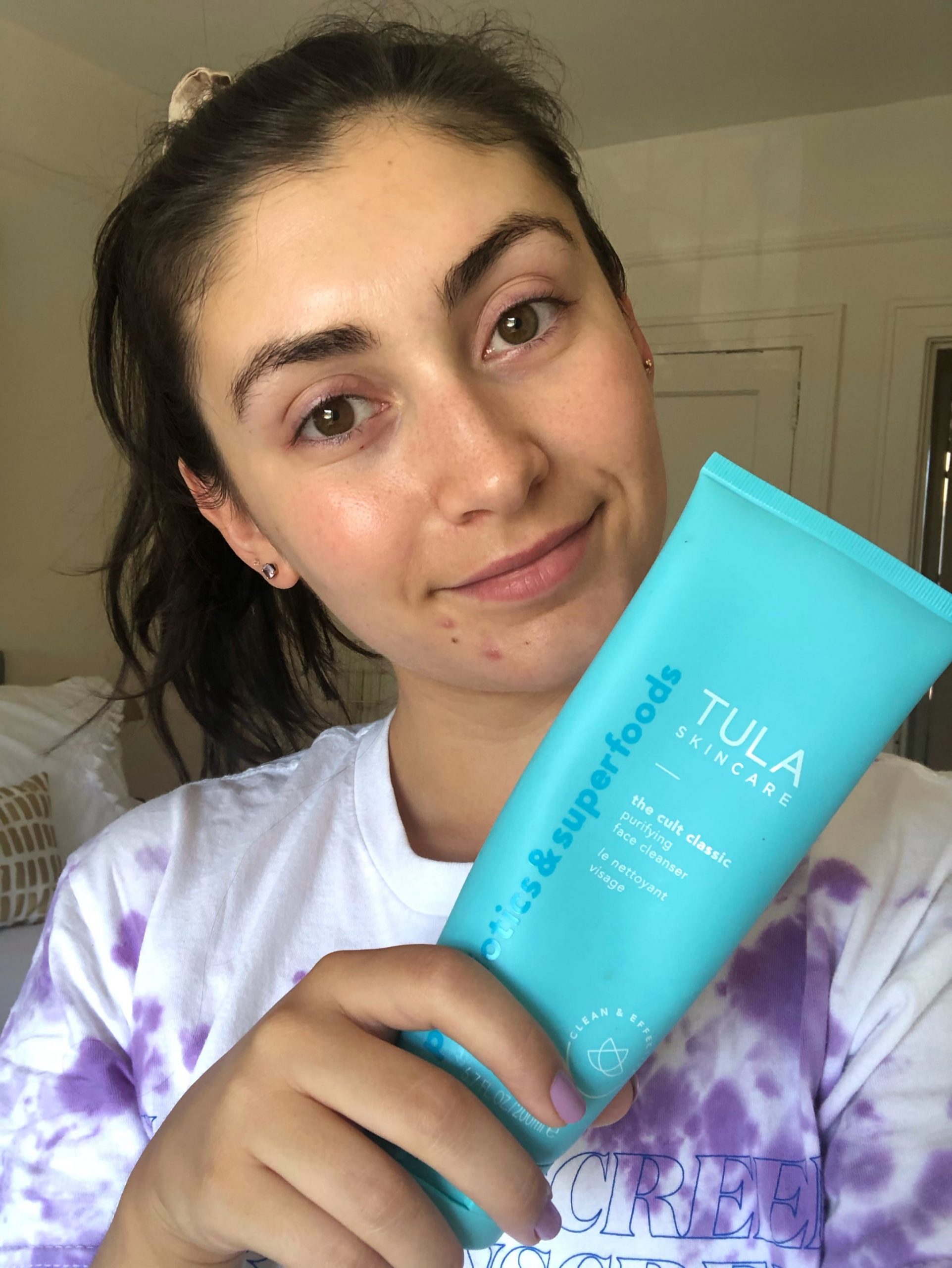 Katie says, "I exclusively bought the face wash for cleansing my makeup, and it did the job perfectly. I also found the smell strange at first, but I think you need to get used to it. Tula Face Wash removes my makeup in one go. I do not have to scrub or rub my makeup to get it off or wash my face dry. It wasn't delightful when I actually had to wash my face twice or thrice to remove all my makeup.
It dried my skin, and I started developing these fine lines. I have fine lines near my eyes for which I use an anti-aging cream, but Tula has also helped it a lot. This is an all-in-one cleaning solution, and I use it twice every day for clean and refreshing skin. I started getting compliments one week after using it as everyone noticed a change in my skin." 
FAQs | Tula Face Wash Reviews
Is Tula Face Wash good for acne?
Yes, Tula Face Wash treats acne and has shown a decrease in breakouts and redness. It reduces acne-related skin inflammation and does not cause any breakout.
Calms skin down and cleanses pores thoroughly. It has healing benefits and boosts collagen production, which is good for acne-prone skin. It is non-comedogenic and does not clog pores. 
Where can you buy Tula Face Wash?
You can buy it off Amazon and other beauty retail sites online. It is difficult to find in stores, and they always have a limited quantity. Buying it online could be the best solution to this problem. 
Will Tula Face Wash be suitable for dry skin?
Tula Face Wash suits all skin types and will work fine with dry skin. It has hydrating ingredients like chicory root extract, which locks in moisture and prevents the natural oil from being stripped off.
Even if you use the face wash twice a day, you can feel your skin being hydrated and fresh. It does not feel dehydrated. Healing benefits and boosting blood circulation in the skin keep your skin plump.
How to use Tula Face Wash?
You can use Tula Face Wash twice a day for cleansing. Apply it on wet skin and rinse it off after massaging it in your skin for about 2 mins.
Follow with a serum or moisturizer. You will see instant results. 
Verdict | Tula Face Wash Reviews
Tula Face Wash is one of the best facial washes in the market. It is suitable for all ages and all skin types.
Refreshing facial wash with healing and anti-aging benefits. Easy to apply, and Tula Face Wash Reviews have the most significant number of 5-star ratings.
It consists of natural ingredients which are toxin-free, skin-friendly, and clean. It does not contain chemicals. Beneficial for acne, dry, and all types of sensitive skin and does not react or cause any breakout.
Soothes skin and cleanses it thoroughly.
It is a fantastic option if you're looking for a good face wash from a long-term perspective. The price bothered me a little, but I feel it is worth it, looking at the incredible benefits.
One of the first products which have probiotics and prebiotics in beauty. Cruelty and gluten-free. Feels fantastic and develops a soft foam. It leaves your skin feeling soft and smooth.