It's time to acknowledge the elephant in the room. Unblemish VS Proactiv – which one is superior? Dr. Rodan and Dr.Fields have been in the game since forever. They bring out the best in natural elements and bottle them up for our use. Unblemish and Proactiv have proven to be two of the top skincare lines crafted by these brilliant minds. The reason for these separate ventures could be the exclusion of a few ingredients. We are here to discuss all the similarities and differences between these two ranges in the catalog and guarantee to help you find the right foot in the game and save you monetary damage by the end of this article.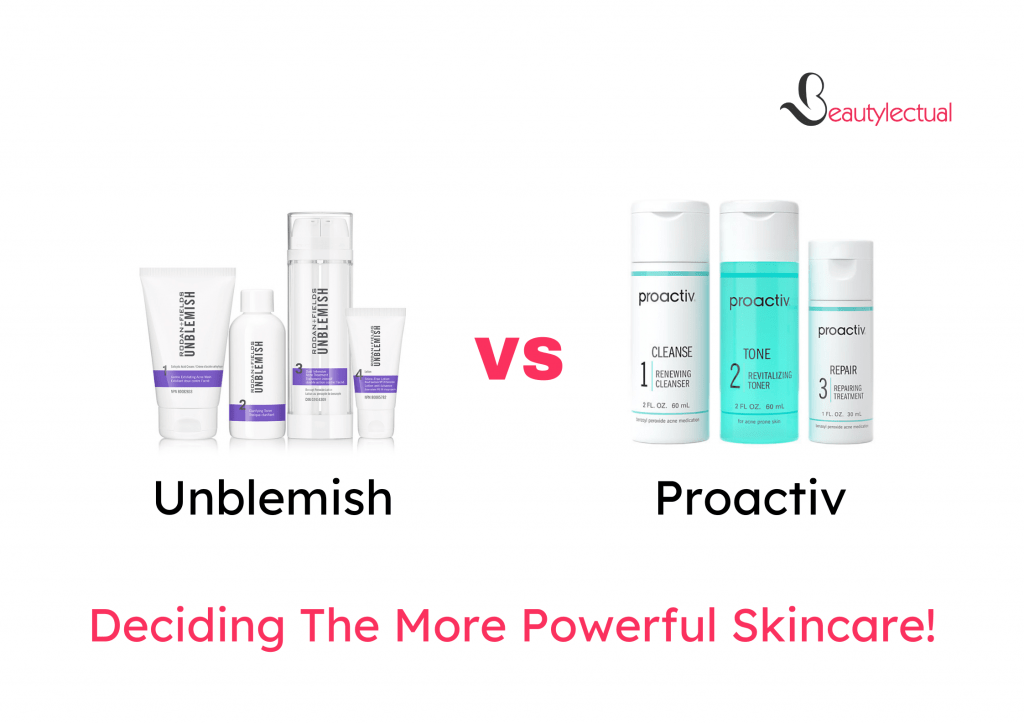 Dr.Rodan and Dr.Fields started their journey to help women in their 30s find their lost radiance again. They studied the science behind the reduction of skin cell turnover and drafted these solutions. These two step-by-step regimen brands have been a part of this approach for a long time. However, can we always say that longevity assures quality? And even if these stand true to their respective claims, which one is a more apt choice? Let's find out!
You Might Also Like: Rodan And Fields Reviews | Dermatologists' Choice?
Unblemish VS Proactiv | Who's Got The Upper Hand?
While Proactiv is a complete brand, Unblemish is only one of the many Rodan and Fields products. Under Proactiv, 3 systems have been designed for use. On the other hand, there are 6 products under the Unblemish skincare regime. Let's get down and see what each of these products is all about. We'll be looking into the products, their ingredients, pros, cons, and reviews in a minute.
The Products
Proactiv
Proactiv Solution Acne Treatment System
This system has three products in the kit. The Renewing Cleanser is used to get rid of the excess oil, sebum, and dirt particles from the surface of your skin. It clears your skin of any harmful toxins. Using a single pump of it and using it for two to three minutes will do the job. The Revitalizing Toner helps you get rid of the grime and impurities deep within the pores. Moreover, it balances the pH of the skin and calms it down. The third component, the Repairing Treatment, is a blend of microcrystal Benzoyl Peroxide and hexanes. It destroys the bad bacteria that cause acne and facilitates oil control. Moreover, it pushes away the future acne causes as well.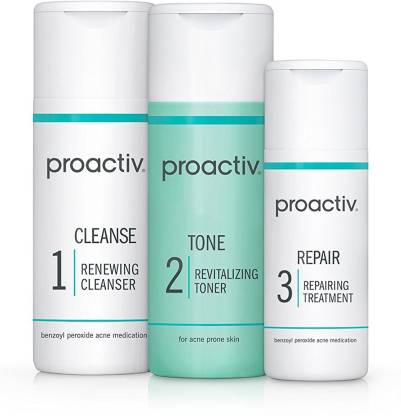 Benzoyl Peroxide helps one shed the dying cells and let the new skin appear on the surface quicker. Anthemis Nobilis Flower Extract adds antioxidants to the formula that can reduce inflammation. Moreover, this cleanser has natural base ingredients incorporated as well that provide optimum hydration and cleansing. It also brightens the skin after the first use.
Pros of using Proactiv Acne Treatment System
Reduces the timeline of the acne cycle

Blurs out the sunspots and blemishes

Shrinks the pore size

Gets rid of dead skin build-up and redness
Cons of using this category of products
Contains harmful PEG-100 Stearate and PEG-12 Dimethicone

Cleanser contains parabens- causative of hormonal imbalances

Artificial fragrances
ProactivMD 3-Piece System
Retinoids are a form of Vitamin A that targets fine lines and wrinkles. It essentially boosts collagen production to give you a youthful appearance. The Adapalene Gel 0.1%, a part of the ProactivMD system, helps stimulate the blood vessels under the skin. This improves your skin tone by a significant margin. It is advised to use a moisturizer before and after the application of this retinoid cream. The Ultra Hydrating Moisturizer is used to hydrate the skin and help with flakiness too. It can be used under your makeup as a primer as well.
The coconut acid used in the moisturizer formula has fatty chains that have antimicrobial properties to protect your skin from environmental microbes. You could get rid of acne, fungi, and athlete's foot using this component. Safflower oil has moisturizing properties, which can lighten your skin too.
Why may this product be the right choice for you?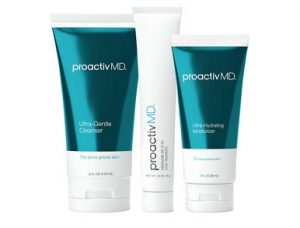 Brightens the skin in a few days

Cruelty-free 

Natural extracts included in the base
Why may this product not be the one for you?
May cause redness in the first few uses

There may be a loss of moisture initially as the skin is getting used to it
Rodan And Fields Unblemish
UNBLEMISH REFINING ACNE WASH
This face wash has 3% sulfur in its formula. It can kill the bacteria that causes acne effectively. Apart from that, even rosacea, eczema, and dermatitis can be cured using sulfur. The product is used to clear the clogged pores and shrink their size. Additionally, it leaves your skin feeling soft and nourished. Moreover, it also can be used to remove 96% of the makeup. However, it only works for milder forms of acne like blackheads and whiteheads. It doesn't foam too well, unfortunately. On the other hand, it balances the pH of the skin and allows the retention of moisture.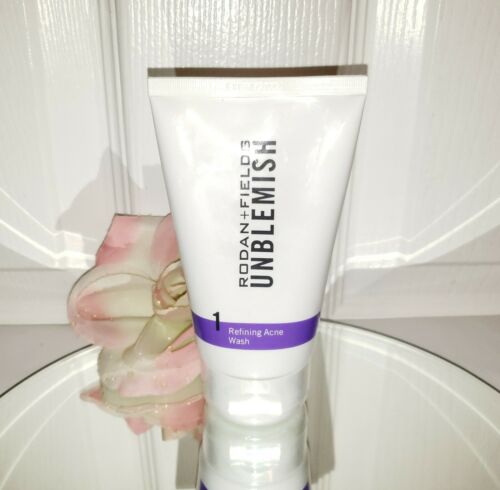 Colloid Sulfur is a gentler substitute to retinol and hyaluronic acids. It thins the top layer of the skin to get rid of the clumped cells. The leaf juice powder used is a derivative of aloe vera, which can benefit with maximum moisturization and heat reflection.
Perks of using Unblemish Refining Sulfur Acne Wash
Gets rid of dirt, excess oil, and sebum

Shrinks the pores by 76%

Makes the skin radiant 
Cons of using this product
Unpleasant smell of Sulfur

Contains sulfates and parabens
UNBLEMISH INVISIBLE MATTE DEFENSE BROAD SPECTRUM SPF 30
The number one reason for aging skin is sun exposure. Using good sunscreen can reduce your chances of getting cancer by 53% and also reduce hyperpigmentation. This SPF 30 sunscreen from Unblemish reflects the UVA and UVB rays and protects your skin cells. Premature aging and sunburns can also be eliminated using a layer of this sunscreen multiple times a day. Also, it doesn't leave any white cast after application. Moreover, it helps in oil control too. As a result, the pores, fine lines, and wrinkles blur out.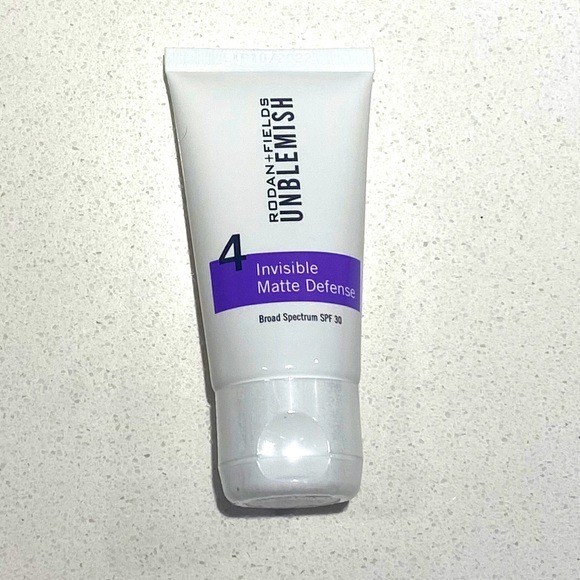 Smart Silica is used to absorb the excess oil and give you non-oily coverage. Avobenzone adds to the durability of this ingredient. The Omega fatty acids enhance the skin's natural moisture barrier and provide it with strength and agility.
Perks of buying Unblemish Invisible Matte Defense SPF 30 Sunscreen
Anti-aging and acne-relieving benefits

Provides optimal sun protection

Slows down melanin production and solves hyperpigmentation
Peeves of buying this product
Contains Polysilicone-22.
Consumer Insights – Before And After | Side Effects
Krista Valaren says, "Proactiv has been such a boon in the past year. Everyone, from teens to older women, has been saying all things good about it. It was high time that I tested it out too. Well, I received my package in a week and my, oh my! What a change! My skin adapted to it pretty quickly. Now, I have the most perfect, glassy, and blemish-free skin. Since my skin is healthy, I've also noticed changes in other aspects of my life. I must thank Proactiv for all of it."
Aneesa Cooper from Denver, Colorado, notes, "It's been a long time since I've been using Rodan and Fields products. Their lash booster is a family favorite. Since we've experienced such great results with this and their Redefine line of products, I chose to try out the others too. Unblemish definitely exceeded my expectations. I wasn't hoping to get such soft skin with no acne in such a short time. This is a great investment to make."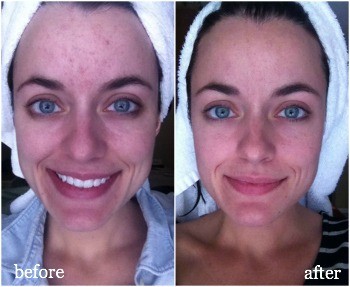 Side Effects
Amelia E says, "Proactiv actually caused my skin to flare up after a few uses. I understood that it happened initially, but mine lasted for 4 weeks. They used a lot of parabens which is what caused this reaction. Please be mindful about what you buy."
Regardless of what the reviews state, we encourage you to look through these products yourself. Self-analysis is the best teacher for everyone.
See Also: Bare Minerals Mascara Reviews | Key To Beautiful Lashes?
Closure | Unblemish VS Proactiv
Amassing the right content from the best Unblemish VS Proactiv reviews, we can conclude that both brands have managed to garner massive fanbases. There is no shortage of their advertisements on social media. However, we choose Unblemish as the winner as the line uses less harmful ingredients. We've listed all the pros and cons to help you make the proper judgment. Our recommendation is to go through them and explore a bit further, depending on your skin condition.
Directed research helps you make the right choice, and we hope to help you in the same. Moreover, if you have any queries or suggestions, do not hesitate to write to us in the comment section. We'll be waiting to hear from you!