Want a perfect tan? Summers are here, and it's an ideal time to show off your sun-kissed glowing tan.
We have just the right product for you! Nu Skin Sunright Insta Glow is your go-to tanning product. The self-tanning gel helps you achieve a luxurious glow to your skin while providing multiple benefits. 
We will walk you through all the details you need to know about the products and list all the Nu Skin tanner reviews for you to decide on before purchasing the tanner.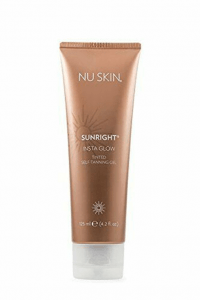 Nu Skin sunright insta glow is a self-tanning product that acts as a bronzer to give your skin a smooth, glowing finish. The product is of gel consistency that comes in a shimmery, bronze color. Nu Skin has an orange hue instead of brown; the gel consistency is thick and sticky.
How To Apply Nu Skin Sunright?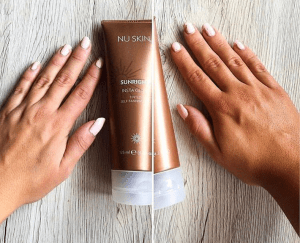 Nu skin sunright is perfect for your face and body that gradually builds into natural-looking tanned skin. Gel/shimmery application is tricky to put on the skin as too much product will result in extra glowing skin.
Exfoliate your skin before applying the product

Wear a tanning mitt to distribute the product on the skin equally

Apply the tanner to the desired part of your skin with a tanning mitt

Gently spread the tanner on your skin until you are satisfied with the coverage 
The product takes about 15 minutes to dry out completely and it does feel sticky while drying. As per the instructions, the product stays on the skin for about 2-3 days until removed. 
Benefits of Nu Skin Sunright
Few benefits of Nu skin sunright that caught the users' attention. 
It doesn't stain your clothes. 

Not easily washed off after application.

The gel is thick and non drip consistency 

It can be used as a makeup contouring technique as well.

It doesn't take long to dry out, just approximately 15 minutes.

It doesn't have too much fragrance.

You can purchase the product from

Amazon

, which retailed for $30.00.
Caramel is the main ingredient that provides a beautiful sunkissed glow within 15 minutes.

 Dihydroxyacetone (DHA) is a skin tanning agent that provides a bronzing effect after a few hours after application of the product. 

Vitamin E provides antioxidant protection.

It also contains Aqua, Butylene Glycol, Isopropyl Palmitate, Undecane and Tridecane along with other ingredients. 
We have gathered a list of mixed Nu skin tanner reviews.
I have never been a fan of self-tanners but bought this at the recommendation of my friend and I'm sooo happy I did. I love being tan but try to keep my face out of the sun and this stuff is magic. I also have some small scars on my chest and it helps to blend them in as well. The bottle is pretty big and a little goes a long way. I highly recommend this product!
I wanted to like this product after reading the reviews, but unfortunately the odor was EXTREMELY strong – and not in a good way. I am used to the proverbial 'sunless tanning smell', but this was beyond offensive. I do agree with another reviewer that my skin was tacky hours after application. I'll take Jergens Sunless Tanning Lotion ANYDAY over this. High hopes, yet disappointed

.

It goes really clean and smooth. It doesn't have an odor and one application lasts 6-7 days. It gives your legs and arms a pretty bronze color that makes you look like you have been in the sun for a few days. Highly recommended!!!