When we are young, we push our minds and bodies to learn and experience life at its finest. But all the late, sleepless nights of fun and long hectic days of surviving on junk, we forget about our skin. Enter anti-aging products. One of those many anti-aging brands, Caudalie Resveratrol Lift, presents a widely favored anti-aging routine. Caudalie has focused heavily on Resveratrol Grape Vine for their Resveratrol skincare line, an acclaimed all-natural French-based brand with clean production. But does it really work? Can you trust this brand? Caudalie might be a widely renowned name, but we will take an in-depth look at some honest Caudalie Resveratrol Lift reviews to know the truth.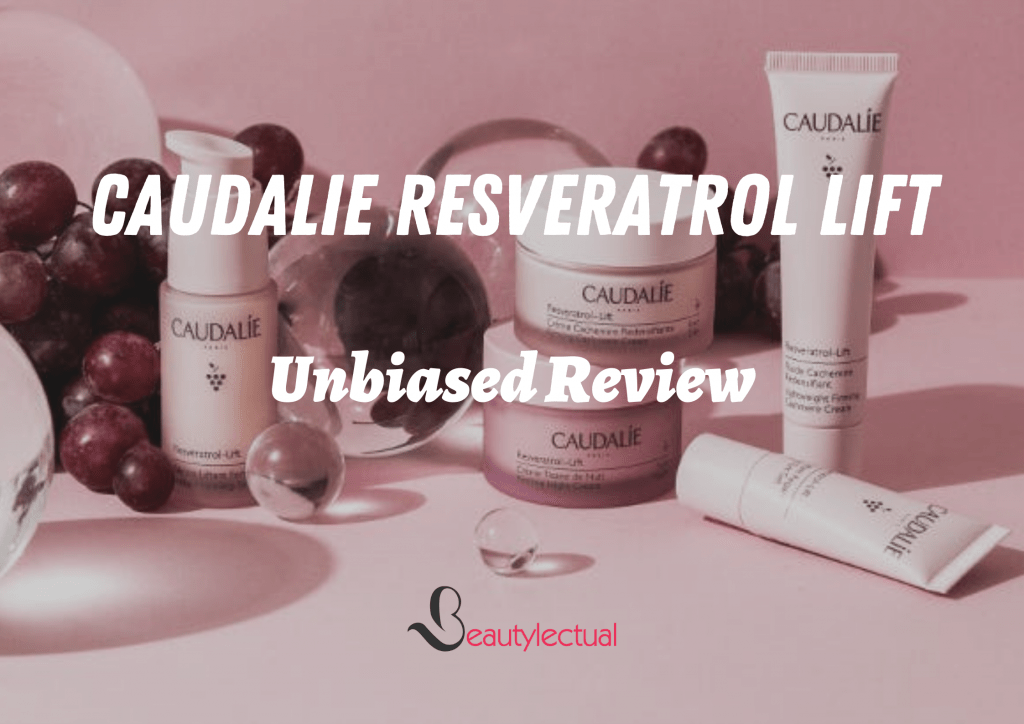 The Caudalie Resveratrol Lift line of products consists of a very well-balanced routine of skincare for anti-aging. But is the line what it claims to be? Is a four-step skincare routine really what it takes to guarantee wrinkle-free, plump skin? Let's find out. 
Also Read: Cicatricure Gold Lift Reviews | The Ideal Anti-Aging Kit?
Caudalie Resveratrol Lift Reviews | Worth it?
Whoever said achieving skincare was a piece of cake is kidding. Finding a well-balanced, moisturizing, and budget-friendly routine is hard, and using trial and error in skincare could be your worst mistake.  That is when one turns to trusted products and brands. But doing a comprehensive analysis of these known brands is also essential, which is precisely what this article will do for you. 
In 2015 Caudalie joined hands with the trusted researchers of Harvard Medical School to make an anti-aging routine line of cosmetics. 
Caudalie Resveratrol Lift | Product Range
The Caudalie Reverateol line is a five-product line of the anti-aging miracle. The three most anticipated products of the line are the Instant Firming Serum, the Firming Cashmere Cream, and the Firming Eye Gel Cream.  
Instant Firming Serum
The Caudalie Resveratrol Instant firming serum is the first step to the skincare routine put forth by Caudalie in their resveratrol lift line. It claims to instantly firm up the skin by correcting wrinkles and smoothing facial contours. The serum has an oil-free and silky texture that leaves a non-greasy finish. With a high concentration of vine resveratrol, Caudalie claims it's composed 97% of natural ingredients.
Firming Cashmere Cream
The Caudalie Resveratrol Firming Cashmere Cream affirms correct wrinkles and re-plumps the skin giving your face a smoother, firmer, youthful glow. With an aromatic complex, the cashmere-like cream leaves the skin lightly fragranced. A lighter, more fluid texture is available for those who don't need or want a moisture-packed face cream.
Firming Eye Gel Cream
Due to a patented combination of resveratrol and hyaluronic acid, the Firming Eye Gel Cream reduces dark circles and puffiness. By smoothing the contours under and over the eyes, it gives an airbrushed effect naturally. The formula claims to be enriched with quinoa extract present in it, which helps fight against signs of aging. 
Benefits
Firms and plumps skin with naturally infused ingredients 

Vegan collagen booster

Non-comedogenic in nature by avoiding blackheads

Tested under and by dermatologists internationally

Free of parabens, phenoxyethanol, phthalates, mineral oils, PEGs, silicones, and animal-derived ingredients
Claims By Caudalie Resveratrol Lift
A vegan brand

 

can ensure safe and clean making, one that Caudalie warrants, making it a safe-to-all brand. 

Caudalie uses 0% Parabens, which is very important for ensuring a non-compulsive and safe-to-use product.

Cruelty-free products tend to be safer for the skin compared to non-cruelty free. Thus, choosing a cruelty-free brand doesn't just ensure the safety of animals but of your skin as well.

Researched and approved by dermatologists internationally assures that the products are safe to use for different skin types and textures across the globe.

Caudalie is curated with no artificial chemicals. It's made with all-natural ingredients and fully recyclable packaging for all its products.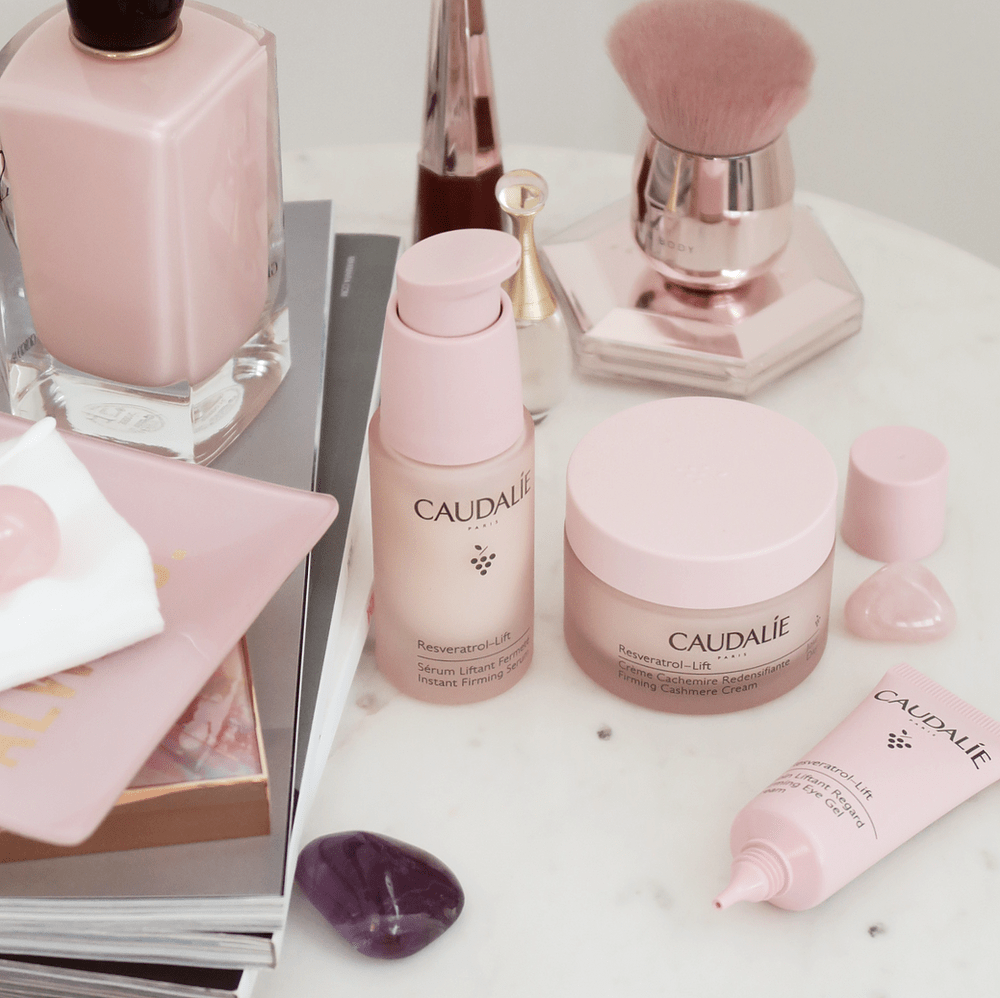 How To Use Caudalie Resveratrol Lift?
Wash your face with a gentle cleanser and pat dry

During the day, put two Caudalie Resveratrol Lift Instant Firming Serum pumps and delicately massage in an upward motion. For a faster activation of micro-circulation, pinch the skin lightly.

Decide between the Caudalie Resveratrol Lift Firming Cashmere Cream and the Lightweight Firming Cashmere Cream, depending upon your moisture requirements. Take a coin-sized amount of it and massage it from the center of the face towards the outer corners using an upward motion.

Take two drops of the Firming Eye Gel Cream on your fingertips and smooth the product under the eyes and over the eyelid. Concentrate a majority of the product on your crow's feet and nasolabial folds, finishing around the lips contour 

While doing your routine at night time, replace the Caudalie Resveratrol Lift Firming Cashmere Cream/ Lightweight Firming Cashmere Cream with the Firming Night Cream. Repeat the same process with the rest of the routine.
FAQs | Caudalie Resveratrol Lift Reviews 
Is the Resveratrol Lift Line suitable for dry or sensitive skin?
Yes. The Resveratrol Lift Line is suitable for normal to dry skin, as well as sensitive skin. However, a nourishing cream is not enough to resolve dry skin and should be paired with cleansing milk or a moisturizing mask. However, for susceptible skin, it is recommended to consult a dermatologist beforehand.
Can you use Resveratrol Lift Firming Cashmere Cream at night?
The skin needs different things at different times of the day. During the day, the skin needs high concentration levels of nourishment to push through the day's stresses. Similarly, at night, it needs a soothing solution that can actively work on all problem areas while also letting the skin breathe. So while you can use the products at any time of the day, it is recommended to stick to a routine that suits your skin.
Are the Resveratrol Lift products stand-alone or interdependent?
While independent of use, you should use the Resveratrol Lift products with a routine that benefits every problem area overall. The Resveratrol line especially keeps in mind the overall requirement of the skin and uses it together. Step by step can be a lot more beneficial.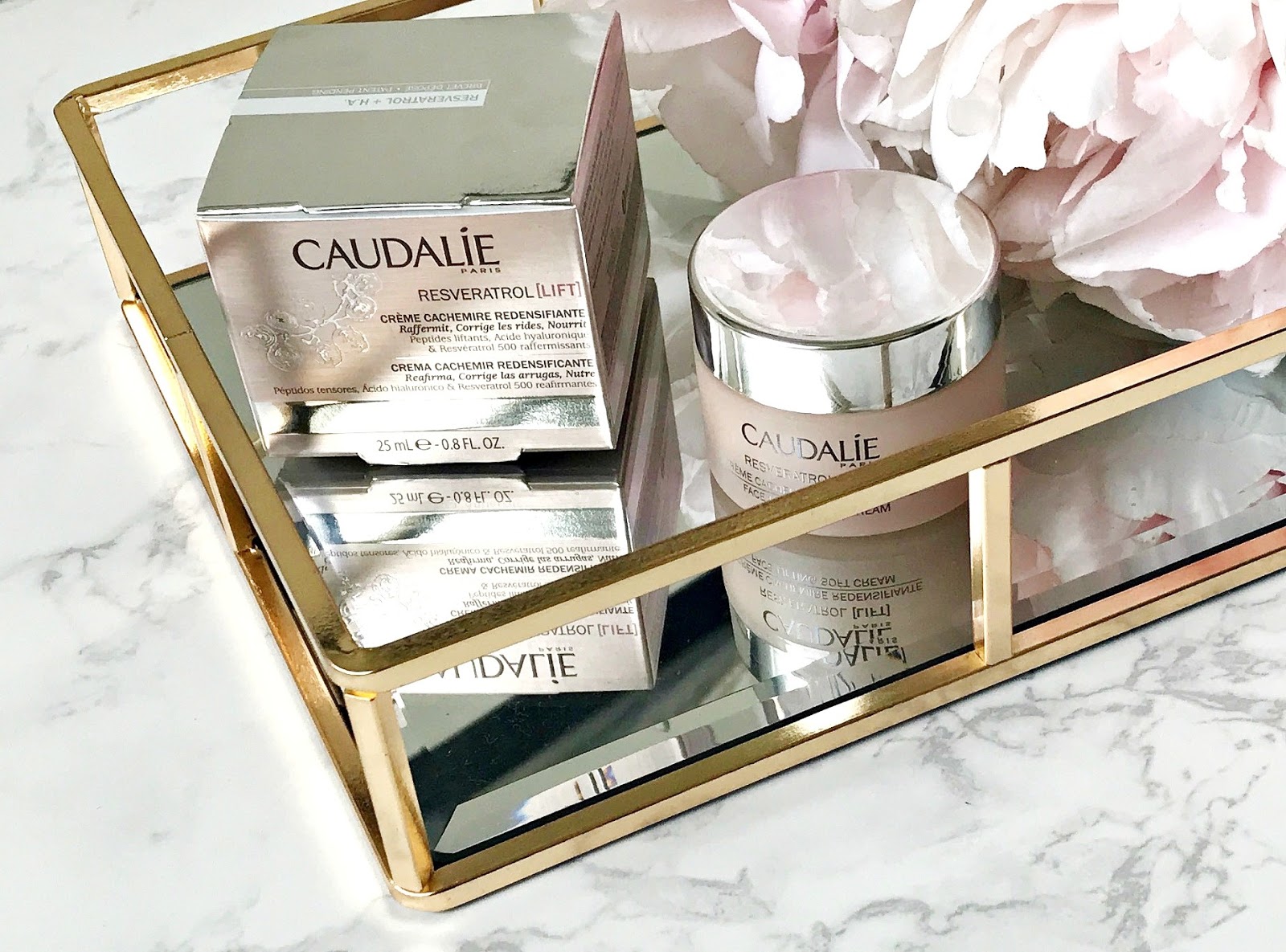 Caudalie Resveratrol Lift for What Age?
Anti-aging products are just products curated to benefit wrinkled skin but starting early wouldn't be a con. On the other hand, it might not be so beneficial to start in your late teens or early 20's since a healthy diet and balanced skincare can achieve the same results. The best time to start anti-aging products, in our opinion, would be your late 20's
Can I Use the Resveratrol Lift Line while Pregnant?
Caudalie is a brand that strives on all-natural ingredients and completely recyclable packaging, so the chances of reactions occurring are minimal. But to be on the safe side, it is recommended to ask your doctor or dermatologists before using the products when pregnant. 
See Also: Neulash Reviews | Market's Favorite Lash Enhancing Serum?
Caudalie Resveratrol Lift Customer Reviews | Before And After
Blair says, "The Caudalie Resveratrol line felt excessive at first, so I opted for individual products. But after impressive results, I decided to invest in the whole line. While the progress has been slow, the overall effect has been drastic. I recommend their line if you can afford to stock up every two months."
Claude claims, "I have used the Resveratrol line for a whole year now, and I couldn't be happier. My skin loves every single one of their products, and it just keeps getting better. I would recommend Caudalie's Resveratrol line is great for people who don't or can't curate a regime of their own."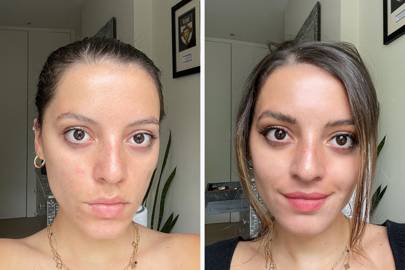 Lana warns, "The line is pretty expensive, and the quantity provided is not the best. I would recommend using over-the-counter options before considering a brand that makes such a big hole in your pocket if the results are similar."
Closure 
In today's age of a fast-paced world, no one has the time to go out exploring brands and making a whole step-by-step, beneficial for all problems, skincare routine. So Caudalie, a safe-for-all and highly researched brand as per several positive Caudalie Resveratrol Lift Reviews, seems like a fitting solution. 
The creators claim to have ensured a clean making for their customers and the planet by using all recyclable packaging and giving back their 1%. The Caudalie Resveratrol Lift line seems like a good fit if you want pre-curated skincare that claims to warrant drastic differences with religious usage and clean making.