The exterior of our body is not a reflection of our true selves. However, enhancing it through makeup and caring for it makes us feel poised and assertive. Alicia Grande wanted women to feel beautiful and confident no matter what their exterior was like. What started just as an experiment has now boomed into a million-dollar business. Let's find out in this report based on honest Grande Cosmetics reviews if this growth is worth the hype or not.
With a wide variety of options available, the company focuses on providing quality services to its customers. Their lash treatments are one of the best in the markets. However, today, we'll be going beyond that one product type. We promise to discuss the ingredients, prices, customer opinions, pros and cons, and more!
See Also: Vegamour Reviews | Natural Solution To The Rescue?
Grande Cosmetics Reviews | Beauty Without Consequences?
Your body is miraculous in its unique ways. It absorbs environmental elements as a sponge does. Sometimes, it's a boon, and well, sometimes, it's an absolute disaster. Choosing the suitable topical and edible options to take care of it is an essential task. Striking the right balance between glamour and science is a tough nut to crack. The Grande Cosmetics team seems to have understood the proper measures to achieve that. Unfortunately, they do not provide enough information on their portal to support these facts.

Regardless, we are going to help you to get acquainted with these products under skincare, makeup, and eye care to test them once and for all. We shall find out if they really are sustainable and cruelty-free and if they meet everyone's needs or not. It has already been reported that their virtual try-on tool is a massive success. Let us start looking into the validity of these claims as well.
The Best Selling Grande Cosmetics Products of 2021
When it's about your skin, you can't have one product to solve all your issues. Different regions have different needs. That is precisely why beauty brands try to launch various types of products that have specific approaches. Grande Cosmetics initially produced only the GrandeLASH-MD serum as they had enough volunteer tests to prove the excellence of the product. Over time, they expanded their business and introduced other products as well.
Grande Cosmetics garner formulas for brows, lashes, lips, hair, and skin. Under these categories, they offer supplements, serums, highlighters, shampoos, masks, lipsticks, etc. Their mascaras and lash tools are at the top of the game. However, we will see if these products really deliver results or if they're just for namesake.
Popular Grande Cosmetics Products
Grande Cosmetics GrandeLASH MD Lash Enhancing Serum
Having beautiful lashes change the entire framework of your face. They are the one part of your face that can make a statement if taken care of. Moreover, who doesn't like to have a shield against dirt and pollutants to protect their eyes? The Grande Cosmetics Lash MD reviews have termed it as a revolutionary product. However, these claims may not be enough to make a decision. Despite the positive reviews, it is essential that you thoroughly research what goes inside it before purchasing it.
Sale
The lash enhancing serum increases your lashes' volume and overall density and makes the lash line stronger. Applying it on your eyelid like an eyeliner will do the job. However, we cannot sideline the side effects this product may cause. A few customers have reported that it causes a rash on your eye. Regardless, if you're sure that you have no allergies to the ingredients used, this product may work wonders for you.
The Key Ingredients
The L-Proline Amino Acid is a marvel. It is scientifically proven to help with building keratin actives in the follicles. It strengthens the lashes and gives them more elasticity. These compounds increase the width of the shaft, allowing new lashes to grow thicker. Hyaluronic acid keeps the lashes frizz-free and brittle-free. The nourishing peptides in it can encourage more volume and silkiness in the lashes.
Vitamin E acts as the ingredient that strengthens and moisturizes the lashes. It is also helpful in eradicating any dirt that the lashes may have gathered. You can reverse any oxidative damage caused to the lashes with the help of this ingredient. A Botanical Extract Blend of ginseng root, chamomile flowers, and bearberry leaves is used to boost the thickening process of sparse lashes.
Pros
Protects lashes from brittleness
Growth of new, stronger lashes is noticed
Cruelty-free
Does not darken the lashes
Cons
May cause rashes near the eyes in case of an allergy

Uses alcohol in the formula
GrandeHAIR Hair Enhancing Serum
Your hair can form a great first impression when you meet someone. Therefore, it is incredibly salient to take good care of it. Dust, sun exposure, and pollutants can strip it away from its natural sheen. Hair serums are a great way to moisturize them while providing additional nutrients for sustainable growth artificially. They can repel frizz and humidity.
Sale
A 16-week study showed that the hair thickness had increased by 94%. The serum allows the oxygenated blood to rush to the scalp as you massage it. This increases the density of the hair exponentially. Despite these pros, it is not advisable to use it if you are undergoing chemotherapy. Women who are pregnant or nursing must refrain from using this product.
The Magic Mix
Procapil is a natural formula that works towards strengthening the bonds between the hair follicles and the scalp. It has a fantastic DHT-blocking mechanism that can help you fight baldness. It is a culmination of flavanoids and acids from fruits. Maiden Hair plant extract engages clean blood circulation and allows healthy hair growth while preventing brittleness.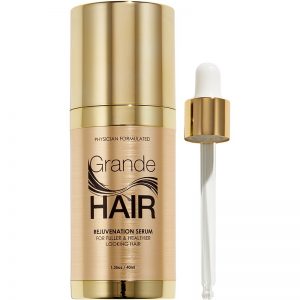 Other major Flower Extracts can hydrate a dry and itchy scalp, removes dandruff, and work against psoriasis as well to keep the scalp in check. Arginine has the conditioning element to it, which can drive frizziness away from your hair. However, the product does have PEG-40, which is proven to cause hormonal imbalances in some instances. Many Grande Cosmetics hair serum reviews also suggest the identical downside.
Why should you invest in this Grande Cosmetics hair serum?
Supports healthy follicle growth

Shows results in 3-4 weeks 

Gets rid of dandruff

Treats split ends
Why An Alternative?
Grande Cosmetics Lip Plumper Gloss
Our lips are exposed to the environment throughout the day, no matter how much we try to cover it. Sun exposure itself is one of the reasons for darkened lips. Does that mean you must apply sunscreen on your lips as well? Well, that'd do more harm than good if you don't know the ingredients in the product. However, an aftercare routine is optimal to solve the issue.
Sale
GrandeLips Hydrating Lip Plumper, Gloss
VOLUMIZER & ENHANCER: Ultimate lipgloss adds natural volume and plumps shape for fuller, bigger lips
CONDITIONING HYDRATION: Moisturizing and nourishing liquid makeup serum leaves lips smooth and soft
ADVANCED FORMULA: Long lasting glosses include Volulip and hyaluronic acid for moisture and volume
A good load of Grande Cosmetics lip plumper reviews has provided us with the correct facts. Many customers found the formula tremendously helpful in hydrating and treating lip cracks during winters. Moreover, the gloss also adds a subtle amount of freshness to your whole look. Additionally, it also plumps up the lip in three to five minutes once applied. Although one may think it would sting, there haven't been too many negative critical reviews to suggest that. It all varied from person to person.
The Gamut Of Ingredients
Hyaluronic Acid molecules interact with your surface lip cells to instantly fill them with liquids and plump them up. They also help to reduce the melanin in the lips and restore their natural tint. In addition, they also hydrate your lips to remove the lines on them effectively.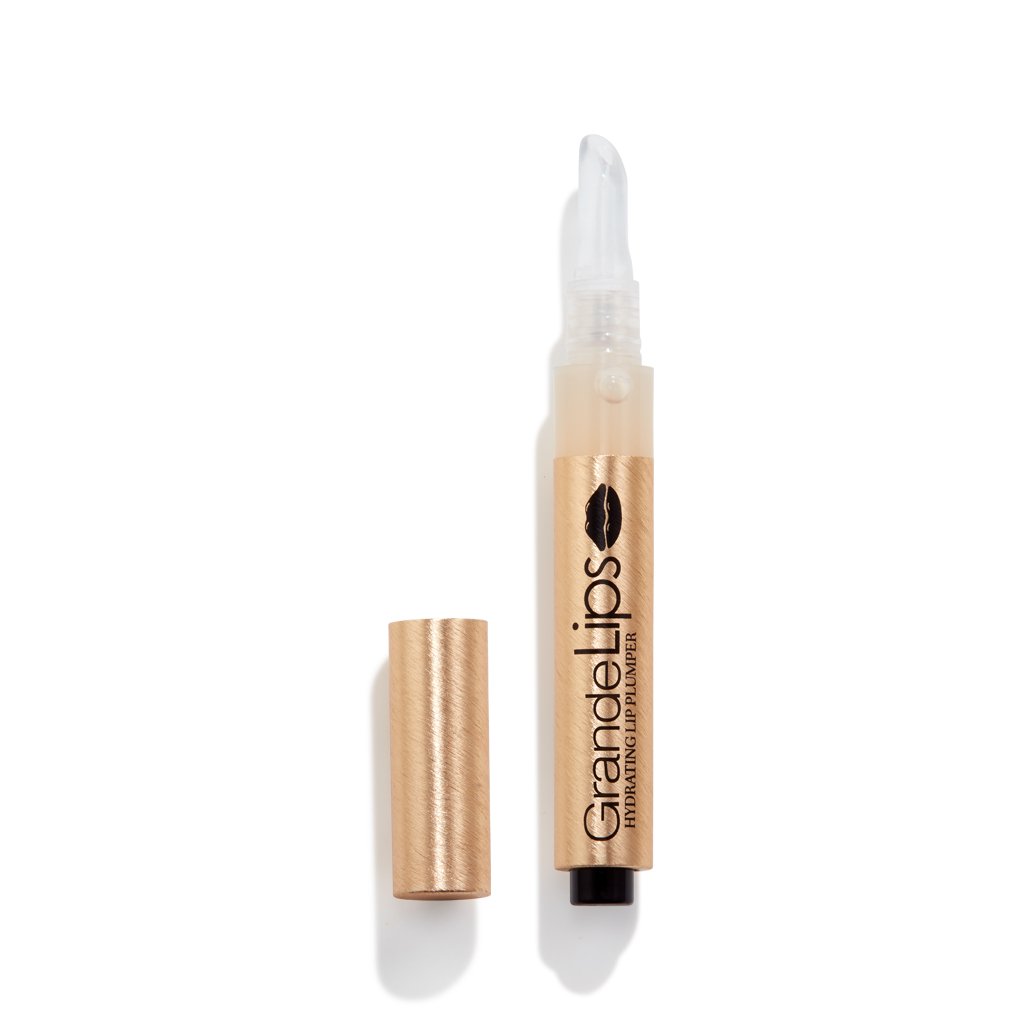 Niacin is another star ingredient that has molecules with different weights. These cause the blood capillaries in the lips to swell, giving them the plump effect. This also makes your lips look more red and healthy. Portulaca Pilosa extract serves the same purpose as the two others mentioned, along with gentle exfoliation properties.
Why may Grande Cosmetics Lip Plumper be right for you?
Enhances hydration in the lips

Makes lips appear more red or natural

Gives your lips a plumped look

Cruelty-free

Seven different shades available
Drawbacks
Contains Benzoyl Benzoate, which may irritate any cuts or wounds on the lips.
Check Out: Liaison Lash Bond VS Grande Lash | Better Pick for You?
GrandeBROW Brow Enhancing Serum
Brows can either make or break your face's overall structure. Ill-shaped brows can ruin a lot of things, including your confidence. Although we believe that you're beautiful no matter what, it's never wrong to fine-tune your appearance and letting your exuberance show. All the Grande Cosmetics brow serum reviews we've come across talk about the brilliance of the formula.
Sale
Eyebrows are very different from lashes as they're much closer to the skin. One mishap and it's a blunder that's irreversible in most cases. However, the brow serum in discussion provides fuller and aligned brows in 6-8 weeks without any irritation. The unique blend of vitamins, amino acids, and anti-oxidants works towards growing back the thinning, over-plucked, and sparse brows.
Ingredients In The Pack
Amino Acids and Hyaluronic acid work hand-in-hand to lock in moisture in the brows, making the strands look healthier and fuller. They help even the most damaged and moisture-deficient follicles when combined. Vitamin E helps to minimize oxidative stress and regulate free radicals that cause the hair follicle cells to break down before their tenure.
Radish root ferment filtrate is a probiotic that builds good bacteria on the scalp to fight against any dermatitis. It also moisturizes and conditions the brow hair. However, this product also contains alcohol which may not be safe for you.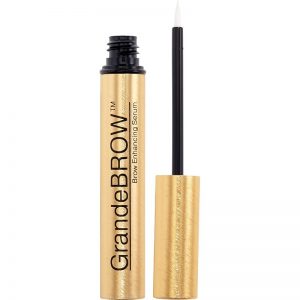 Perks of using Grande Cosmetics brow serum
Gives you fuller, thicker, and healthier brows

Lasts upto 4 months

Gets rid of seborrheic dermatitis
Peeves of this product
Contains alcohol

May cause a reaction if there is a cut near the eyebrows
Grande Cosmetics Before and After | Side Effects
Miya J states, " My eyebrows had been overplucked in the early 2000s. I couldn't grow them back no matter how hard I tried and I've been trying for a good decade. This brow serum is what I needed. I actually have hairs now."
Vanessa Leighton notes, "I don't really like the lines on my lips, it drives me insane. My lipstick never looks nice and smooth. But using the Grande Cosmetics lip plump gloss has been amazing! Yes, I used it a lot because it feels so good!"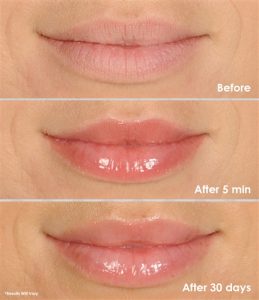 Side Effects
Sonja V, a customer on Amazon, had an undelightful experience with Grande Cosmetics Lash MD serum. She says, "I applied this every night before bedtime and after 4 weeks, my eyelids have developed an itchy rash. They are so sore, red and scabbing from the rubbing. It's so hard not to (rub or scratch) but I find myself doing it in my sleep!"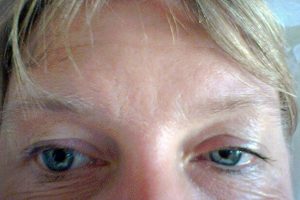 FAQs | Grande Cosmetics Reviews 
Does Grande Lash Really Work?
As per many reports, the product does work. In fact, it had been awarded as the best lash treatment by Cosmopolitan in 2019. However, the results may vary in duration.
Is Grande Cosmetics A Good Brand?
Grande Cosmetics only supports cruelty-free production. Moreover, it also has several social campaigns associated with itself. It has also received accolades for a few of its products. All in all, it can be considered a good brand.
Does GrandeLASH Make Your Eyelashes Fall Out?
No, it does not. However, few reviews suggest that it causes a droopy eyelid. Moreover, you must keep in mind that if you stop using the product, your lash growth cycle may revert, and you will notice less growth.
Who Is Grande Cosmetics Owned By?
Alicia Grande is the owner of the brand. She started the company in her garage and drove it to its new heights. She also took the initiative to support various charities in the US.
See Also: Peter Thomas Roth Reviews | The Best Skincare Science?
Cessation | Grande Cosmetics Reviews
Collating the Grande Cosmetics reviews, we can say that the brand offers some great solutions for the most part. However, it all depends on the weightage of pros and cons according to you. As there is no evidence of clinical evaluations directly available to a customer, we advise you to get a dermatological recommendation.
The majority of Grande Cosmetics users have received good results. Profound research helps you make the right decision, and we hope to help you in the same. If you have any queries or suggestions, do not hesitate to write to us in the comment section. We would be glad to get back to you.