New anti-acne products are released yearly, but only some have proven their pimple-fighting power. Making quite the buzz right now among dermatologists is a brand-new product called Twyneo cream. This revolutionary topical acne prescription from pharmaceutical company Galderma is the first to combine two acne-fighting powerhouse ingredients: tretinoin and benzoyl peroxide. 
Is this the new anti-acne go-to? The Beautylectual team sifted through hundreds of reviews to see if the hype was worth it – and so far, it's looking pretty good (with a few caveats). 
What is Twyneo?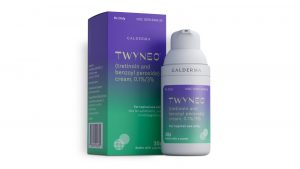 Twyneo is a new acne prescription drug developed by Galderma and launched in March 2022. The Swiss pharmaceutical company is also the producer of several well-known skincare brands like Cetaphil, Alastin, and Differin. 
But what's so special about Twyneo? 
Twyneo is the world's first anti-acne product to combine two powerful ingredients: tretinoin (0.1%) and benzoyl peroxide (3%), both gold standards in acne treatment. Before Twyneo, mixing these actives was unheard of. Benzoyl peroxide (BPO) is a powerful oxidizing agent that deactivates tretinoin, and a combination of the two would lead to an ineffective formula. 
To preserve the benefits of both, Galderma utilized a technology called microencapsulation. The technology separately encapsulates the two actives in silica core shells, preventing them from mixing and becoming unstable. 
The patented technology also serves another purpose: it encourages slow release. Tretinoin and BPO are notorious for being harsh on the skin, with plenty of users reporting side effects like dryness, redness, and irritation. Twyneo's microencapsulation technology slows the release of actives onto the skin, allowing users to take higher concentrations of actives without severe irritation.
How Does Twyneo work?

For years, dermatologists have relied on tretinoin and benzoyl peroxide as front-line treatments for acne, but they have always been used separately. Twyneo's technology allows these actives to work synergistically so users can enjoy the acne-busting benefits of both. Let's discuss how tretinoin and BPO work. 
Tretinoin: This vitamin A derivative is well-loved by skincare experts. Tretinoin speeds up the skin's cell turnover rate to reveal new skin, unclog pores, and treat mild to moderate acne. It has been used as an anti-acne medication for decades. The compound's bonus benefits include reducing the appearance of fine lines and dark spots, improving skin texture, and healing sun-damaged skin. 
Benzoyl Peroxide:

Benzoyl peroxide is typically used to treat mild to moderate acne. The chemical compound reduces the bacteria that causes acne, encourages the shedding of dead skin cells, and reduces the amount of sebum on the face.

Twyneo combines the dead-skin sloughing and pore-unclogging benefits of tretinoin with the bacteria-killing powers of BPO to create a holistic solution to stubborn acne. 
What Are the Possible Side Effects of Twyneo?
Clinical trials performed by Galderma Laboratories showed that Twyneo was well tolerated by users, with mild to moderate side effects that eventually disappeared. The most common side effects experienced by more than 2% of TWYNEO Cream users were stinging in the application area, dryness, redness, and exfoliation.
How Long Does Twyneo Take to Work?
In clinical trials performed by Galderma Laboratories, several individuals saw a 25% decrease in acne in just two weeks of using the cream, with further improvement over time. At the end of the trial, between 25% to 41% of users achieved clear or almost clear skin.
How Do You Use Twyneo? 
Twyneo is used once a day with your regular skincare routine. Cleanse your face with a gentle skin cleanser and pat your skin dry. Apply a pea-sized amount of Twyneo over the entire face (or just the affected area if you have sensitive skin) in a thin coating (or as instructed by your doctor). Users with sensitive skin may apply a gentle moisturizer as a buffer before applying Twyneo. 
Tretinoin can make your skin more sensitive to the sun, so we recommend applying the cream at night and wearing sunblock of at least SPF 30 during the day. You should also avoid using skincare products with tretinoin or benzoyl peroxide. Here's a video showing how to use Twyneo. 
What Are the Pros and Cons of Twyneo? 
To help you determine if Twyneo is right for you, we weighed its pros and cons. 
Pros
Enjoy the benefits of both tretinoin and benzoyl peroxide

Highly effective

One-step acne treatment 

Reduces fine lines and dark spots

Improves skin texture

Great for both inflammatory and non-inflammatory acne
Cons
May be harsh on sensitive skin 

Some users may purge or experience new breakouts during the first few weeks of use

Benzoyl peroxide may bleach fabrics 
Who is Twyneo For? 
While Twyneo is recommended for any who suffers from acne, the product's promotional campaigns seem to target teenagers.  This makes good sense, as teenagers usually struggle with sticking to a multi-step skincare routine. Twyneo's convenient, fuss-free, one-step application can be attractive to this age group.
Tretinoin and BPO's extended benefits also make Twyneo an attractive acne treatment for those in their late 20s or 30s or those suffering from adult acne. The cream not only reduces pimples but also smoothes out fine lines and lightens age spots.
Twyneo vs. Epiduo
While Twyneo cream is the first acne prescription to combine tretinoin and benzoyl peroxide, it isn't the first to incorporate a retinoid with BPO. Epiduo, another anti-acne product from Galderma, combines a retinoid called adapalene with benzoyl peroxide. So which is better? 
The answer depends on your needs. While adapalene and tretinoin both fight acne, tretinoin also combats aging skin. If your primary concern is acne and you wish to experience less irritation, we recommend using Epiduo. However, if you also want to improve your skin's tone and texture, then Twyneo is the way to go.
Twyneo Reviews
While most users loved how effective Twyneo is for reducing acne and improving the skin's tone and texture, there were several concerns about its side effects. Here are just some of the online reviews. 
"The first night my skin was a bit irritated so I switched to a milder face cleanser. Since then my complexion is clear and no new breakouts."

"After applying I kind of feel a burning sensation on the skin. And my skin has been acting very dry especially the affected areas. The doctor did mention me that for the first 2-3 weeks, there would be more acne, but said to not worry and be consistent."

"Twyneo has sort of been a total game changer. My daughter is in about week 6/7. It completely cleared her back/shoulder acne within I'd say 4 weeks. Her facial skin looks better every day."

"

This has changed my skin in a week. My hormonal acne is completely gone. I was given a sample but I am going to get a prescription this coming Monday. I use it with the winlevi in the AM"

"We just started it about six days ago. There are a couple of others on maybe the tretinoin subreddit that have been using it for about a month and like it. So far, it seems to be helping my daughter's closed comedones acne and the acne she has on her shoulders."